Open Letter to Beyonce After the 2017 Grammys
The Letter I Should Have Written to Beyoncé a Long Time Ago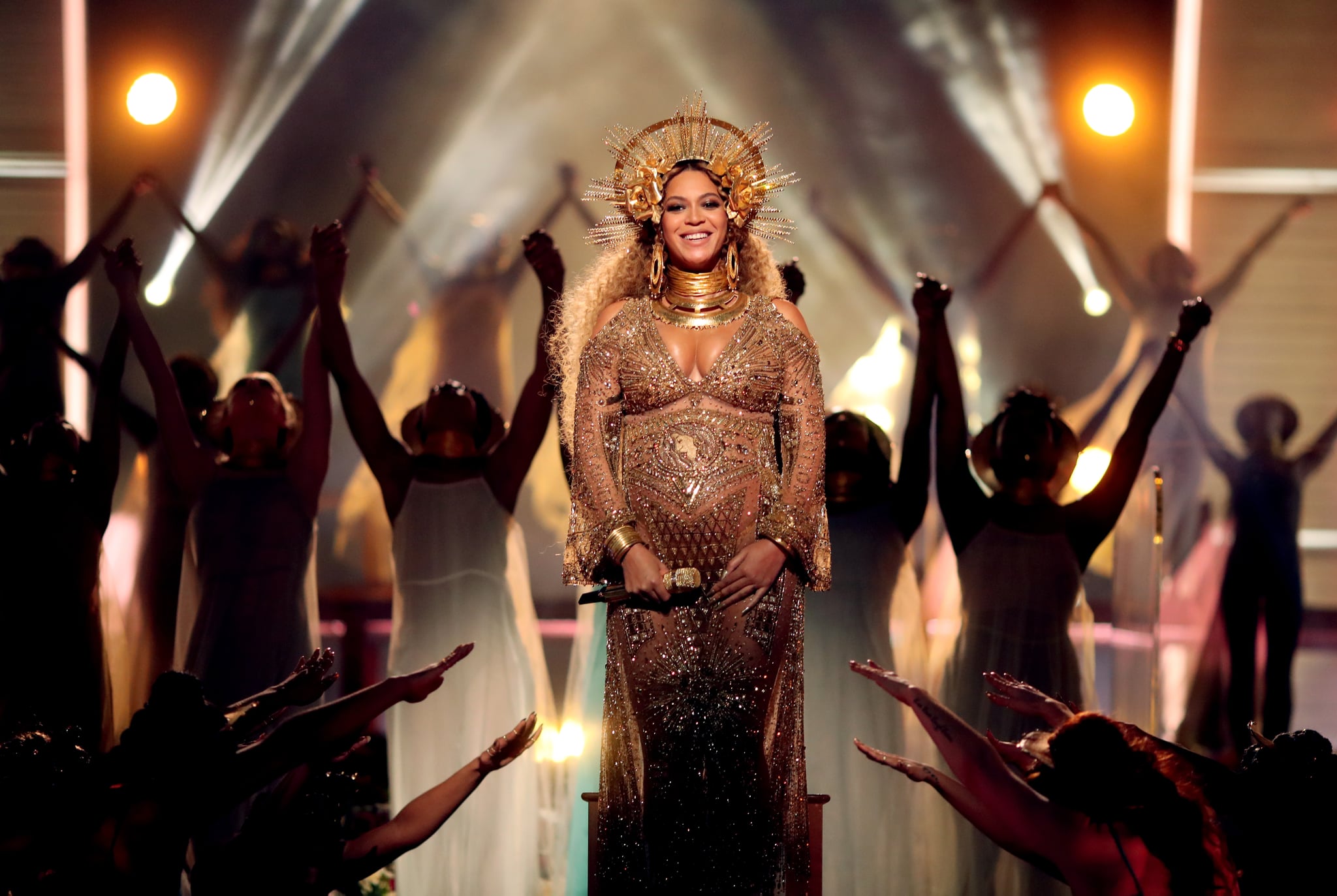 Image Source: Getty / Christopher Polk
Dear Beyoncé,
Hey queen. I've actually been wanting to write this for a while now, but I just couldn't find the right words. No matter how hard I tried to gather my feelings and string sentences together, nothing seemed to properly convey what I wanted to say, and so many others seemed to be expressing it better than I could. But I'm ready now. I'm not sure if it was your epic maternity shoot or Grammys loss that finally inspired me, but I'm ready to tell you how proud I am of you for fighting the good fight and using your platform to raise up those of us who are continually made to feel as if we are "less than." To say that you make me feel proud to be a black woman is an understatement. You create music that empowers me and art that emboldens me. Your dedication to making sure I see myself represented in the world pushes me to demand the same of my employers, my media, and my surroundings.
Yet people will call you "overrated," "self-absorbed," "an egomaniac," or worst of all, "talentless." I like to think the people who call you talentless may not have eyes or ears, but I digress.
Lemonade was the best album of the year, hands down. And I know you know that. I don't even believe you needed a Grammy to validate your work, which is why you managed to stay so composed and graceful while Adele accepted the award and praised the sh*t out of you during her speech. Though it was hard not to take your loss personally, your poise in the face of adversity was another boss move in your history of boss moves, yet another thing to add to the running list in my head titled "What Would Beyoncé Do?".

There wasn't one part of it that didn't touch my heart, soothe my soul, or remind me that despite the narrative assigned to me at birth, I am more than the color of my skin.
I'm sure you can speak to how out of touch the Grammys have become, how tone-deaf they've been when it comes to recognizing black artists, and how their dedication to rewarding mainstream — or as Adele herself put it, "old fashioned" — music has driven many musicians away from even attending the show. Lemonade was the best album of the year, but it was also the most culturally significant album of the year — and while I wish those two things could be more intertwined in the Recording Academy's eyes, it really doesn't matter. It's one of the most important bodies of work that I have ever seen or heard in my life. It was a f*cking masterpiece. There wasn't one part of it that didn't touch my heart, soothe my soul, or remind me that despite the narrative assigned to me at birth, I am more than the color of my skin. I am more than a stereotype. It's OK for me to be angry and vulnerable, and it's OK for me to crumble, as long as I get back up. I want you to know that Lemonade filled me with a pride and self-respect I was afraid I'd never come by.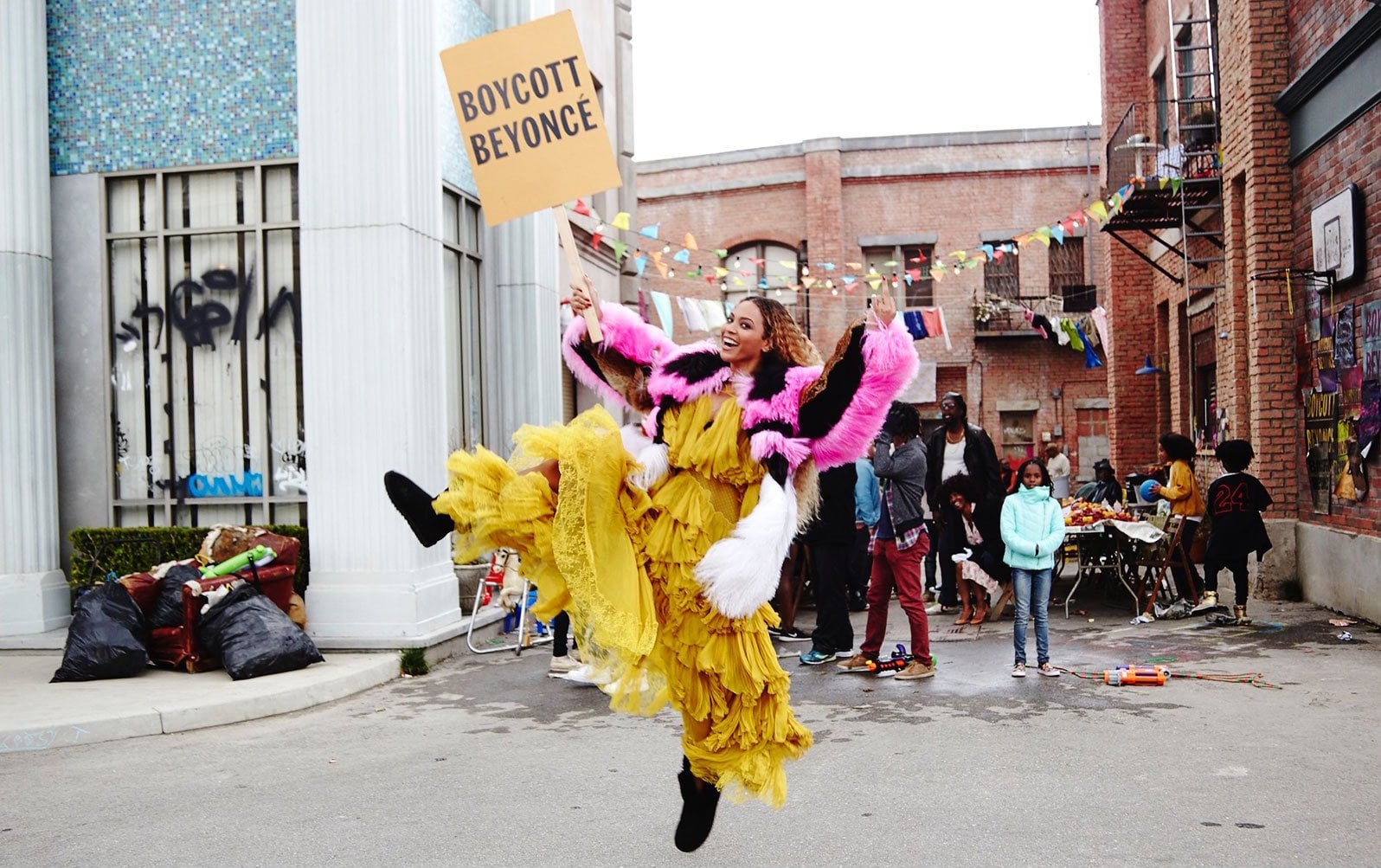 Image Source: Beyoncé Knowles
But back to the Grammys. Not 10 seconds after you emerged on stage giving us full Yoruba realness and cradling those two future CEOs inside you did social media light up with the same old tired-ass insults. I reminded myself that you probably wouldn't want me to waste my time explaining that you're weren't "trying to be the Virgin Mary," but instead channeling Oshun, the African goddess of love and sweet waters who influences emotional healing and pregnancy and also represents your sign, Virgo. And I know you don't want me arguing with your fault-finders, the same ones who thought they were being cute by boycotting you and who still can't seem to understand that Lemonade is not for them to understand. I should know better than to get distracted by the haters; I should be twirling on them instead, right? It's hard to ignore them, but at the end of the day, their ignorance can not quell your enormous influence. Their insensitivity can not dull our shine. You taught me that.
I won't keep you — you're obviously crazy busy. I just needed you to know that yes, I have thrown my middle fingers up to "Sorry," copied your "Hold Up" look for Halloween, and cried my eyes out to those tiny cracks in your voice during "Sandcastles," but my love for you and Lemonade goes deeper than that. I needed you to know that I will be forever grateful for your artistic vision, for your commitment to showing the world that there is more than one way to be a woman, for "giving a voice to the pain" and helping me remember that I might be misunderstood, but I am also magic. I just needed you to know. I'm sorry it took me so long.
Love you like XO,
Britt