Prince Harry and Meghan Markle Relationship Details
Everything There Is to Know About Prince Harry and Meghan Markle's Royal Relationship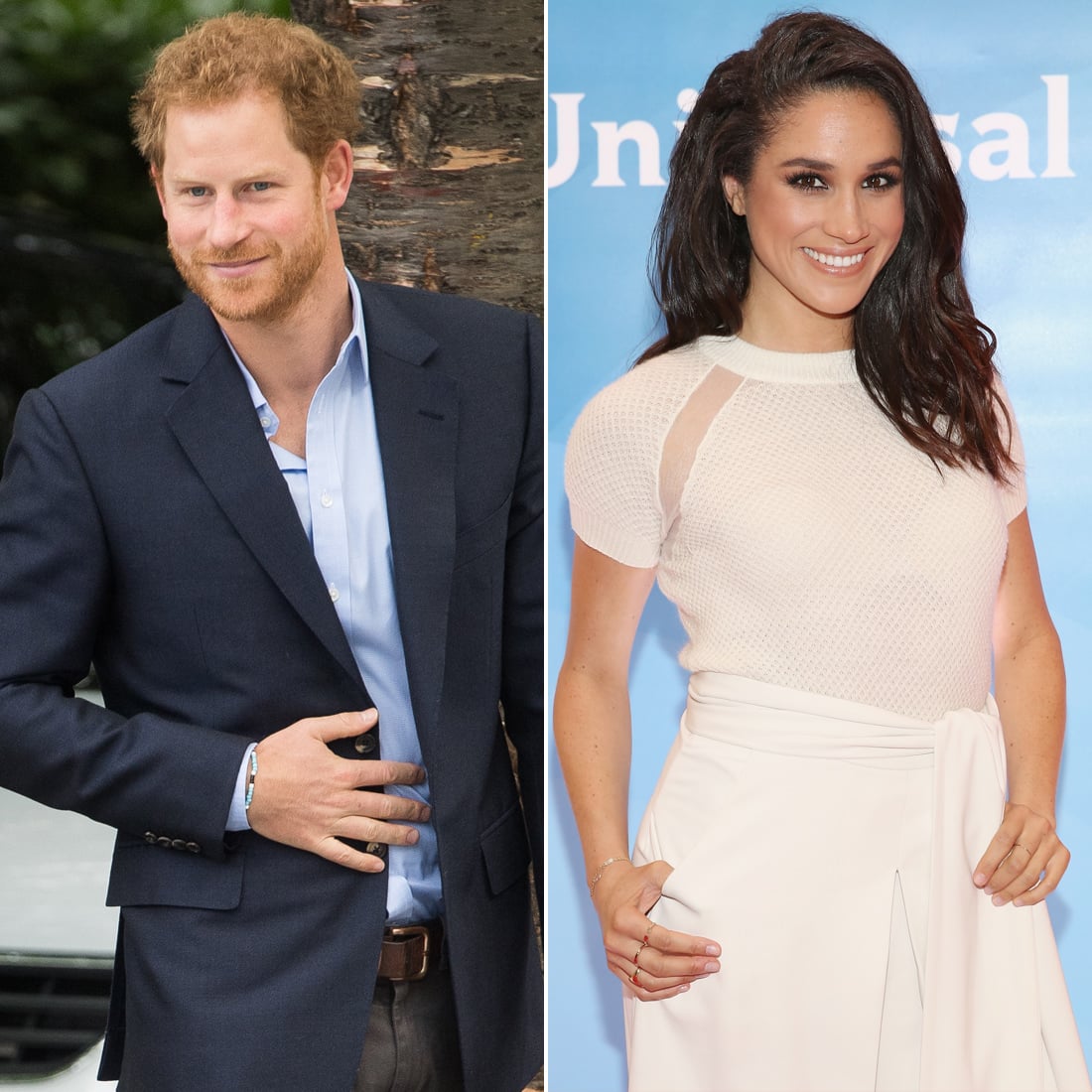 Image Source: Getty / Samir Hussein / Getty / Mireya Acierto
News broke last Fall that Prince Harry is dating Suits actress Meghan Markle, and much has been made of their relationship since; we've learned when and where they met and how often they've been hanging out, and it was also reported that Meghan has been introduced to Harry's dad, Prince Charles, his brother, Prince William, and his sister-in-law Kate Middleton and niece Princess Charlotte. We've rounded up everything we know about Harry and Meghan's romance so far — if you're as excited as we are about the prospect of an American princess, you'll eat up these details.
How They Met
Meghan first met Prince Harry in Toronto (where Suits is filmed) while he was launching the 2017 Invictus Games back in May. According to Us Weekly, "They had gotten on when they first met but it was just as friends," but then "developed romantic interests in each other and, before you knew it, they were texting every day." By the end of the month, Meghan began following Harry's private Instagram account.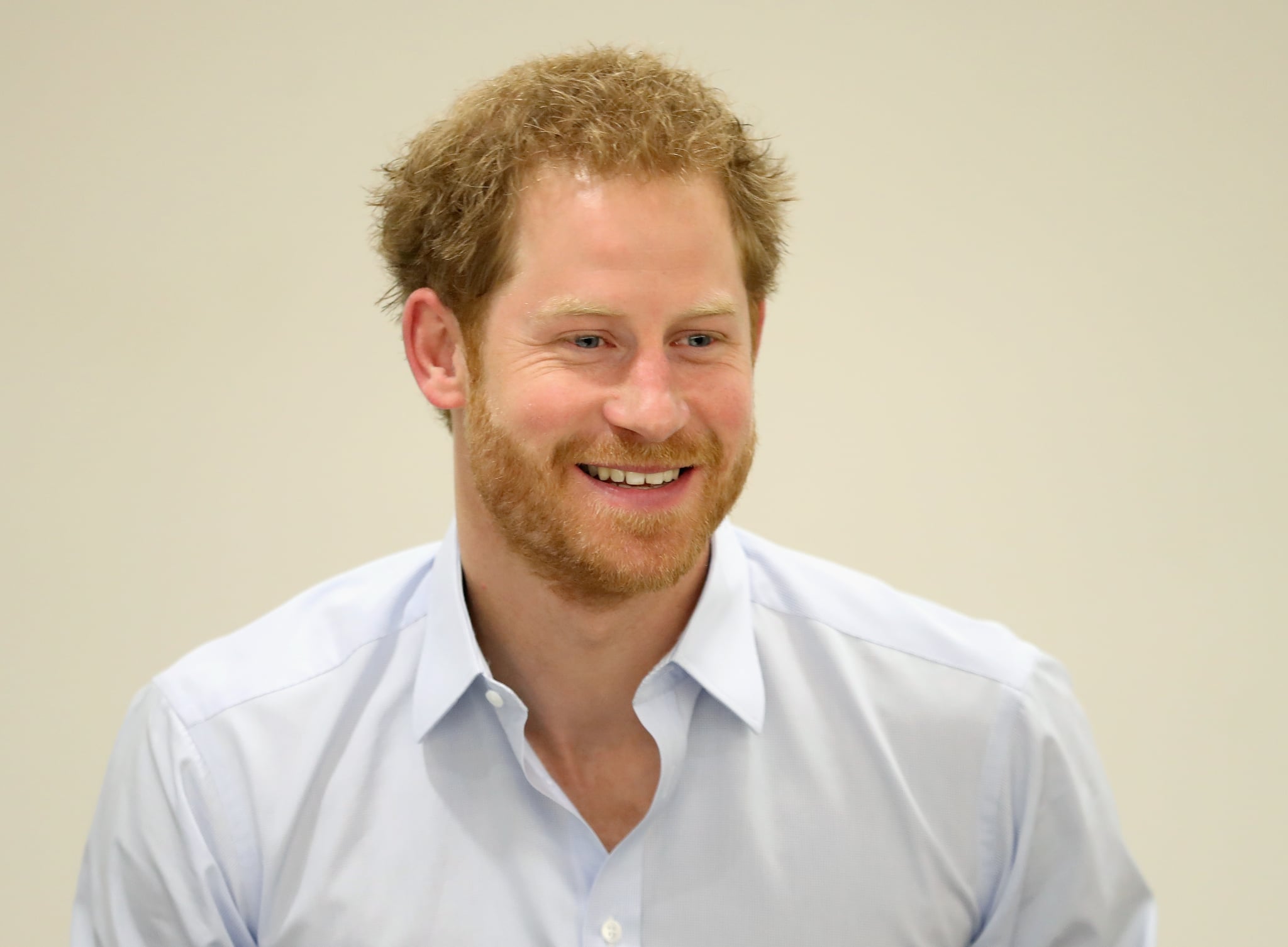 Image Source: Getty / Chris Jackson
Their Low-Key London Dates
Meghan and Harry hit the Soho House in London with a group of friends in early July, then went on two dates by themselves. Most recently, they've been spotted out and about together in the city; in early December, they were seen picking out a Christmas tree at the Pines and Needles outdoor market, and the following week we finally got a glimpse of them together as they were photographed leaving a production of The Curious Incident of the Dog in the Night-Time at the Gielgud Theater.
House Calls
Meghan became "a regular visitor" at Harry's home in Kensington Palace during the Summer, and the 32-year-old royal has also been "hanging out" at Meghan's Toronto apartment. During a break in her Suits filming schedule in November, Meghan made the journey to London for a stay at Harry's Nottingham Cottage home. "Meghan was able to find time to visit Harry," a source told Us Weekly. "It won't be a long visit as they both have packed schedules, but they're always so happy to be together."

In early December, Harry wrapped up his 14-day tour of the Caribbean, but instead of heading home to Britain with his staff, the 32-year-old made a secret detour to Canada to visit Meghan. Harry reportedly "just couldn't wait to see her," so he ditched his entourage for the rendezvous.
Shared Interests
It's likely that Meghan and Harry bonded over their philanthropic efforts, as both the actress and the prince have done extensive charity work around the globe and especially in and around Africa. Harry has carried on his late mother Princess Diana's legacy by working to raise funds and awareness for HIV/AIDS in the tiny South African kingdom of Lesotho, while Meghan has made a handful of trips to Rwanda as an ambassador for organizations like UN Women and World Vision. They also share a love of animals. "Harry loves that she is so into philanthropy," a source said. "One of the first things they spoke about was all the work she does with shelter animals. He loves that she's so caring."
Making a Statement With Jewelry
Days after news of their romance broke, eagle-eyed social media users noticed that Meghan was wearing a bright beaded bracelet identical to Harry's in one of her recent Instagram snaps; the photo was originally taken during a stay at the Soho Farmhouse in the Oxfordshire countryside. Harry reportedly got the bracelet during a trip to Africa, and has been photographed sporting it since March. Meghan has also been spotted wearing a delicate gold necklace with the letters "H" and "M" on it, as well as a dainty gold ring with Harry's initial.
Taking a Stand
In early November, Harry released a statement via the Kensington Palace Twitter account to urge the public to respect Meghan's privacy in the wake of many UK outlets making racist and sexist comments about the actress. The prince alludes to "nightly legal battles to keep defamatory stories out of the papers," along with incessant harassment of Meghan, her family, friends, and even her ex-boyfriends. "This is not a game," the statement reads. "It is her life and his."
Getting Serious
A source close to the prince revealed late last year that Harry may have wedding bells on the brain. "It wouldn't surprise me if he's already thinking about an engagement just because that's where his head goes, but that's not where the relationship is at right now," they told E! News, adding, "This is totally Harry. The problem with Harry is when he falls, he falls hard. He goes in big time." And while she didn't mention Harry by name, it appeared that the feelings were mutual for Meghan, who, during a recent interview with a Canadian newspaper, said, "My cup runneth over and I'm the luckiest girl in the world." In addition to being invited to honeymoon in Antigua and Barbuda by the prime minister during Harry's Caribbean tour in November 2016 , a source has told E! News that the prince has found The One. "Harry is more serious [about Meghan] than he ever has been about a woman before," the source said, referencing his past girlfriends.
Meeting the Royal Family
In October 2016 it was reported that Harry is so "besotted" with Meghan that he introduced her to his father, Prince Charles. Apparently they met when Meghan visited the family's Balmoral estate for a shooting party as part of Harry's 32nd birthday back in September 2016. She must have gotten the seal of approval, because that November, Harry introduced Meghan to brother Prince William. Us Weekly reports that they "got on fabulously," and that "William is very happy for his brother." Around that same time, the magazine revealed Kate is really keen to see what Meghan is all about," and in January 2017, it was reported that Meghan and Kate finally came face to face. She also got to meet Princess Charlotte! An insider revealed that the meeting "went well," adding, "Meghan's so happy she's getting to know more of Harry's nearest and dearest." Meghan bought the duchess a leather-bound Smythson notebook, as her birthday was the day before.
In August 2017, Harry's cousin-in-law Mike Tindall gave an interview about the couple's relationship, saying that despite the "nerve-racking" experience of dating a royal, Meghan "has been under enough scrutiny and pressure in her day-to-day life, so I'm sure she will get through it. She will be fine." He expressed excitement in one day meeting Meghan, adding, "As long as they are both happy that's all that you can ask for. She'll do absolutely fine."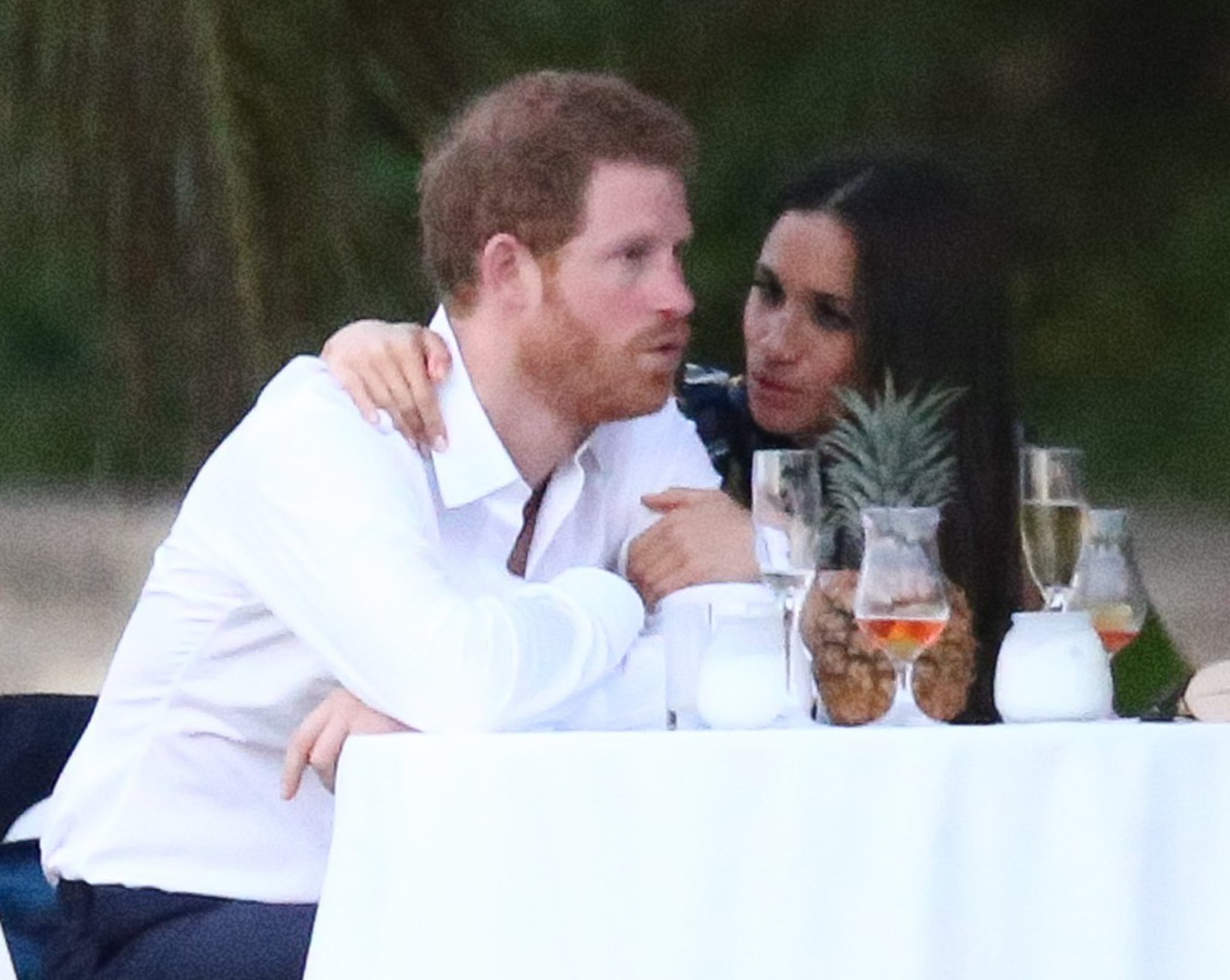 Image Source: FameFlynet
The Wedding Date
One of the couple's major milestones happened in early March 2017, when Harry brought Meghan as his date to the wedding of his best friend, Tom "Skippy" Inskip, in Jamaica. The two showed sweet PDA, cuddling at their table and holding hands, and at one point, Harry even "busted out with some dance moves" and "Meghan looked on adoringly at him." They attended another big wedding together a couple of months later — well, sort of. In May, Kate Middleton's sister Pippa married James Matthews in England, and though it was initially reported that Pippa had bent the rules to allow the unmarried couple to attend, we didn't see Meghan there at all.
The actress allegedly skipped the ceremony as part of royal protocol; since Pippa's wedding was not technically a royal event, it's against royal customs for members of the royal family to upstage proceedings, and it was believed that Meghan's being there would have distracted from Pippa and James's wedding. Meghan reportedly stayed in London during the church service, after which Harry picked her up and brought her to the reception at the Middleton family home in Bucklebury. According to The Telegraph, Meghan wore a maroon backless gown, but didn't even get to sit with Harry — Pippa's strict seating arrangement didn't allow for couples to sit together.
Out of Africa
In early August, Meghan celebrated her 36th birthday with Harry in London. They then flew to Botswana together, where he took her on a romantic safari trip.
Making (Some) Things Official
Over a year after they began dating, Meghan finally opened up about her relationship with a gushy interview in the October 2017 issue of Vanity Fair; "We're two people who are really happy and in love," she told the magazine. "We were very quietly dating for about six months before it became news, and I was working during that whole time, and the only thing that changed was people's perception. Nothing about me changed. I'm still the same person that I am, and I've never defined myself by my relationship."
Prince Harry will host the annual Invictus Games in Toronto in late September, and multiple sources are reporting that the event is where he and Meghan will finally make their first official appearance as a couple. It makes sense, seeing as its where they first met in 2016. Full circle!