Queen Elizabeth II's Consent For Harry and Meghan's Wedding
No, the Queen Did Not Throw Shade at Meghan Markle in Her Marriage Blessing — and Here's Why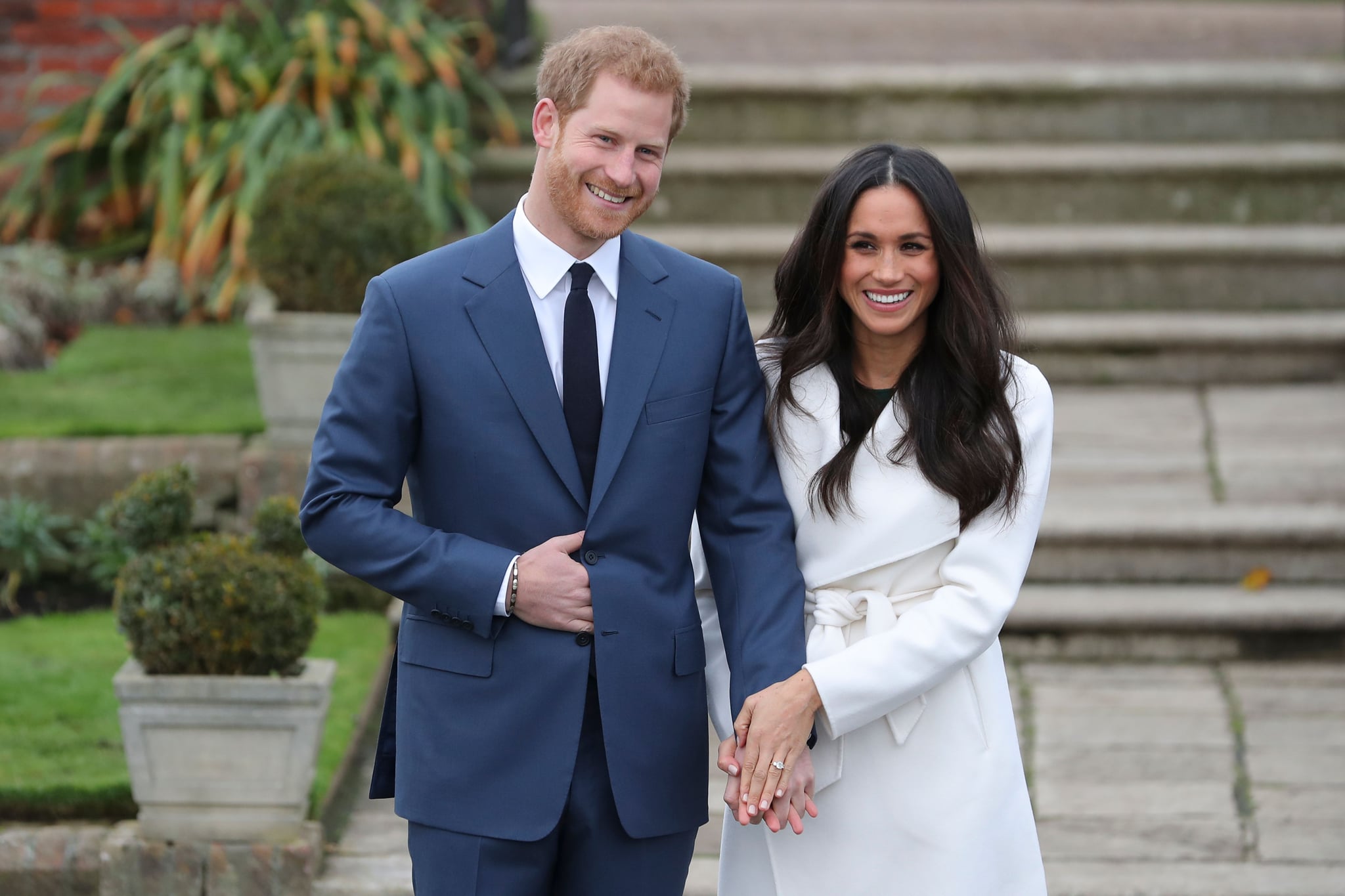 Image Source: Getty / Daniel Leal-Olivas / AFP
Queen Elizabeth II gave her official consent for Prince Harry and Meghan Markle's marriage ahead of their wedding in May, and some are side-eyeing the statement because of how different it is from the one she wrote for Prince William and Kate Middleton before their wedding back in 2011. On March 14, the queen offered her blessing during a Privy Council meeting at Buckingham Palace, declaring, "My Lords, I declare My Consent to a Contract of Matrimony between My Most Dearly Beloved Grandson Prince Henry Charles Albert David of Wales and Rachel Meghan Markle, which Consent I am causing to be signified under the Great Seal and to be entered in the Books of the Privy Council."
Before proposing to Kate Middleton in October 2010, Prince William had to get the thumbs up from the queen, and according to BBC News, she "readily gave her consent." Elizabeth signed a detailed notice of approval to the union of "Our Most Dearly Beloved Grandson Prince William Arthur Philip Louis of Wales, K.G. and Our Trusty and Well-beloved Catherine Elizabeth Middleton." The notice was dated Feb. 9, 2011, just two months before Kate and William tied the knot. While the queen made sure to also refer to Harry as her "most dearly beloved grandson," the lack of equal sentiment for Meghan (whose real name is Rachel) is raising eyebrows. But should it be?
Meghan was said to have impressed the queen when they first met last Summer, and Her Majesty even broke royal protocol by allowing Meghan to spend Christmas with the family at Sandringham (an invitation usually reserved for wives). Most recently, they even spent UK Mother's Day together at Windsor Castle. By all accounts, Queen Elizabeth is happy that Harry is happy — so why try to find shade within her statement?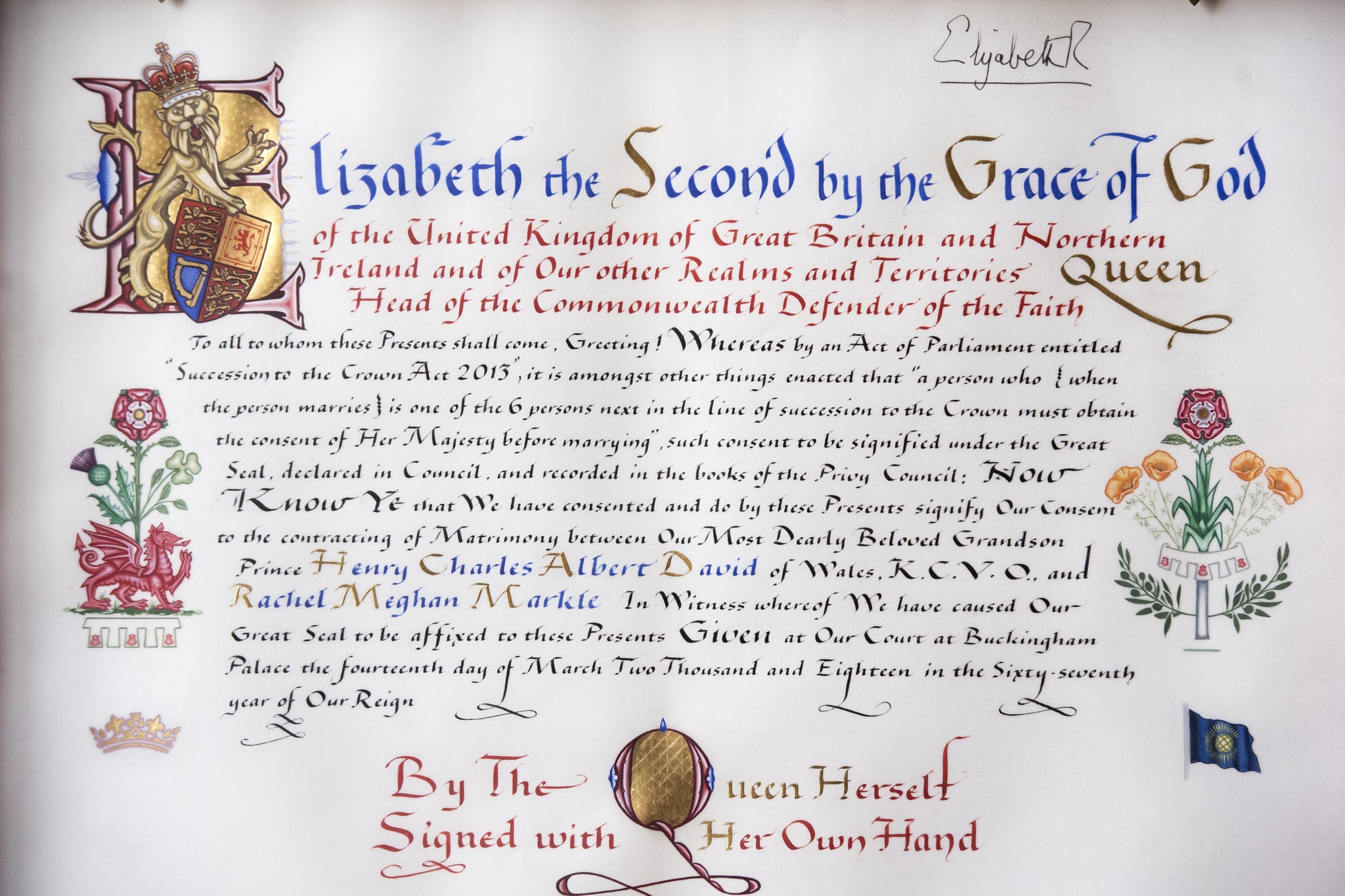 Image Source: Victoria Jones/AFP/Getty Images
Due to the Royal Marriages Act 1772, the monarch has the right to veto the marriage of a member of his or her family and is required to give formal consent to any family marriages in order to guard against those that could "diminish the status of the royal house." The Succession to the Crown Act 2013 states that "a person who is one of the six persons next in the line of success to the Crown must obtain the consent of Her Majesty before marrying." Because Harry is still fifth in line for the throne (at least until William and Kate's third child is born) he had to secure his grandmother's permission before walking down the aisle.
There are a multitude of reasons the queen could have chosen such scant wording for Meghan in comparison to Kate, but the biggest could just be the fact that she knew Kate for far longer before the royal wedding than she's known Meghan. Referring to Kate as "Our Trusty and Well-beloved" spoke to her yearslong romance with William as well as the relationship Kate built with Elizabeth, which first began with their initial meeting at Peter and Autumn Philipps's wedding in May 2008.
Queen Elizabeth is fully capable of throwing shade, and I just don't think this constitutes. She used Meghan's formal name, and as far as I can see, didn't refer to her as "American divorcée Meghan Markle" or "Former Suits star Meghan Markle," so maybe we should all just accept the queen's blessing for what it is — her permission for Prince Harry to marry the love of his life.