It Was Kim Kardashian's Decade, and We Were Just Living in It
Kim Kardashian just may be one of the most famous (and polarizing) figures of our time. And while the 39-year-old entrepreneur and Keeping Up With the Kardashians star may have started out as Paris Hilton's closet-cleaning sidekick in the mid-aughts, it's been one hell of a ride since then.
Fast-forward to 2020, and Kim Kardashian is so much more than a reality star. She's a businesswoman, beauty mogul, sex symbol, and mother of four who is also currently studying to become a lawyer. No matter how you feel about Kim (or her family, or her style, or her nude selfies), you simply can't deny the impact she's had on the past 10 years. Keep reading for the biggest Kim Kardashian moments of the decade, and see how she's changed the way we talk about sexuality, motherhood, wealth, and talent.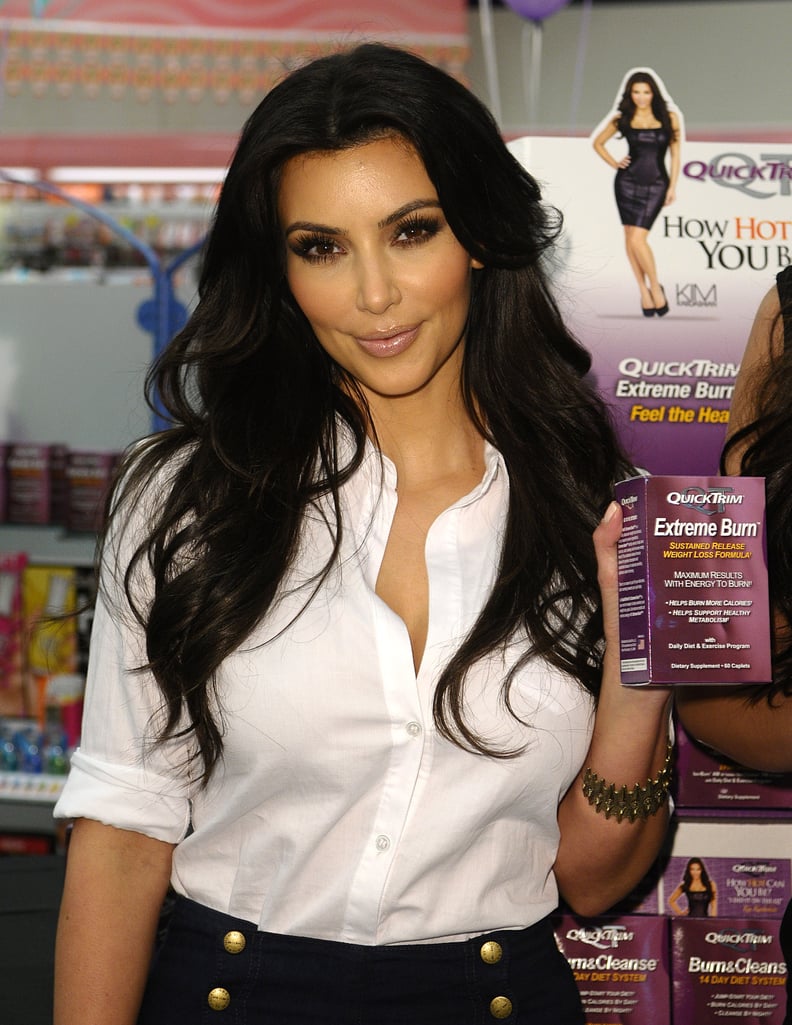 2010: You Name It, and Kim Kardashian Was Promoting It
Thanks to the massive success of Keeping Up With the Kardashians, Kim and her family were taking on more promotional and licensing deals than ever in the early 2010s. In a 2019 interview with The Cut, she admitted to taking an "I'll do anything" approach back then, and whew, she's not kidding. From merch, fragrance, and diet pills to lollipops, milkshakes, and Skechers, Kim was endorsing products, hitting red carpets, and hosting branded events left and right. When did she sleep?
2011: Kim Kardashian Marries Kris Humphries For 72 Days
For a very, very brief time in 2011, Kim was married to NBA player Kris Humphries. The couple began dating in December 2010 and were engaged six months later. In August 2011, they tied the knot in an over-the-top ceremony in Montecito, CA in front of friends, family members, and a slew of celebrity guests (not to mention an E! camera crew).
Kim filed for divorce less than three months later, and their 72-day romance came to an end. Their wedding was one of the most expensive in history, and their marriage is one of the shortest in history. So, at least they made history? Fun fact: Kim donated the value of her wedding gifts (an estimated $200,000) to the Dream Foundation, a Make-a-Wish style organization for individuals of all ages.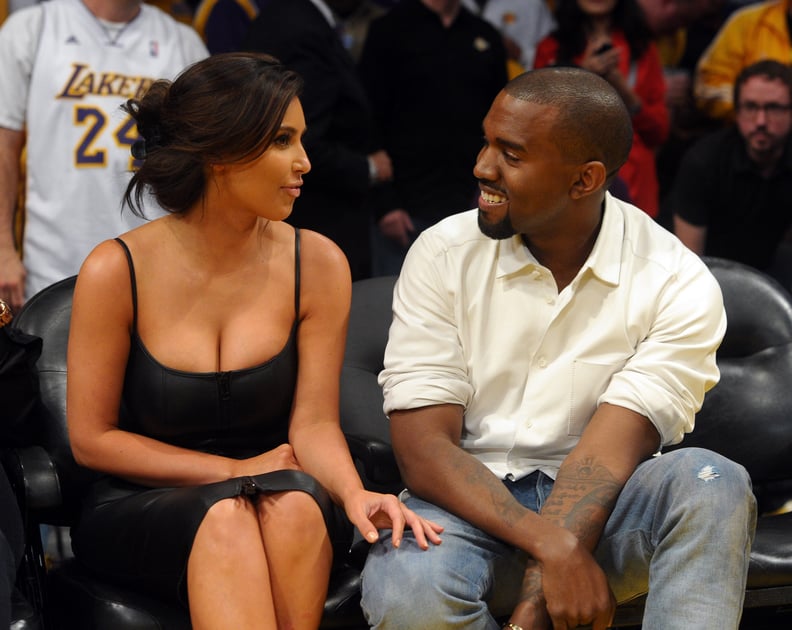 2012: The Kim Kardashian and Kanye West Era Begins
After months of speculation (and several years after their first meeting), Kim and rapper Kanye West went public with their romance in April 2012. By the end of the year, there was more big news for the couple: during a performance in Atlantic City in December, Kanye pointed to Kim in the audience and asked the crowd, "Can we make some noise for my baby mom right quick?" The rest, as they say, is history.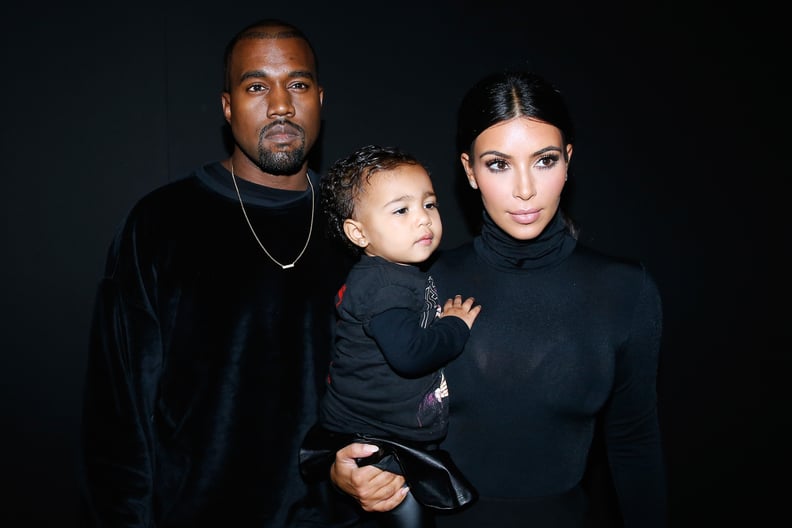 2013: Kim Kardashian Welcomes Her First Child, North West
On June 15, 2013, Kim gave birth to her and Kanye's first child, a baby girl. After five days (and what felt like millions of internet rumors), the couple announced that they named their little one North and were planning to call her Nori for short.
In the short time since her birth, North has pretty much become a celebrity in her own right. After attending her parents' Italian wedding in May 2014, she made her modeling debut on the cover of Vogue, followed by a feature in CR Fashion Book. She goes to Fashion Week, side-eyes the paparazzi, and wears clothes that cost more than your rent. She's also a big sister now; Kim gave birth to son Saint in December 2015 and welcomed daughter Chicago and son Psalm via gestational carrier in January 2018 and May 2019, respectively.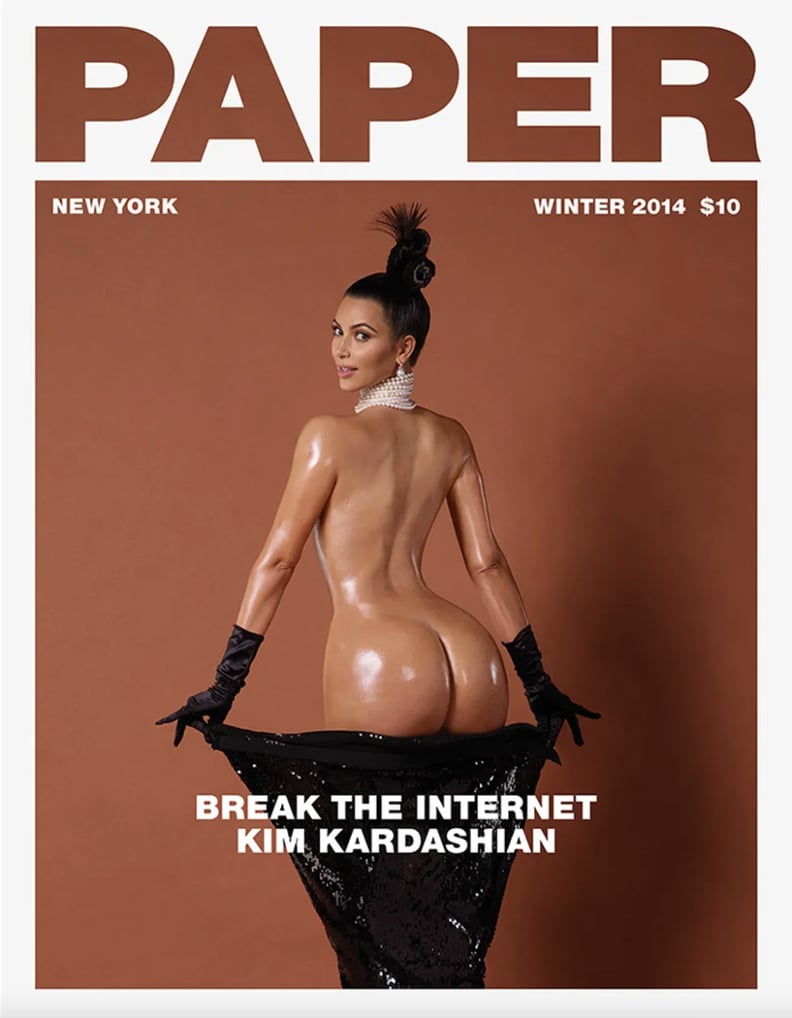 2014: Kim Kardashian (and Her Bare Ass) Break the Internet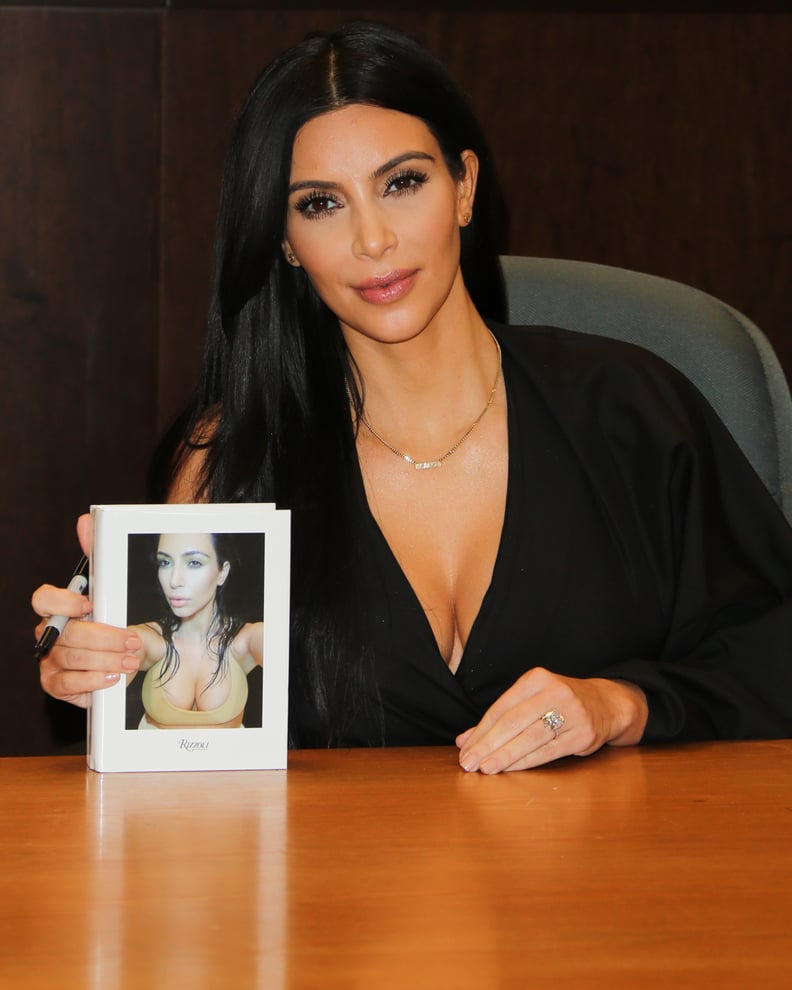 2015: Kim Kardashian Releases a Book of Selfies
In May 2015, Kim changed the coffee table book game forever with Selfish, which is basically over 400 pages of personal selfies including travel photos, pictures with family and friends, and yes, nudes. Selfish got a positive response from critics and was reprinted with even more snaps the following year. In December 2015, Kim also released Kimoji, an emoji pack for iOS devices that racked up the most downloads in a week. Designed by artist Jen Lewis, the pack offered cheeky versions of Kim's clothing, figure, and infamous crying face.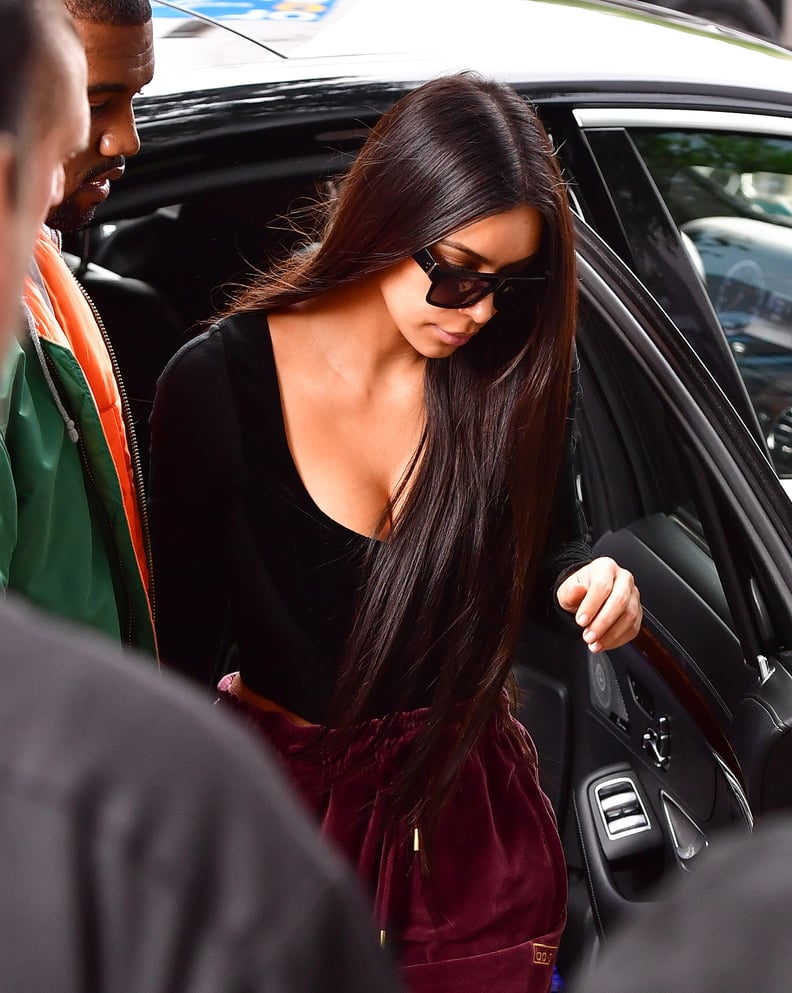 2016: Kim Kardashian Takes a Break From Public Life After Being Robbed at Gunpoint in Paris
Kim's fame grew more than ever in 2016 thanks to a messy feud with Taylor Swift and a nude selfie that had heads imploding around the globe. Hot on the heels of her viral Paper cover, 2016 was the year Kim Kardashian truly came into her power as a sex symbol. She was in the spotlight like never before and ultimately learned how to maintain a public persona while prioritizing her safety.
While attending Paris Fashion Week in October 2016, Kim was the victim of a terrifying robbery in her hotel room. She was bound, gagged, held at gunpoint, and robbed of over $10 million in jewelry by two men who were reported to have been following her around the city in the days prior. Though many people — and many celebrities — spoke out in support of Kim, others doubted her story and even went as far to suggest that she made up the attack for attention (and even worse, for ratings).
After the incident, production on Keeping Up With the Kardashians was put on hold "indefinitely," and Kim took a breather from public life and social media, only popping up at family Christmas parties that holiday season. And since the Paris attack, Kim has made changes to how (and when) she shares her life on social media. In an interview with The Cut in 2019, she admitted that the robbery changed her perspective and priorities. "It took something out of me in the best way," Kim said. "All the things that really mattered to me then deeply — how many bags I had, what car I drove. . . I still like all that stuff, but it doesn't matter."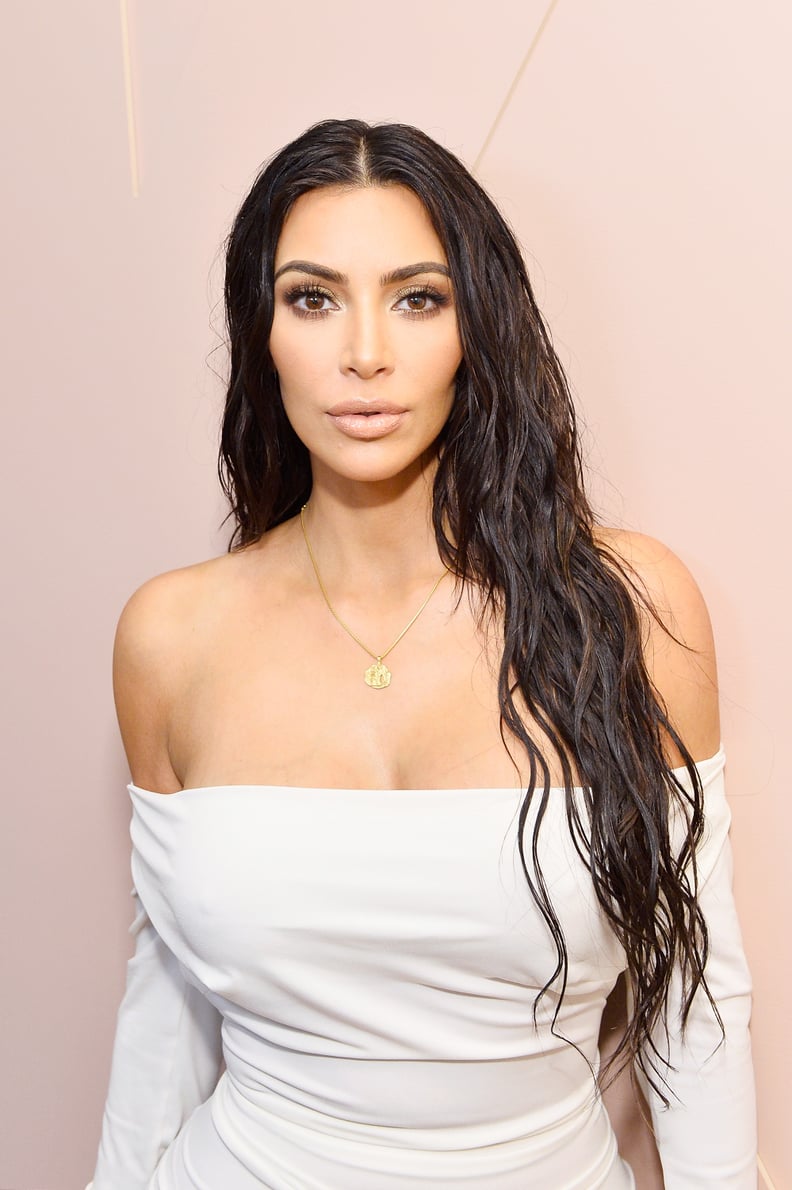 2017: Kim Kardashian Launches Her KKW Beauty Collection
Kim took her love for makeup to a new level in June 2017 when she launched her KKW Beauty line with — what else? — a contour kit. The collection earned more than $100 million in sales in 2018 and has since grown to include everything from eye-shadow palettes, highlighters, and lip colors to even body makeup designed to help those with skin disorders and scars (Kim has been candid about her own battle with psoriasis).
Along with the KKW Beauty launch, Kim also revealed KKW Fragrance in 2017 and released a trio of gardenia scents inspired by a perfume her late father, Robert Kardashian, bought her as a teen. According to Forbes, KKW Beauty makes up the majority of Kim's $72 million fortune.
2018: Kim Kardashian Heads to the White House and Helps Get a Woman Out of Prison
In May 2018, Kim famously met with President Donald Trump, his daughter Ivanka, and Ivanka's husband, Jared Kushner, to discuss prison reform. The aim of her visit to the White House was to seek clemency for 64-year-old Alice Marie Johnson, who had been serving a life sentence in prison for a first-time, nonviolent drug offense. Of those who tried to sway her decision to meet with Trump, Kim told Vogue: "It's my reputation over someone's life? Weigh that out. People talk sh*t about me all day long. It will just be another story about me versus someone getting their life back."
Kim's perseverance and dedication to Alice Johnson's cause resulted in her sentence being commuted, and she was released from jail in June 2018 after serving 21 years. Kim also played a huge role in the creation of the First Step Act, which was signed into law that December. The goal of the legislation is to reduce recidivism, or the chance that a formerly incarcerated person might go on to break the law again, by offering programs that will help them succeed on the outside. "I never in a million years thought we would get to the point of getting laws passed," Kim told Vogue. "That was really a turning point for me."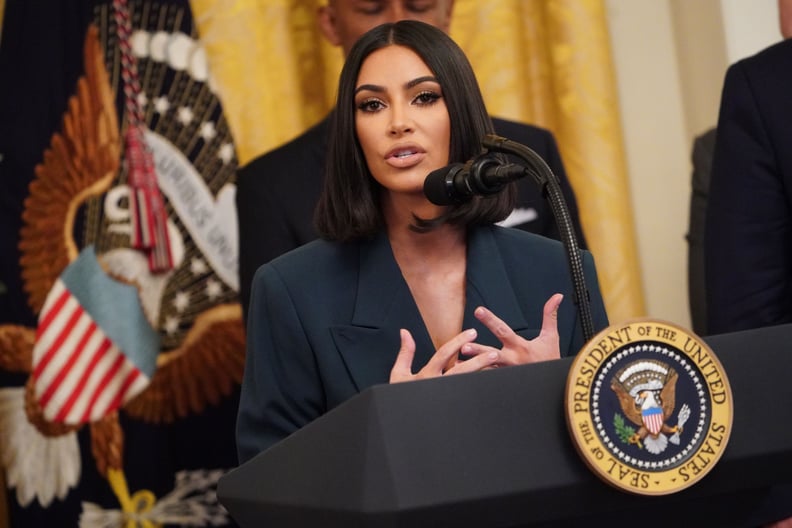 2019: Kim Kardashian Gets Political and Announces Her Plans to Become a Lawyer
Kim shocked the world yet again in April 2019 when she revealed to Vogue that she is studying to be a lawyer, with a goal of taking the bar exam in 2022. Naturally, the response to Kim's new endeavor was mixed; many admire her for continuing her education, but there are also those who have wondered aloud if Kim "bribed her way" into a law program, or suggest that she can't become a lawyer because of her sexy public persona and history of nude selfies.
So far, it doesn't seem like Kim is letting the unsolicited input bother her — nor should she. "I've seen some comments from people who are saying it's my privilege or my money that got me here, but that's not the case. One person actually said I should 'stay in my lane,'" Kim wrote in an Instagram post after the Vogue interview was released. "I want people to understand that there is nothing that should limit your pursuit of your dreams, and the accomplishment of new goals. You can create your own lanes, just as I am."
Since announcing her plans, Kim has also been walking the walk. She made another visit to the White House in June 2019 to speak at an event on criminal justice reform and promote second-chance hiring, or the hiring of prisoners released early under the First Step Act. She's met with a number of prisoners, including Rodney Reed, who was scheduled to be executed for a 1996 assault, rape, and strangling. Due to evidence that allegedly implicates another man for the crime, the Texas court recently issued a stay of execution and remanded the case back to the trial court. "Words cannot describe the relief and hope that swept over the room in that moment," Kim captioned an Instagram of Rodney. "We have seen Democrats and Republicans come together. We have seen grassroots activists and lawmakers link arms. We have heard people all around the globe speak up. And all because of a deep belief that every man or woman accused of a crime — especially one punishable by death — deserves the chance to have all available evidence considered."
It remains to be seen what Kim Kardashian will do in the next 10 years, but if the last decade is any indication — from her family, to her businesses, to her growing activism — you can bet she'll be full of surprises.