Taylor Swift Didn't Just Own Her Voice in 2020, She Took It Back
While the rest of us were staying home and taking on new hobbies in 2020, Taylor Swift was sharpening her songwriting skills with musical masterpieces like Folkore and Evermore. But dropping two new albums wasn't her only accomplishment this year. The singer also raised awareness for causes close to her heart, encouraged voting ahead of the presidential election, and spoke out against double standards within the music industry. Plain and simple: Taylor Swift completely owned her voice this year.
For years, Taylor kept her political opinions to herself, but that all changed during her Lover era last year. She showed her support for the LGBTQ+ community by donating money to various causes, and this year, she continued to be an ally. When she was awarded with the Icon Award at the 2020 Attitude Awards in December, she promised to "always advocate" for the community and lend her support. "I want to say thank you to the fans for giving me a platform to make music and to be vocal about the things I think are right and wrong," she said, adding that she believes "very firmly that everyone should be able to live out their love story without fear of discrimination."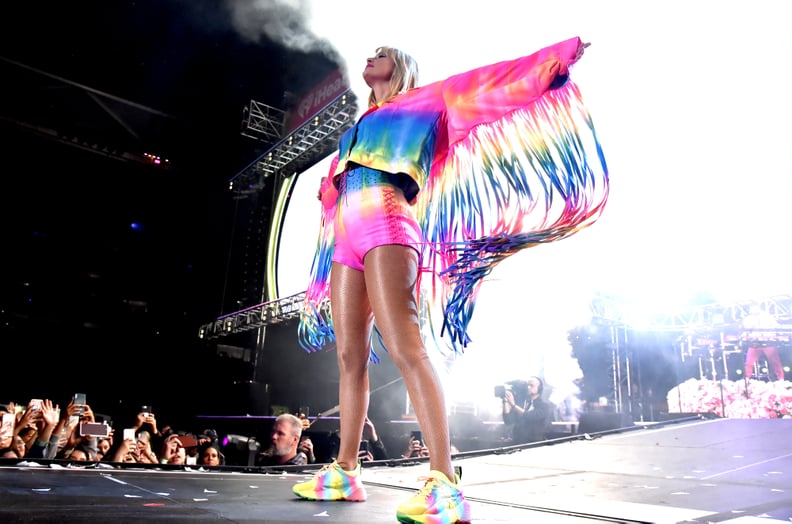 Ahead of the 2020 presidential election, Taylor also used her platform to raise awareness about voting. After staying quiet during the 2016 election, Taylor vowed to no longer stay silent. In her Miss Americana documentary in January, we got a glimpse of Taylor's journey to finding her political voice. She noted that during her country music days, she was told to keep her political opinions to herself and "don't be like the Dixie Chicks," so she refrained from speaking out. "Every time I didn't speak up about politics as a young person, I was applauded for it," she elaborated during a Variety interview for the 2020 Sundance Film Festival. "It was wild. I said, 'I'm a 22-year-old girl — people don't want to hear what I have to say about politics.' And people would just be like, 'Yeahhhhh!'" However, following her sexual assault trial in 2017, she knew she could no longer remain neutral.
"I couldn't really stop thinking about it," she said about her sexual assault trial in the Netflix documentary. "And I just thought to myself, 'Next time there is any opportunity to change anything, you had better know what you stand for and what you wanna say.'" And that's exactly what she did. In addition to providing fans with resources to register to vote, she took a stance by publicly endorsing a presidential candidate for the very first time.
Naturally, some of that newfound political activism found its way into Taylor's music as well. In addition to releasing the politically charged song "Only the Young," she also candidly spoke out about sexism in the music industry. "We do exist in this society where women in entertainment are discarded in an elephant graveyard by the time they're 35," she said in Miss Americana, adding that female artists have to constantly reinvent themselves to keep working. In her music video for "The Man" — which she solely directed — she highlighted that misogyny even further by literally dressing up as a man and showcasing toxic masculinity and the double standards that exist for women.
A large factor in her decision to speak out so publicly and passionately about sexism in the music industry was her own experience. In June 2019, the masters to Taylor's first six albums were sold to record executive Scooter Braun through an acquisition of her former label Big Machine Records. In a passionate blog post, Taylor claimed that she had been pleading for a chance to own her work for years, but instead, was met with "an opportunity to sign back up to Big Machine Records and 'earn' one album back at a time." As a result, Taylor made the difficult decision to part ways with the label and leave behind the music that helped shape her early career.
She noted that the sale to Scooter was her "worst case scenario" as she had received "incessant, manipulative bullying" from him "for years," alluding to her feud with Scooter's former client Kanye West back in 2016. "Now Scooter has stripped me of my life's work, that I wasn't given an opportunity to buy," she said in the blog post. "Essentially, my musical legacy is about to lie in the hands of someone who tried to dismantle it."
"It's her music, but it's also ours.
As a result of the ongoing battle for her masters, Taylor has made it her mission to champion women in the music industry and raise awareness about their rights to own their own music. While accepting artist of the decade at Billboard's Women in Music event in December 2019, the singer gave an impassioned speech about what she has learned about herself and the music industry these past few years. "What does it mean to be the woman of this decade?" she asked. "Well, it means I've seen a lot . . . I saw that as a female in this industry, some people will always have slight reservations about you: whether you deserve to be there, whether your male producer or co-writer is the reason for your success, or whether it was a savvy record label — it wasn't. I saw that people love to explain away a woman's success in the music industry."
She then took a moment to address Scooter's acquisition of Big Machine Records in particular adding, "I'm fairly certain he knew how I would feel about it. And let me just say that the definition of toxic male privilege in our industry is people saying, 'But he's always been nice to me!' when I'm raising valid concerns about artists and their rights to own their music. Of course he's nice to you. If you're in this room, you have something he needs."
As a longtime Taylor Swift fan, I know that her music is a personal experience for every fan. I can't tell you how many times I've heard people say, "Taylor Swift is the soundtrack to my life" while recounting their favorite tracks. There's just something about her songs that feels like she took a snapshot of your own life and perfectly put it into words. It's her music, but it's also ours, which is why it is so disheartening that she doesn't actually own her first six albums.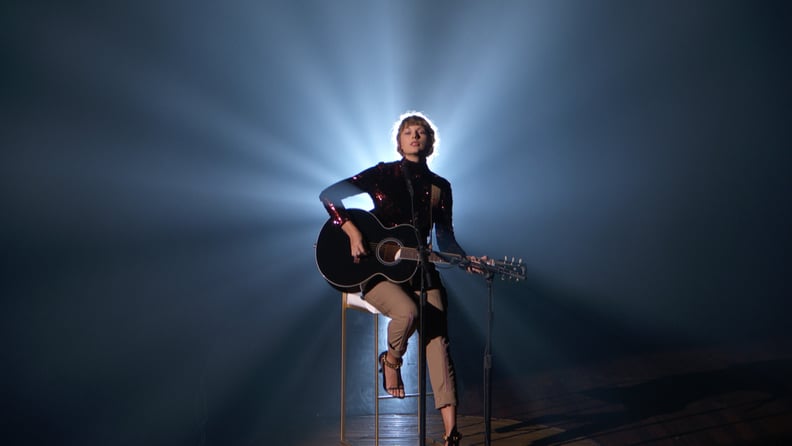 "The best part about her recent music success isn't the awards, the accolations, or even the praise — it's the fact that she owns it."
In the wake of that heartache though, inspiration struck. Following the release of Lover, Taylor stepped away from that personal narrative that once held her back and let her imagination run wild with her Folklore and Evermore albums. "There was a point that I got to as a writer who only wrote very diaristic songs that I felt it was unsustainable for my future moving forward," Taylor said during an interview with Zane Lowe on Apple Music in December. "It felt like too hot of a microscope . . . On my bad days I would feel like I was loading a cannon of clickbait when that's not what I want for my life." She added that releasing Folklore in July opened her up creatively, saying, "I saw a lane for my future that . . . it was a real breakthrough moment of excitement and happiness."
As a result, she ended up creating some of the best music of career. Folklore became the first million-selling album of 2020 in the US and earned six Grammy nominations, while Evermore is already dominating the charts less than one week after its release. However, the best part about her recent music success isn't the awards, the accolations, or even the praise — it's the fact that she owns it.
In addition to owning her voice this year, Taylor is also taking it back. After learning that Scooter sold her masters again without her knowledge in November, Taylor confirmed that she is back in the studio re-recording her first five albums in an attempt to regain her masters. "It has already proven to be both exciting and creatively fulfilling," she said in a lengthy note. "I have plenty of surprises in store. I want to thank you guys for supporting me through this ongoing saga, and I can't wait for you to hear what I've been dreaming up." In December, she gave us a glimpse of what's to come with the re-recorded version of her Fearless hit "Love Story."
There's no telling how Taylor will use her voice next, but after seeing how she conquered 2020, I'm eager to hear what else she has to say.