Who Has Tayshia Adams Dated? Here's Everyone Who's Romanced the Rumored Bachelorette
We may just have a new Bachelorette, y'all. According to Aug. 3 reports from several outlets, original season 16 lead Clare Crawley reportedly quit the show after finding love with one of her contestants, former professional football player Dale Moss, and Bachelor alum Tayshia Adams was tapped to take over as Bachelorette. While it's unclear how that will work, whether Crawley's journey will still be shown, or if any of this is even true, what we do know is that Tayshia would make a pretty awesome Bachelorette. Let's review her relationship history both before and after Bachelor fame, shall we?
Joshua Bourelle
Before appearing on The Bachelor in 2019, Tayshia was married to her first boyfriend, a roofing contractor named Joshua Bourelle, whom she was with for about six years. After marrying in April 2016, the two decided to split a year and a half later, and Joshua filed for divorce in October 2017, according to court documents obtained by Radar Online.
Tayshia later opened up about her marriage and divorce while on a one-on-one date with Colton Underwood. In a January 2019 Instagram post, Tayshia reflected on the experience of opening up to Colton, writing, "My divorce used to be something I was ashamed of, because to me it represented, not only to myself but to everyone that knew me, that I had failed at marriage, something I value so highly . . . It's been a rough journey to pick up the pieces and rebuild my idea of the life I want, but I will tell you this: I would not be able to be the strong, independent, and smiling woman I am today without my faith or the support of my close family & friends that have supported me unconditionally."
Chase Olswang
After splitting from Joshua, Tayshia began seeing model Chase Olswang, whom she dated up until filming began for The Bachelor in September 2018. According to Chase, he and Tayshia met at a bar in Newport Beach, CA, in November 2017 and went on to date for about 10 months. The two seemingly even went to the Bahamas together right before production began on season 23.
"We fell in love really quickly," the model told Us Weekly in February 2019. "I moved some things around . . . before she ended up deciding to leave [for The Bachelor], because she still wasn't really sure if she was going to go on the show or not. She was still back and forth . . . she wasn't sure. As it got closer, I could kind of see changes between us and I could kind of tell that she was leaning toward going. I don't know all of the exact reasons for that." Chase added that they were still in contact after filming wrapped but probably wouldn't be rekindling their romance.
Colton Underwood
Tayshia quickly became a fan favorite on season 23 of The Bachelor, and she even made it to the final two, though she was sent home after her Fantasy Suite date when Colton told her he had stronger feelings for Cassie Randolph. Luckily, it seems as though Tayshia and the former football star are still on good terms. When rumors started circulating that Tayshia would replace Clare Crawley as the season 16 Bachelorette, Colton took to Twitter to joke, "Congrats @TayshiaAdams — good luck and I hope you find yourself a better kisser," referring to that time on Bachelor in Paradise season six when Tayshia dissed Colton's kissing skills.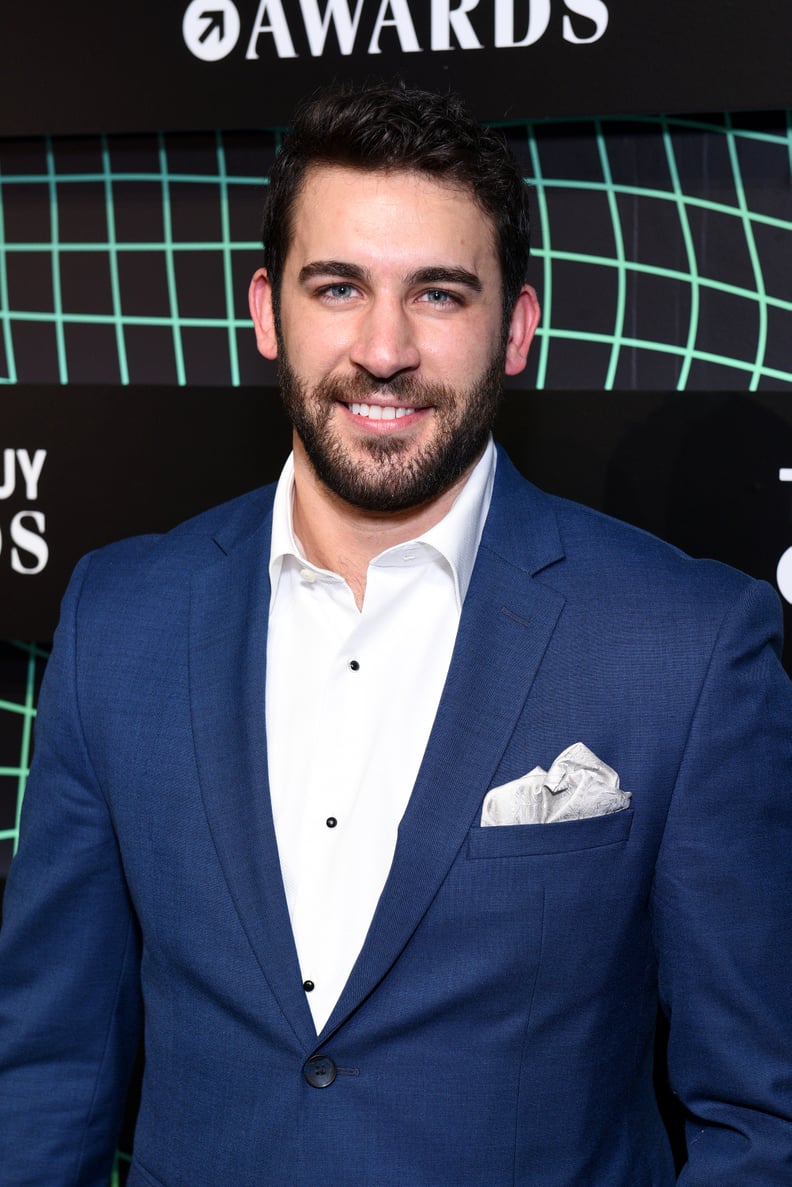 Derek Peth
After her stint on The Bachelor, Tayshia competed on season six of Bachelor in Paradise, where she caught the eye of two suitors: Derek Peth (from JoJo Fletcher's season of The Bachelorette) and John Paul Jones (from Hannah Brown's season of The Bachelorette). Though Derek initially had a thing for Demi Burnett, she ended up ditching Derek to be with Kristian Haggerty, which is when Tayshia and Derek started up their romance. However, Tayshia later told Derek that she couldn't see their relationship working in the outside world.
In a September 2019 interview with Access Hollywood, Derek confessed that he was still interested in Tayshia, despite her choosing JPJ over him. "I've always liked Tayshia, but she kind of shut it down on me, told me that it wasn't something that would happen. Personally, again, I was always interested in her and that hasn't changed," he said. However, it's unclear whether Derek actually tried to shoot his shot with Tayshia after her breakup with JPJ.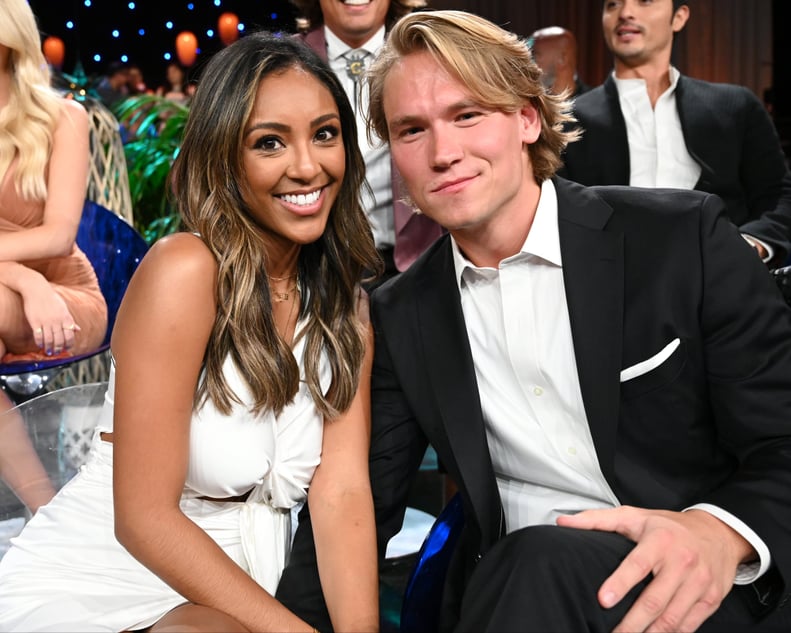 John Paul Jones
Though Tayshia and JPJ initially spent their time in Paradise with Derek and Tahzjuan Hawkins, respectively, the two eventually found their way to each other. Fans were shocked when they broke up right before the finale, but the two later reunited on the "After the Final Rose" special in September 2019 after Tayshia flew to JPJ's home in Maryland to ask him to take her back.
The reconciliation didn't last, and only six weeks later, the duo broke up for good. "We truly did the best we could, but at this time have decided that what is best for the both of us is to go our separate ways," she wrote in a since-deleted Instagram post. "We are the best of friends and will continue to remain in each other's life because regardless of the situation, we make each other happy." They seem to have kept their promise, as — following the news of Tayshia potentially becoming the next Bachelorette — JPJ told Us Weekly that he's "really happy and excited" for his ex.