Conleth Hill Quotes on Varys's Death on Game of Thrones
Conleth Hill Reflects on Varys's Death on Game of Thrones: "I Really Was Inconsolable"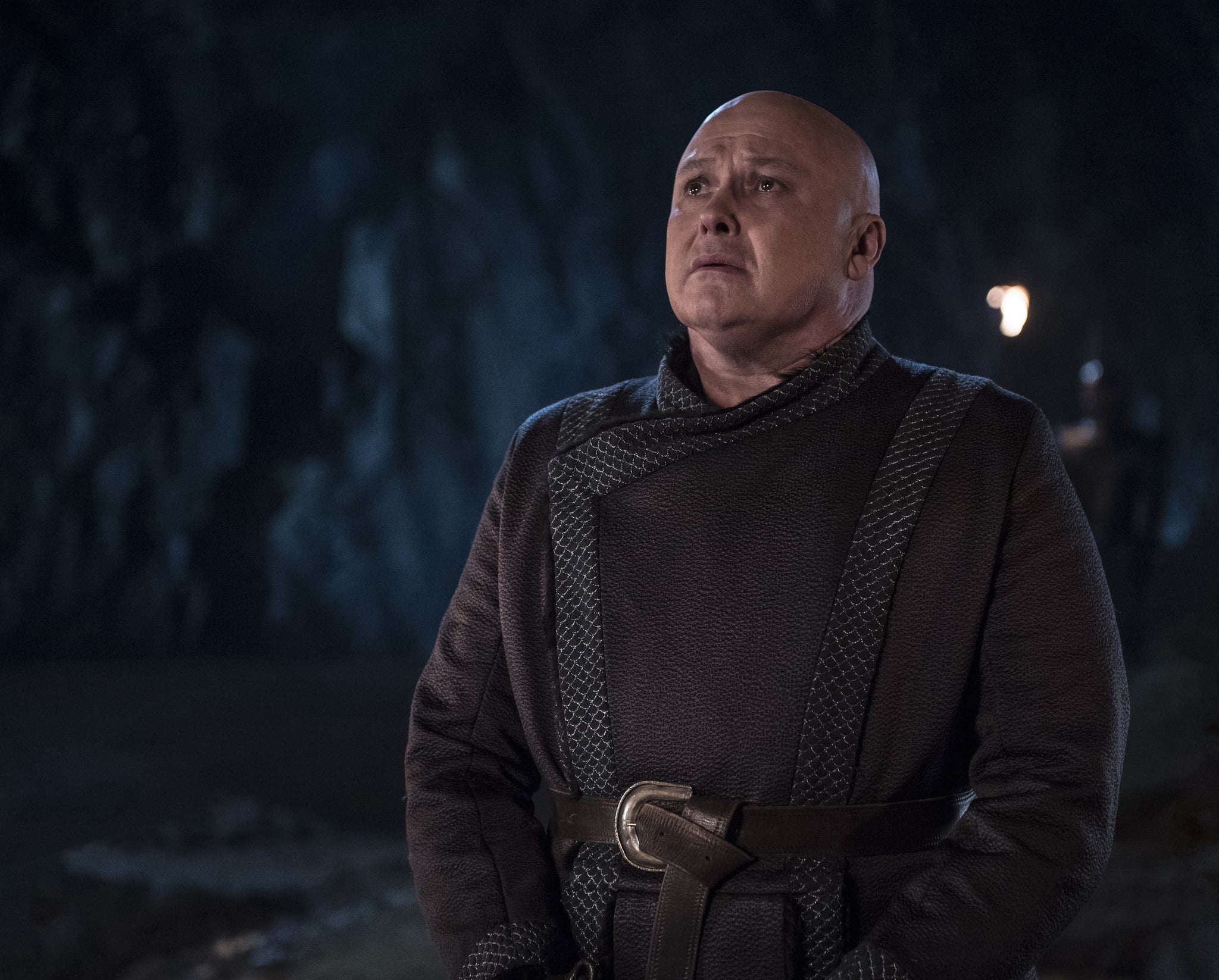 Warning: The following post contains spoilers for Game of Thrones episode five, "The Bells."
The Spider is burned. In the penultimate episode of Game of Thrones, Varys meets his end. While his fiery death is the first sign of Daenerys's Mad Queen tendencies in the episode, it's a death that the character knows is coming. The second he hears footsteps approaching, he removes his rings and burns his remaining letters. For a person who has always put the sanctity of the realm before himself, he stands his ground.
After finding out that Jon Snow aka Aegon Targaryen is the true heir to the Iron Throne, he commits treason, disobeying Dany while getting the word out about Jon's lineage. Initially, actor Conleth Hill took Varys's death "very personally," but eventually he realized the death is "noble and for the good."
Following Varys's end, Hill spoke with Entertainment Weekly about the bloody episode. When asked about his decision to betray Dany he said it was "All brilliant. All noble." Hill added, "He was absolutely true to his word the whole way through. All he wanted was the right person on the throne and a fair person on the throne. He said it so many times in the scripts. I don't have the distraction of love or desire or any of those things. And the people he needed to see clearly were both in love. So that makes perfect sense. And now with hindsight, I'm okay, but I really was inconsolable."
"He was absolutely true to his word the whole way through."
In the second episode of season seven, titled "Stormborn," Daenerys warns the Master of Whisperers what would happen if he disobeyed her. "If you ever betray me, I'll burn you alive," she said, and burn him she did. Fast forward to season eight, and Varys is clearly very aware of how dangerous his treasonous acts are, but as he says, "The greater the risk, the greater the reward." We just hope he got some of those letters out before Drogon set him ablaze.
Interestingly enough, Hill said he was "very bummed to not have a final scene" with Littlefinger (actor Aidan Gillen) before his death. "I was bummed not to have any reaction to him dying, if he was my nemesis," Hill said. "It would have been great to have had one more meeting with Littlefinger. I think they tried to make that work and couldn't." He even said that he hasn't been entirely pleased with recent seasons. "It just felt like after season 6, I kind of dropped off the edge. I can't complain because it's six great seasons and I had some great scenes these last two seasons. But that's when It changed for me a little," Hill shared. "As a whole it's been overwhelmingly positive and brilliant but I suppose the last couple seasons weren't my favorite."
With the final episode of the series approaching, fans have no idea what to expect. Will Jon end up killing Daenerys after seeing how cold-hearted she is? Will Tyrion take the Iron Throne? What will happen to those letters Varys sent out? Hill said he has "no idea" how fans will feel about the finale. "I don't know how I feel," he said. "I don't think they'll feel cheated. The fan favorites are all there." As for Hill, looking back on his character development and Varys's story, he said, "it was a fantastic journey."