The "Abbott Elementary" Cast Reflect on the Show's Success and Quinta Brunson's "Brilliant" Casting
Grab your remotes and get ready for more gut-busting laughs because "Abbott Elementary" is back for another epic season. The witty, record-breaking, and now Emmy-winning mockumentary sitcom returns on Sept. 21, and, of course, there's no doubt that it'll deliver yet another award-worthy season.
Fresh off their months-long press run, the "Abbott Elementary" cast — Quinta Brunson, Tyler James Williams, Sheryl Lee Ralph, Janelle James, Lisa Ann Walter, Chris Perfetti, and William Stanford Davis — have been working nonstop to finish filming season two, so much so that the stars tell POPSUGAR they've hardly had a moment to revel in their unprecedented success, which Williams says is on account of still being "stuck in the incubation chamber that is 'Abbott' season one."
"You know what's weird, someone just asked me that yesterday . . . and it was the first time I actually had to grapple with that, 'What has changed?'" he shares. "And it's weird because I don't know yet. 'Abbott' premiered, we immediately went into press for it, then we went on an awards campaign run, then we went into season two, [up until] now. So we haven't been outside much to really gauge reaction."
Just a few short weeks after "Abbott Elementary" premiered in December 2021, the show could already say it acquired a passionate fanbase that includes celebrities like Gabrielle Union, Jada Pinkett Smith, and Kerry Washington, to name a few. James admits she still finds herself in awe of that fact. "I don't know what I thought celebrities do, but it certainly wasn't watching sitcoms," she jokes. "I thought they'd be on their yachts watching specially curated shows just for them. It's been wild, like, 'Oh, you just taking time out of what I guess would be your amazing life to watch this show?' That's amazing!"
"You see people in the streets and they tell you how much they love the show, but I think the biggest compliments we get come from teachers . . . "
No one could've predicted that "Abbott Elementary" would take off like a rocket (well, maybe Williams). Not even a year after its winter premiere, it broke new ground in the television world and, as several outlets have reported, has been responsible for resurrecting the network sitcom. Yet and still, the cast are trying to catch up to viewers who have been raving about the TV juggernaut since day one.
"You really can't tell because we've been working so much," Davis explains of adjusting to the "Abbott Elementary" boom. "And when we haven't been working, we've been promoting the show. You see people in the streets and they tell you how much they love the show, but I think the biggest compliments we get come from teachers and a lot of stuff on social media, and that's how you can really tell that it's affecting people. I'm talking about globally [as well]."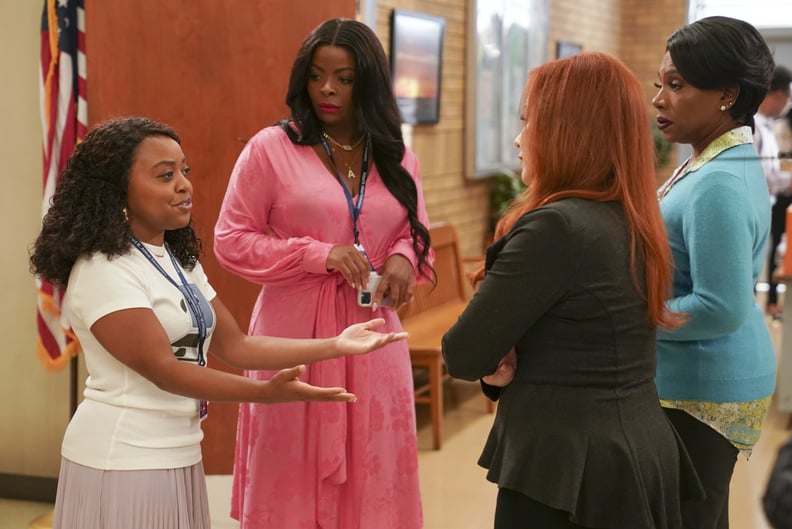 Even with glowing reviews, a near-perfect Rotten Tomatoes score, and an eager audience growing by the day, the "Abbott Elementary" crew remain as humble as ever, and Brunson assures us that the sitcom won't be straying away from the place where the magic happens anytime soon. "It's very important to me. It is a workplace comedy, you said exactly it, and I think [the characters] work best in the workplace," the series creator says. "That is where the stories are told. That's where we get the most meat from our characters, so it matters for them to stay there, to me."
Aside from Brunson's award-winning writing, most credit for "Abbott Elementary"'s success rightfully goes to the cast's exceptional chemistry and comedic skills — which its creator obviously had a hand in. According to Ralph and Walter, Brunson is the brains behind bringing the show's talented group of actors together. From no-nonsense kindergarten teacher Barbara Howard (Ralph) to socially awkward Jacob Hill (Perfetti) and the effervescent Principal Ava (James), Brunson played a major part in birthing all of these characters we've come to know and love.
"That is a testament to Quinta's ability, an almost unnatural ability for her age, to be a boss, [a] CEO [who said], 'Let me combine these nice people.'"
"She picked good people to come together," Ralph shares. "Sometimes people just pick people and say, 'If they bring a bad energy, we can just tolerate it because we'll take those numbers,' and I think Quinta was very purposeful in saying, 'No, we can't have anything that's going to upset the vibe. We have to have a good vibe.' . . . The only way we were going to make it is if we had true professionals who understood we must be on the same page."
Of "Abbott Elementary"'s Emmy for outstanding casting for a comedy series, Ralph says that win is due to the show having all the "right elements." "The right bit of happy, sad, saucy, shiny, glitzy, wise, wonderful, all those little things put in together. It's just a testament to that [win]," she adds.
Walter echoes her sentiments, saying, "[Ralph is] absolutely right about all of the cast, there being different energy but it makes sense. That is a testament to Quinta's ability, an almost unnatural ability for her age, to be a boss, [a] CEO [who said], 'Let me combine these nice people.' . . . She's one of a big, big family, and I think when you come up like that, you get this empathy and knowledge of other people where you're watching them interact, and that's how she figured out the ['Abbott'] family. . . . It's getting the right mix, and she was brilliant in doing that."
Many, if not all, of the "Abbott Elementary" cast members are the show's own biggest fans. And, at this point, they consider it an honor to be part of something that will hopefully be around for a long time. After setting the bar so high in season one, there's no telling how the sitcom will outdo itself in season two. But it's pretty safe to assume viewers will be tuned into all 22 episodes to find out.
"Abbott Elementary" airs new episodes every Wednesday at 9 p.m. ET on ABC.