Bel-Air: What Happened to Will's Dad?
Revisit the Explosive Drama Between Will and His Father From "Bel-Air" Season 1
Watch out! This post contains spoilers.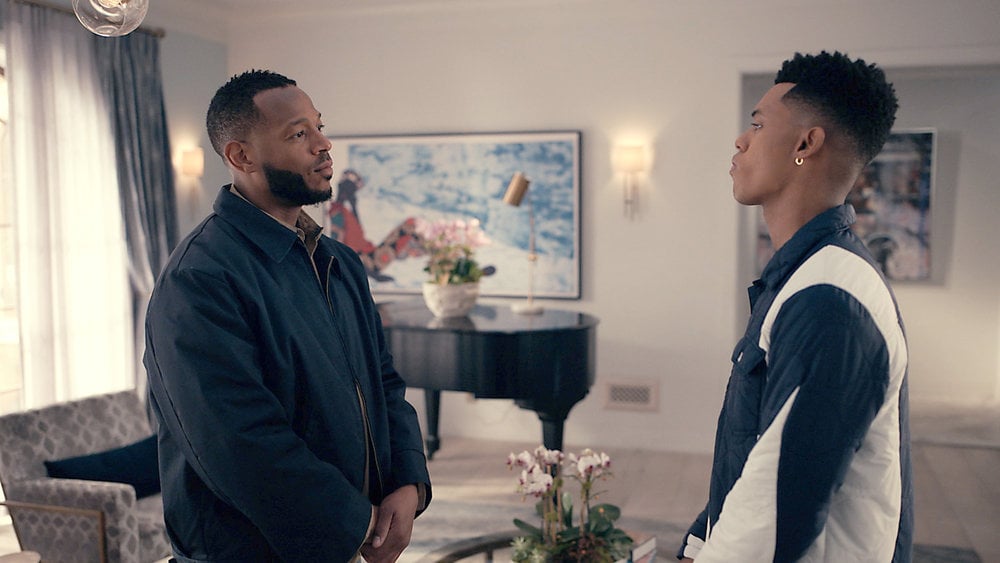 Peacock's revival of "The Fresh Prince of Bel-Air" reunites us with some of our favorite characters, in new form. Newcomer Jabari Banks steps into Will Smith's shoes as Will, while Adrian Holmes plays Banks family patriarch Philip Banks. Vivian (Cassandra Freeman), Carlton (Olly Sholotan), Hilary (Coco Jones), and Ashley Banks's (Akira Akbar) roles have also been recast, while April Parker Jones plays Will's mother. And during the show's season one finale, we finally reunited with Will's father, Lou (played, this time, by Marlon Wayans).
For those who don't remember, Lou (originally played by Ben Vereen) abandoned his family in "The Fresh Prince of Bel-Air" when Will was just 5 years old, leaving Vy to raise Will on her own. Per Hilary, he was "a deadbeat who left him and his mom flat." Lou went on to become a trucker and was absent for most of Will's life until season four, episode 24 ("Papa's Got a Brand New Excuse"), when he unexpectedly shows up in Bel Air after 14 years. He and Will begin to form a relationship, and Lou even invites Will to join him for the summer on a cross-country road trip.
In the '90s iteration of the show, Will is happy to have his dad in his life again, but his joy is cut short after Lou reverts back to his selfish ways and leaves again. He tells Will that some "business" came up that he needs to handle and that their trip will have to wait. Will attempts to brush off the whole thing, but he eventually breaks down during a memorable emotional conversation with Uncle Phil.
"I ain't need him then, and I don't need him now," Will tells Uncle Phil. "I'm gonna get through college without him. I'm gonna get a great job without him. I'm gonna marry me a beautiful honey, and I'm having a whole bunch of kids. I'll be a better father than he ever was, and I sure as hell don't need him for that, 'cause ain't a damn thing he could ever teach me about how to love my kids." In tears, Will then asks Uncle Phil, "How come he don't want me, man?"
So, how does "Bel-Air" address Will's absentee father in the reimagined drama? Read ahead to find out.
What Happens to Will's Dad in "Bel-Air" Season 1?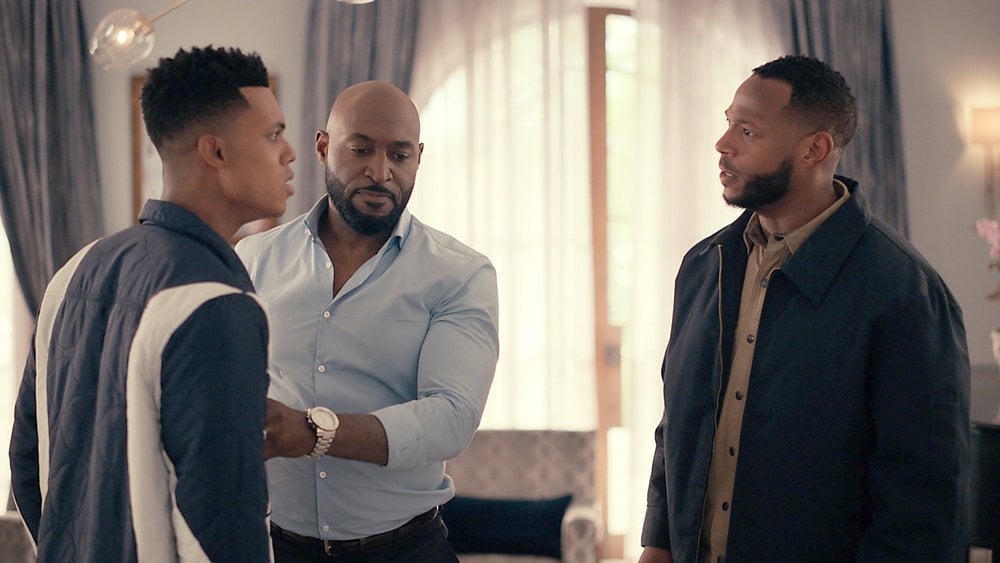 It initially appered like Lou wouldn't make an appearance in "Bel-Air," but that was ultimately not the case. When Vy comes to visit Will in "Bel-Air"'s eighth episode of season one, she tells Viv and Phil that she plans on telling Will the truth about his father. Neither Viv nor Phil thinks it's a good idea, and they discourage her from doing so. Lou then shows up in the final episode of season one, and it's revealed that he didn't actually abandon his family — he was serving time in prison and didn't want Will to see him behind bars. However, his reunion with Will doesn't have a happy ending.
After insinuating that Vy is the reason he went to prison, Lou and Will get into a heated argument that ends with the former telling his son, "Being with your mama was the worst mistake I ever made in my life." The two exchange some more colorful language, and Lou grabs Will by his neck before Uncle Phil finally intervenes to calm them down. After cursing out his father, Will tells Lou, "I never want to see you again," and, in so many words, advises him to find a ditch to lie in.
Lou then storms out, followed by Will, who packs a bag and leaves his family's mansion after feeling betrayed by them and, most of all, Uncle Phil, since he fought so hard to keep Lou out of Will's life. Season one of "Bel-Air" ends with Will at odds with his family and staying with Jazz (Jordan L. Jones) as he figures out what to do next.
Does Will's Dad Appear in "Bel-Air" Season 2?
Considering the tumultuous state of their relationship in season one, only mentions of Will's dad occur in "Bel-Air" season two. It doesn't seem like Wayans's Lou will be returning to reconcile anytime soon. In a 2022 interview with POPSUGAR, former coshowrunner Rasheed Newson said that season two will further explore the fallout from Will and Lou's fight in order to bring the Banks family back together. "That's probably our first mission, and it's not going to be easy," he noted. "One of the things we talked about is, with a sitcom, at the end of those 30 minutes, whatever problem we have is resolved. [But] they lied to this boy for years. He feels like he really came here, opened up his heart to them, trusted them, and now he feels betrayed. It's going to be very hard for them to rebuild that."
Season two's premiere picks up two weeks after season one's finale, with Will still fuming about how Uncle Phil handled the situation with his father. For much of episode one, titled "A Fresh Start," Will avoids communication with Uncle Phil, making an effort to speak to everyone else in his family but him. However, the two finally sit down to hash out their differences at Ashley's 13th birthday party.
Though Uncle Phil apologizes to Will, it seems it'll be a slow rebuild to getting their bond back to where it used to be.
— Additional reporting by Njera Perkins
Image Source: Peacock