Brandee Evans and J. Alphonse Nicholson on "P-Valley"'s Approach to Black Queer Representation
"P-Valley" is as raw, uncut, and uncensored as it gets when it comes to portraying Southern strip-club culture on TV. However, the hit Starz drama examines so much more than that. For the past two seasons, viewers have been exposed to some of the grittiest stories ever told with Black and queer characters front and center, sharing true-life-inspired tales that explore the nuances of colorism, racism, queerness, sex work, and domestic violence.
". . . when I first got those scenes, I was scared to death because I've never done anything like this on camera."
Season two's fourth episode, titled "Demethrius," is a huge turning point for Lil Murda (J. Alphonse Nicholson) and Big Teak (John Clarence Stewart), as well as Mercedes (Brandee Evans) and Farrah (Shamika Cotton) — the latter two characters had never engaged in a lesbian encounter. In the episode, both pairings cross into sexual territory and end up sleeping together. The explicit scenes are ones rarely shown on screen with same-sex couples, much less depicted by Black characters.
Evans and Nicholson tell POPSUGAR they were both extremely nervous to shoot these particular love scenes. "When I first got those scenes, I was scared to death because I've never done anything like this on camera," Evans reveals. "I had my first [girl] kiss with 'P-Valley,' my first sex scene with 'P-Valley' — honey, 'P-Valley' done popped my cherry," she jokes. "I was literally afraid [of this scene], but I wanted it to be authentic. I did a lot of research — my best friend and I started watching 'The L Word,' and I was studying all the things that are authentic because that's a show to me that I feel really gets it right. And I wanted to get it right, too."
Nicholson, who's married to wife Nafeesha Nicholson and identifies as straight, was equally nervous about his gay character's scene when he read episode four's script. Although he shot a hot-and-heavy love scene with Nicco Annan's nonbinary Uncle Clifford in season one, this was unlike anything the actor had ever tackled. "I said, "Wow, we're going there and people are going to see myself as an actor, but also the character, Lil Murda, in a way that they've never seen me before," he says.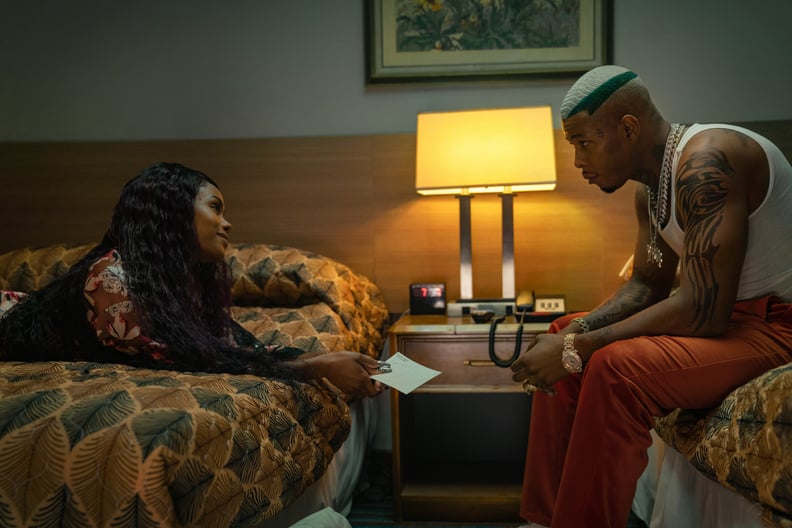 "I think this is a beautiful storyline that other women can relate to as well."
In "P-Valley," Mercedes and Farrah's relationship begins with a paid arrangement between the former and Cedric Haynes, aka Coach (Sherman Augustus) — Farrah's husband. But, one day, the two women form a bond when they're left alone in his condo, leading to their (literal) entanglement. A full-blown lesbian relationship has yet to be explored on the show until now, and Evans thinks it's crucial that more of that representation is shown.
"A lot of women are bi-curious, and I think that Mercedes [being] bi-curious, this was her way of stepping out in a sense and feeling a safe space as well," the actor shares. "She trusts Coach — we saw that in season one. So in this newfound relationship with Farrah, I think it was surprising and unexpected, but it's beyond the sexual relationship as well. I know she's inspired by Farrah, so it's more than the physical — she's attracted to her mentally as well. I think this is a beautiful storyline that other women can really relate to."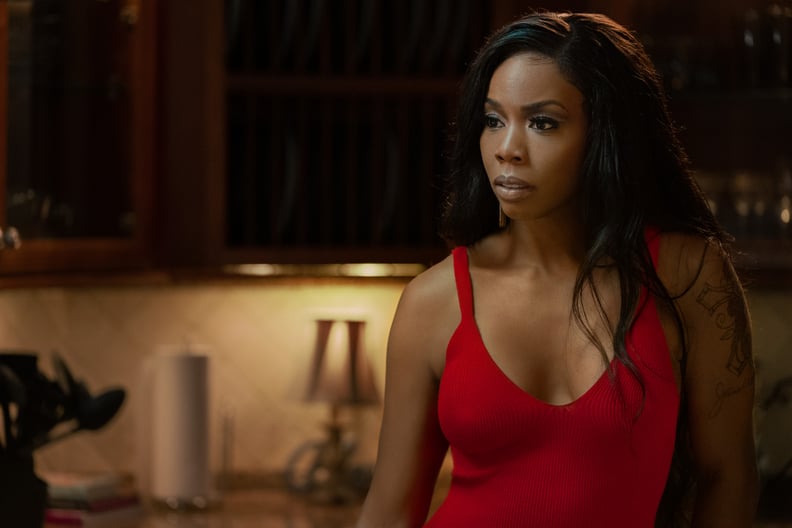 Lil Murda and Big Teak, on the other hand, have a much different dynamic. The two started as close friends, but viewers see that bond quickly changes in episode four when they act on the tension that's been brewing and take their relationship to the next level. Both characters have a preference for the same sex, and unlike Lil Murda and Uncle Clifford, this pair's masculine exteriors (buff bodies, tattoos, baritone voices) represent a different image of gay Black men — one whose representation on TV authentically shows the nuances of queer identity.
"It's extremely important [to show these images] because it's a part of life that not only is taboo within the [Black] community on a daily basis, but in the TV and film worlds as well," Nicholson remarks. "We haven't seen that often, and even in the moments that we've seen it, I think it was kind of expected. Lil Murda is one of those characters that constantly gives you things that you don't expect, and so I'm grateful that [creator Katori Hall] trusted me with the choices that were being made."
"I hope that this show helps shine a different type of light on it and make it OK for everyone to just be themselves."
Of her costar's performance, Evans praised Nicholson for being brave enough to explore a new depiction of what gay Black men look like on screen. "Standing ovation to J. Alphonse . . . he taps into that character so beautifully," she says. "Alphonse always says that his job is to tell the story truthfully and respectfully, so I love that he's not afraid. When I tell you, he gets so much flack [for it], sometimes people feel like he goes too far. But that's not fair, to me, because he's not going far — he's going there, which is the truth of it. He's showing what is truly happening . . . Some people might want to close their eyes to it, but nothing's going away, so hopefully this world will allow some people to open up their eyes and see that love is love."
Evans notes that the genuine LGBTQ+ conversations "P-Valley" isn't afraid to have are inspired by fear that stems specifically from the Black community. "[Being queer] is just something you didn't talk about and you didn't do," she says of her experience growing up. "Especially with our Black men, I can only speak from the female perspective because they would know better than I, but I feel like it's scary. I have friends that identify as gay or bi, but I also have family members that are afraid to say who they love or who they want to be. It's because we shun each other and I don't know why it's like that with us, but I hope that this show helps shine a different type of light on it and make it OK for everyone to just be themselves."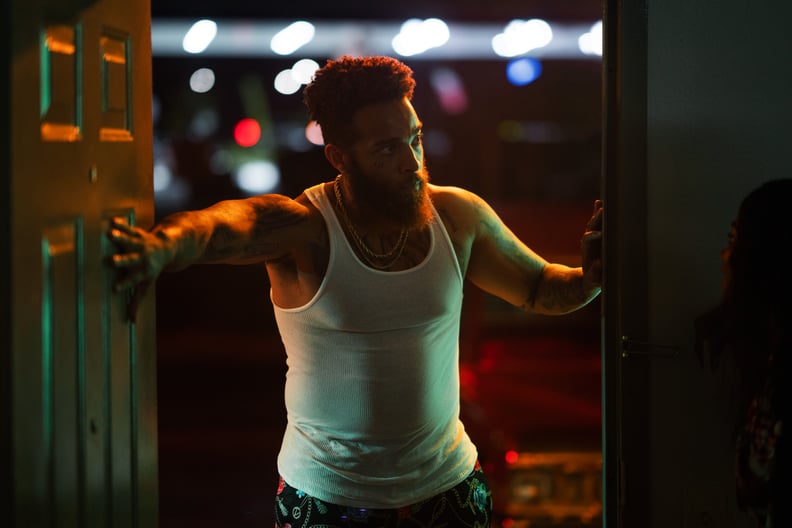 "P-Valley" is making contributions to LGBTQ+ storytelling with every episode that continues to center queer Black folks for the world to see. Evans and Nicholson consider it an honor to share these accounts through their characters, and both hope the show will continue to grant them the opportunity to do so. "I love being able to do this," Evans says. "I feel like everyone knows a Mercedes, an Uncle Clifford, a Mississippi (Shannon Thornton) on the show. So we're humanizing these characters and bringing them into your home . . . they're a reflection of ourselves. I feel like it's allowing us to look in the mirror and see who we are or sometimes who we want to be."
"I feel like it's allowing us to look in the mirror and see who we are or sometimes who we want to be."
Nicholson adds: "The writers' room, they have created very authentic and nuanced scenes that are very palpable. As long as you trust the work, trust yourself, breathe and believe, as I like to say, I think the story will be told and people will receive it the way we want them to — which is very authentic and grounding as possible."
"P-Valley" has never been shy about depicting LGBTQ+ life — it's one of the reasons fans rave over the show. But episode four marks another groundbreaking moment in the TV world that will hopefully encourage more powerful, unshakeable portrayals in the future.
So far, the show has found much success with Lil Murda, Uncle Clifford, and their complex love story as a Black gay couple. But, moving forward, Evans hopes to see the women on the show get more opportunities to explore their sexuality as well. "We can't just keep watching this happen with two men because it happens with women as well," she points out. "Especially being a show with mostly women around, we had to explore that [in episode four] and be honest about that. I think a lot of times in the Black community, we hide that or are afraid to talk about it, but, 'P-Valley' chile, we throw it right in your face."
"P-Valley" airs new episodes weekly on Sundays on Starz.