How Meredith Has Become Her Own McDreamy on Grey's Anatomy
Meredith Grey is easily one of my favorite characters on Grey's Anatomy. She's a smart, compassionate, and instinctive doctor. But for a really long time, Mer has been defined by her relationships at Grey Sloan rather than her merit or talent. She's Ellis's daughter, Alex's confidante, and Derek's main squeeze. Not season 14 Meredith. Season 14 Meredith is a rolls-up-her-sleeves, gets-stuff-done surgical badass.
Things haven't been the same for our beloved heroine since her husband's death. They're definitely harder, especially when it comes to juggling three children as a single mother and navigating the dating scene as a widow. But single Meredith is also finally getting her due credit.
In season 14, we see her hard work pay off. Meredith lands on the cover of a respected surgical magazine. She performs two groundbreaking surgeries: an abdominal wall surgery on Megan Hunt and the first ALPPS procedure on the West Coast. Oh, and she just happens to get a nomination for the Harper Avery, the most prestigious award in surgery (at least in the world of Grey's). Her achievements don't get to her head, though. After losing a cancer patient after surgery, Meredith gets cheers for her Harper Avery nomination. But she reacts coldly, and rather than celebrating her victory, she gets down to work, determined to find a solution for cancer patients ineligible for liver transplants.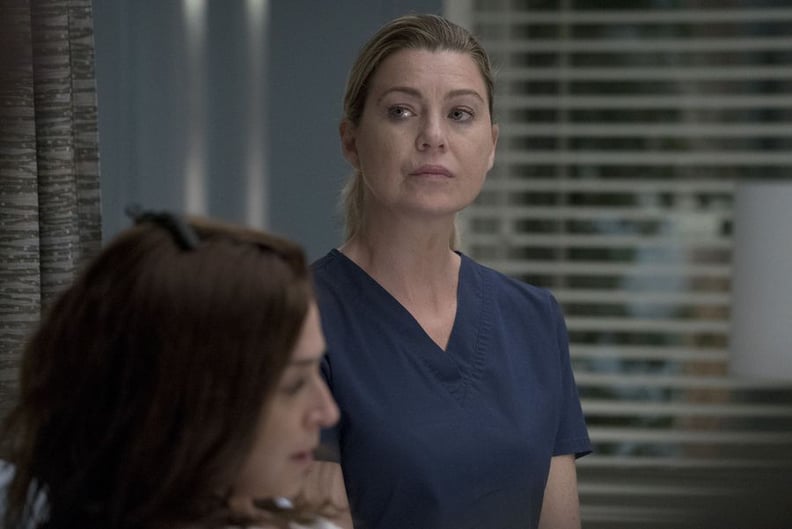 This Meredith in the works is grittier and sexier. She's finally heeded her best friend's advice. Before waltzing away to Switzerland, Cristina reminds Meredith that while Derek is very dreamy, he's not the sun, she is. Mer's now a passionate career woman in the ranks of Olivia Pope and Annalise Keating. (ABC, if you're reading this, we're waiting for a crossover episode!) She's her own McDreamy, minus the god complex. Shondaland shows never shy away from speaking out about feminist issues, and this story arc feels particularly empowering.
While I'm happy about it, I do feel nervous about this new trajectory for Meredith. Her successes and temperament are eerily reminiscent of her late mother's, who suffers from Alzheimer's in the early years of Grey's. When things are good for Meredith, they're really good. We see her fervor and ambition for medicine skyrocket this season. But when procedures go south, Meredith's temper flares, as we see when things go wrong with Megan Hunt and her late colon cancer patient.
I hope this newfound confidence isn't just a plot device to draw parallels with Ellis Grey. Let's be honest — Meredith deserves a happy life after season upon season of enduring tragedies and disasters. The showrunners have promised a lighter and funnier season for Grey's. If it is truly a funnier and lighter season, then we should embrace this turbo-charged Meredith without fearing for another crisis in her life.