Here's Everyone Taylor Swift Is Singing About on Her Reputation Album
Taylor Swift finally released her sixth studio album, Reputation, on Friday, and there is a whole lot to unpack. From her infamous feud with Kanye West and Kim Kardashian to her recent romances, Swift had a lot to say — and she certainly did not hold back. Keep reading to find out who exactly Taylor is talking about on each song from her Reputation album.
— Additional reporting by Monica Sisavat
1. ". . . Ready For It?" — Joe Alwyn
While we originally thought this track was about her ex, Harry Styles, Swift seemed to make it clear that it's about her current boyfriend Joe Alwyn when she dropped hidden references to the actor in her music video. Not only did she include his name in Chinese characters on one of the walls in the video, but she also included a quote that reads, "I Love You in Secret," which seems like a nod to their private relationship.
2. "End Game" — Joe Alwyn
Right off the bat, Swift sings about wanting to be with this guy forever. While the singer has been known to fall in love quickly, she has gone to great lengths to keep her relationship with Alwyn incredibly private. Perhaps her reason for taking things slow is because she wants this relationship to last.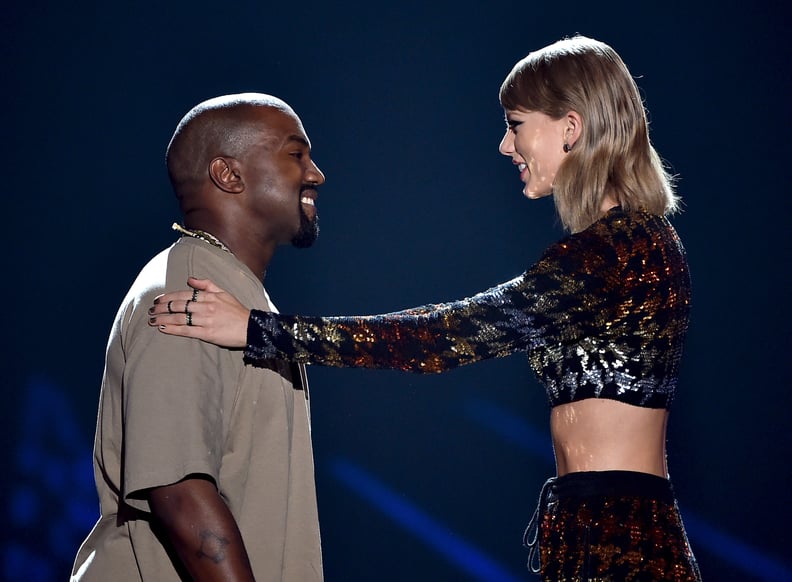 3. "I Did Something Bad" — Kanye West, Kim Kardashian, Calvin Harris, and Tom Hiddleston
If there's one thing Swift knows how to do, it's poke fun of herself. After getting called "shady" and "a snake" this past year, the singer decides to be just that by playing the ultimate villain. Lines like, "If a man talks sh*t, then I owe him nothing. I don't regret it one bit, 'cause he had it coming," seem to reference Harris's Twitter outburst following their split, while others like, "I never trust a playboy, but they love me. So I fly him all around the world," seem to allude to her whirlwind romance with Hiddleston. And finally there's a dig at Kim and Kanye and how they "exposed" her on Snapchat as she sings, "They're burning all the witches, even if you aren't one. They got their pitchforks and proof. Their receipts and reasons."
4. "Don't Blame Me" — Joe Alwyn
This seems to be a tongue-in-cheek love song about Alwyn. Even though she admits she's been "breakin' hearts a long time, and toyin' with them older guys," she adds that something "happened for the first time" in "their darkest little paradise." Shortly after her publicized romances with Harris and Hiddleston ended and her reputation came crumbling down, Swift ran away with Alwyn to stay out of the public eye. Unlike her past romances, Swift seems to allude that this one is the real deal.
5. "Delicate" — Joe Alwyn
From the beginning of the song, Swift reveals that the relationship she is referencing began after her infamous feud with Kanye West as she sings, "My reputation's never been worse, so you must like me for me." She also talks about the guy wearing "dark jeans and Nikes" and getting lost in that "color blue." On one occasion when the pair was leaving her apartment in NYC, they were spotted wearing matching Nike sneakers. Not to mention, Alwyn's eyes are a "gorgeous" shade of blue.
6. "Look What You Made Me Do" — Kanye West and Kim Kardashian
This track is 100% about her feud with West and Kardashian. In addition to making references to West's floating stage from his 2016 Saint Pablo Tour, Swift addresses the couple's "perfect crime" of publishing a Snapchat video of her phone call with West and basically warns that karma will soon get them.
7. "So It Goes . . ." — Joe Alwyn
While there aren't too many telling lyrics in this track, she does talk about wearing this guy "like a necklace." In her song, "Call It What You Want," which is also rumored to be about Alwyn, she talks about wanting to wear his initial on a chain around her neck. Her lyrics about all their pieces falling right into place could signal how she found love during one of her darkest hours.
8. "Gorgeous" — Joe Alwyn
The flirty lyrics of this track are all about Swift falling for a new guy while she's already dating somebody else. While many fans initially assumed the song was about ex Hiddleston, those who attended her private listening sessions say its about Alwyn, which would make sense given that Swift first met Alwyn at the 2016 Met Gala when she was dating Harris.
9. "Getaway Car" — Tom Hiddleston
This song seems to be all about Swift's previous relationship with Hiddleston. The black-tie event she references seems to be a nod to the Met Gala, where she danced the night away with Hiddleston while she was still dating Harris. Swift also addresses their jet-setting romance in several of the lines, but perhaps the most telling lyrics are when she sings, "While he was runnin' after us, I was screamin', 'go, go, go!' / But with three of us, honey, it's a side show / And a circus ain't a love story / And now we're both sorry (we're both sorry)."
10. "King Of My Heart" — Joe Alwyn
Not only does Swift make a reference to the song title in her ". . . Ready For It?" music video, which has tons of hidden references to Alwyn, but she also talks about how "all the boys and their expensive cars with their Range Rovers and their Jaguars" never took her quite where he does. According to fans on Genius, Harris drove a Range Rover and Hiddleston drove a Jaguar. She also talks about wanting to keep this love a secret for as long as she can, as she and Alwyn did for the beginning of their relationship.
11. "Dancing With Our Hands Tied" — Calvin Harris
While it could be assumed that this is another love song about her under-the-radar romance with Alwyn, there are a few lyrics that suggest she's actually singing about her ex, Harris. She mentions being 25 years old, which was her age when she first started dating Harris in March 2015. She also makes a reference to a picture of his face in an invisible locket. Remember that gold heart locket Harris gifted Swift on their one-year-anniversary? To top it all off, the whole track has some major EDM vibes.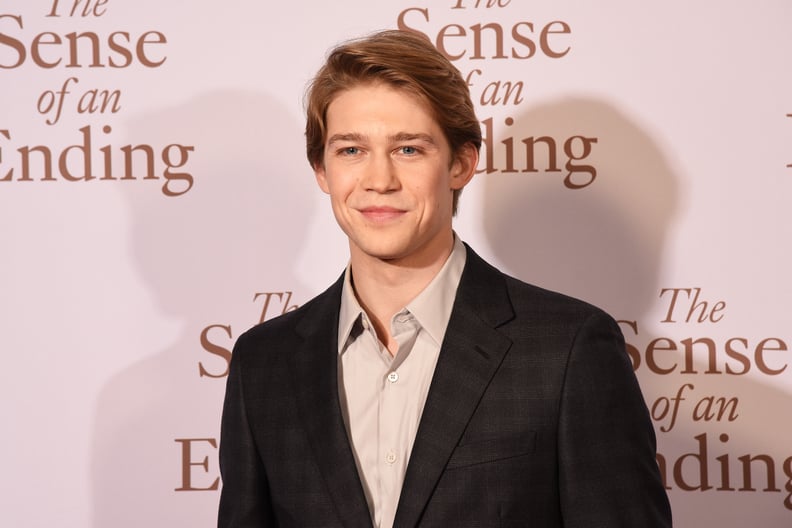 12. "Dress" — Joe Alwyn
Even though some fans thought the track was about her pal Ed Sheeran with lyrics like "there is an indentation in the shape of you," there is one telling line that makes us think it's about Alwyn. She adds that when they first met he had a buzz cut and she had bleached hair, which was sometime around May 2016, when they reportedly met.
13. "This Is Why We Can't Have Nice Things" — Kanye West
This searing track is clearly a shot at West. Not only does Swift reference their on-again, off-again friendship and that infamous phone call about West's "Famous" lyrics, but she even goes as far as to call out West's falling out with longtime friend JAY-Z when she sings, "But I'm not the only friend you've lost lately / If only you weren't so shady." Ouch!
14. "Call It What You Want" — Joe Alwyn
Even though Swift has been extremely private when it comes to her relationship with Alwyn, she gives a closer look at their romance on this track. The most revealing lyric is when Swift sings, "I recall late November, holdin' my breath / Slowly I said, 'You don't need to save me / But would you run away with me?.'" The lyric appears to be a nod to when Swift attended the screening of Alwyn's film Billy Lynn's Long Halftime Walk in November 2016.
15. "New Year's Day" — Joe Alwyn
Not only does the song talk about wanting to stay with someone "forevermore," but the holiday also might hold special significance for the lovebirds. As Swift points out in her song, "Call It What You Want," she asked Alwyn to run away with her in November of 2016. Seeing that she didn't return to the spotlight until February for her DirecTV Now Super Bowl concert performance in Houston, it can be assumed that she spent the time in between then, aka December and January, hanging out with Alwyn.