As an Asian American, This Is Why BoJack Horseman's Diane Nguyen Matters to Me
The first time I truly felt represented as an Asian-American woman was when I encountered Diane Nguyen on Bojack Horseman. We're both Vietnamese Americans — Nguyens in fact — who wear glasses, write online, and love statement jackets. The similarities run deeper as well — I identify with Diane's social anxiety and disruptive bouts of depression. There's a rub, of course: Diane's voiced by Alison Brie, a white woman. I wrestle with what Diane means for Asian-American representation and what her existence takes away from Asian creators. Still, I fundamentally believe that she is one of the greatest Asian-American characters, if not one of the greatest TV characters.
With Diane, I envision the possibilities for how Asian Americans can be represented in pop culture. I won't defend Brie's casting (whose performance I actually love); Raphael Bob-Waksberg, the creator himself, has thoughtfully grappled with that and worked to hire more Asian Americans behind the scenes. But I will say this: Diane is a refreshing anti-role model, someone whose difficult character is often a white man's domain.
There's a messiness to Diane that I'm deeply drawn to, especially as someone who has struggled with mental health. She lives in perpetual cognitive dissonance, driven by strong values that borderline stubbornness and self-destruction. She's a feminist who cares for the terrible men in her life, namely BoJack and Mr. Peanutbutter. She has depressive episodes during which she adamantly refuses help — until she meets Guy, who encourages her to get better and take her antidepressants. We often see stories of mental illness delegated to white men — think, The Joker and Manchester by the Sea — and occasionally, white women, like in Fleabag and Girls. Whether or not BoJack's creators were deliberate about it, Diane being Asian matters, especially since mental health is such a taboo topic in the Asian-American community.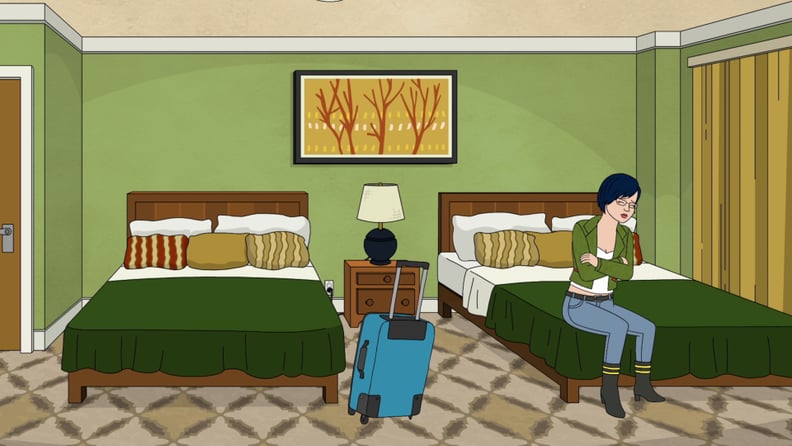 Much to my surprise, Diane's disconnect from her Vietnamese culture also makes her a compelling character for me. As fellow Viets, Diane and I aren't cut from the same cloth; I grew up in a predominantly Asian community with blue-collar parents who lived through war while she lived in Boston with upper-middle-class parents whose histories aren't clear. But we share an impulse to find wholeness through that imagined motherland as Asian Americans.
In the season five episode "The Dog Days Are Over", Diane goes to Vietnam after seeing Mr. Peanutbutter move on from her. Her trip brings no peace of mind. She feels like a tourist, not connecting with the country as deeply as she'd like. This episode earnestly explores Asian-American identity in a way that's realistic and nuanced. Should she have immediately clicked with Vietnam, it would've felt too easy.
It's a common trope for second-generation Asian-American characters to navigate trauma they inherit from immigrant parents. Diane's family backstory isn't clear; her parents and siblings are abusive without rhyme or reason. Yes, it's a missed opportunity since this trauma often stems from war and the loss of the homeland. Still, Diane comes to a surprising realization: maybe the trauma doesn't inherently mean anything.
In the season six episode "Good Damage", Diane fruitlessly whittles away at a memoir about her traumas. But eventually, she lets go of her demons, writing the mall detective book and marrying a kind man (bison). The series ends with her and BoJack on a rooftop. Diane explains that she's a different person now and doesn't recognize her LA self anymore, which she feels as she talks to him. BoJack asks her, "But it's not you?" Diane replies, "I mean, it's all me."
From a mental health perspective, as well as a second-generation American one, this was a comforting realization — that you could experience trauma, grow from it, and not ultimately be defined by it. BoJack Horseman may never be absolved of whitewashing, but it's hard to ignore the depth that the series gave Diane and how that depth helped me understand myself as an Asian-American woman.