President Biden Holds Grandson Beau in the White House
My Heart Is a Puddle on the Floor After Seeing This Photo of Beau and President Biden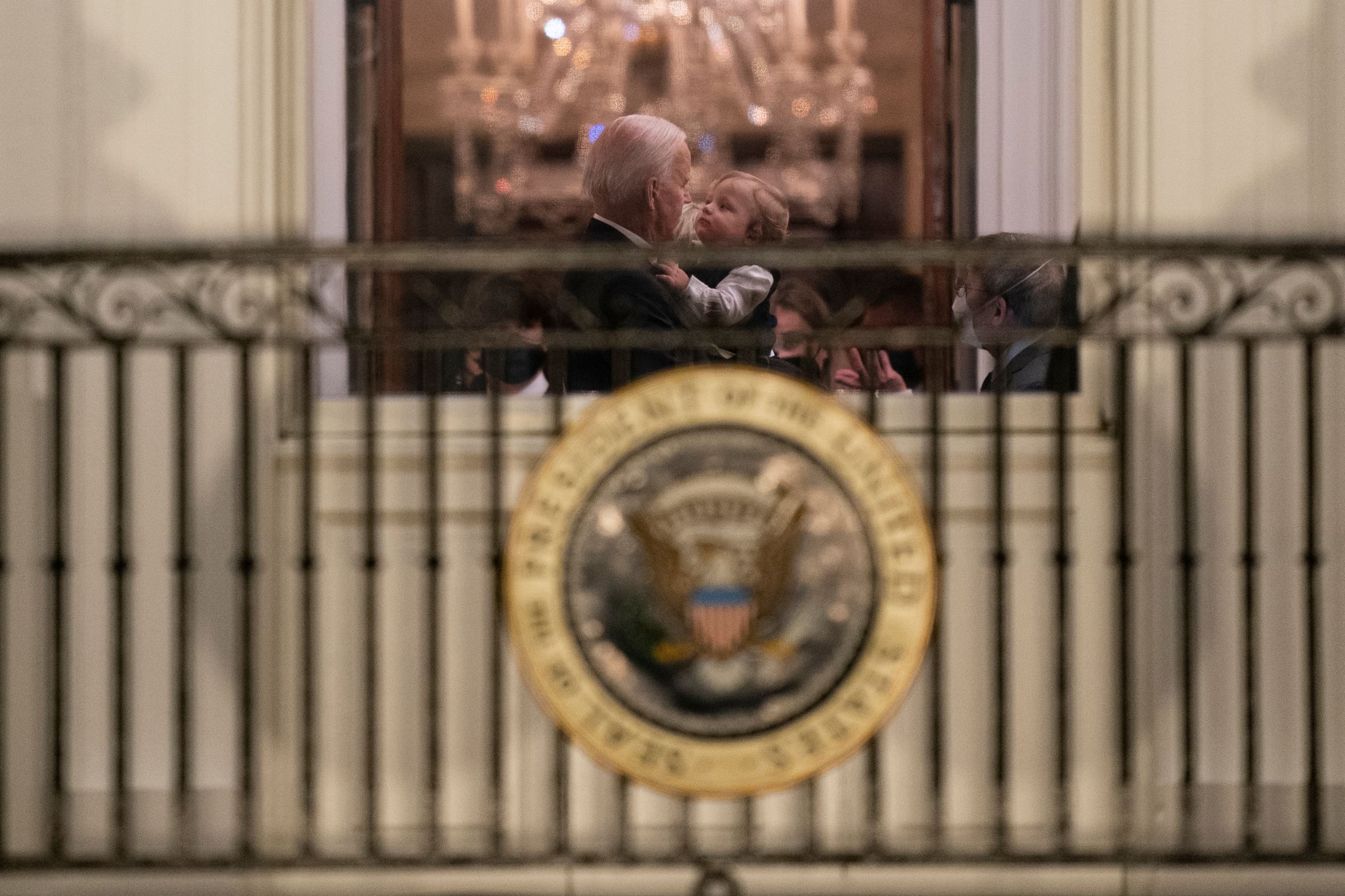 Staring into the eyes of a baby is one of the top five best feelings, ever. The innocence, the wonder, the pure joy, the radiating love — it's practically why the heart eye emoji was invented. That's why, when I saw a photo of President Joe Biden gazing into the adoring eyes of his grandson, Beau, I lost it. A sweet family moment like this has been missing from the White House for so long, and it absolutely makes my heart melt.
First of all, can we talk about how stinking cute Beau Biden is? This 8-month-old little boy is the son of Hunter Biden (President Biden's 50-year-old son) and his wife Melissa Cohen. The blond-head boy, who was named after President Biden's late son, looks absolutely precious in his mini white button-down shirt and formal vest. He has such a content expression on his face in this picture, with just a hint of a smile. You can definitely tell he loves his grandpa! For his part, President Biden is just soaking up this sweet boy, totally lost in the moment, despite it being his freaking inauguration day!
As a mom with two young sons, this picture is everything to me. It's so refreshing to see the type of family relationships that the Bidens — and even the Harris/Emhoffs — have in the White House. The way Dr. Jill Biden loves and supports her husband, the way Hunter and the president's daughter, Ashley Biden, are dedicated to their father and mother, the way the grandkids seem to genuinely like each other — I just love it! I come from a big family, so I adore seeing the way big families come together, support each other, and enjoy each other's company. I must admit, this is not something I saw often when former President Donald Trump and his family were in the White House.
I'm old enough to remember when the President of the United States was somebody you could admire and respect. I loved the strong family values of the Obamas and the Bushes, and I am so excited to see a family that cares for each other once again. It doesn't matter if you are married to the parent of your children, or if you are in a same-sex relationship, or if you are the fun aunt — your family are the people you choose to love, forever, and that is shown so sweetly in this candid moment captured between President Biden and his youngest grandchild.
If the most adorable baby in the world can look at President Biden with such love and trust, well, I feel pretty good about the man holding the highest office in the country. (And, BTW, if one of the Bidens doesn't start an Instagram account of this sweet baby soon, then I am seriously going to be disappointed!) Next time you need a smile, just pull this photo up again. It's so delightful!