17 At-Home St. Patrick's Day Activities For Kids That'll Keep Them Entertained For Hours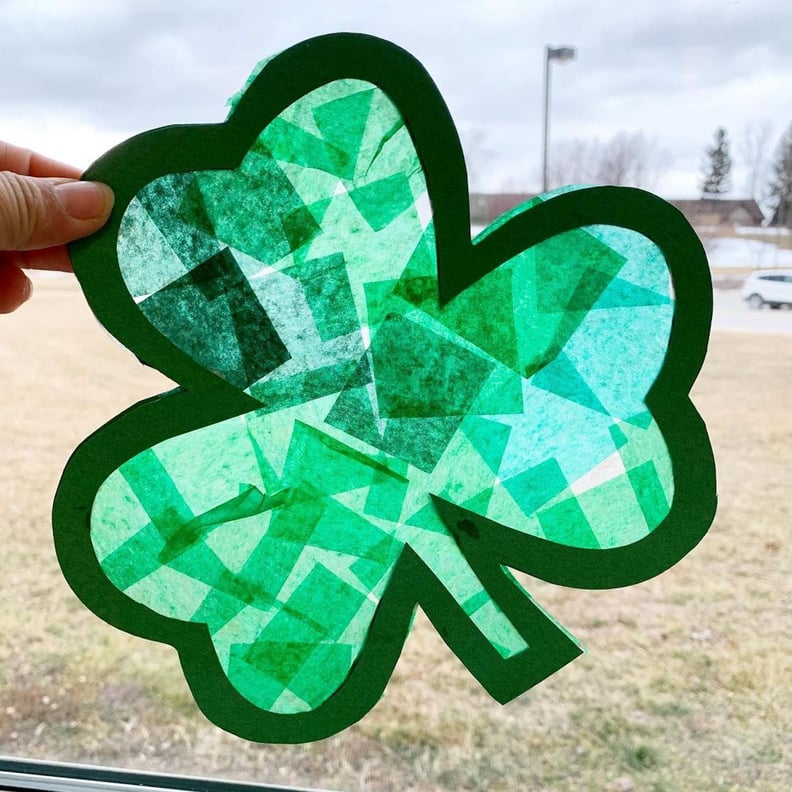 While St. Patrick's Day isn't one of the biggest holidays, kids can still enjoy a variety of enjoyable, themed activities — all within the safety and comfort of their home. From crafts that go along with books to bath bombs shaped like a pot of gold to leprechaun traps, Instagram is full of creative, entertaining, and educational ideas. These may *technically* be for kids, but I'd try them in a heartbeat!
While you may also be jumping to try some of these crafts, recipes, and games, remember to first put on green attire so you don't get pinched, and hang up some St. Patrick's Day decorations so you feel fully immersed in the holiday spirit. Then, in honor of St. Patrick's Day landing on March 17, dive into the following 17 activity ideas that are as golden as the gold at the end of a rainbow. Before you know it, you'll be swept up in a family-friendly day filled with leprechaun fun!
Go on a St. Patrick's Day Scavenger Hunt
Caregivers can create clue cards, word searches, and other activities to lead their kids on a scavenger hunt around the house. Then, the winner gets a treat, like Lucky Charms, a pot of gold, or green Peeps!
Read St. Patrick's Day Books
Who knew so many picture books about St. Patrick's Day existed? Kids can read about leprechauns, luck, shamrocks, Ireland, and pots of gold.
Create and Eat Off of a Green-Themed Charcuterie Board
Enjoy a St. Patrick's Day Bath Bomb
Watching a bath bomb work its magic is so cool, especially when special items are inside. Consider buying or making a bath bomb for your kids with small toys and gold coins, and let them hunt for those special treasures as the bath bomb dissolves!
Make and Eat Clover Cookies
Decorating cookies is one of the most enjoyable (and delicious) holiday activities. A polka-dotted clover is especially cute!
Dress Up Your Pet
If your pet doesn't seem to mind a little dressing up, put them in a St. Patrick's Day costume! Other than the adorable headband and bow tie shown in this Instagram picture, you can consider putting them in shamrock glasses, green sweaters, or simply a green collar.
Build a Leprechaun Trap
Do your kids want to catch a leprechaun? After reading How to Catch a Leprechaun, they can create traps with Lucky Charms, gold coins, popsicle stick staircases, and whatever else they think of. What an entertaining way to get creative!
Watch a St. Patrick's Day Movie With Leprechaun Hat Snack Cups
Kids can make leprechaun hat cups out of construction paper for their movie snacks while watching a themed film. (We love The Luck of the Irish on Disney+.) Since this is a more relaxed activity, it's a great fit for something to do right before bed.
Tie-Dye a Shirt With Green Dye
Tie-dye shirts aren't only for summer camp! Grab a white shirt and some green (or even yellow) dye, and you're set.
Build a Leprechaun House With Green Jell-O
For a creative building activity, make a pan of green Jello-O and cut it into differently sized blocks. Kids can then take those blocks to create leprechaun houses or other cool structures!
Whip Up Lots of Green Treats
Just about anything dipped in chocolate tastes good, though this classic combo of pretzels, sandwich cookies, and cake pops can't be beat. With a caregiver, kids can dip their way to a variety of St. Patrick's Day treats — topped with shamrock sprinkles, of course.
Make Themed Play-Doh
Yes, Play-Doh is fun, but it's even more fun when it's homemade. After making green dough with a teenager or adult, kids can use cookie cutters, gold coins, or other themed props to create to their heart's content.
Play St. Patrick's Day Bingo
Are your kids feeling lucky? Why not play a few rounds of St. Patrick's Day Bingo? You can create your own cards or buy them on Etsy for a few dollars.
Decorate a Shamrock With Paint Swatches
For another book-and-craft combo activity, kids can read Green Shamrocks and then decorate their own shamrock using cut-up green paint swatches. This activity will help kids practice reading and using their fine motor skills!
Make a Handprint Rainbow
That way, you can laugh in the future about how cute and small your kids' hands used to be! If you have multiple kids, each kid can have their own painting, or the painting can be a family rainbow with everyone's hands.
Enjoy a St. Patrick's Day Sensory Bin
Sensory items can help kids relax. To create a St. Patrick's Day sensory bin like this one, you can incorporate small toys with various textures, peas, and intricate plastic clovers that kids can trace. Or, fill it with whatever you have around — Play-Doh, gold coins, or rainbow pipe cleaners would also work.
Craft Shamrock Decor
A classic shamrock sun catcher brightens up any window! Plus, it's so simple even the littlest leprechauns can give it a try.