Maybe working from the couch and hunching over your laptop is to blame, perhaps it's the shoulder tenseness that comes along with a packed Zoom calendar and multiple looming deadlines, or it could be something else entirely. Either way, work-from-home upper-body stiffness and tightness is real — and uncomfortable.
Thankfully, your yoga practice can help you out here. According to Andrea Russell, a yoga instructor at Sky Ting in New York City, yoga can help with work-from-home tension "because it addresses the body on all levels."
"The breathing and slower pace can address stress and anxiety (which we're all feeling a lot these days!) while the movements relieve the physical tightness in the body," Russell explains.
"A lot of times we focus heavily on the movements or specific shapes, but yoga is holistic, so it's important to pay attention to the breath as you move into the postures. It's a really simple but powerful practice that grounds you in the present moment and helps to relax the mind."
After you log off for the day, connect to your breath and stretch with this five-pose sequence curated by Russell. "I actually WFH all day and these are the shapes I use when I'm feeling tight in my shoulders and neck," she says. "You can do them at any time, but they're also nice at the end of the day because they help to undo all the hunching and rounding in your spine! Personally, I love doing these movements whenever I feel like I'm stressed or tight."
As an added bonus, moves one through four can actually be done seated, and Russell says you can even use the sequence as a warmup for a more vigorous yoga workout. While working through the pose directions, remember to take all the time you need between movements and truly listen to your body.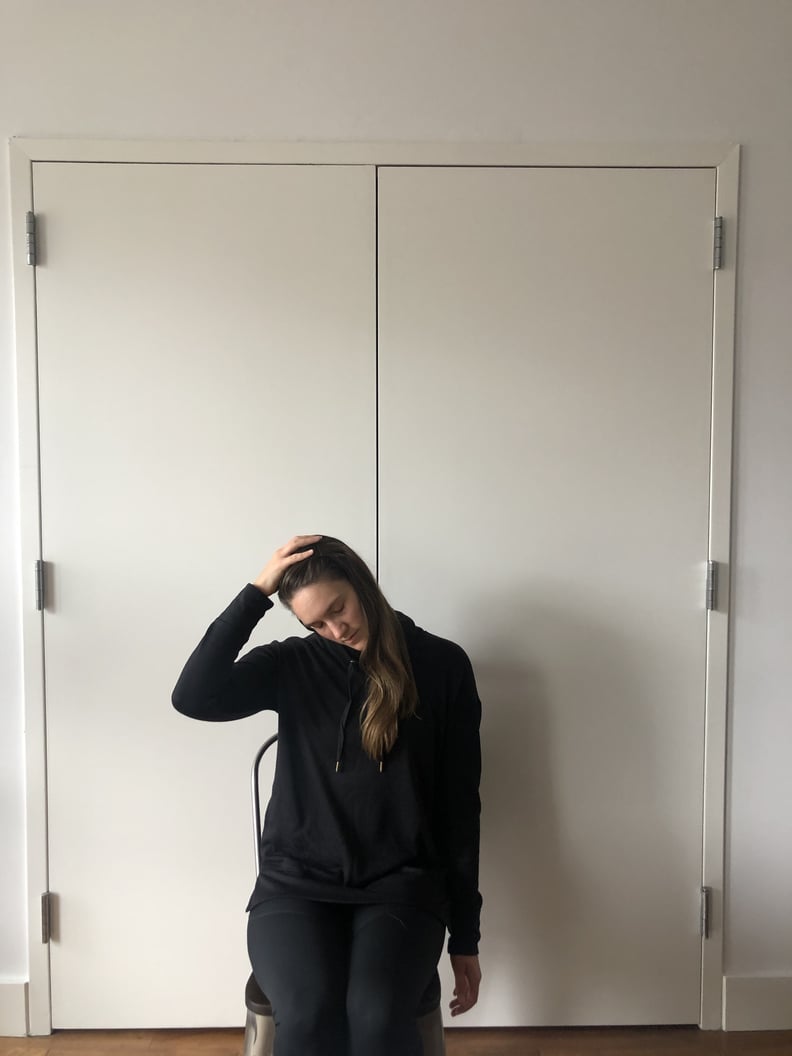 Neck Rolls & Lateral Neck Stretch
Start by taking your chin to your chest, then tilt one ear toward your shoulder and start to roll your neck in one direction. Take deep full breathes, and change directions after three breaths.
Take your head back to center, and drop your right ear toward your shoulder. Use your hand to gently guide your head down for a stretch on the left side of your neck. You can tilt your chin slightly up and down to get the stretch in different parts of your neck.
Perform five breathes on each side.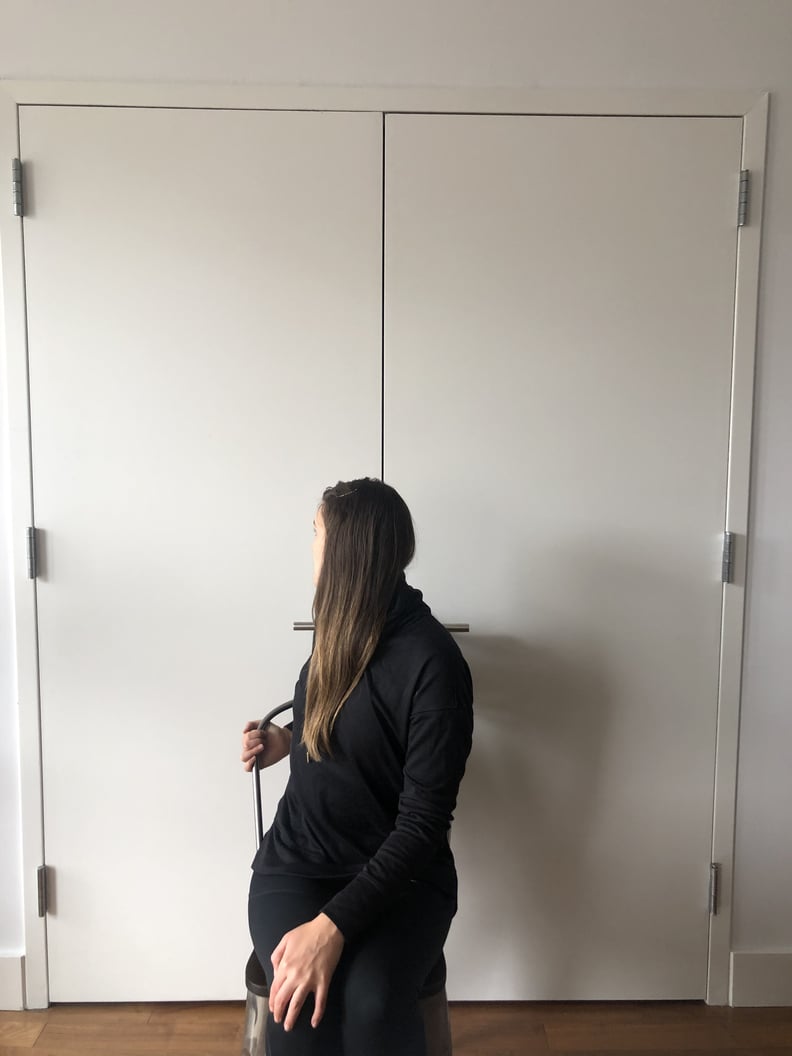 Seated Spinal Twist
Reach both arms up. Twist to the right — your right hand goes behind you (maybe to the back of your chair) and left hand goes on your right knee.
Take three deep breaths.
Repeat on the other side.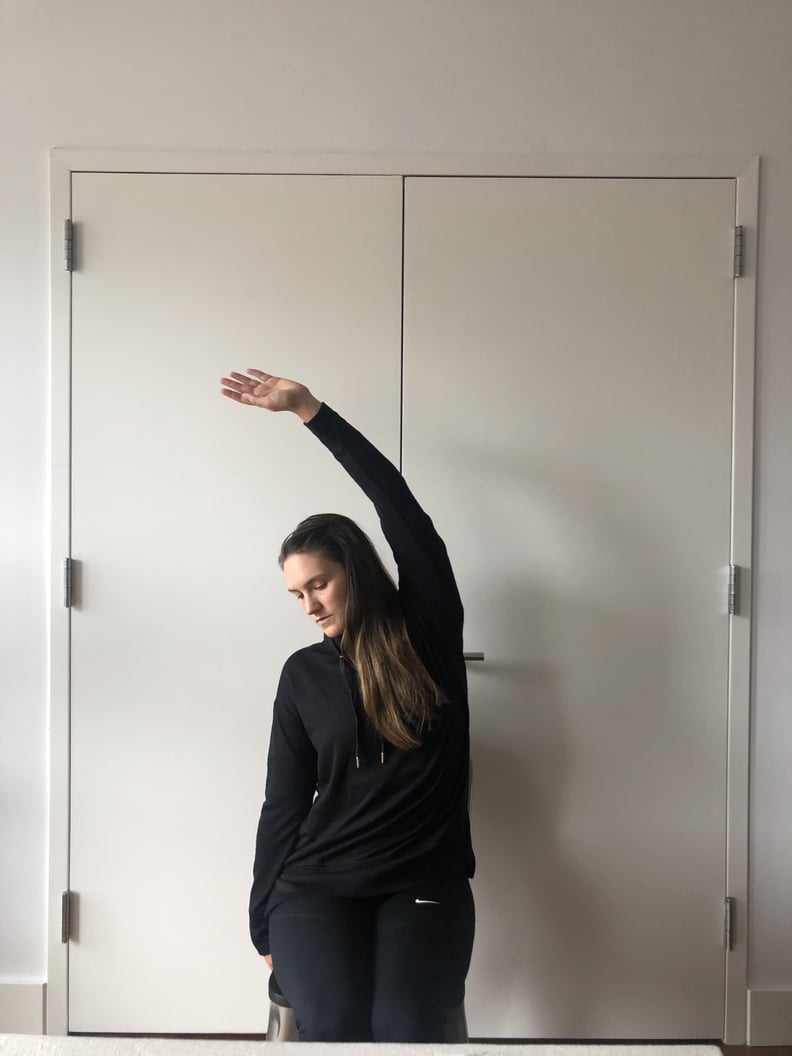 Side Bend
Sitting tall, reach your right fingertips down. Reach your left arm up and to the side, coming into a lateral side body stretch.
Adjust the intensity by moving your right hand closer to you or further away (or you can rest it on the side of your chair).
Try to create length through the right ribs as you stretch the left side of your body. Take three deep breaths.
Repeat on the other side.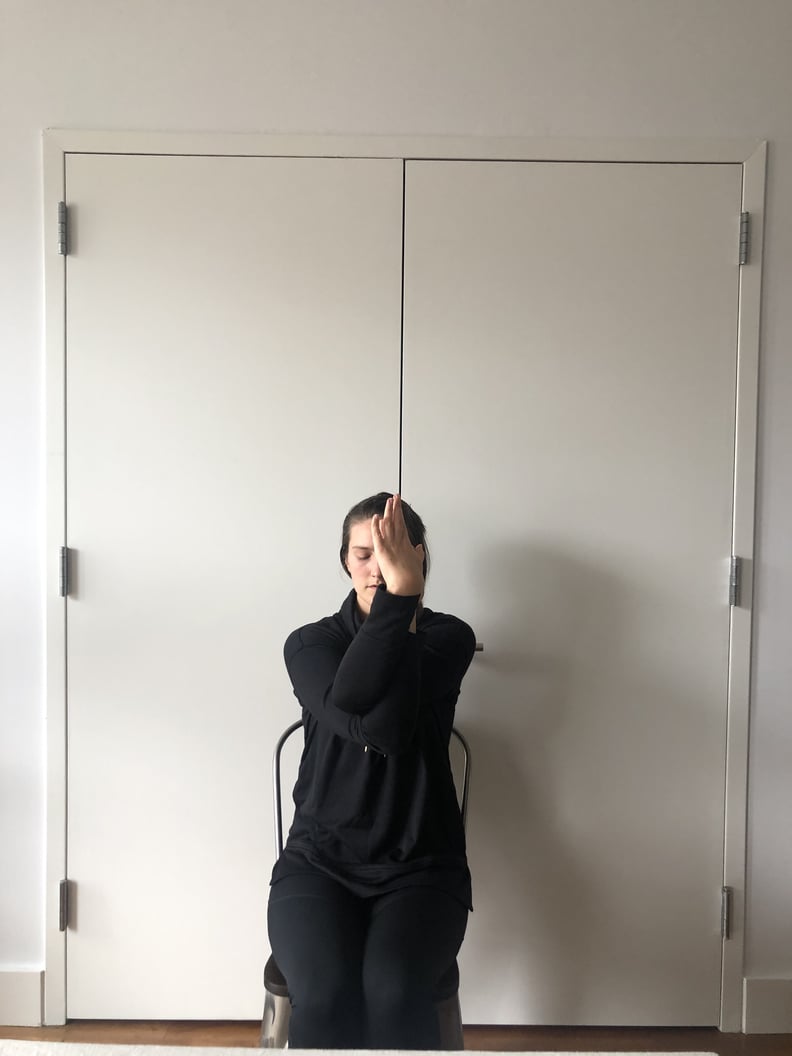 Eagle Wrap Arms
Start with both arms overhead. Take your elbow toward the center of your body, stack the right elbow underneath, and the left elbow on top.
Take the backs of your hands together, fingertips pointing toward the ceiling. If you can, press your palms together.
Take a vinyasa. Exhale as you round your spine, elbows toward navel.
Then, inhale. Reach your elbows up, and arch your spine — pinky fingers are almost like they will slice the ceiling.
Take three breathes.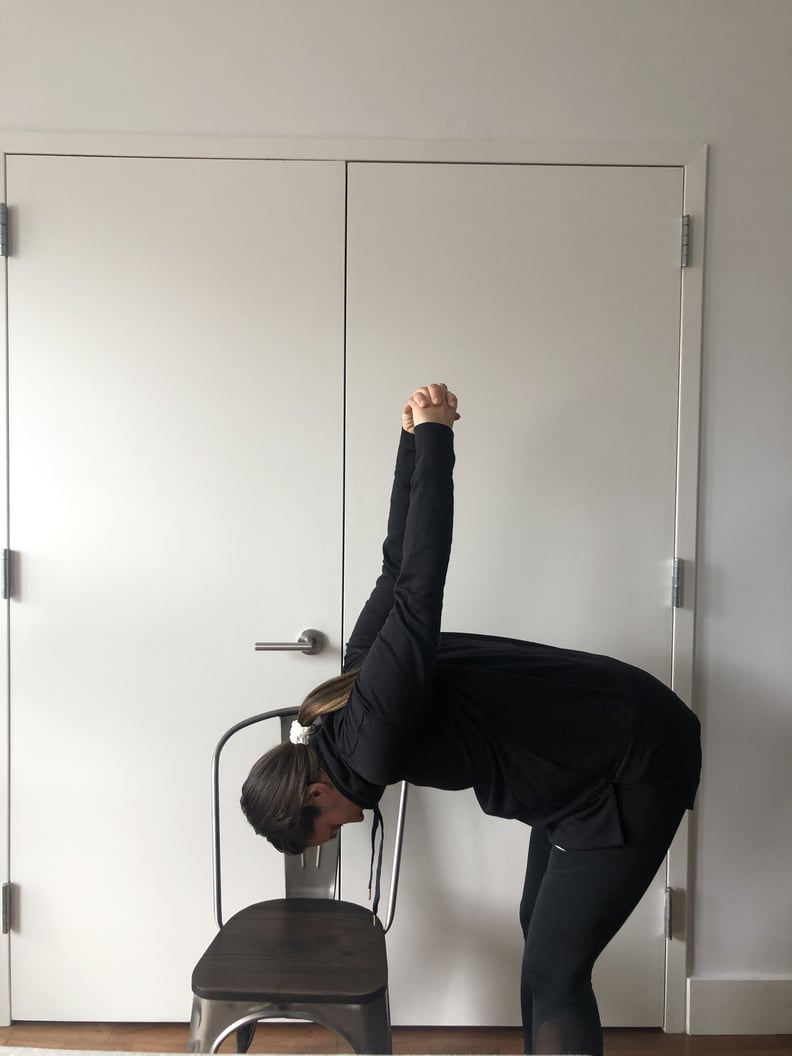 Forward Fold With Hands Interlaced Behind Back
If you were sitting, now is the time to stand up.
Fold forward with your knees bent generously. Grab opposite elbows and take a few breathes here, allowing the neck and shoulders to relax.
Interlace your hands behind your back and reach your wrists overhead. If your hands can't reach each other behind your back, you can use a towel or a strap to make the connection.
Take three breathes, then release, and switch the interlacing so your opposite pinky is on top. This could feel a bit awkward.
Allow the weight of your head to open the chest and shoulders.
Release the interlaced hands.
Keeping your knees bent, roll up to stand.