30-Minute EMOM Cardio Workout
Sweat It Out Over 4 Different Cardio Machines For This 30-Minute EMOM Workout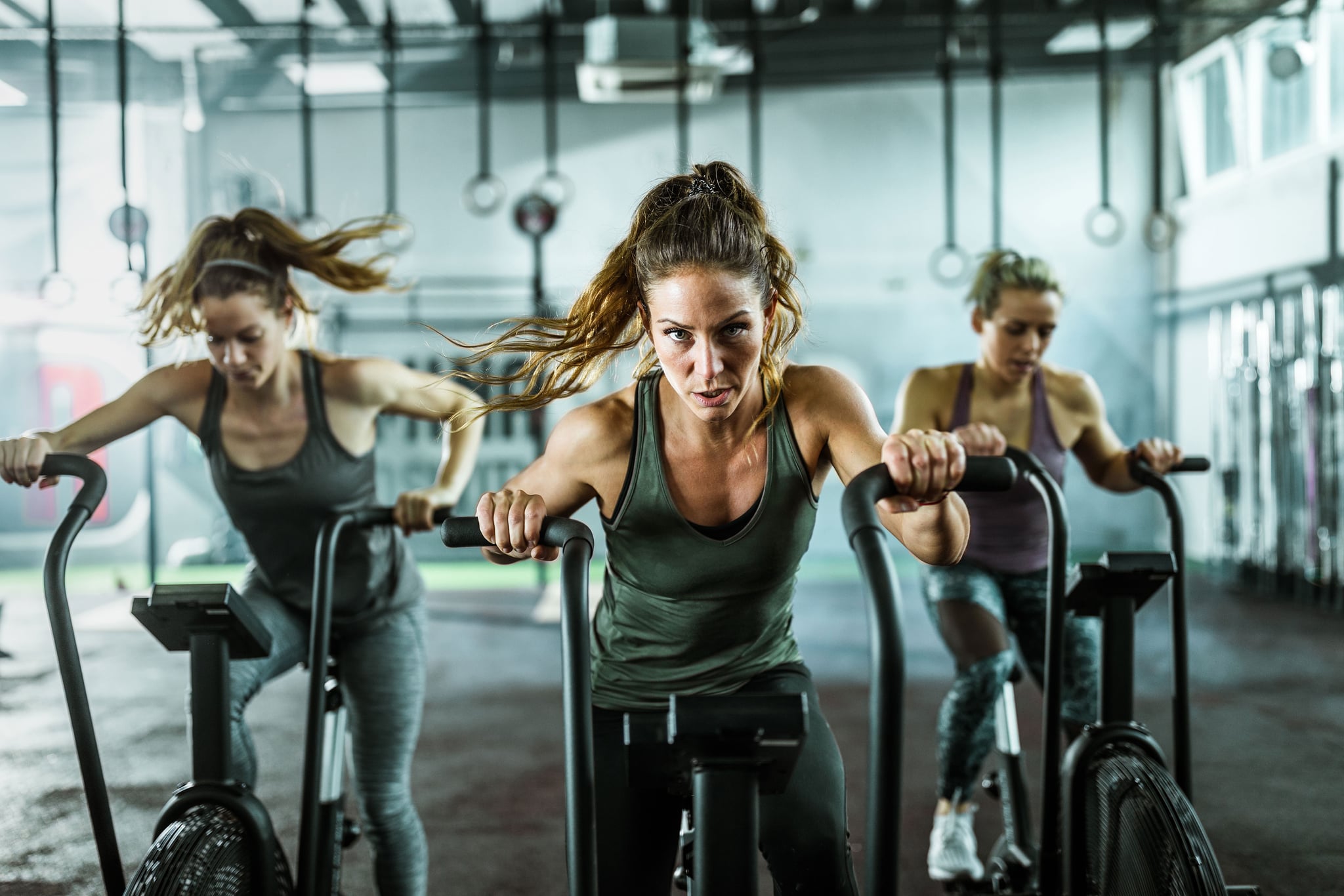 Sick of going on a boring old run? Try this cardio class we do once a month at my CrossFit gym. The coach sets up rows of four different cardio machines and we get to use them all! The variety is not only more fun than sticking to one machine for an entire workout, but it also strengthens your muscles in different ways. It's also more challenging mentally. We tend to gravitate toward one machine when we have the choice, so this will push you out of your comfort zone a little.
This workout is an EMOM, which stands for every minute on the minute. You can do it at your own gym (It doesn't have to be a CrossFit box!). Just choose four different machines (treadmill, bike, assault bike, rower, ski erg, elliptical, or stairmaster). I did the ski erg, bike, rower, and assault bike — which is perfect if you despise running! If you only have access to two machines, alternate between them. If you only have access to one form of cardio, even if it's running in place or running outside, do that!
Level 1 CrossFit coach Sefton Hirsch from Champlain Valley CrossFit said to focus on keeping a consistent pace for each minute interval, and maintaining that pace for all four rounds before moving on to the next machine. An easy pace should be something you'd warm up with. A moderate pace is something you'd be able to hold for an extended period of time if you had to, and a hard pace is going as fast as you can.
This is a great workout to do with three other people so you can rotate through the four machines, and really encourage each other to go strong during that hard minute! You'll be dripping sweat all over your machines (and the floor once you get to the burpees!), and after 30 minutes, you'll feel totally pumped!
30-Minute Cardio EMOM Workout
Equipment needed: Four different cardio machines
Part 1 Directions: After warming up for five minutes (you can do this five-minute cardio warm-up), complete four rounds of the below four-minute EMOTM workout, using a different machine for each one.
Part 2 Directions: Immediately after the one-minute rest from Part 1, complete four rounds of Part 2. Do as many burpees as you can in a minute, aiming for at least 10, and for the second minute, use a different machine for each round.
Part 3 Directions: End with a one-minute plank hold, and a one-minute hollow hold.
| Part 1: Complete 4 rounds | Time: 0:00-16:00 |
| --- | --- |
| Minute 1 | Easy pace |
| Minute 2 | Moderate pace |
| Minute 3 | Hard pace |
| Minute 4 | Rest |
| Part 2: Complete 4 rounds | Time: 16:01-28:00 |
| Minute 1 | Burpees |
| Minute 2 | Hard pace on the machine |
| Minute 3 | Rest |
| Part 3: Complete 1 round | Time: 28:01-30:00 |
| Minute 1 | Plank |
| Minute 2 | Hollow hold |