CrossFit Tips For Beginners
Strength-Training Tips For Beginners From the "Fittest Woman on Earth"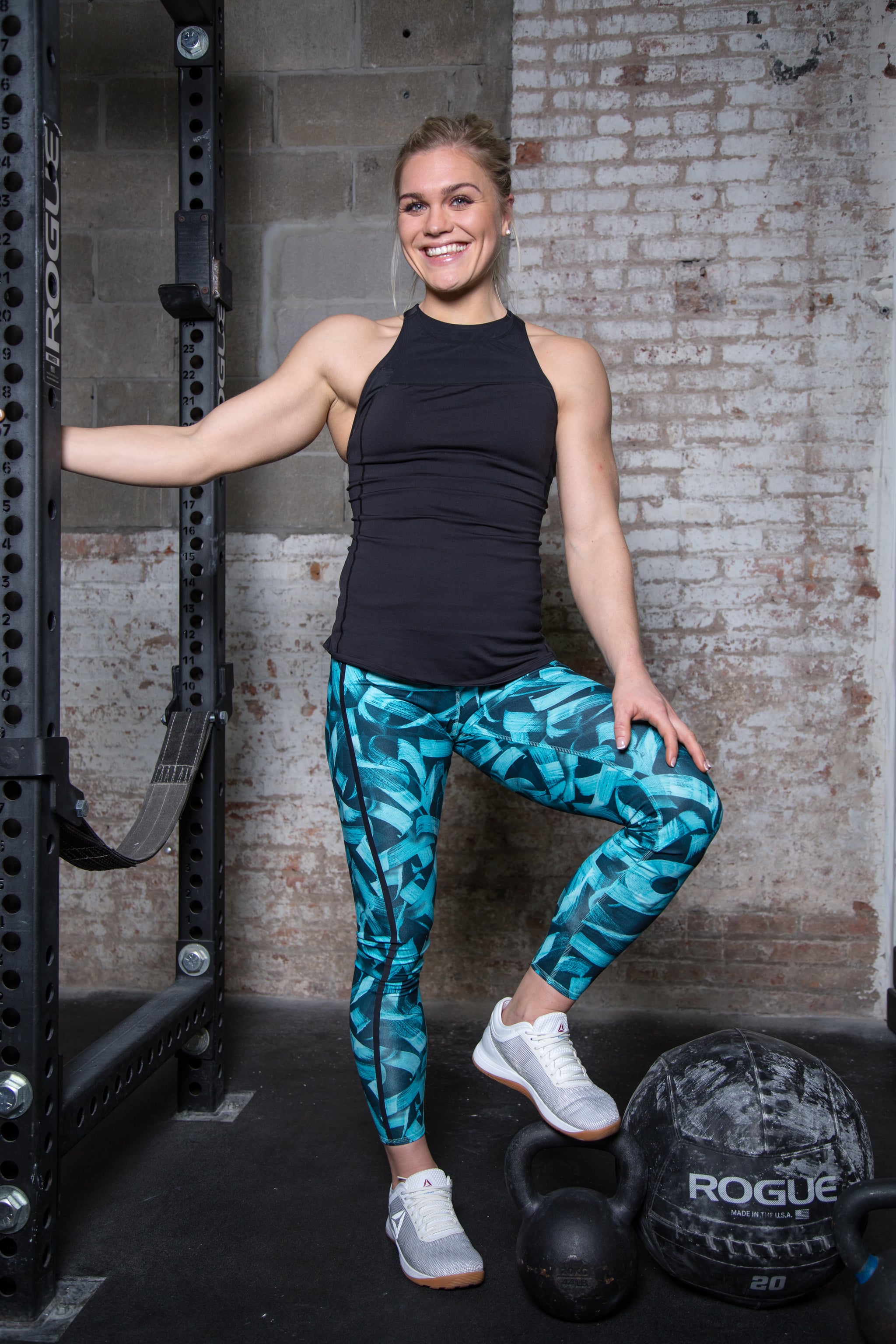 When you're not the kind of woman who's used to picking up weights at the gym, the sheer thought of strength training can be intimidating. But if you have yet to schedule a date with dumbbells, now is as good of a time as any to consider it (and research agrees). Within a few days of beginning a strength-training plan, research shows that women may notice a raise in their resting metabolic rate. Plus, lifting weights helps to build muscle and increase bone density. And if you've found that this cold weather has made you feel a little down in the dumps, then you'll find joy in the research that says adding regular strength training to your routine can boost your mood.
POPSUGAR recently caught up with Katrin Davidsdottir, CrossFit's Fittest Woman on Earth, at the launch of the new Reebok Nano 8. And although Davidsdottir may currently boast a 315-pound deadlift, she wasn't always this way.
"Adding weights into your routine is important because for everyday movements, you need to have control of your body, be mobile," Davidsdottir said. "And although it can be a little intimidating at first, stick with it and you'll feel better. You'll look better, too."
Considering the 24-year-old typically trains two to three times daily, what better person to get a few pointers from, right? Here, she shares her top strength-training tips for beginners:
1. Start light. No one walks into the gym, heads straight for the weight rack, and picks up a set of 30-pound weights like they're made of styrofoam. When you're starting out, Davidsdottir stresses the importance of moving well over lifting heavy. "You don't have to jump in with both feet into the deep end. Moving light weights is better than doing nothing," she said. "Once you get confident with that, then you can start more weight. Or keep it light, and opt for a higher rep scheme."
Science agrees with the CrossFit champ. Lifting lighter weights can be super effective at building muscle. Just make sure you're still causing muscle fatigue.
2. Find a coach or trainer you trust: There are loads of ways to attack adding strength training to your routine. While some ladies may like following along with an at-home plan courtesy of big names like Kayla Itsines or Emily Skye, others may need a more personal approach. "I love being coached. I know a lot, but I truly believe that someone is going to know how to do it better than me," she said. "Find someone you trust. Follow the process. Feel confident in this idea that if you do XYZ now, then there's a progression and you'll get to that next."
3. Gear up smartly. It's easy to get caught up in all of the fuss that is particular equipment for particular training modalities. Sneakers for running. Sneakers for lifting. Sneakers (or a lack thereof) for barre. Instead of buying multiple pairs of kicks, Davidsdottir likes to pick one that gets the job done for both cardio and strength training (she uses the Reebok Nano 8). "You want something that gives you the stability you need in your lifts but also enables you to run, do box jumps, and double-unders (or whatever your workout entails)."
4. Don't go it alone: Everyone's going to have those days when they don't want to work out. Davidsdottir says her secret sauce to staying accountable is her friends. "If you get a friend and say, 'Let's meet at 5 p.m.,' then you don't even think about it twice," she said. "You're going to meet someone. You're going to be laughing. When I have fun, I perform so much better. Laughing is my favorite thing in the world. Laughing, and working hard."
5. Recover smartly: And this is more than just taking the recommended 48 hours between training the same muscle group. Recovery involves everything from how much you eat (and what you eat) and self-massage/foam rolling to how much sleep you get. The CrossFit athlete prides herself on getting nine or 10 hours on heavy training days. "Moving weights is hard, so you have to focus on your recovery to go with it," she said. "Recovery happens all the time. It's in between workouts. It's in between lifts. It's every day."
Now get a little taste of a CrossFit workout at home with this 10-minute video led by Yumi Lee, Cco-owner of Reebok CrossFit LAB.