Day 1: Clean-Eating Recipes
Day 1 Recipes of Our 2-Week Clean-Eating Plan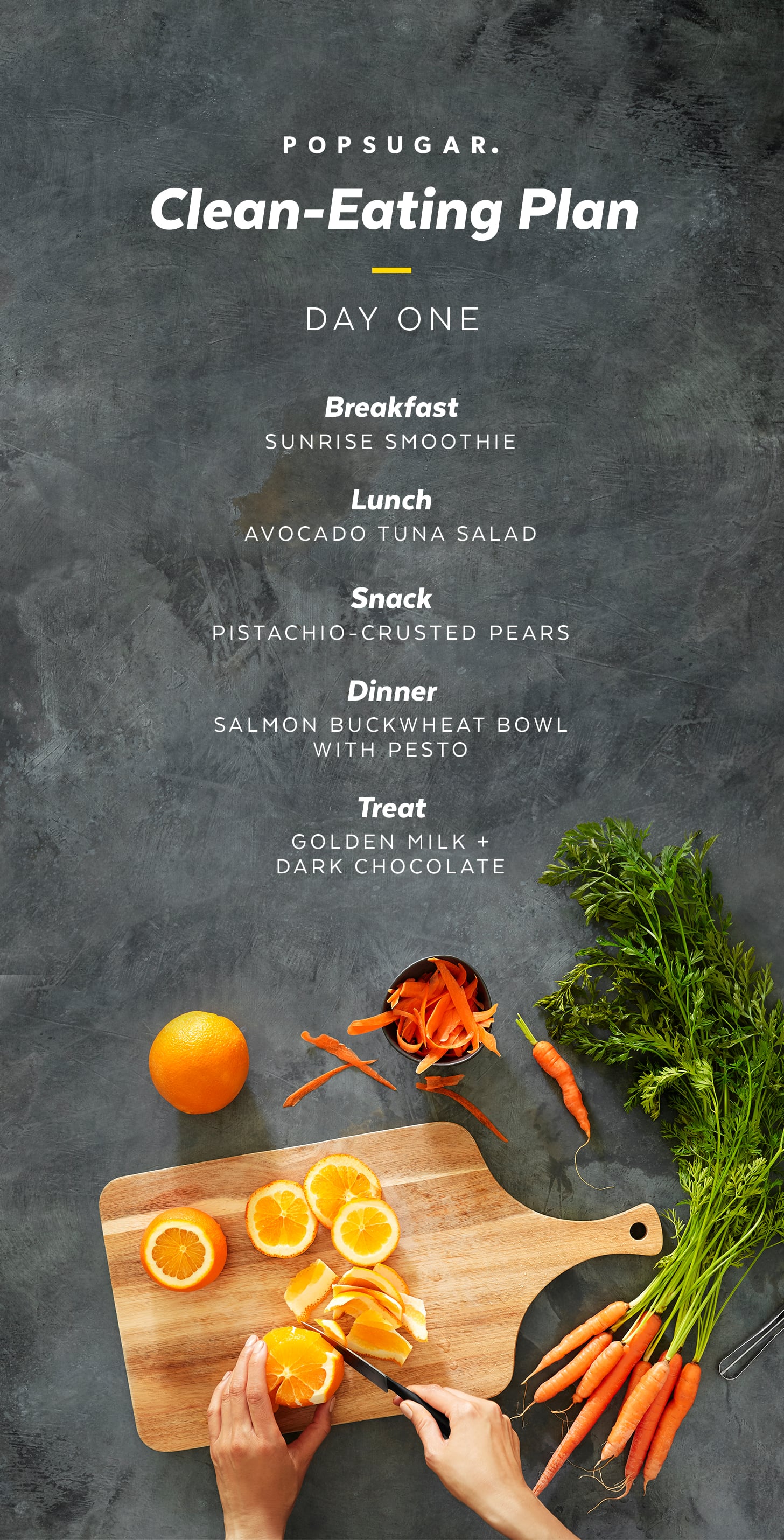 Welcome to Day 1 of our Clean-Eating Plan. Congratulations on taking the plunge into the world of healthy eats — you're going to love how you feel. Today is also a prep day; with a little extra chopping and cooking, you'll set yourself up for the rest of the week. Be sure to check out the to-do list before diving into each day's meal plan, and print out this week's rundown of what to make, prep, and save each day.
What to prep in the Morning
Chop and freeze 1/2 banana (this is for your smoothie today)
Cook 2 hard-boiled eggs for Day 2 snack and Day 3 breakfast
Grate (or shred) 2 cups carrots (if you didn't buy shredded carrots)
Freeze steak for Day 6 dinner
Prepare chia pudding base (here's the recipe) for Day 2 breakfast and snack on Days 3 and 5
What to Prep While Making Dinner
Prepare extra buckwheat to use for multiple meals this week
Cook extra salmon for Day 2 lunch
Make extra pesto for Day 2 lunch
For more details on how the plan works, read: Welcome to Your Clean-Eating Plan For 2017


Notes
Save 1/2 cup of buckwheat for Day 3 lunch
Save 1/2 cooked salmon for Day 2 lunch
Save 1/4 cup pesto for Day 2 lunch; freeze the rest for later
Freeze 1 cup buckwheat for Day 4 snack and Day 5 lunch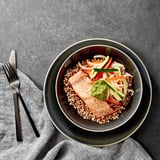 Ingredients
Pesto:
Makes about 3/4 cup pesto
1/4 cup roughly chopped walnuts
2 cloves fresh garlic
2 cups fresh basil
1 tablespoon lemon juice
1/2 cup extra virgin olive oil
1/4 teaspoon salt
1/4 teaspoon black pepper
Buckwheat:
Makes 2 1/2 cups cooked buckwheat
2 1/2 cups water
1 1/4 cup toasted buckwheat groats (if using raw groats, toast over medium heat in medium skillet until fragrant, about 5 minutes)
1 teaspoon olive oil
Salmon bowl:
8-ounce salmon filet
1 tablespoon lemon juice
1/4 teaspoon garlic powder
1/4 teaspoon salt
Black pepper to taste
2 teaspoons olive oil
1/2 cup sliced red bell pepper
1/2 cup sliced yellow onion
1/2 cup sliced zucchini
1 cup cooked buckwheat
1 tablespoon pesto
Directions
Pesto
In a blender or food processor, pulse walnuts and garlic together until minced.
Add basil and lemon juice and process again until minced.
Drizzle in olive oil until and blend until fully incorporated.
Stir in salt and black pepper to taste.
Add 1 teaspoon of warm water to thin out pesto as needed.
Reserve 1/4 cup for meals this week, then freeze the rest in ice cube trays).
Buckwheat
Combine water, oil, and buckwheat in a medium saucepan.
Bring to a boil, then reduce heat to simmer.
Cover and cook for 10 minutes, or until buckwheat is tender.
Drain off any excess liquid.
Reserve 1 cup of buckwheat for Day 1 dinner, store 1 cup in the freezer in a zip-top airtight bag or freezer safe container, then refrigerate the remaining 1/2 cup for use later in the week.
Salmon bowl
Preheat the broiler to high.
Rub the top (nonskin) side of the salmon filet with lemon juice, garlic powder, salt, and black pepper.
Broil for 6-7 minutes, or until salmon is cooked fully and flakes with a fork.
Cut the salmon in half and store the remaining 4 ounces for Day 2 lunch.
Meanwhile, in a medium skillet over medium-high heat, heat the olive oil, and sauté red pepper, onion, and zucchini until tender, about 7 minutes.
To assemble the bowl, place 1 cup buckwheat in a bowl, top with veggies and salmon, and drizzle 1 tablespoon pesto over the top.
NUTRIENT TOTALS
Calories: 517
Protein: 30 grams
Carbohydrate: 39 grams
Dietary Fiber: 6 grams
Total Sugars: 5 grams
Total Fat: 28 grams
Saturated Fat: 4 grams
Sodium: 367 milligrams
Information
Category

Main Dishes

Cuisine

North American
Look Ahead
Check out the recipes for Day 2.
Image Source: POPSUGAR Photography / Cera Hensley