Does 8 Minute Abs Work?
The Old-School Exercise Video That Transformed My Abs
In 1995, Jaime Brenkus had millions of fitness fanatics snuggled into their spandex shorts and scrunchies as he promised chiseled abs in just eight minutes. Now, decades later, I'm here to tell you that he was not lying: abs can be made in under 10 minutes, and you don't even have to wear a scrunchie (although, we have heard they're making a comeback). You're probably wondering why in a world with millions of fitness bloggers, workout apps, and easy Instagram workout posts I would choose to Marty McFly my way back to the '90s, and long story short, Brenkus said it himself: "All the exercises are safe, effective, fun, and they work!"
If we're being honest here, there's no inspirational story behind why I chose 8 Minute Abs; in fact, it's pretty much the opposite. About two years ago, when I had finally dropped those college pounds, I wanted abs. I wanted rock-hard, chiseled abs, but I did not want to put in the work. If I were an artist, I probably would've drawn them on because I was so desperate for some muscle definition, but YouTube was way more accessible than a paintbrush anyway.
I didn't want to download an app and have to sift through tons of options on my tiny phone screen, and I most definitely didn't want to aimlessly do crunches at the gym. I wanted a quick, efficient, one-stop shop for abs, and 8 Minute Abs was just that. I had tried the notorious eight-minute program once before in high school, but this time, I was ready to take it seriously, even if it was my lazy option. Brenkus opens the video with a catchy "HEY GANG!" and his energy levels remain just as high the entire eight minutes. (Good luck trying not to giggle every time you hear him!)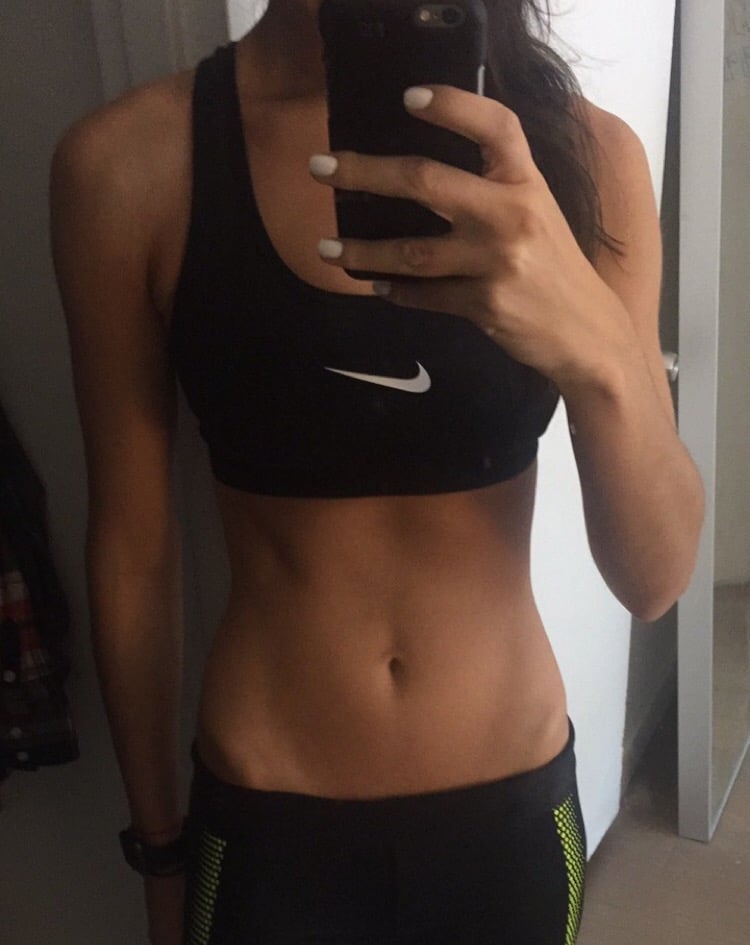 Image Source: POPSUGAR Photography / Perri Konecky
The program is made of nine movements, 45 seconds each, and you will work all areas of your abs. You don't have to worry about opening a new tab for your oblique exercises or scrolling all the way down to find the lower-ab tutorial, because Brenkus covers it all. With some funky elevator music, he talks viewers through basic crunches, right oblique crunches, left oblique crunches ("lift your body up and over, up and over"), toe touches, reverse crunches, right-side crunches, left-side crunches, push-throughs, leg pushes, alternating curls ("we're workin' those love handles"), and curls.
Maybe it's his encouraging voice or his ability to predict exactly when I need to be reminded to "look up to the ceiling," but let me tell you, this works. I was doing 8 Minute Abs five times a week for a few months, and I most definitely saw results. I never understood how it was possible to change the appearance of my body in under 10 minutes, but consistency is key.
At the time when I was doing 8 Minute Abs, my workouts consisted of cardio as well, typically 45 to 60 minutes on the elliptical. Everyone builds muscle differently, but with little belly fat, I saw results within the first three weeks. And is there any better motivation than seeing results?!
While I sadly memorized the entire video, Brenkus's final words leave me chuckling every damn time I hear them. "You did a great job — I'll see you in 24 hours!" And he most definitely did.
Image Source: Newsletter Image / POPSUGAR Photography / Diggy Lloyd