Gigi Hadid Reebok #PerfectNever Campaign
Gigi Hadid Is the New Face of Reebok's #PerfectNever Campaign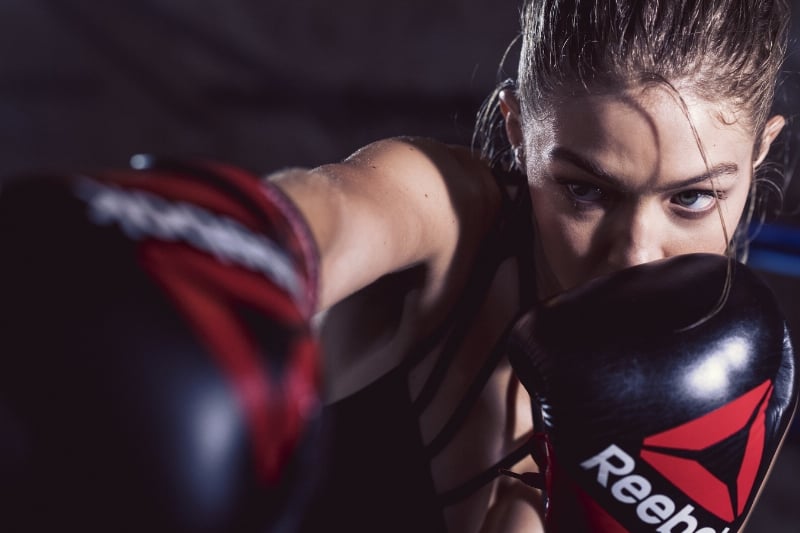 Gigi Hadid is packing a mean punch as the new face of Reebok's #PerfectNever campaign. She's lacing up her gloves in an effort to promote empowering females to ignore criticism and embrace their imperfections. Oh, and "she will f*ck you up," according to one of her hairstylists. The 21-year-old supermodel joined forces with the Reebok campaign, which is described as "a powerful and inspirational call to action that asks women around the world to celebrate the beauty of imperfection and champions Reebok's intrinsic message of self-betterment."
She's a self-proclaimed fitness fanatic and explains that working out is way more than physical for her. "It's mental. It helps me escape the noise in my head. It's the only time my mind goes quiet," Gigi said. The campaign, which was launched in July with Ronda Rousey, was started in an effort to silence body-shamers and throw away the idea that everyone has to be perfect. As a supermodel in the spotlight, Gigi is no stranger to these societal pressures, but her message is incredibly inspiring to all women.
Watch the video from Gigi's campaign below, but be prepared, she's just as talented in the ring as she is on the runway.