Gluten-Free Snacks From Trader Joe's
The Best Gluten-Free Snacks at Trader Joe's
Trader Joe's is just all-around awesome — it has great finds for vegans as well as low-cal snacks for those who are trying to drop a few. It's also a great store if you're following a gluten-free diet. While fresh fruit and veggies are always a healthy choice, here is a list of its best gluten-free packaged snacks.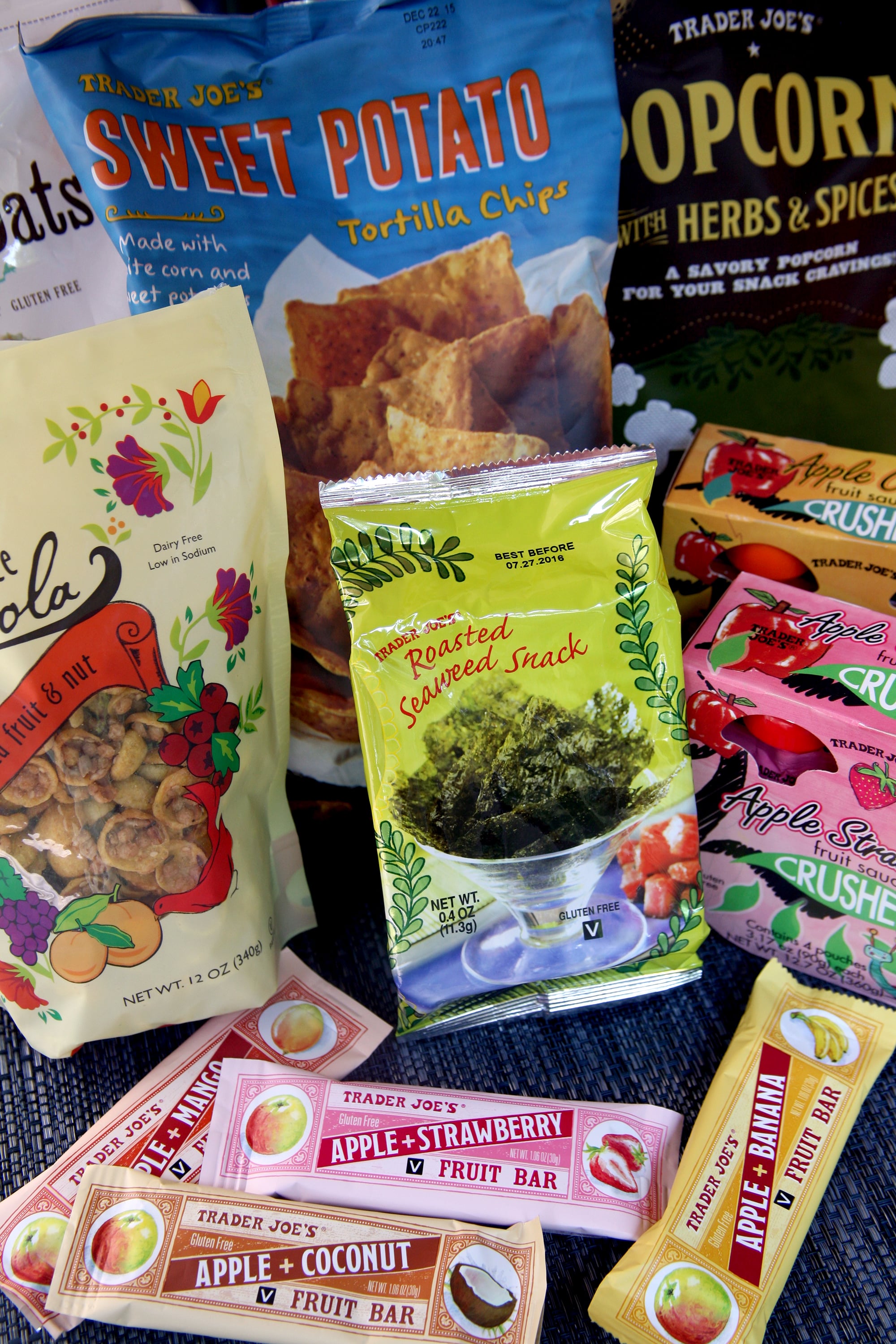 Bakery
Brown Rice Tortillas
Corn Tortillas
Gluten Free Blueberry Muffins
Gluten Free French Rolls
Gluten Free Multigrain Bread
Gluten Free Corn Tortillas
White Corn Tortillas
Bars
Fruit Bar (Apple + Mango)
Fruit Bar (Apple + Banana)
Fruit Bar (Apple + Coconut)
Fruit Bar (Apple + Strawberry)
Cereal
Gluten Free Granola, Cranberry, & Maple
Gluten Free Granola, Fruit, & Nut
Gluten Free Oats
Chips, Crackers, Pretzels, and Other Crunchy Snacks
Baked Cheese Crunchies
Baked Snack-Os
Kettle Corn, Light
Microwave Popcorn, 94% Fat Free
Organic Popcorn With Olive Oil
Organic Stone Ground Blue Corn Chips
Organic Stone Ground White Corn Chips, Unsalted
Popcorn With Herbs and Spices
Quinoa & Black Bean Infused Tortilla Chips
Roasted Seaweed, Salted
Roasted Seaweed, Wasabi
Sweet Potato Rounds
Fruit and Nuts
Note that although fresh fruit, dried fruit, and nuts are inherently gluten free, they are not listed as so on Trader Joe's packaging because of processing and possible cross-contamination.
Fruit Crushers (Apple)
Fruit Crushers (Apple Banana)
Fruit Crushers (Apple Carrot)
Fruit Crushers (Apple Strawberry)
Frozen
Gluten Free, Dairy Free Homestyle Pancakes
Organic Fully Cooked Quinoa
Wheat Free Toaster Waffles
Shelf-Stable
Coconut Beverage, Unsweetened
Coconut Beverage, Vanilla
Organic Rice Drink, Original
Organic Soy Beverage, Unsweetened
Rice Drink, Vanilla
Refrigerated
Almond Beverage, Original Unsweetened
Almond Beverage, Original
Almond Beverage, Vanilla Unsweetened