Prep For Our Flat-Belly Challenge With This Shopping List
Are you as excited as we are to start our 21-Day Flat-Belly Challenge? Then it's time to prep for a few healthy recipes that'll keep you on the right track this week. Each of these recipes will add a little debloating magic to your day, so spend some time stocking up on the groceries you need before the week begins — that way, whipping up a recipe a day will be a breeze. Check our Flat-Belly Challenge calendar to see the workouts and recipes!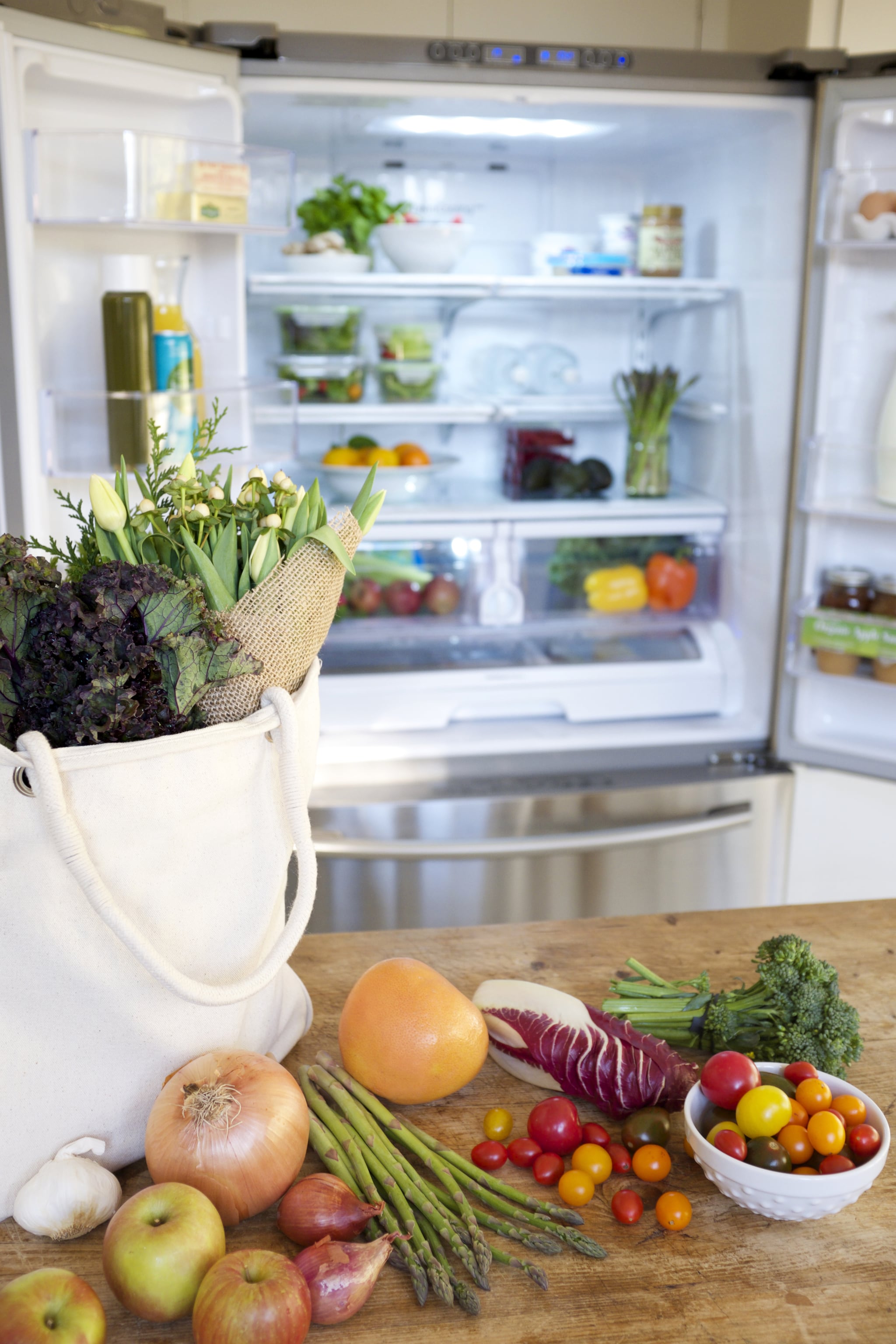 Note that these recipes are just a component of your healthy-eating plan: if you'd like to see even better results, follow these clean-eating rules for the duration of the challenge for all of your other meals as well.
Here's what you'll need for week one's recipes:
Produce
1 cup grape or cherry tomatoes
2 green apples
1/3 pineapple (see the note below in the Frozen section)
A few sprigs of mint
1 lime
1 1/2 bunches kale
1 cup blueberries
1 medium carrot
1/2 small banana
8 strawberries
1 head garlic
1 tablespoon minced parsley
4 large zucchinis
1 tablespoon peeled and minced ginger
1/2 cup coarsely chopped fresh dill
1/2 head Savoy cabbage (about 1 pound)
1 lemon
Dairy
5 ounces vanilla nonfat Greek yogurt, plus more to serve (optional)
Frozen
1/2 cup frozen blueberries
1/2 cup frozen pineapple (or buy one pineapple and freeze the leftovers)
Nuts
1/2 cup and 3 tablespoons sliced almonds
1 tablespoon almond flour or almond meal (optional; you can also substitute with breadcrumbs)
Condiments
1 tablespoon almond butter (optional; you can use a nut butter of your choice)
1 tablespoon honey or brown sugar
Other
1/2 tablespoon maple syrup
1 teaspoon vanilla extract
1 1/2 ounces white rum (optional)
Toasted seaweed, such as nori, sliced thinly
1/2 cup coconut milk (optional; you can use a milk of your choice)
1 can (15 ounces) chickpeas
3 ounces pitted large green olives, such as Castelvetrano or Cerignola (about 3/4 cup)
Sauces, Oils and Spices
1/2 teaspoon toasted sesame oil
1/2 cup extra-virgin olive oil
1/2 teaspoon coconut oil (optional; you can also use olive oil)
1/8 cup balsamic vinegar
1 tablespoon low-sodium soy sauce
Salt
Black pepper
Red pepper flakes
Seeds and Grains
1 tablespoon chia seeds (optional)
1 1/2 cup quinoa
1/2 cup rolled oats
Image Source: POPSUGAR Photography / Jae Payne