Tea For PMS
Sip Your PMS Into Submission With These Cramp-Fighting, Mood-Boosting Teas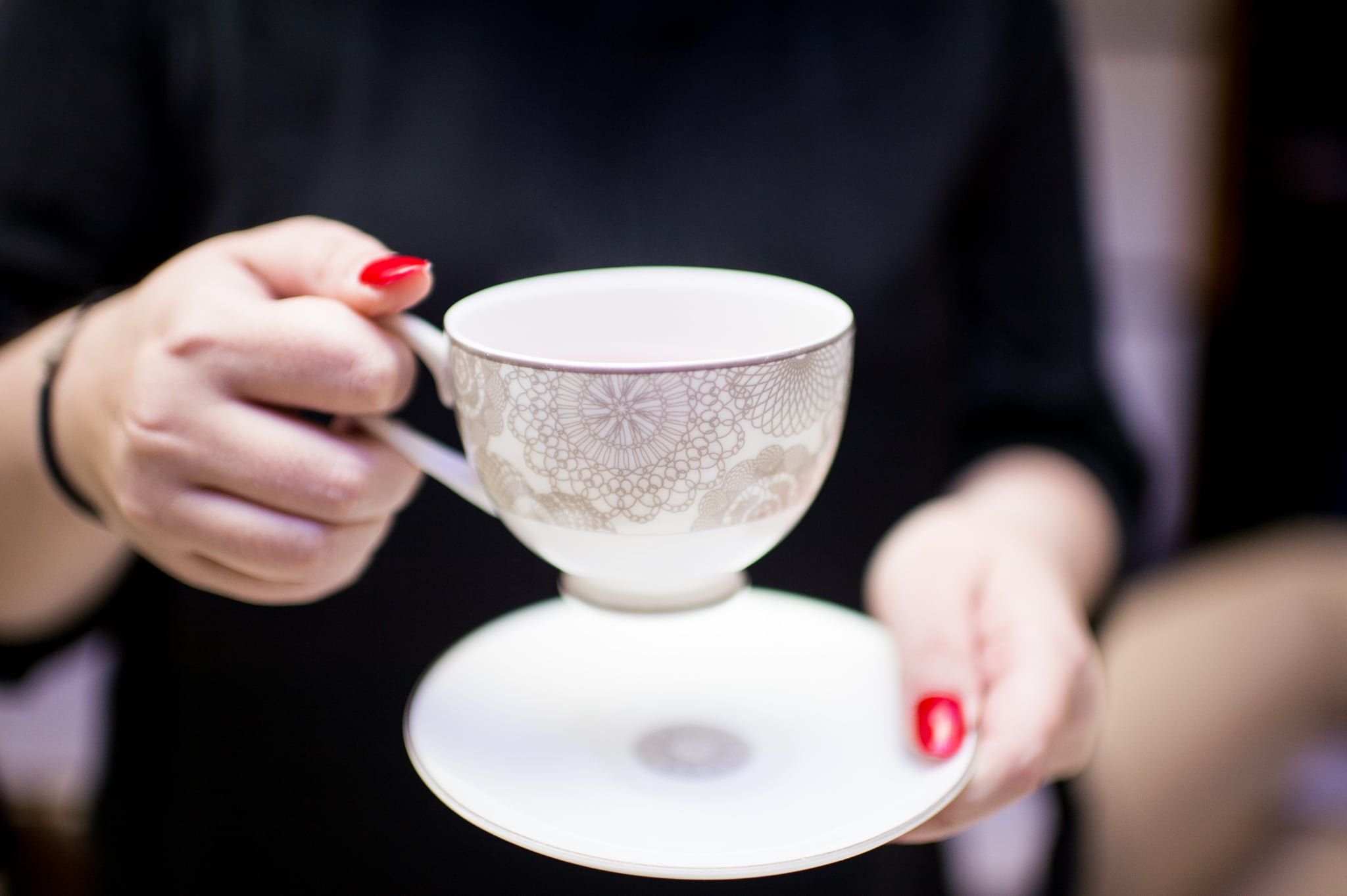 Tea can't cure everything, but it sure seems like it sometimes. From getting better sleep to staving off anxiety to losing weight and boosting mood, there's not much a good, hot cup of tea can't do. And with so many iterations and varieties, there's always something fresh to brew up while you sip your way to health — including fighting PMS.
Now we know that PMS comes in a delightful variety of symptoms — and no two people have identical experiences — so we're covering a lot of ground here. From a distended belly to painful cramps to acne, there's an herbal remedy for when you need relief most. Here are some expert picks to help soothe your woes!
For the Bloating
Dandelion tea: Dandelion has been said to help eliminate excess water weight. "Dandelion's use traces back to the 10th century when Arabian physicians revered the root for its cleansing properties and as a natural aid for digestion," said tea expert Kristina Richens, a director at The Republic of Tea, certified tea specialist from Front Range Herbal Institute, and speaker from the SF International Tea Festival.
Ginger tea: Ginger has a host of health benefits, and bloat relief is one of them. You can make your own ginger tea at home or brew up something in a bag; Billy Dietz, tea specialist at DavidsTea, recommends a blend called Le Digestif that combines some debloating powerhouses: "a mix of apple mint, fennel, ginger, and peppermint."
For the Cramps
Black tea: A cup of black tea has 88 milligrams of potassium, which contributes to muscular cramp relief.
Chamomile tea: Kill three birds with one stone: chamomile will help you sleep and de-stress, and it's also a powerful anti-inflammatory. Dr. Andrew Weil (creator of the anti-inflammatory diet) recommends this herbal brew for upset stomachs, indigestion, and menstrual pain.
For the Mood
Lemon balm or passionflower: Lemon balm and passionflower teas were recommended to us by Dr. Amy Chadwick, ND at Four Moons Spa in San Diego. They can "help calm excessive sympathetic nervous system activity, reduce excess cortisol activity, and support GABA activity." GABA (gamma-Aminobutyric acid) helps the body release endorphins, which can give you a mood boost. Passionflower in particular is "antispasmodic to the muscles, nerves, and digestive tract, and mildly sedating without causing excessive sleepiness or reducing the ability to perform daily activities." Read: it'll boost your mood and relieve your cramps without making you sleepy.
For the Breakouts
Rooibos or green tea: Richens recommends reaching for antioxidant-packed rooibos and green tea that can each help alleviate acne, pimples, sunburns, and uneven skin.
For When You Want to Sleep It Off
Valerian root tea: Valerian root, referred to as nature's Valium, is a common ingredient in sleep supplements, thanks to its relaxing properties. "Valerian is also great for drinking [in tea form] before bed, as it won't interfere with REM sleep," Richens said. Dr. Chadwick told POPSUGAR that valerian root also "depresses central nervous system activity and can be quite sedating. It is useful for insomnia, often combined with passionflower and lavender."
Image Source: POPSUGAR Photography / Bonnie Burke