Vegan Emoji Poop Brownies
These Raw and Vegan Poop Emoji Brownies Are Loaded With Flax Meal
Get your dose of fiber with your favorite emoji! These raw brownies feature flax meal, which helps keep you regular. Extra bonus: these are vegan too! Not feeling it? Then check out these vegan avocado brownies; they're sure to delight all your senses.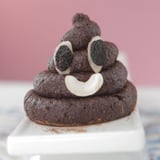 Ingredients
1/4 cup flax meal
1/2 cup hot water
3/4 cup whole raw cashews, plus 4 unbroken cashews (for mouths)
3/4 cup sliced raw almonds, plus 8 unbroken slices (for eyes)
3/4 cup unsweetened cocoa powder, plus extra for dusting
1 cup dates (about 12 large), pits removed
1/4 cup raw agave nectar
1 1/2 teaspoons vanilla extract
1/2 teaspoon salt
8 raisins
Directions
Pour hot water over flax meal and set aside.
Place cashews, almonds, and cocoa powder into food processor and process on high until finely ground. Remove from processor and set aside.
Place flax mixture, dates, agave nectar, vanilla, and salt in processor and process on high until smoothly puréed.
Add dry ingredients to wet ingredients and pulse until combined.
Use a silicone spatula to scoop the brownie mixture into a pastry bag (or a 1 quart resealable freezer bag) and make a 1 inch wide cut at the bottom.
Sprinkle reserved cocoa powder on a tray lined with parchment and pipe the mixture onto cocoa powder, starting with a 3 inch diameter circle and continuing up in a cone-shaped coil.
Using a tiny bit of the brownie mixture, glue raisin "pupils" onto reserved almond slices and decorate brownies with almond eyes and cashew mouths.
Chill until firm.
Information
Category

Desserts

Yield

4 servings