What to Wear For a Half Marathon
First Half-Marathon? Here's What to Wear
After running a few 10Ks, you're ready to tackle a half marathon. Running twice the distance not only requires more training (this is a great half-marathon schedule for first-timers), but it also warrants some wardrobe attention. Starting from the bottom up, here's what you should wear when running 13.1 miles in warmer weather. Be sure to test your race-day outfit in the weeks before on your longer training runs to ensure it's comfortable and pain free.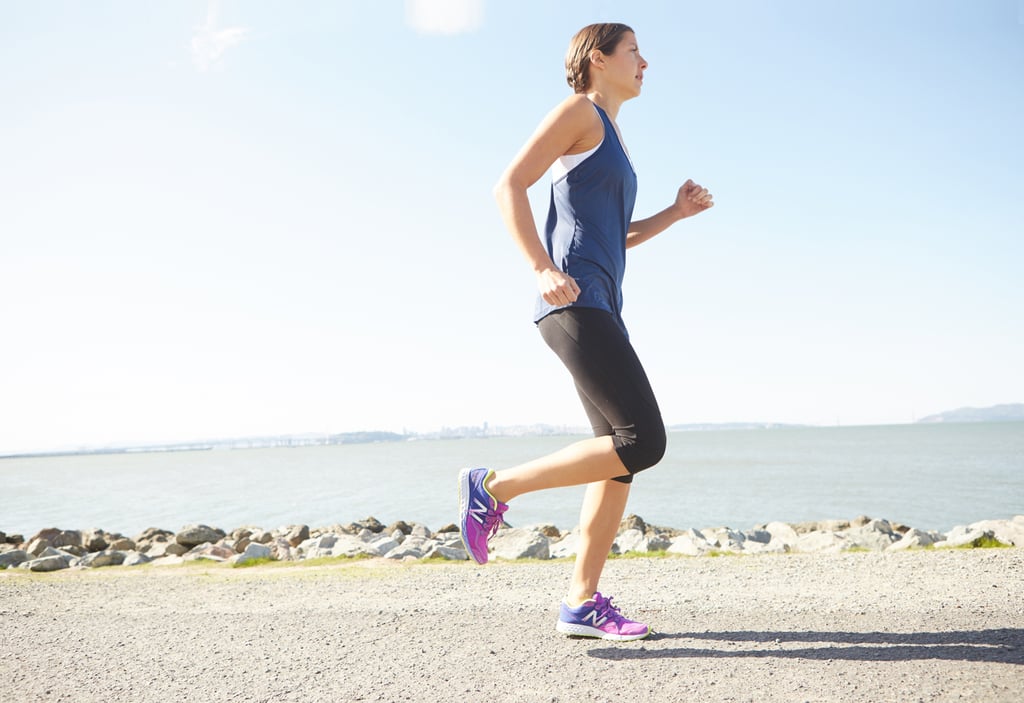 Socks: Slip on a pair of lightweight ankle-length wicking socks that fit snugly and are seamless to prevent hot spots or blisters. I'm a fan of these Darn Tough No Show Ultralight Socks ($15) — they're totally worth the dough because they have a lifetime guarantee.
Sneakers: Find a brand and model that is tried and true, one you've worn before that offers the stability and support you need for your foot type and your running style. Use them to train in, so your feet are used to them on race day. I've always been a fan of Brooks and love these Brooks Glycerin 12s ($150-$155).
Compression gear: These are optional and not superpopular, but if your lower legs fatigue within the first few miles, and you suffer from crazy-sore calves for days after long runs, compression leggings, calf sleeves, or socks can help with recovery. If it's cold, the gear can add a little extra warmth, and if it's hot, find ones made out of breathable material. You can also opt to wear compression gear after your runs to reap the same benefits.
Capris: What you wear on the bottom is based on personal preference. Wearing fitted capris or shorts is probably your best bet to cut down on any unnecessary rubbing. While loose-fitting running shorts may be great for runs that are five miles or less, they might cause painful inner-thigh chafing when you're running an hour or more.
Sports bra: Splurge on one that's made for your chest size. Ones that have adjustable clasps in the back like you'd find in a regular bra are great because you can get the perfect fit and they are much easier to take off when sweaty. Moving Comfort's Jubralee has always been one of my favorites because you can easily adjust the straps and the band.
Seamless top: Just like chafing between the thighs, underarm irritation is something you don't want to deal with. Look for tops made specifically for running that are seamless below the armpits. If you're a larger-breasted woman, tops with attached shelf bras are great for added support.
Arm warmers: Since mornings can be 10 to 30 degrees cooler at the beginning of a race, arm warmers ($20) will give you an extra layer that can be easily slipped off and stored in a zipper pocket on your capris or hydration belt.
Hydration belt: This is completely optional as most races have more than enough water stations set up. But if you don't like stopping and want access to water at the moment you need it, a hydration belt ($50) not only stores water, but it keeps energy gels and chews close at hand, as well as your keys and phone if you drove to the race.
Sunscreen: Since you'll be outdoors for at least two hours, protect any exposed skin with waterproof sunscreen. Apply 30 minutes before the race.
Sunglasses or a hat: Shield your eyes from UV rays and possible rain with sunglasses, and if you prefer, throw on a lightweight running hat to not only keep the sun off your face but to absorb sweat.
GPS watch: Some people like to know their pace and time throughout the race, and a GPS watch offers that info whenever you need it. You can buy a basic model, or if you don't want to spend the dough, use a running app that utilizes GPS.
Image Source: POPSUGAR Photography / Ericka McConnell