This Kettlebell Workout Will Burn a Ridiculous Amount of Calories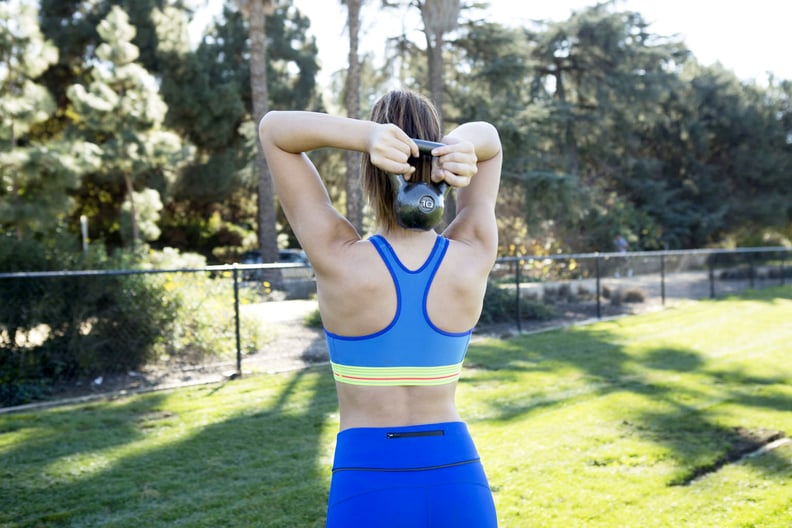 POPSUGAR Photography | Kat Borchart
POPSUGAR Photography | Kat Borchart
Get ready, because this five-move kettlebell workout will torch tons of calories. The workout, created by KettleWorx director of programming Laura Wilson, features basic kettlebell moves that should be in anyone's strength-training repertoire.
When learning these exercises, it's important to start with a light weight first — Laura recommends a five- or 10-pound kettlebell. You can increase the amount of repetitions as you become stronger, but first focus on your form and only increase the weight after you can do 20 reps of these moves correctly with a lighter weight. Once you've hit 20 reps, increase the weight but bring your repetitions back down to 10 until you've acclimated to the heavier weight. "It's about pacing yourself and listening to your body; it will tell you what's right," Laura says.
Repeat the following five-move circuit three times in order to work your entire body and keep your heart rate up. Click through to see Laura in action and learn how to do the workout!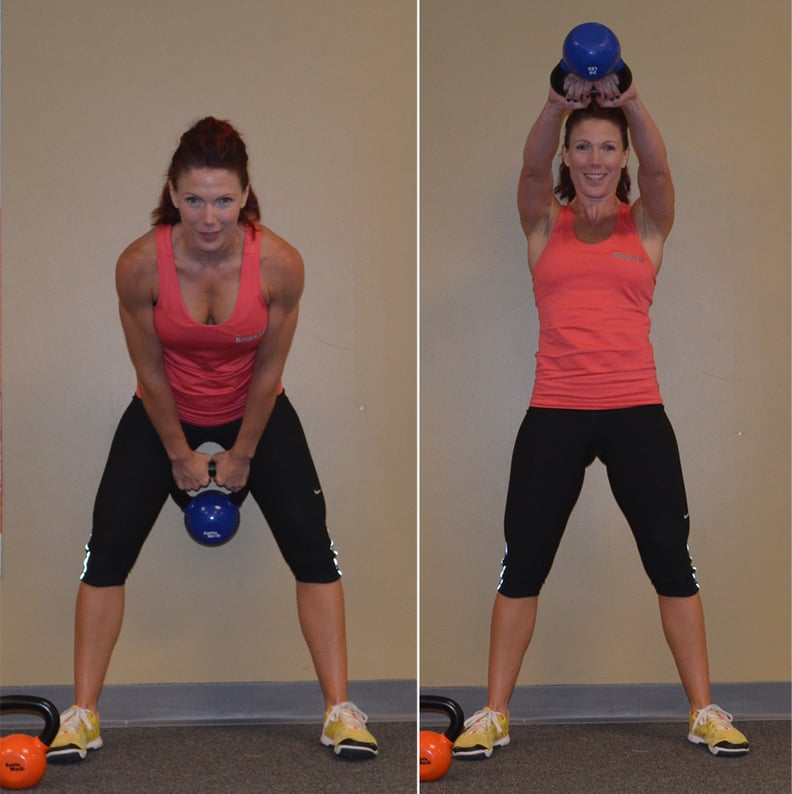 Swing
Take the time to get this basic traditional kettlebell move right; you'll be glad you did. "It recruits all those muscles that have to do with posture: your stabilizer muscles, the glutes, the hamstrings, the whole entire backside of the body," Laura says. "More importantly, because it's such a dynamic movement, you're going to get the heart rate up, so you're going to get cardio work out of it. It's a phenomenal move for all-over fitness, cardio, strength training, and toning."
Stand with your feet wider than hips-width apart, toes slightly pointing out. Lean slightly forward as you squat down; hold a kettlebell with both hands between your legs. Make sure your back is flat and your abs are engaged.
As you inhale, press into your feet and explode up, straightening your legs and swinging the kettlebell in front so your hands are in line with your shoulders.
Exhale, and with control come back to the starting position, allowing the kettlebell to swing back between your legs.
This counts as one rep. Do 10 reps.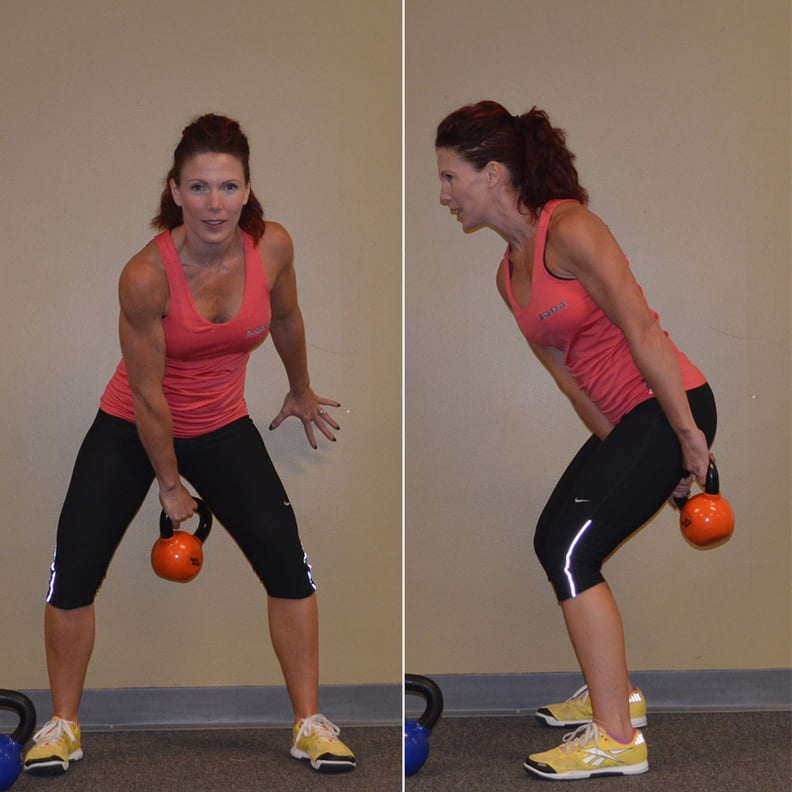 Figure 8
The figure 8 "works the same posterior chain that the swing does," Laura says. In addition, "because you're kind of squatting up and down, it's great for the core and for the heart, and because you're twisting, it's great for the stabilizers."
Hold a kettlebell to your chest with your right hand holding onto one corner of the horn (the handle). With feet hip-width apart, lower down into a squat.
Once you are in a squat position, thread the kettlebell through the middle of your legs. Reach behind you with your left hand to grab onto the other corner of the horn.
Once you have the kettlebell in your left hand behind your left leg, move it around the outside of your left thigh and thread it back through the middle of your legs. This time, grab onto it with your right hand behind your right leg.
Move the kettlebell around your right leg so it's once again in front of you and in your right hand. This completes one rep.
Do 10 reps.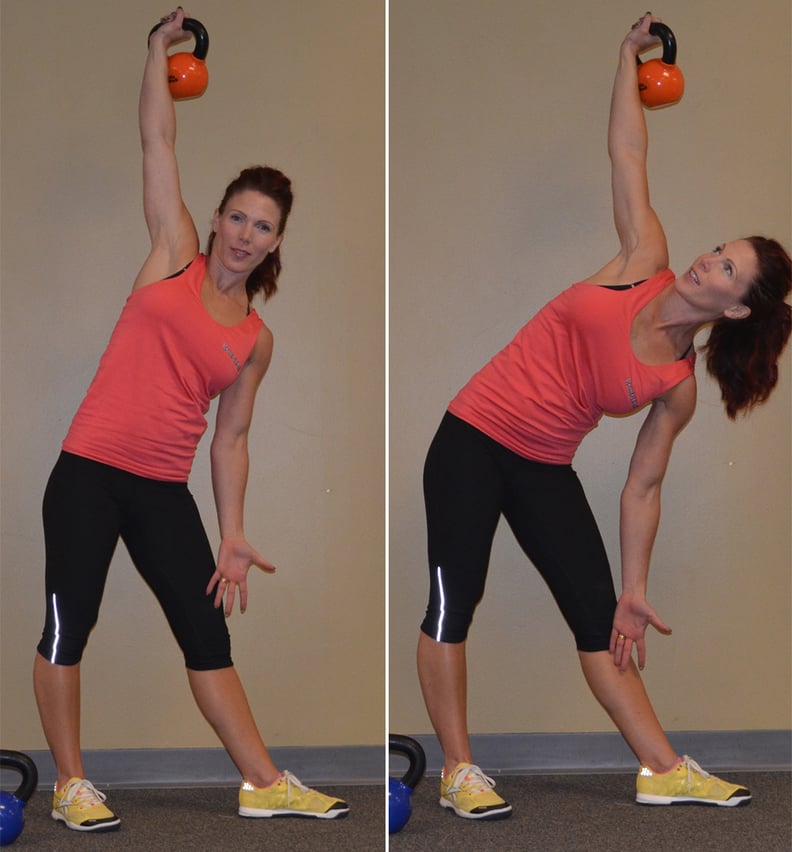 Windmill
This move is "phenomenal for the sides, for the waistline," assures Laura, who says that the downward movement "kicks those external and internal obliques" to strengthen your core. "As a female, I always want to whittle away that waistline, and it's great for that," she says.
Squat down to pick up your kettlebell, then raise it until it is over your head. Hold your kettlebell with your right hand as shown; it should be over your shoulder, which should be in line with your right hip. Turn your feet toward the left; your left foot should be out at about a 45-degree angle.
Keep your left arm straight and down, palms facing up, with the back of your hand slightly touching the inside of your left knee. Look up at your kettlebell, and point your chest up. Inhale and bend to your left. As you bend, focus on pointing your hips to the right and slide your left hand down the inside of your left leg as you lower down. Touch your fingertips or palms to the floor.
Exhale as you raise back up to standing, keeping your right arm raised.
Do 10 reps, then repeat with left arm.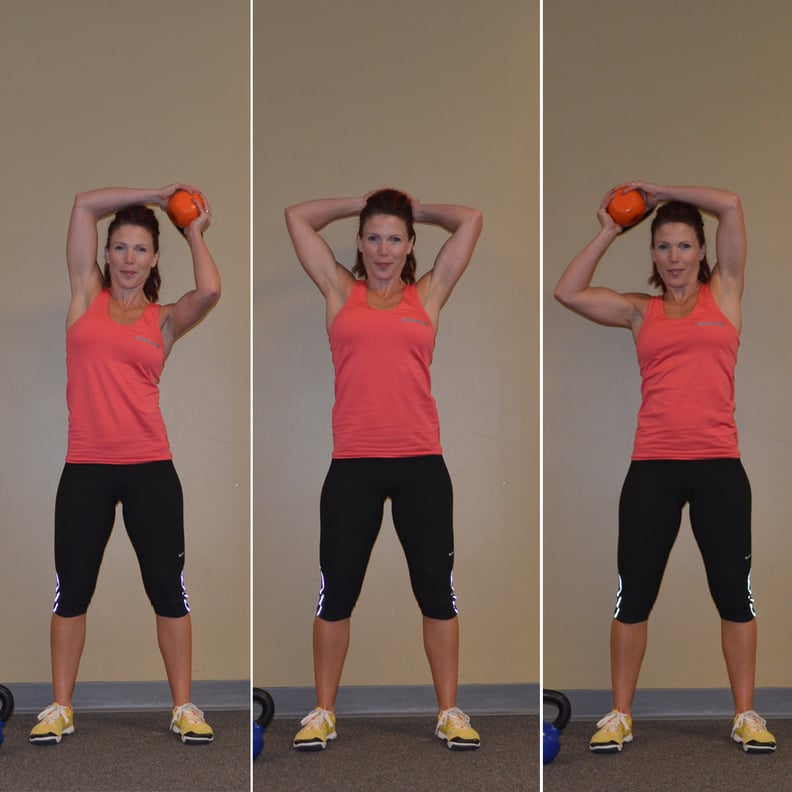 Halo
Both the halo and the orbit (shown on the next slide) are amazing moves for shoulder-joint mobility as well as your abs, Laura says. "In today's world, we really neglect the core. Lots of people have back issues and things like that, so the orbit and the halo are great moves to increase the strength in your midsection," she explains.
Hold a kettlebell with both hands and bring it up to your chest. Keep holding onto the kettlebell with both hands as you raise it up over the left side of your head (your left ear).
Slowly move the kettlebell so it is behind your head, then move the kettlebell so it is over your right ear. Keep your head straight and core engaged while you do these movements.
Bring the kettlebell back to your chest, then reverse the movement (bring it up to behind the right ear, then behind your head, then behind your left ear).
Bring the kettlebell back to your chest. This completes one rep. Do 10 reps.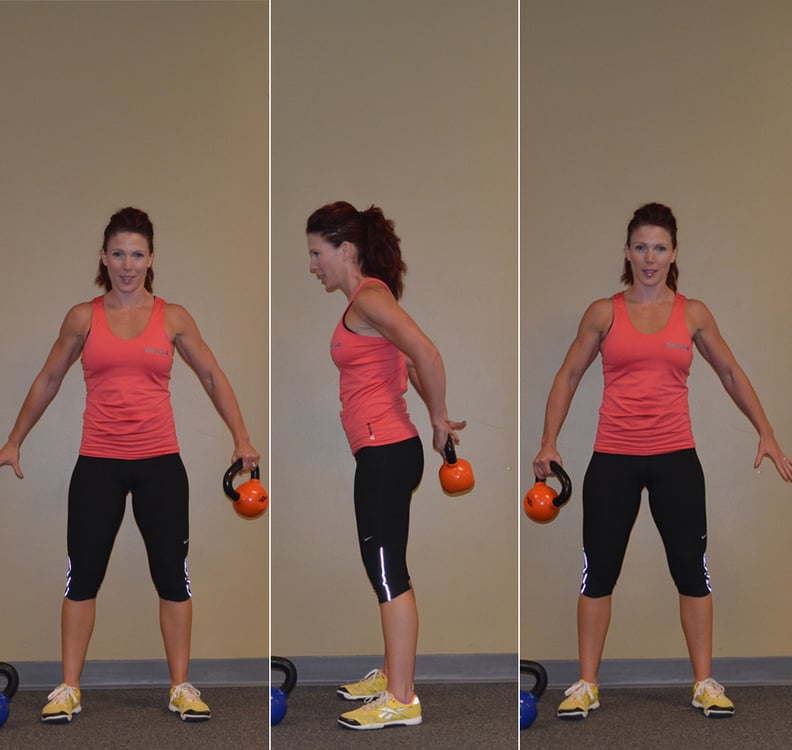 Orbit
Stand with feet hip-distance apart and arms extended slightly out to your side. Hold a kettlebell in your left hand at one corner of the horn.
In a fluid motion, swing it behind you and reach your right hand back to grab it on the other side of the horn.
Keep the motion fluid as you swing it to the front of you and grab it with your left hand. It should feel like you are making the kettlebell orbit your waist.
Repeat 10 times, then reverse and repeat 10 times.