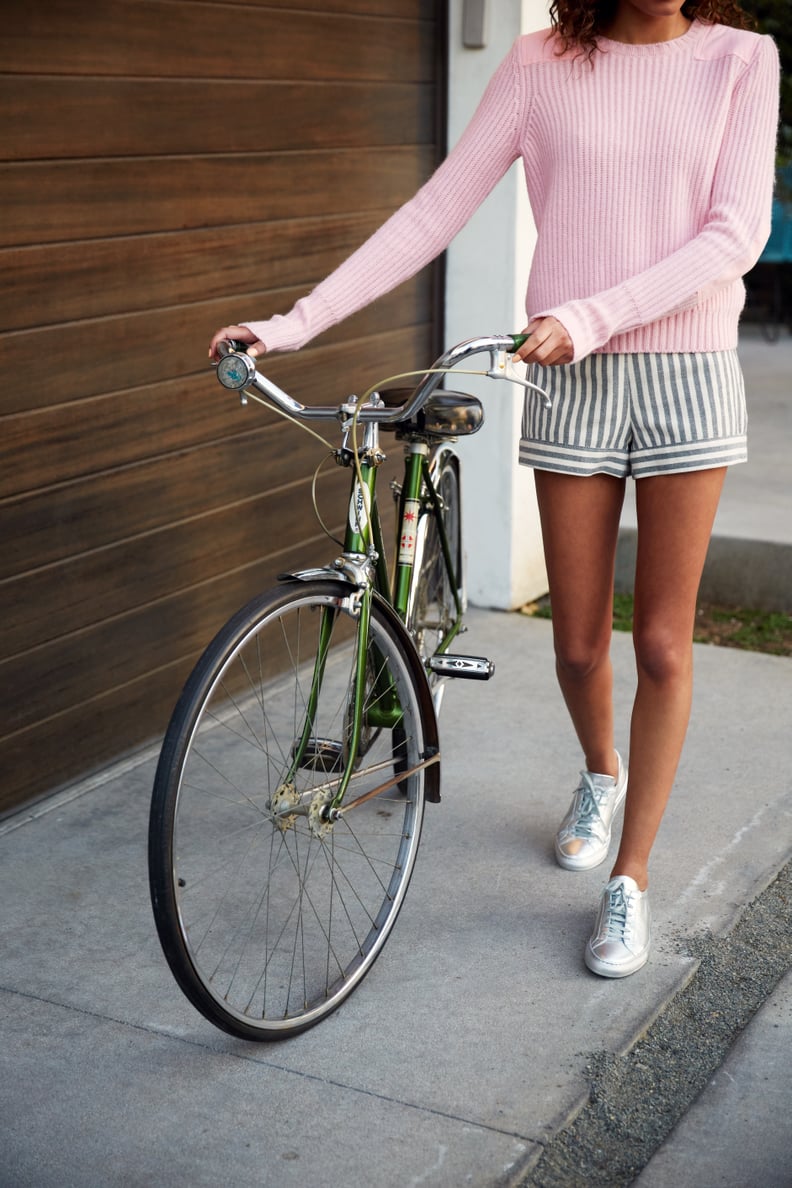 POPSUGAR Photography | Sheila Gim
POPSUGAR Photography | Sheila Gim
So you want to lose weight, get in shape, or build strength, but you're worried about your joints (or dealing with an injury). You don't have to go HAM in the gym or do crazy plyometrics to achieve your goals!
In fact, many of your favorite workouts and activities are excellent tools for stress-relief, weight loss, and strength building — we got the scoop from the queen of low-impact living, Schwinn ambassador and NYC celebrity yoga and Pilates instructor Kristin McGee.
Yoga
"Yoga is one of the best low-impact exercises," said McGee. "Not only are you using your bodyweight to strengthen literally your entire body, but you're also getting an incredible stretch and improving flexibility."
Though a challenging strength-training workout, yoga is gentler on your knees, shoulders, and joints when performed correctly. "Yoga promotes safe range of motion for your joints — there's no bouncing or jarring," she said. "You control and monitor your effort by your breath — which is also great for helping you identify what's discomfort and what's actual pain." This can prevent future injuries while you continue your health journey.
Another great benefit? "Yoga is also ideal for stress management." You're more likely to injure yourself when you're stressed, but "yoga encourages you to stop, move with intention, and just breathe. The simple act of deep breathing helps you to better adapt to daily stressors."
Pilates
Another mood-boosting, supersafe workout is Pilates. "Whether you are on the mat or using machines, Pilates is a flowing practice, so it allows your body to move gently — but the movements will still test your strength and stamina," said McGee. "And it can help promote weight loss; these routines naturally boost your metabolism, which helps you shed pounds." Just further proof you don't have to do superaggressive workouts to lose weight!
"Resistance exercise within Pilates involves the use of resistance bands and springs (if you use the machines)," said McGee. "These movements help build both muscle and bone strength without putting your body under excessive weight. Pilates also promotes mental wellness — it's an ideal way to get away from your hectic schedule for a while and focus on much-needed you time. It's also great for reducing anxiety."
Cycling
You don't have to work out inside — everyday activities you love can be your favorite form of low-impact exercise and help you stay in shape. One of our favorites? Cycling. McGee agreed.
"I love cycling because you're using your joints in a safe range of motion," she said. "Here, too, there isn't jarring or sudden stopping. So many people turn to cycling after a knee injury or surgery because it's an amazing form of rehab. It's an ideal way to add cardio into your routine so it complements the strength training and flexibility you get through yoga."
"Your feet stay in contact with the pedals so you get this beautiful circular motion, like a Sun Salutation cycle. I also find I get the same moments of zen while cycling outside in nature that I get from yoga or Pilates. It really puts you in a meditative space."
For outdoor cycling, McGee uses a hybrid bike, which she said is ideal for those who are "just getting into cycling or are using cycling to complement your overall workouts." Why? This style of bicycle is "unintimidating and versatile so it does well on pavement and crushed gravel."
Swimming
"Much like in yoga and Pilates, swimming uses your bodyweight for cardio and strengthening, but with the added resistance from the water," said McGee. "This, again, is a wonderful range of motion for the joints and promotes heart health and longevity without putting any strain or pressure on your joints." Sounds like a win to us! Plus, being in the water is so serene, right?
Pregnant? Worried about your workout's intensity? McGee says this is "ideal" and noted that "many of [her] pregnant yoga and Pilates clients also regularly swim as part of their pregnancy workout routines."
And don't worry — you don't need to transform into Michael Phelps for this. "Don't feel like you need to gear up and swim laps to get the benefit out of swimming. During my pregnancy with twins, I took advantage of the water anytime we were near it — whether it was at a beach or in a friend's pool."
TRX Strength Training
You may have weak or injured joints, but you can still seriously strength train! "Lifting weights at the right level for you helps you build lean muscle mass and boost your metabolism," said McGee. "By using weights, TRX bands, or TheraBands, you're able to add the complementing pulling movement" that complements the pushing movements of yoga.
"Some of the best strength-training moves are the simplest (and can be done with or without weights or using a TRX strap)," she said. "Lunges and squats work your hamstrings, quads, glutes, and even your core — everyone should know how to do these moves — or a modified version with a chair or a physio ball against a wall."
By learning these staple exercises, you'll "strengthen the important muscle masses that help keep your joints in place," she told POPSUGAR. "If your glutes are weak, you'll put a lot of pressure on your knees. If your core is weak, it puts pressure on your back."