Push-Ups Don't Intimidate Me Anymore — Here's What I Did to Improve My Strength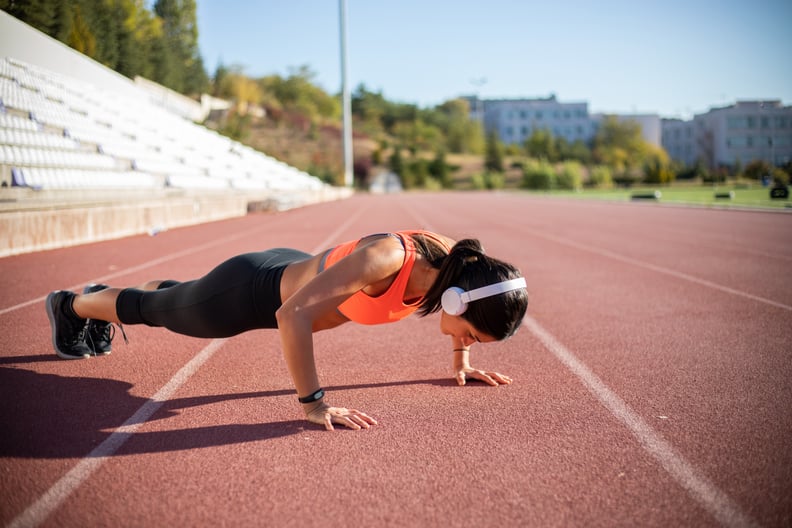 Getty Images | agrobacter
Getty Images | agrobacter
My workout determination has gotten me through burpee after burpee, demanding at-home fitness programs, half-marathons, and speedy swim intervals. But, my will power has historically disappeared the minute push-ups were in the picture. For as long as I can remember, it's been the one move that's challenged me both mentally and physically to the point of surrender.
In all honesty, the main reason for that is because I couldn't do a proper push-up — either my hips were too high, my elbows were too wide, or I couldn't manage to hover down low enough. The more at-home strength classes I took, though, the more push-ups popped up, so I told myself it was time to face the music and at least try to improve my performance.
Four months into my goal, I can see so much progress in my abilities. I may not be able to drop down and give you 20 (or even 10) perfect push-ups, but now I can slowly conquer five, and I owe it all to perseverance and the tiny tweaks in my routine ahead.
I Embraced Modifications
Dropping to my knees used to make me feel like a failure, so I would refuse to do it. Well, what followed was really bad form, and therefore, a totally ineffective move. Finally taking my virtual workout instructors' advice and embracing modifications, I started dropping to my knees or performed the move at an incline, so that I could lower all the way to the ground and maintain core engagement, as well as the correct arm position. I actually felt my triceps and abs kicking into gear!
I Started Small
After a while of exclusively performing knee push-ups, I started working in one or two full push-ups into sets to test my progress. I knew I wasn't ready for an entire set of full push-ups, but thanks to my commitment to modifications and the hard work I was putting in, I could at least conquer two or three. Starting small with my push-up goals also helped me prevent unnecessary injuries that could have been caused by pushing myself too hard.
I Watched a TON of Videos
When you're working out at home — and don't have access to gym mirrors — it's a little difficult to know you're lacking form. To have a better understanding of what portion of the move I needed to concentrate on, I set up my phone and filmed myself doing push-ups. After checking out my form, I made it a point to study my instructors' push-ups during workouts, as well as other fitness instructors on Instagram.
I Kicked Up Strength Training
Adding more core and upper-body workouts into my fitness routine helped me strengthen my body, so it was better capable of tackling the notoriously difficult move. Not only do I see a difference in the tone of my arms, but I also experience less muscle shakes as I lift my body back up to the plank position of a push-up. Now that my core is stronger, I am able to hold my entire body strong (no more hip sags!) as I lower down to the ground, too.
Click here for more health and wellness stories, tips, and news.