How to Meal Prep Steel Cut Oats
Have a Warm Bowl of Steel-Cut Oatmeal Ready in Just 2 Minutes With This Meal-Prep Hack
Steel-cut oats may not be as commonly used as rolled oats because they take longer to cook, but their deliciously chewy and hearty texture makes them worth it! And with this simple meal-prep hack, you can cook up four servings at once and have breakfast for the week set.
Why choose steel cut oats (which take 20 minutes to cook) over rolled oats (which take about five)? Registered dietitians recommend eating as many whole foods as possible, and if you didn't know, steel cut oats are less processed than rolled oats. Steel cut oats are the whole oat groat (grain) cut, and look like cut up pieces of rice (as you can see in the photo). Rolled oats are steamed first, and then rolled to flatten them, so they look like little discs. There's nothing wrong with eating rolled oats, but I find that eating steel cut oats keeps me satiated longer.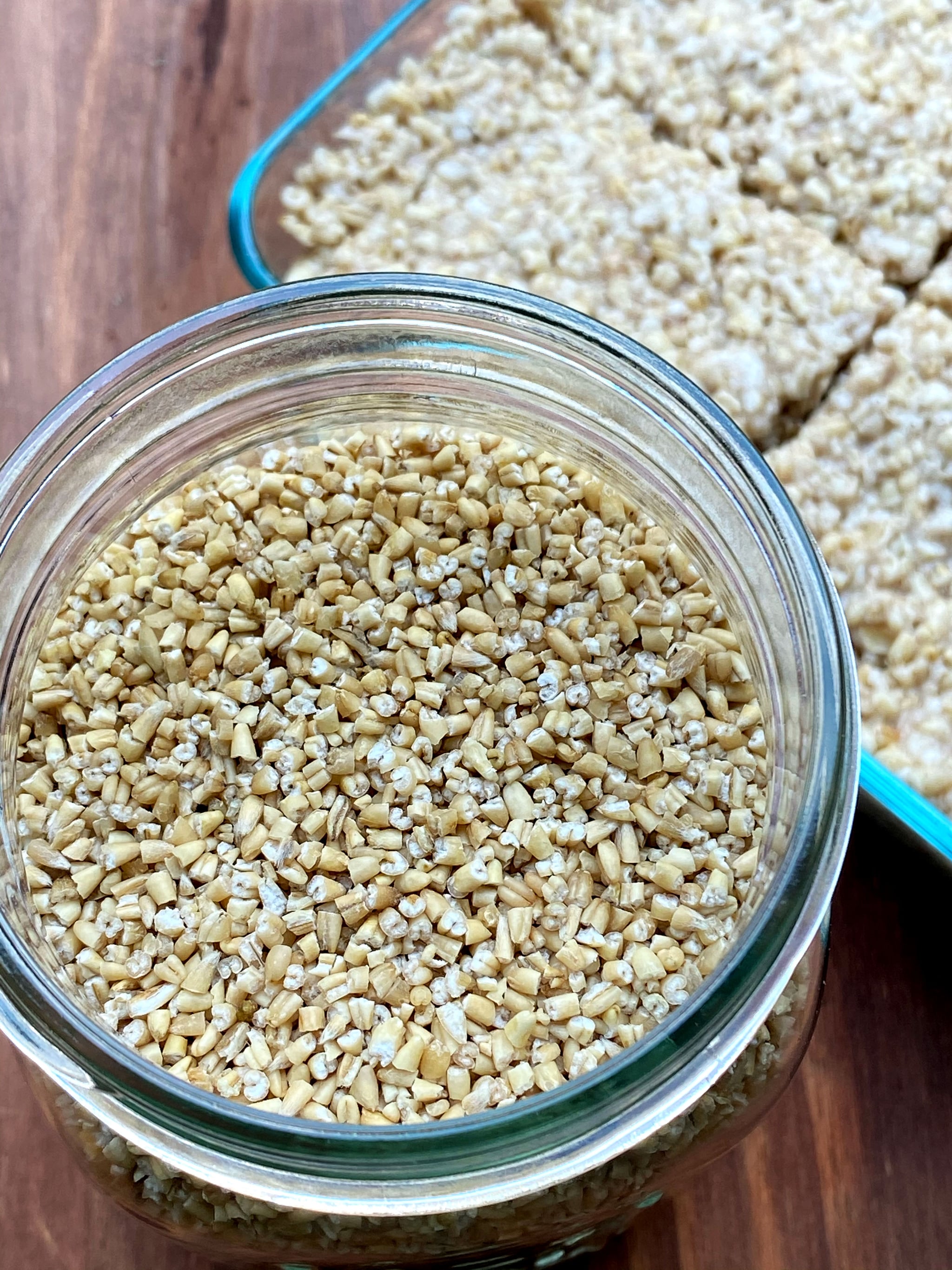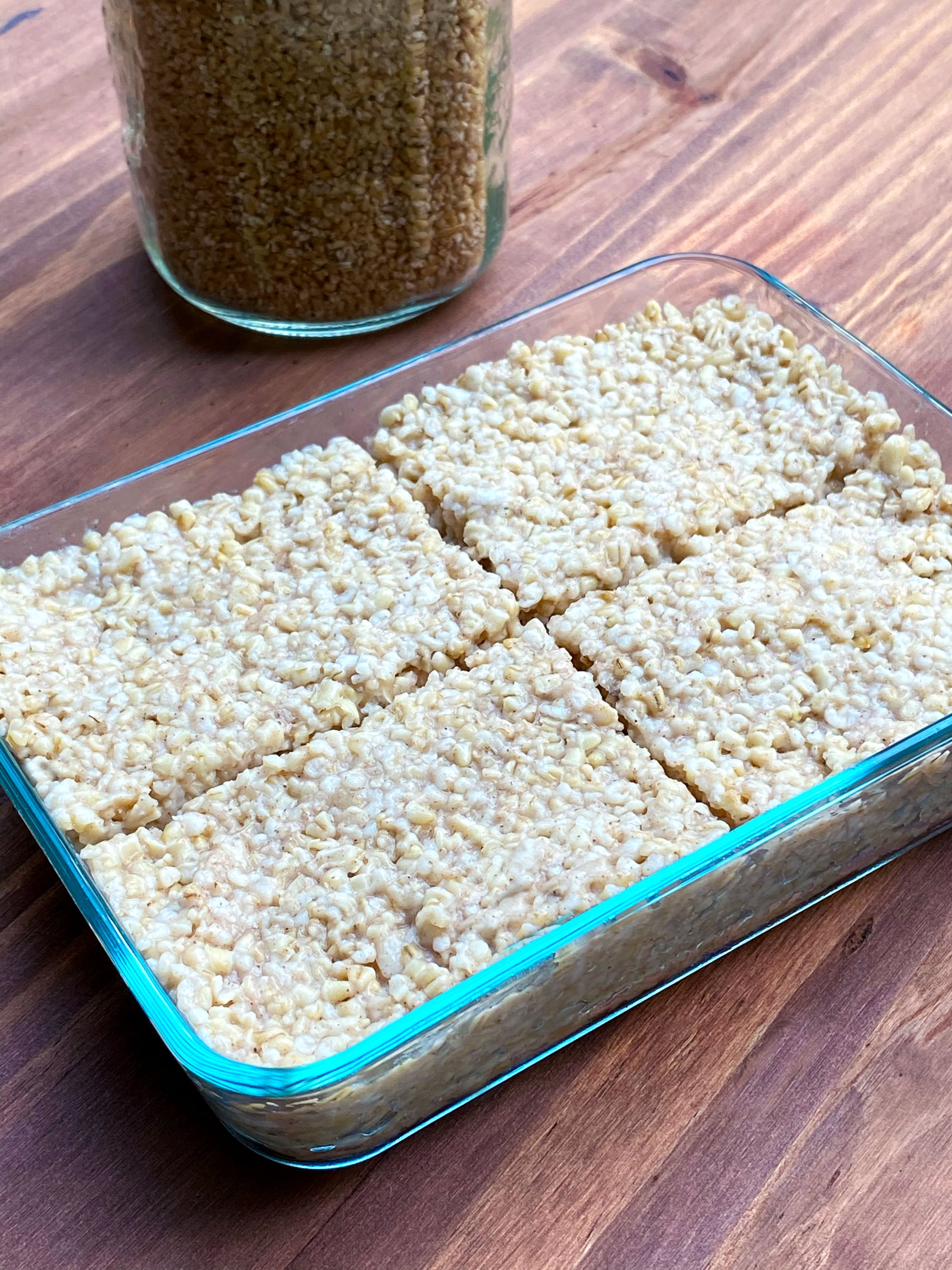 You can use regular steel cut oats, but I used One Degree Organic Sprouted Steel Cut Oats, because they offer twice as much protein and slightly more fiber.
All you do is cook up four servings at once in a pot on the stove, which takes about 20 to 25 minutes, depending on the texture you prefer. Pour the entire amount into a glass dish and store in the fridge overnight to firm up. In the morning, cut into four equal portions — you can use a spatula to serve yourself a little oatmeal "bar." Warm it up as is for 45 seconds (it feels like you're eating cake!), or you can mash it with a fork in a bowl with a splash of nondairy milk if you want a creamier consistency.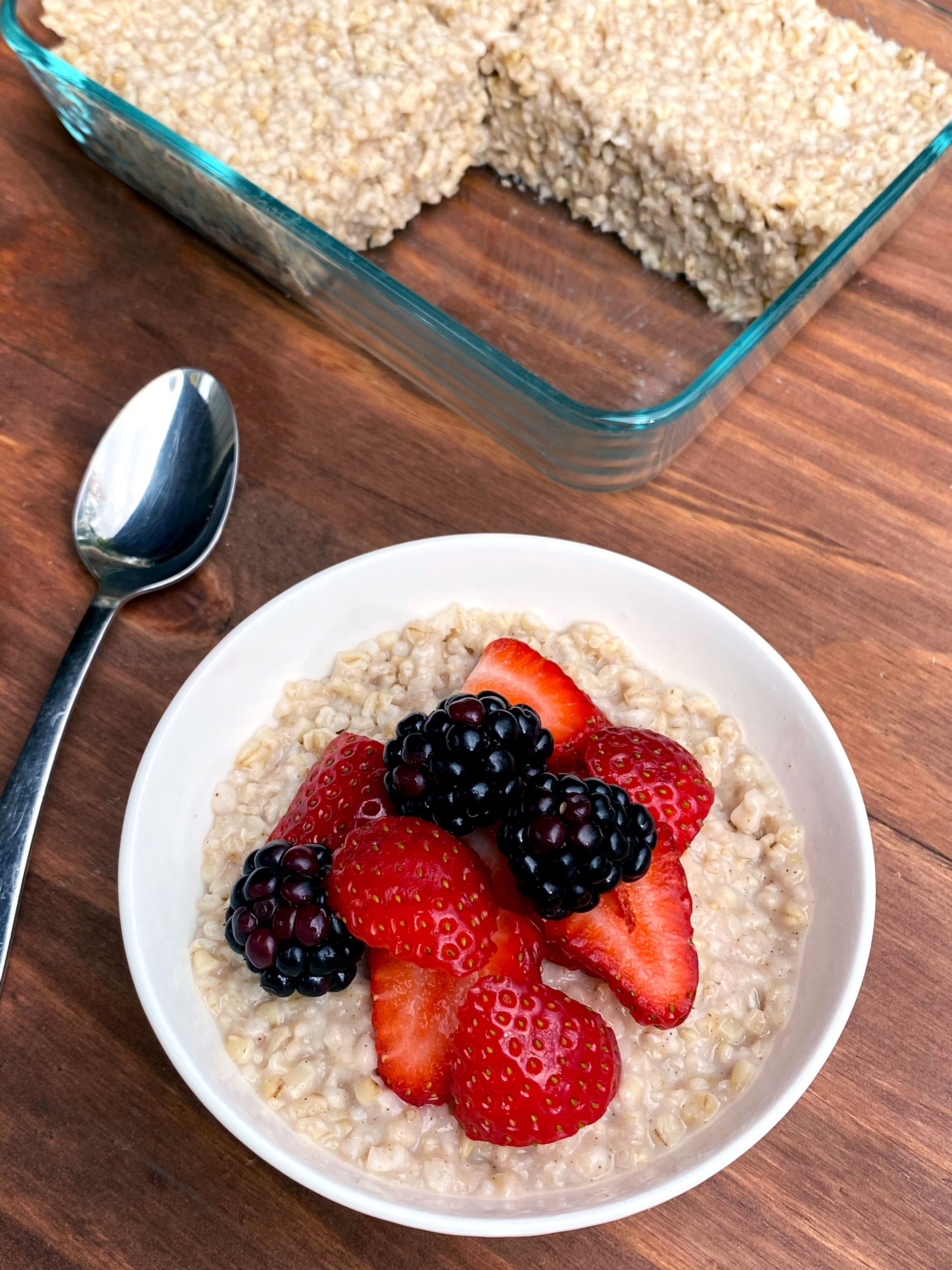 This cooked oatmeal can be stored in the fridge for up to five days, or you can freeze individual portions separated with small sheets of parchment paper in one large freezer bag. You can easily double or triple the recipe to make more. When you want to enjoy this oatmeal from the freezer, either defrost a portion in a bowl in the fridge overnight, or just microwave your frozen portion, which only takes a minute or two. This not only saves you 20 minutes every morning, but if a healthy breakfast is already meal prepped, you'll be more likely to reach for it over something quick and sugary.
This oatmeal is unsweetened but try mashing in one banana to add natural sweetness and a creamy texture. If you don't think that's sweet enough, add a drizzle of maple syrup on top. Get creative with your toppings so you have a different bowl every day of the week.
How to Meal Prep Steel Cut Oatmeal
From Jenny Sugar, POPSUGAR Fitness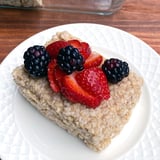 Ingredients
2 cups water
1 cup steel cut oats
1 tablespoon flaxmeal
1 teaspoon cinnamon
Directions
Boil the two cups of water in a small pot that has a lid.
Add the dry steel cut oats, flaxmeal, and cinnamon to the boiling water and stir to combine.
Place lid on top, reduce heat to simmer, and cook for 20 minutes or longer for a softer consistency.
Pour cooked steel cut oats in a glass container, cover, and place in the fridge overnight to firm up.
The next day, cut into four equal squares. Store as is, taking a square out each day, or freeze squares for later.
Here's the nutritional info from verywell.com for one serving (makes four squares):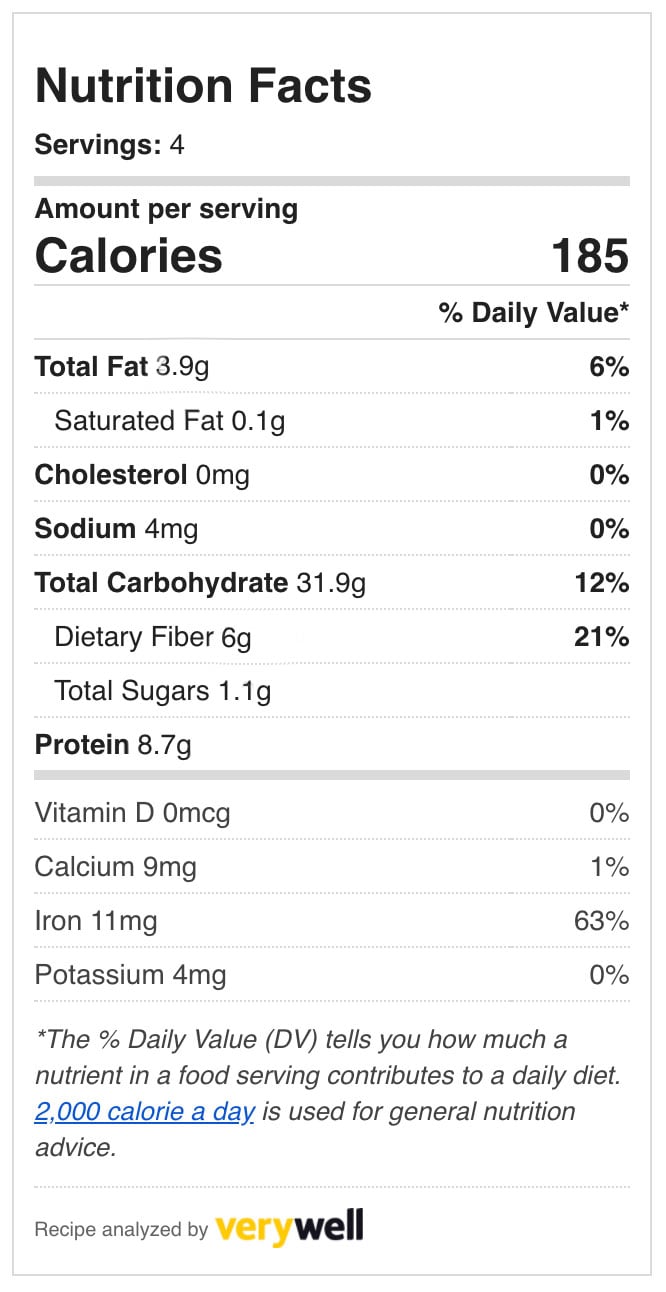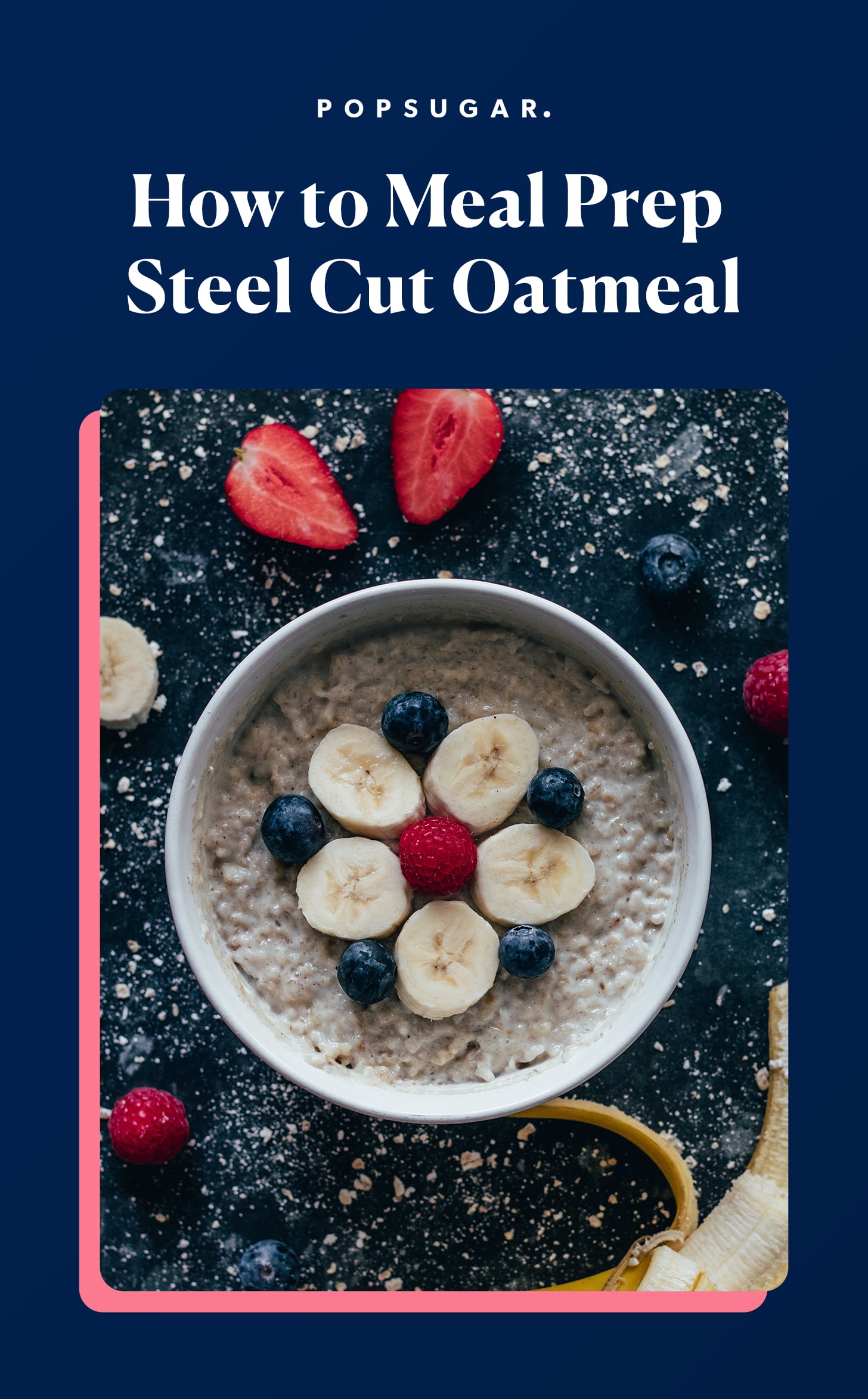 Information
Category

Breakfast/Brunch

Yield

4 servings

Prep Time

5 minutes

Cook Time

20 minutes

Total Time

24 minutes, 59 seconds
Nutrition
Calories per serving

185