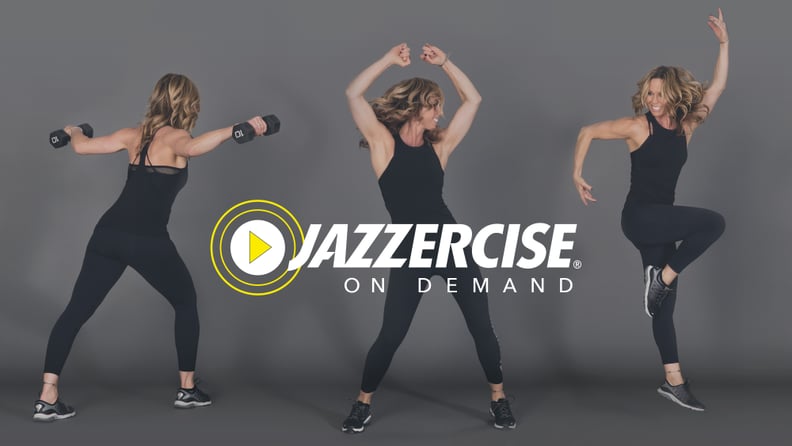 Courtesy of Jazzercise
Courtesy of Jazzercise
While you've probably seen a video or two of Judi Sheppard Missett vibrantly leading a Jazzercise workout in the '80s, Jazzercise has been a dance cardio powerhouse for over 50 years. Even with traditional brick and mortar locations, the company is now bringing Jazzercise to our homes not through VHS tapes but via its online platform Jazzercise On Demand. Jazzercise On Demand hosts a variety of classes including HIIT, Pilates, core strengthening, along with the signature dance cardio workouts. With classes ranging from 10 to 40 minutes, everyone can find a class that works with their schedule. Including mine!
Keep reading to find out what a 20-minute dance mixx workout, hosted by President of Jazzercise Shanna Missett Nelson, entails and how it preserves the classic elements of Jazzercise.
The Jazzercise Experience
We began with a five-minute full-body warmup that instantly brought a sweat along with feelings of nostalgia. The playlist was set to vibrant electronic music, and we bopped our shoulders, swayed from side to side, and even got into our hips with some slow and sassy pliés.
As we glided into the first part of the workout we kept a side-to-side vibe as we reached our arms from side to side, then moved around our space from side to side. Then we incorporated front-to-back movement so that we got to combine all of the movements into more of a dance around the room.
Next, we moved into some kickboxing-inspired moves that felt like we made a kickboxing match into a Broadway performance. We combined hooks, punches, and heel hops, which definitely got my heart rate up. The quick sharp movement definitely reminded me to engage my core while challenging my agility.
Transitioning into the free weight section, we grabbed our dumbbells and went right into plié squats. Just when I let out a huge exhale, Shanna said, "Sometimes the work feels hard, yes? But it's so good!" Truer words could not have been said in that moment. I'm the type of person that loves a full-body workout, so feeling the work in my workout makes the experience almost euphoric. I was so focused during this section that in the blink of an eye it was already time for the final section: abs.
Now you might be thinking, "Oh yes, we get to lie down." Nope! We kept the full-body concept going as we used plié squats in combination with moving our torso forward and back, then side to side, to target our entire core. It was almost like a cooldown, even though I certainly felt my core working. After the final rep, we stepped our feet to center and we were done!
After trying the workout, I can confidently say Jazzercise is more than swirling your hips in a Spandex costume; it's a community-building, heart-pumping, full-body workout. If you want to try Jazzercise On Demand, click here for your free trial of the platform.