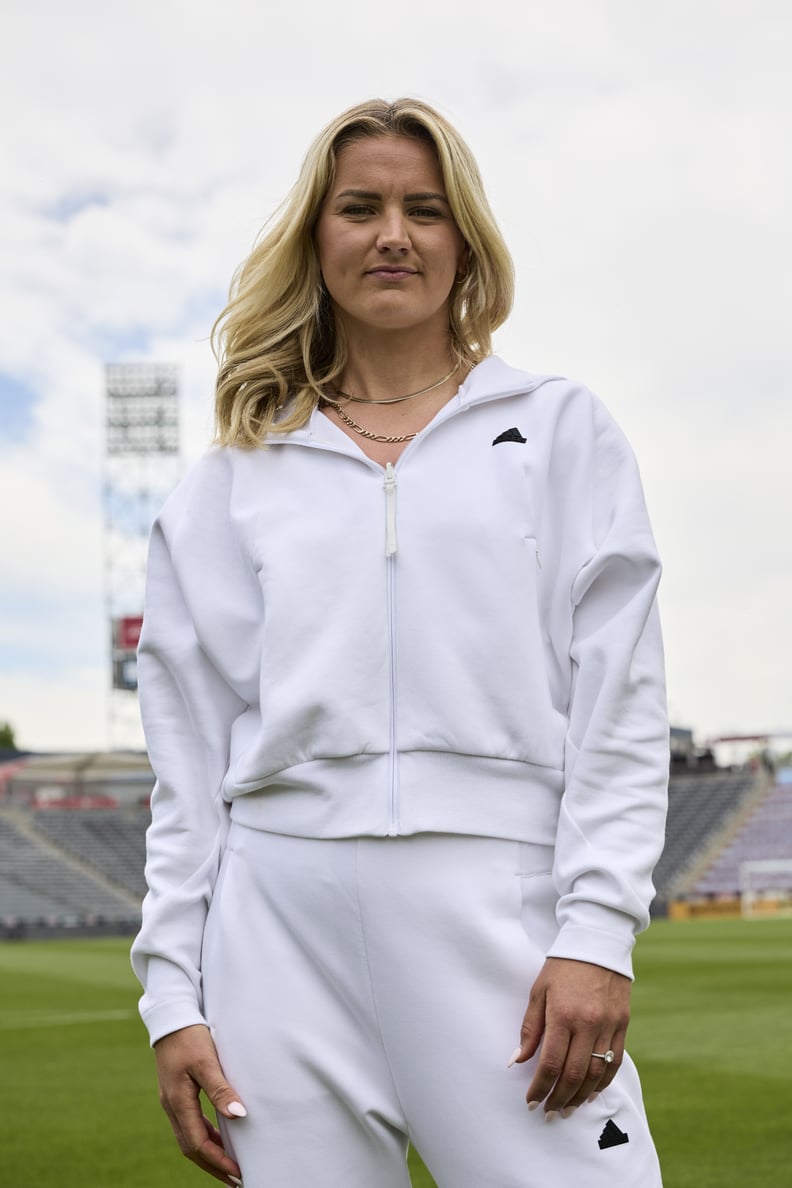 Adidas
Adidas
On July 26, during the US Women's National Team's matchup against the Netherlands in the group round of the 2023 FIFA Women's World Cup, something historic happened — and not the fun kind of historic, as we're so used to seeing linked to this legendary team. The USWNT was trailing at halftime for the first time in a World Cup game since 2011. It was heated — they were playing their opponent from the last World Cup final (where the US took home the trophy) — and getting physical. Lindsey Horan was hip-checked by Dutch player Daniëlle van de Donk, a teammate of Horan's in France, where they both play for Olympique Lyonnais.
"There's such a high standard to uphold on this team, and that has a lot to do with the legacy past captains have established. It can be a lot of pressure, but that comes with the territory of being on Team USA."
By the 62nd minute, USWNT fans started to worry. But then Horan got mad. According to Just Women's Sports, midfielder Julie Ertz whispered to Horan, "Just score this goal to shut everyone up." And so she did.
Horan, a 29-year-old midfielder who hails from Colorado, has played on the USWNT for 10 years. This is Horan's second World Cup, and she's one of the nine veterans on the team roster, helping to shepherd the 14 first-timers who are making their tournament debuts. She was named as a cocaptain, alongside teammate and soccer icon Alex Morgan, for the tournament. Her goal during that game cemented why: she knows how to turn up the fire and get things done.
"Obviously, it's a very difficult moment," coach Vlatko Andonovski told reporters about Horan getting hit by van de Donk, according to Reuters. "And instead of crying about it, she just goes and makes a statement . . . and basically shows everyone where the direction of the game is going to take. I was very happy with her."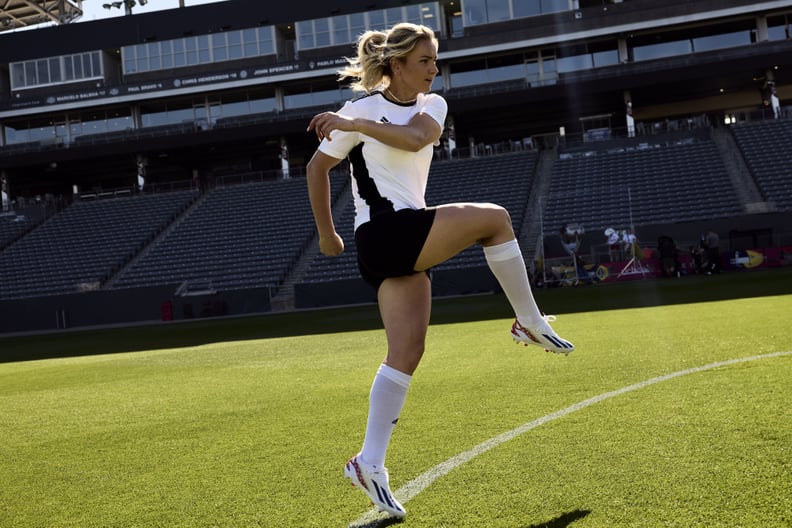 POPSUGAR chatted with Horan just ahead of the World Cup about what it means to be leading the team toward a historic three-peat, the magic of being in women's sports right now, and what she told those newbies to pack.
POPSUGAR: How do you feel about being selected as a cocaptain for the USWNT World Cup team?
Lindsey Horan: I'm grateful for the opportunity to lead the team and take on this responsibility. There's such a high standard to uphold on this team, and that has a lot to do with the legacy past captains have established. It can be a lot of pressure, but that comes with the territory of being on Team USA. There are not many people who get to experience this role, and I'm honored to serve alongside some incredible veterans and help maintain the standard that has made our team so successful.
PS: Other than being selected as captain, how does the lead-up to this WC feel different from the last one for you?
LH: This World Cup, I'm focusing on enjoying every moment. My role last World Cup was different. This World Cup, I'm more confident in my role, which I know will give me a greater ability to make the most of all the moments on and off the field throughout the course of the tournament with my team and my family.
PS: After a public lawsuit, the USWNT reached a historic equal-pay agreement with US Soccer, guaranteeing equal pay through 2028 — but that's not the case internationally or in other sports. With the Women's World Cup prize pool significantly bigger than ever before, but still far from the men's prize money, how are you feeling about the status of equal pay for women athletes?
LH: I think we've obviously made huge strides. The prize money has gone up, and we're grateful for the improvement — but we're still not done. Until we're equal, our voice does not change on this matter. We, the US National team, will continue to be at the forefront of this fight.
PS: It seems like there's more hype around women's sports right now than ever before. Why do you think that is? How does that momentum feel going into the World Cup?
LH: Women's sports on a global scale are finally getting the visibility they deserve. With that visibility comes a deeper appreciation for us as athletes. There have been so many amazing moments in women's sports over the last year alone, and each one builds on the last in terms of media and fan attention. People have a desire to watch and support women's sports in a way that I feel hasn't always been there before, at least not at this level.
PS: I know you've been a partner of Adidas for a long time now. How does it feel to work with such an iconic global brand, especially in the soccer world?
LH: Adidas was my first big brand partnership, so it will forever be one that I'm incredibly grateful and excited about. The work they're doing to elevate women's sports and the Women's World Cup is creating real impact. As we geared up for the tournament this summer, it was cool to be a part of the campaign featuring the full Adidas roster of athletes on the USWNT and other Adidas partners such as Candace Parker, Aliyah Boston, Patrick Mahomes, and Donovan Mitchell, to name a few. But what I'm really excited for people to see is the campaign that just launched dedicated to telling my story (below). We had a great time shooting the campaign in my hometown of Denver.
PS: I know Alyssa Thompson called you to ask what to pack for the World Cup — is there anything you didn't pack for the last World Cup that's a must have for you this time?
LH: Earplugs were my must haves. You never know what is going on outside, and any little peep wakes me up.