As POPSUGAR editors, we independently select and write about stuff we love and think you'll like too. If you buy a product we have recommended, we may receive affiliate commission, which in turn supports our work.
After two pregnancies and realizing I needed to join the superabsorbency tampon club, I went to pick up a box and saw a few brands of menstrual cups on the shelves. They were affordable and good for the planet, and since I was recycling and using reusable glass containers for my lunches already, it felt like it was my duty to Mother Nature to give it a try. I quickly became a huge fan of my cup, and haven't used a tampon since!
Just recently, menstrual discs have also become more popular, so I was curious to try one out. If you're thinking about switching to a reusable period product, keep reading to learn about the pros and cons of each, and see which one wins the menstrual medal in my book.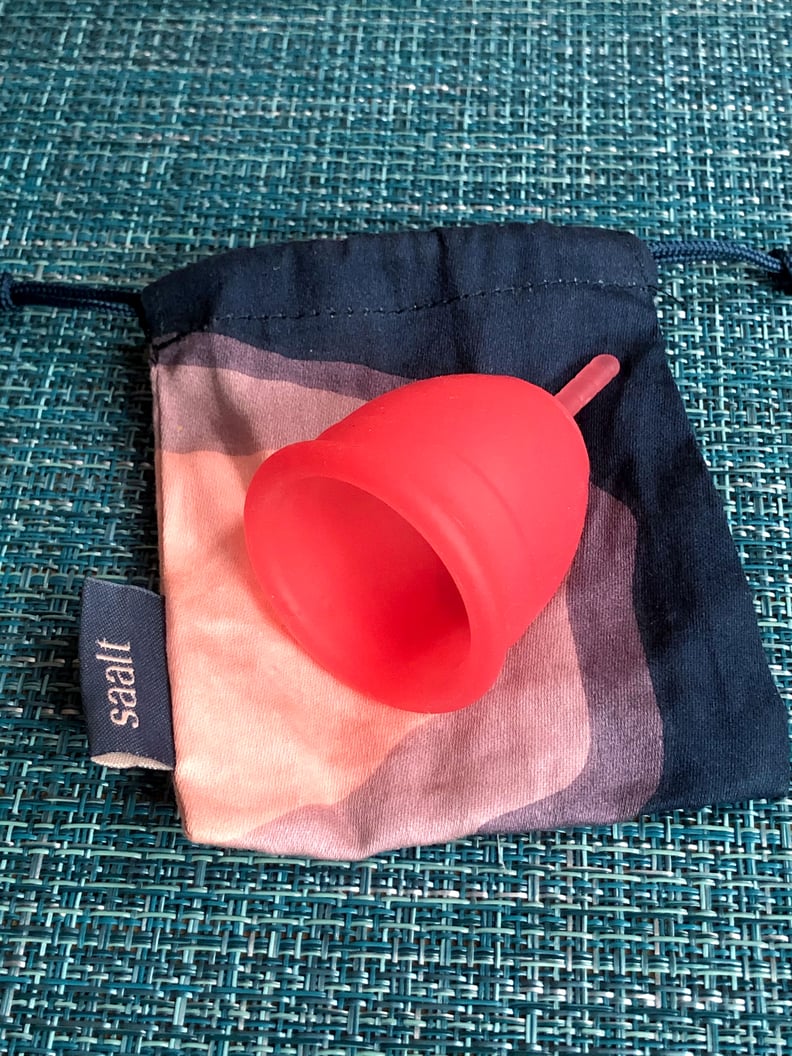 Menstrual Cup
What is it? Similar to a tampon, a menstrual cup is inserted into the vagina and is held in place by the vaginal walls. It collects the menstrual fluid and is reusable. When removed properly, the opening of the cup stays upright, and the blood remains in the cup. This is a Saalt Cup ($29) which can last up to 10 years with proper care.
Pros:
Easy to insert and remove once you have practice.
Can be worn for 12 hours, and depending on the size, can hold two to four tampons worth of fluid.
Can be worn during workouts, swimming, pooping, and sleeping.
Doesn't leak.
It's preferable to have access to a sink when removing it so you can clean it before reinserting, but it's not necessary as you can just dump it out and wipe it with some toilet paper.
Great for camping.
Cons:
Sometimes you can feel it or it's uncomfortable, especially if you're feeling crampy
Removing can create suction which can be very uncomfortable.
Menstrual Disc
What is it? A flexible disc inserted into your vagina that is tucked behind the pubic bone to hold it in place. It sits just below the cervix leaving the vaginal canal open. When removing, the disc tips sideways so all the fluid pours out. Pictured is a Nixit menstrual disc ($49) which lasts up to five years.
Pros:
Easy to insert and remove, once you have practice.
Since a disc isn't inside the vaginal canal, it's very comfortable and you hardly feel it when inserted in the correct position.
It can be worn up to 12 hours and holds four tampons worth of fluid.
Can be worn during workouts, swimming, pooping, sleeping, and sex.
Doesn't leak.
Cons:
Since the menstrual fluid pours out as you untuck it from behind your pubic bone, removal needs to happen over a toilet (with a sink nearby to rinse off the disc and your hands) or in the shower.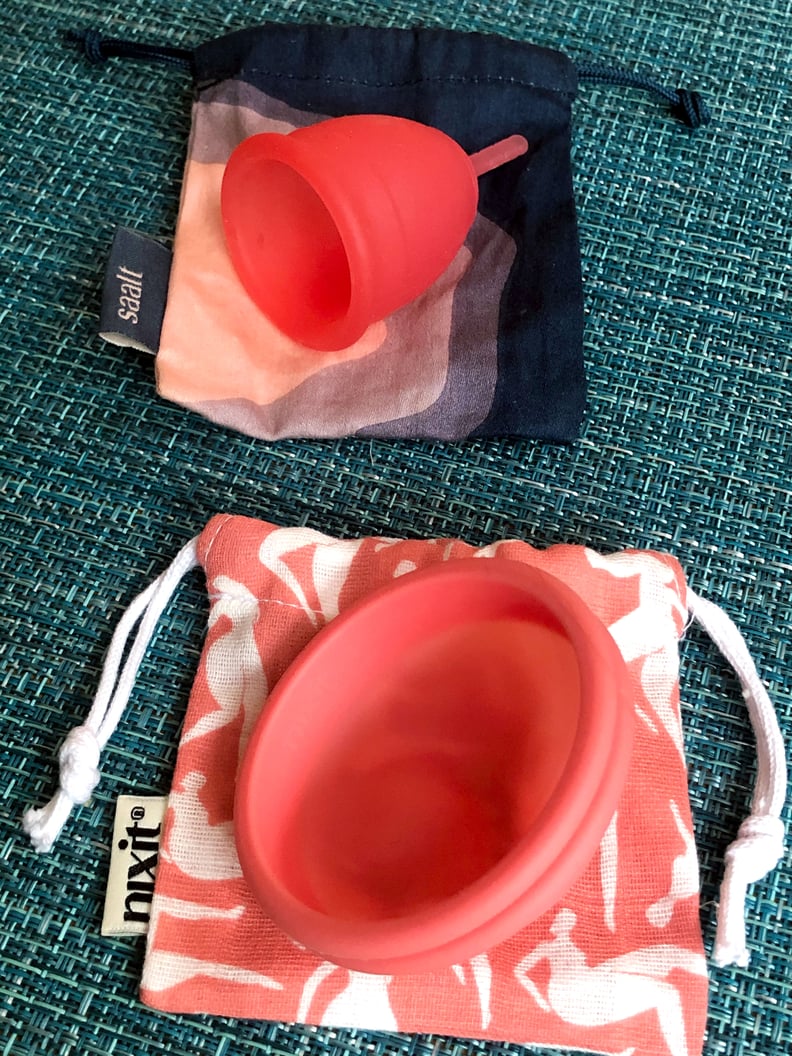 Menstrual Cup vs. Menstrual Disc: Which is Better?
I've used a menstrual cup for years, but only recently discovered a menstrual disc and have used it for three months now. Although my first two months with the disc were a little rocky, and I had to go back to the cup a few days because I had a hard time with removal (I got scared when I couldn't figure out how to get it out!) the last month I became a 100 percent fan.
Both a cup and a disc take some getting used to. You have to be OK with sticking your fingers up your vagina, OK with a little uncomfortable pressure when removing either one, and OK with seeing blood. Using a cup or a disc will definitely make you feel more connected to your body.
Although I'm still a fan of menstrual cups, if I had to choose . . . the disc wins! When I have my period, I'm lucky enough to have access to a bathroom with a sink or to a shower. And although removing the disc is very messy, the comfort is worth it. Another bonus? Since a menstrual disc fits exactly like a diaphragm, it can be worn during sex, if you choose.
Cups and discs range in price from $20 to $50 so if you can afford to test out both, it'll allow you the chance to see which one you like best. Give each a few months, and hopefully you'll find the one that works, and you can say goodbye to tampons forever.