Olympic Disqualifications: Athletes Support Mikaela Shiffrin
Athletes Defend Mikaela Shiffrin After Disqualifications: "It's Not Failure"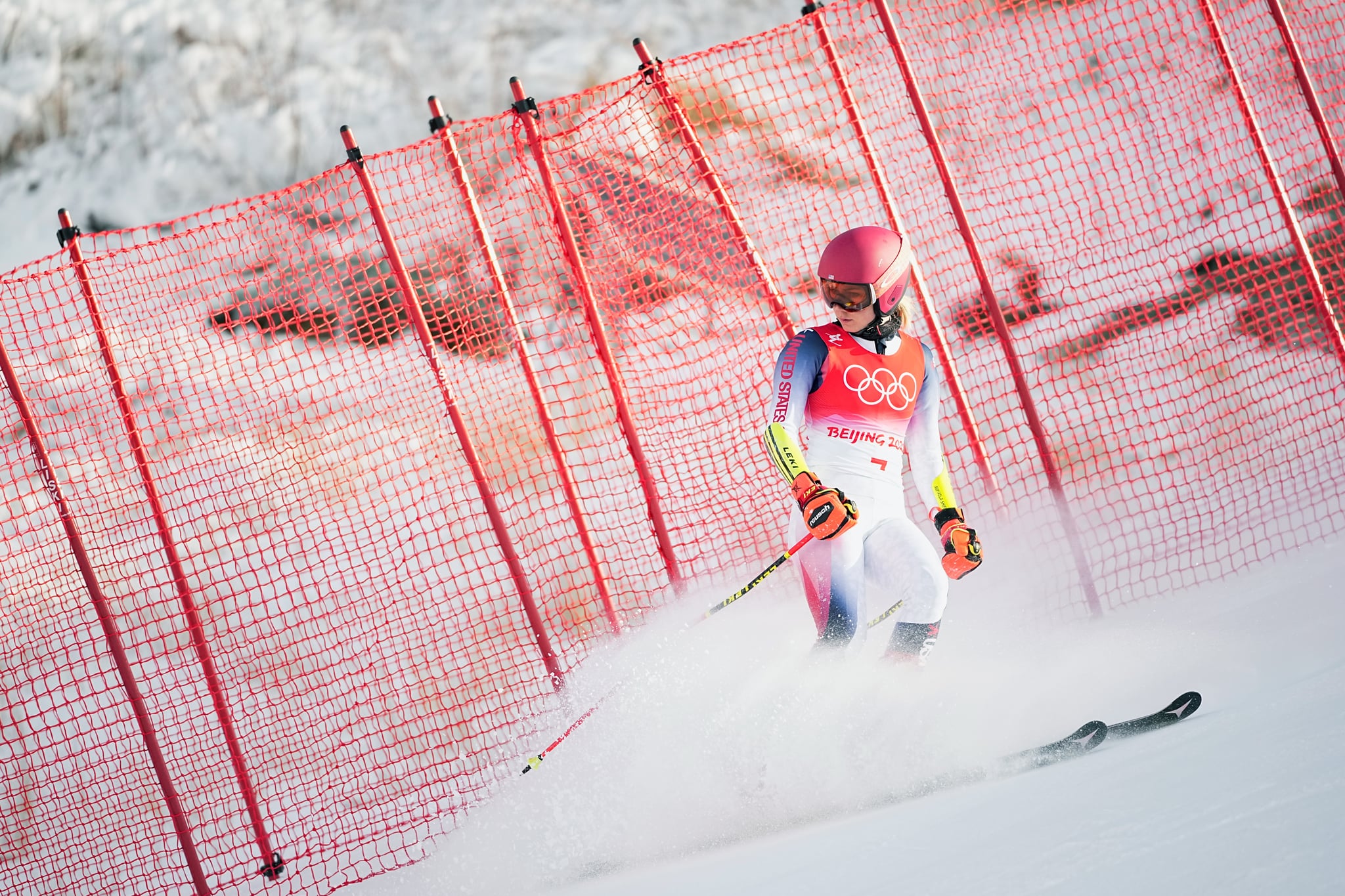 Image Source: Getty / picture alliance
Two days after Mikaela Shiffrin skied out of the Beijing 2022 women's giant slalom competition, the three-time Olympian was disqualified from her second race of the Games and arguably her best event: slalom. "[It] makes me second-guess the last 15 years, everything I thought I knew about my own skiing and slalom and racing mentality," Shiffrin said following the event. "Just processing a lot, for sure."
Many fans expressed their frustration at NBC broadcasters for the prolonged coverage of Shiffrin's reaction to this second DNF (did not finish). The broadcast zoomed in on her, in dismay, sitting on the side of the course, and overemphasized the magnitude of this "Olympic disappointment" — restating, again and again, how inconceivable the world-class skier's mistake was. Fans likened it to how the media honed in on Simone Biles when she experienced the "twisties" in the Tokyo Olympics team event and withdrew. A shocking moment that led to overdone analysis and commentary.
During that time, Shiffrin sent a tweet out to Biles in support, writing, ".@Simone_Biles keep whipping out that smile of yours cause it is undeniably golden. Always." Now, Biles sent her own message:
🤍🤍🤍 @MikaelaShiffrin

— Simone Biles (@Simone_Biles) February 9, 2022
Biles also retweeted writer Charlotte Clymer, who wrote, "I don't know, shaming people just because they didn't perform well at the Olympics feels like the opposite of why we supposedly have the Olympics in the first place."
Athletes across sports came to Shiffrin's side (virtually) after her slalom race. Retired alpine skier Lindsey Vonn, a legend in her own right, wrote, "Gutted for @MikaelaShiffrin but this does not take away from her storied career and what she can and will accomplish going forward. Keep your head high." Two-time track-and-field Olympic medalist Gabrielle Thomas encouraged: "You have so much to be proud of. An inspiration for all of us, keep going."
Ten-time Paralympic medalist Oksana Masters shared her thoughts, telling Shiffrin that her story on and off the snow is far from over. Masters then challenged the media to reframe how they talk about athletes' errors in competition:
Dear, media & journalists, can we please stop saying " so-&-so failed to do…" It's NOT Failure, it's called racing. Athletes are human. There are good and bad races, sometimes mistakes happen. That's NOT called "failure". Let's reframe the way we talk about athletes. Thank you💜

— Oksana Masters (@OksanaMasters) February 9, 2022
Shiffrin can compete in three more Olympic events. It is important to remember that she's won 47 World Cup titles in slalom, the most career World Cup wins in a single discipline, and she has a pair of Olympic gold medals and a silver to her name. These Games look different with the loss of her father, Jeff Shiffrin, a crucial member of her support system.
As these athletes point out, we owe it to Shiffrin to celebrate her successes and not harp on about past errors in competition. We owe her grace, not guilt. Because, as Shiffrin's boyfriend, Norwegian skier Aleksander Aamodt Kilde, stated after the fact, "The pressure we all put on individuals in the sports are enormous, so let's give the same amount of support back. It's all about the balance and we are just normal human beings!!" Athletes compete to win, of course, but they also compete, oftentimes, under the tremendous weight of the world's expectations to succeed at all costs. This "all or nothing" attitude is too heavy a price for athletes to pay — and why should we charge them in the first place?