The Ness: Mini Trampoline Workout Review
This Trampoline Workout Taught Me to Not Give Up
As POPSUGAR editors, we independently select and write about stuff we love and think you'll like too. If you buy a product we have recommended, we may receive affiliate commission, which in turn supports our work.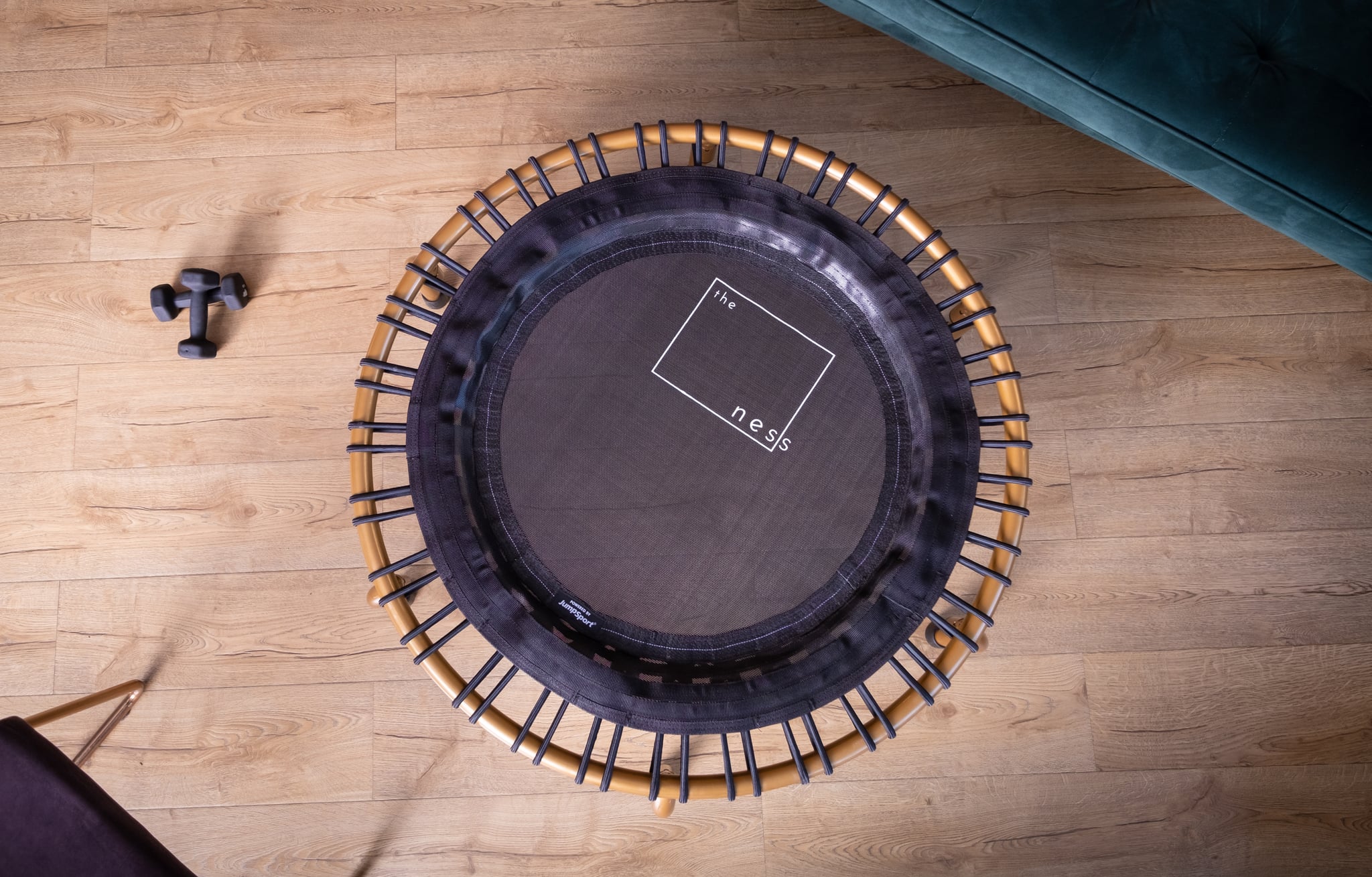 I've never done bounce fitness (a low-impact workout using a mini trampoline), but when I was given the opportunity to try The Ness, I decided to check it out. Cofounded by instructors Colette Dong and Aly Giampolo, The Ness is an hour-long workout that combines cardio and coordination exercises, targeting every muscle, both on and off the trampoline. The Ness offers group and private lessons (in person and online) and sells its trampoline ($500) on its website, so you can follow along with online classes from home.
I got a private lesson with Giampolo, who's a dancer and NASM-certified personal trainer with 10 years of experience teaching bounce-fitness classes, at The Ness New York studio.
What Happens During a Class at The Ness?
Class begins with a warmup that quickly raises the heart rate. Squats, reaches across the body, and toe-taps on the trampoline were a few of the beginning moves that immediately challenged my core. Then it was time to get acclimated to the trampoline by walking on and off of it. More squats, bounces, skaters, and in-and-outs (alternating between a double-bounce with feet a bit wider than hips' width and a double-bounce with feet close together) were some of the moves that followed.
When the warmup was complete, class proceeded with high-energy music and a range of combinations that left me drenched in sweat. Halfway through class, there was an arm section using lightweight dumbbells that lit my shoulders and triceps on fire.
After dropping the dumbbells, we got back on the trampoline for another series of combinations before concluding with a mat series that focused on core, back, glutes, and arms. We did an exercise in a tabletop, where we tapped our triceps on the mat then returned to tabletop, that brought even more fire to my triceps.
What Makes The Ness a Motivating Class?
What made this class special, for me, was the amount of encouragement throughout the class from Giampolo. I weigh over 300 pounds, and I was certain that if I bounced too hard, the mini trampoline would snap. As someone who's also scared of heights, getting any kind of lift-off of the trampoline was nerve wracking, but Giampolo celebrated even my tiniest bounces. "It's more about pressing your feet down than trying to gain height," Giampolo says. I was very much in my head for most of the class, worried about falling or breaking something, but Giampolo only gave instruction and encouragement.
It meant a lot to me that she didn't give up on me even when I knew it took several minutes to get a sliver of height off the trampoline. Throughout class, she was focused on my form and made sure that I got an effective workout, which I certainly did. Best of all, I never fell, and the mini trampoline never broke. After 60 minutes with Giampolo, I left the studio feeling like I could take on the world — after a shower.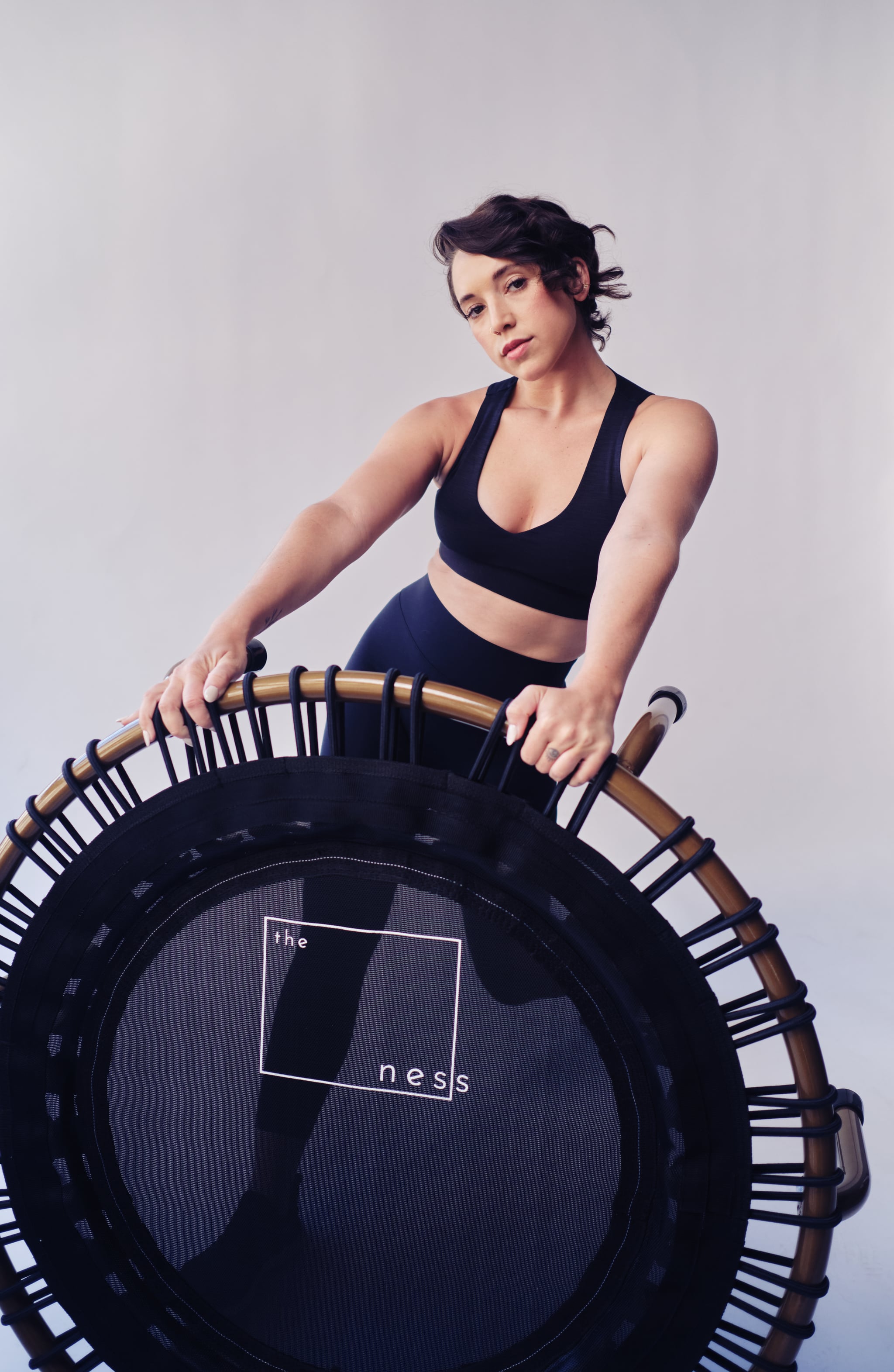 Image Source: Courtesy of The Ness