A Personal Trainer Shares What Teaching Via Zoom Is Like
6 Things a Personal Trainer Wants You to Know About Zoom Workouts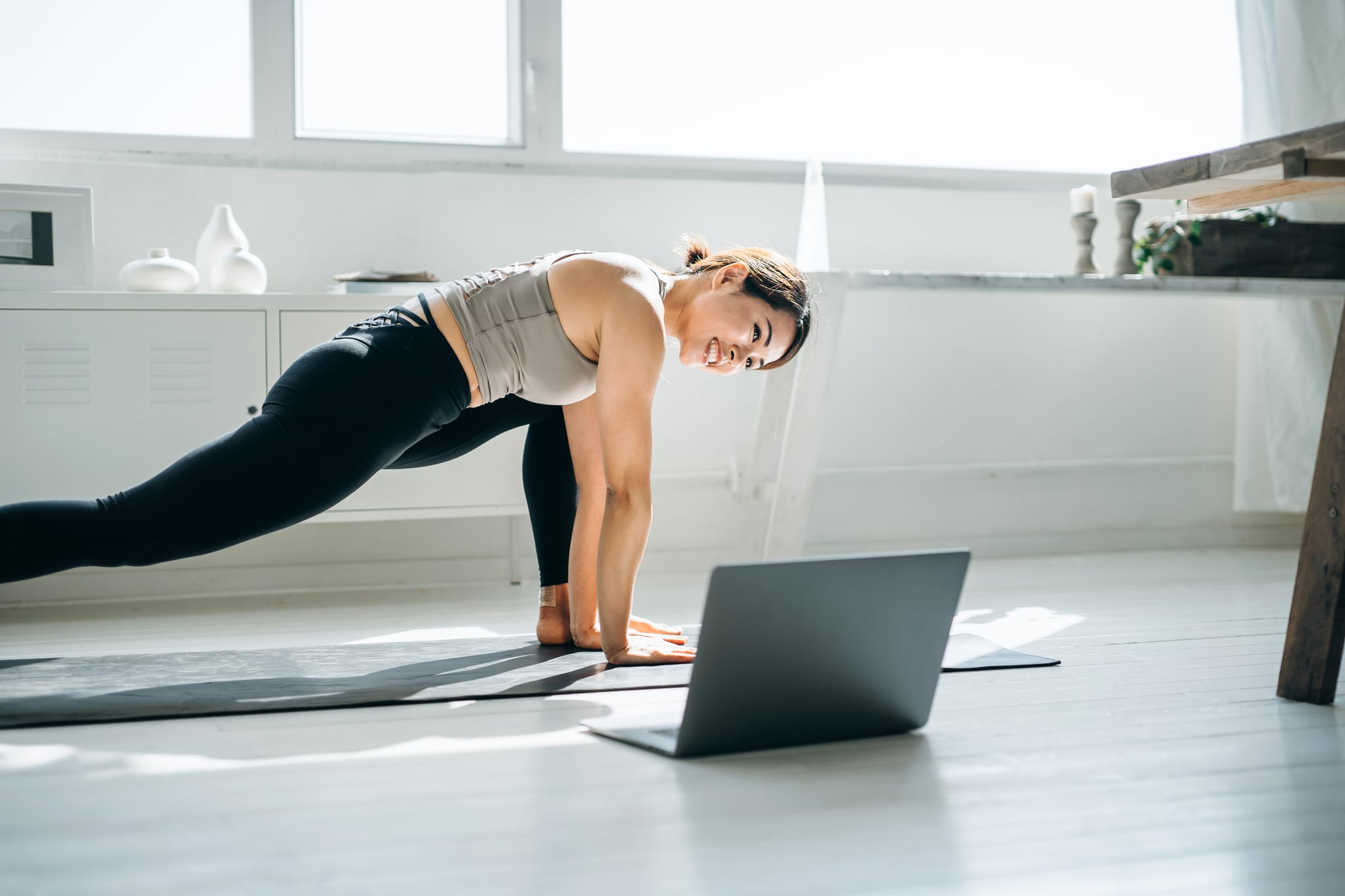 Joining Zoom workout classes from your childhood bedroom — detergent-bottle weights in hand — can feel intimidating and inconvenient. But, for Astrid Swan, an NASM-certified personal trainer and the chief curriculum lead for Barry's, being able to connect with clients while social distancing has been "a gift."
That's not to say Swan hasn't faced challenges — like learning the proper camera angles to demonstrate moves or recognizing when a client fakes a poor WiFi connection just to catch a break (yes, that really happened!). But her optimistic attitude stems from the many advantages she's found that Zoom training offers to both clients and professionals.
Months into teaching via Zoom, Swan has developed a unique perspective on the experience, and chatting with her has changed the way I view digital personal training as a client. Her point of view could help other skeptics feel more comfortable, too.
Trainers Can Reach New Communities
Being separated from her energetic work family and gym was the hardest roadblock Swan faced once Barry's temporarily closed its doors. But when the brand launched at-home Zoom classes, she felt her community come back together: "The energy was back!"
Now, Swan has connected to more people than ever before, thanks to her Zoom training sessions.
"[I] feel so lucky to continue to help people get their endorphins up, stress down, and goals achieved," Swan explains. "Also, with our at-home platform, I am able to train people from all over the world, and many first-timers who don't live in an area where we have a location."
Sitting and Watching Is Part of the Trainer's Job
As a self-described "hawk for form," Swan wants you to know that just because a personal trainer is sitting and staring at the screen doesn't mean they aren't prepared for your session.
"I am still able to achieve the call-outs, encouragement, and form corrections," Swan elaborates.
Zoom Training Means Fewer Opportunities to Make Excuses
In Swan's opinion, Zoom training means "no excuses."
"Time is always something we say we don't have enough of — but with Zoom, we don't have to worry about cutting the workout short because of [a] commute," she notes.
A messy room and makeshift weights are no excuses to put off a Zoom training session, either — almost everyone is experiencing similar conditions.
"Start today," she recommends. "We want you to get up and get moving!"
Clients Shouldn't Feel Camera Shy
"We want to see you. AKA: turn on your camera!" Swan urges.
Just like in-person fitness classes, everyone in a group Zoom workout is working to their own level — Swan is adamant that people aren't judging you.
"We love having you join our homes, and we love it if your pet or your child joins in! We understand it takes a minute to get used to the format, but also know, like any workout, you won't regret it when it is over," she explains.
Group and Personal Training Are Equally Rewarding
For Swan, both personal and group-training Zoom sessions are customizable to the clients.
Personal training allows her to get creative when working toward one person's specific goals, while group training offers more of a social experience.
During group sessions, Swan always checks to see if any expecting moms or people dealing with injuries need extra coaching or modifications. She also encourages people within the group to chat, even if it's to vent about how challenging the class was.
"At the end of group training, we unmute everyone, and it's nice to catch up on jokes, encouragements, and see how everyone is doing," Swan adds.
Zoom Training Is the Future
"I do think Zoom fitness sessions will remain popular because of the ease of just opening up your computer to start your workout," Swan says.
She notes the convenience factor for stay-at-home parents who can continue to time workouts around their kids' naps, and for working clients that can sweat between meetings and on lunch breaks.
And it doesn't hurt that the app has made adjusting to virtual training a breeze. Trainers can sync music to workouts, there's no cap to the number of people that can join, and it gives clients the freedom to customize their video settings.
Click here for more health and wellness stories, tips, and news.