After losing 15 pounds on the Whole30 diet, assisted with a combination of SoulCycle and running, I have been looking for ways to push myself to the next level when it comes to fitness. As a former rower — I was on both my high school and college crew teams — I knew that rowing was a full-body workout, but I'd forgotten the important aspects of the exercise. Coincidentally, I had heard about CITYROW from a friend and, with a zest for sweat, I decided to take a class.
CITYROW is a group exercise class that focuses on the art of rowing. Attendees are each assigned a rowing machine, with a mat placed next to it. The classes are small enough to be intimate but large enough to make you feel like the attention isn't directly on you.
The class alternates between time on the rowing machine and strength training on the floor. Our instructor, Alex, was careful to focus on form and proper technique in both areas. Unlike a lot of indoor cycling classes, a good portion of the rowing focused on power and strength rather than overall speed, something I wasn't expecting given my prior experience with all-out sprints at SoulCycle.
However, during the last five minutes of class, Alex challenged us to row 150 meters, followed by a strength-training set, and repeat this circuit as many times as possible in that time frame. For me, this was the best part of the class, as it kept me focused and gave me an idea of my fitness level. Alex said newbies should be able to repeat the challenge three times, while veteran rowers should be able to complete it five times. I did it in four and was very proud! I left sweaty and worked but not so sore that I couldn't function.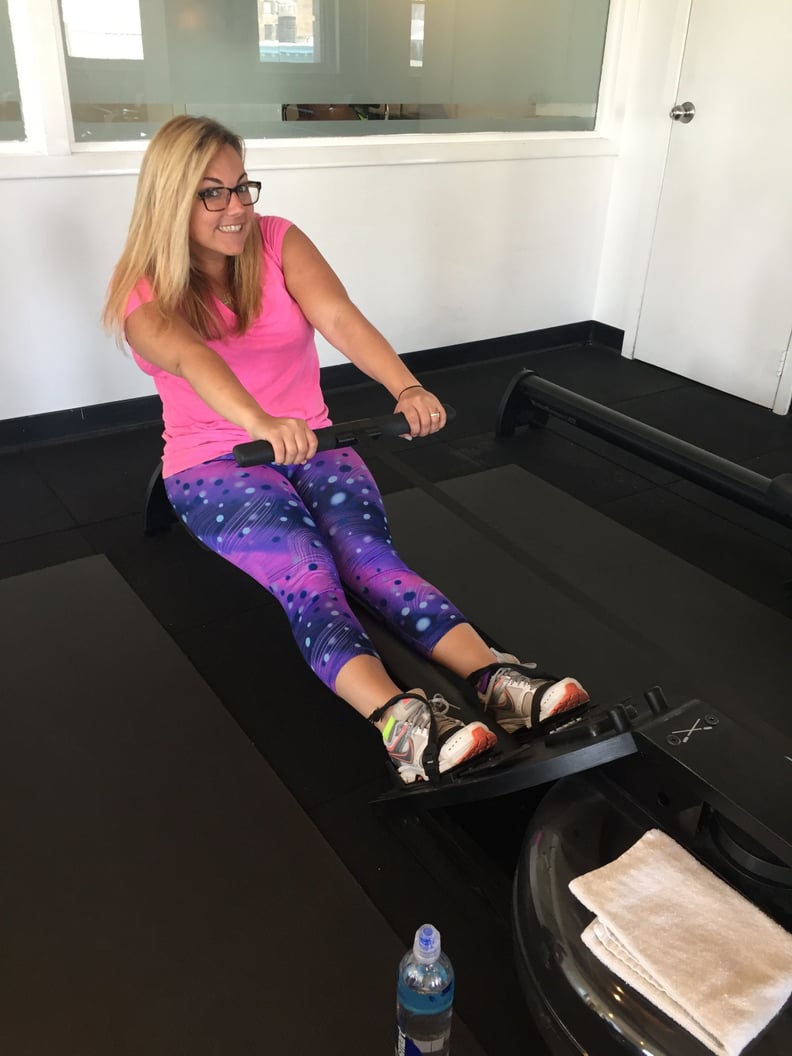 If you're thinking about doing a CITYROW class, here are a few tips that will make your experience enjoyable:
Meet the Instructor: I actually didn't even have to do this because Alex was so wonderful at greeting everyone when they walked in and saying goodbye to everyone too. However, if your instructor isn't like that, definitely go up and introduce yourself and let them know that you're new.
Ask For a Close-Up Spot: I know that no one likes to sit near the instructor during the first class, but hear me out. While I really wanted to hide in the second row behind someone else, Alex graciously placed Diana and me next to her. This actually worked out wonderfully because if we lost pace (or if you're a newbie and don't understand pace), we could get back on by rowing with her.
Tell Your Instructor What Your Goals Are: I told Alex that I was an experienced rower but explained to her that I felt as if I could never use my full power on the erg, which was something I would like to really work on. She did a great job showing me a few tips before we started so I could really level up my erg workout.
Challenge Yourself: Let's face it — you're not there for lunch. You're there because you want to try something new. When your instructor asks you to push yourself, do it. Even if you do something one stroke harder or one second faster, it's still better than the last row. It will make you feel accomplished. You're only competing against your past self, and you're better than them anyway!
Feel the Energy: I have honestly never felt so included in a first class. Everyone told me how much they loved it, and one woman asked us when we were coming back — we even took a big group photo. And I never once felt like I wasn't welcome with the regulars.
Would I do it again? I'm not sure paying $19.50 for a train ticket to the city plus the cost of the class would be worth it, but for someone (who is already in the neighborhood!) looking for a totally doable, low-impact workout that will whip them into shape, this will definitely do the trick.