Tokyo Olympic women's artistic gymnastics kicks off this week with the qualification rounds deciding which four-person squads will compete in the team final and which gymnasts — two per country max — will contend for medals in the all-around and event finals. Though the Games will look different this year — venues in Tokyo and in surrounding areas affected by a state of emergency will not feature any spectators, and confirmed athlete COVID-19 cases are beginning to turn up — the flipping and twisting and stuck landings are set to continue.
As a former gymnast and fan, I'm holding my breath in anticipation (and also simultaneously knocking on wood). I've recruited the help of 2008 Olympian Alicia Sacramone Quinn, former gymnast and current Rutgers University gymnastics head coach Umme Salim-Beasley, and International Gymnastics Federation judge Emily Chan to put together predictions for who will compete in the team, all-around, and event finals. Keep reading for our takes on the projected contenders.
To learn more about Team USA, visit TeamUSA.org. The Tokyo Olympics begin July 23 on NBC.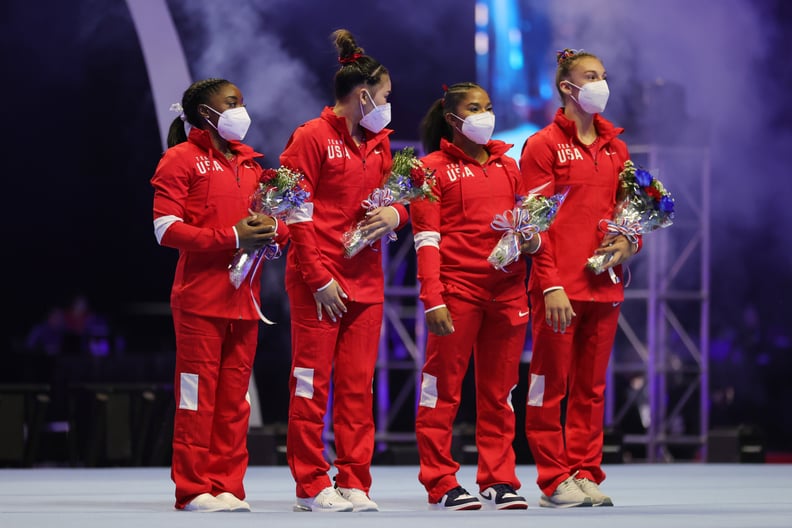 2021 Olympic Gymnastics Predictions: Team Final
Olympic artistic gymnastics team final podium contenders: The US, China, and Russia are the three top contenders for medals at the Olympics, and Sacramone Quinn and Chan both agree that the results will most likely play out in that order. Team USA — consisting of Simone Biles, Jordan Chiles, Sunisa Lee, and Grace McCallum — is going for its third consecutive Olympic team gold for the country, and Sacramone Quinn said that their scoring potential is what sets them apart from other squads. Agreed, 100 percent.
Chan added that while China has been looking strong the past two years, "Russia has definitely benefitted from the postponement of the Olympic Games as two of their star juniors, Viktoria Listunova and Vladislava Urazova, can now contribute to the team." Possible contenders for bronze, in Chan's eyes, are Great Britain and France if China or Russia's days don't go as planned.
The Olympic artistic gymnastics team final is slated for July 27.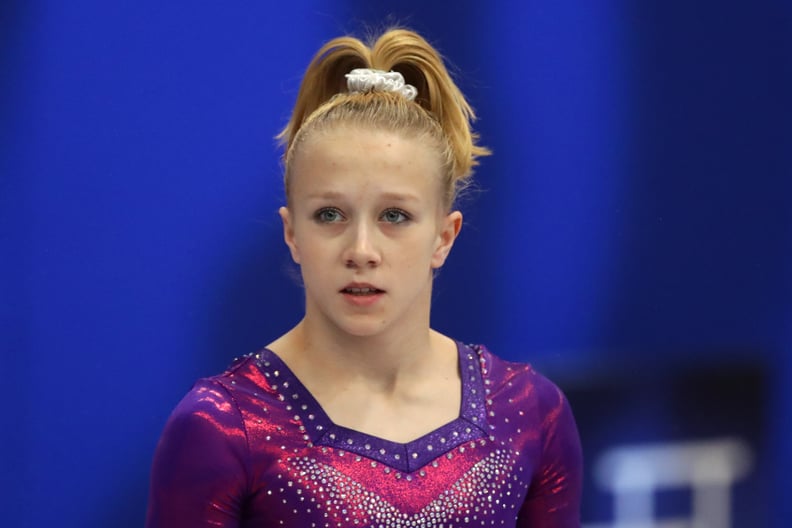 2021 Olympic Gymnastics Predictions: All-Around Final
US Olympic gymnasts who could qualify for the all-around final: Biles will undoubtedly qualify and win the all-around title given the fact that she could have a bad competition — even fall on a routine or two — and still come out victorious over all. Lee is my second pick to make it to the all-around final given that she finished second all-around at the Olympic Trials and outscored Biles in the all-around on night two of competition. This checks out with what Salim-Beasley thinks; however, she feels as though Chiles could lock in a qualifying spot if she has a good meet (and Chiles really has proven herself to be consistent this year).
Olympic artistic gymnastics all-around final podium contenders: As mentioned earlier, Biles will win the all-around competition if all goes according to plan. Sacramone Quinn and Chan believe Lee has a chance at an all-around medal upon her qualification to the final as well as Listunova, who claimed all-around gold at the Junior World Championships in 2019, 2021 European Championships, and the 2021 National Championships in Russia.
Other Olympic all-around contenders Chan identified were Russia's Angelina Melnikova and China's Ou Yushan, both mentioned ahead for event final contention, as well as Zhang Jin, who won silver in the all-around at the Chinese National Championships in 2018 and 2021.
The Olympic artistic gymnastics all-around final is slated for July 29.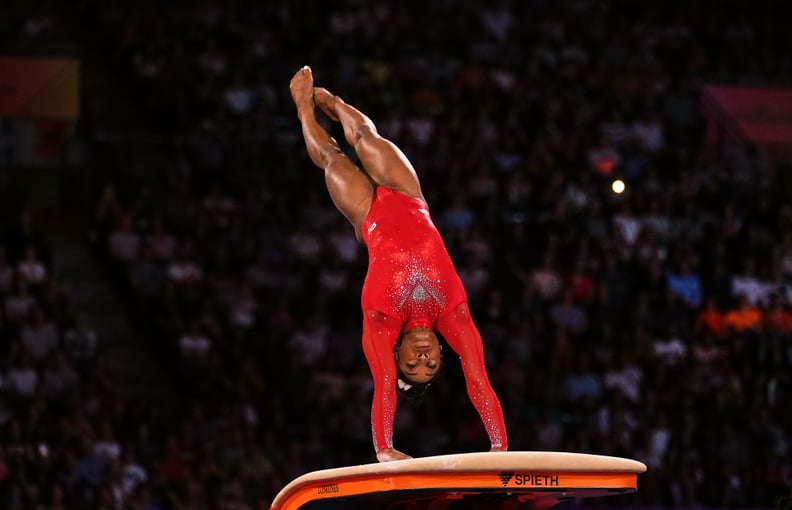 2021 Olympic Gymnastics Predictions: Vault Final
US Olympic gymnasts who could qualify for the vault final: It goes without saying that Biles will qualify and win the vault final. Salim-Beasley predicts that Carey, competing as one of the two individuals for the US, will also make the vault final. She stated that though MyKayla Skinner, the other individual American athlete, is dominant on vault, she believes Carey has better execution, and if they compete similar vaults, Carey would out-perform Skinner due to her cleaner form. I agree to an extent; Carey, in my opinion, has better execution when it comes to height off of the vaulting table, but Skinner is still a great vaulter. For reference, they are capable of competing the same vaults in competition, so it'll be a close call.
Olympic artistic gymnastics vault final podium contenders: If all goes as planned, Biles will walk away with a gold on vault, and she doesn't even have to do her Yurchenko double pike, which is the highest-valued vault in women's artistic gymnastics right now, in order to win. As for the next two podium spots, Sacramone Quinn does think that Skinner has a shot. My vote is that I personally am leaning toward Carey as a medal contender due to her decorated history and consistency in recent years (though, to be fair, Skinner spent three years on the collegiate level, so it's tricky to compare).
Sacramone Quinn and judge Chan both think that individual Swiss gymnast Giulia Steingruber has a shot at a medal. She most recently won gold on this event at the 2021 European Championships (it was her fourth vault title at these championships). Steingruber is also the 2016 Olympic bronze medalist on vault.
Another contender for vault in Chan's eyes is Canada's Shallon Olsen, who received eighth in the vault final at the 2016 Olympics. Chan named Olsen's vault silver medal at the 2018 World Championships and gold medal at the 2018 Commonwealth Games as indications of her potential at the Olympics on this event.
One person I do not want to rule out completely is Uzbekistan's Oksana Chusovitina, who is known as a vault specialist and is heading to her record eighth Olympic Games. She was the Olympic vault silver medalist at the 2008 Beijing Games and consistently upgrades her difficulty through the years. She won't be a top contender, and it remains to be seen if she'll make it into the final, but if she does, I wouldn't put it past her to execute her hardest vaults to vie for third place (as The Balance Beam Situation points out, Chusovitina has a vault worthy of a 5.8 difficulty value, the same as the Amanar, which is a vault that Carey, Skinner, and Biles do).
The Olympic artistic gymnastics vault final is slated for Aug. 1.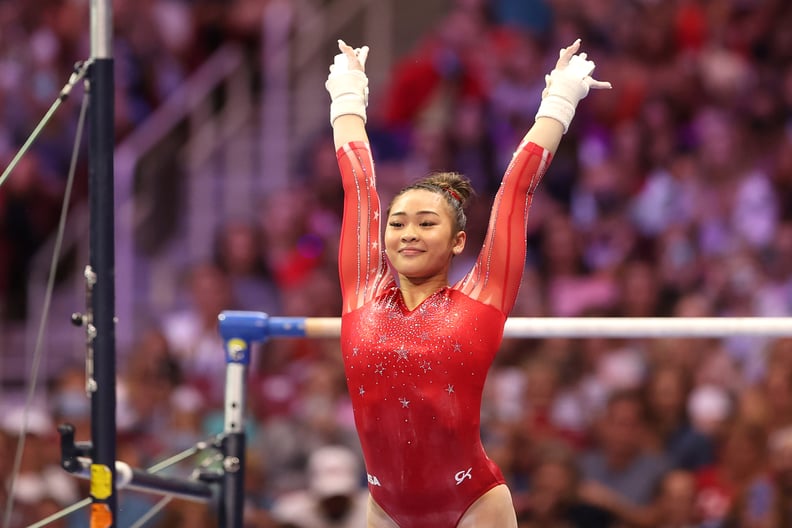 2021 Olympic Gymnastics Predictions: Bar Final
US Olympic gymnasts who could qualify for the bar final: As for which two American gymnasts will make it into the uneven bar final, Salim-Beasley thinks Biles and Lee, despite the fact that Biles has had mistakes over the past few meets. "I think with more repetition that she'll clean up some of those areas that haven't been as consistent or sharp," Salim-Beasley said. "On an Olympic level, you really cannot count anybody out, especially someone like Simone. If she's on her A game, she can have an amazing bar routine and qualify through." I agree with her predictions, as Lee has high difficulty and high execution to match, and Biles still possesses a solid bar routine.
Olympic artistic gymnastics bar final podium contenders: Chan and Sacramone Quinn both had three top gymnasts on their predictions lists for medals: Lee, Belgian Nina Derwael, and individual athlete from China Fan Yilin. These women are the strongest bar workers in the world right now, Chan noted, adding that it'll be close. Lee received a high score of 15.300 on night one of the Olympic Trials. She is the 2019 and 2021 national bar gold medalist and also landed bronze on the event at the 2019 World Championships (she's my prediction for gold, by the way). Derwael is a two-time world and European champion on bars, and she has two bar skills named after her. Yilin is a two-time world champ.
While Biles has a chance at gold on the other events, I'm not certain that she can contend for a podium spot. She scores in the 14s, while these top gymnasts typically score above a 15 in competition. Neither Chan nor Sacramone Quinn named Biles for podium contention in their predictions. Chan, though, mentioned that Russia's Urazova is another contender for the podium due to her high scoring potential.
The Olympic artistic gymnastics bar final is slated for Aug. 1.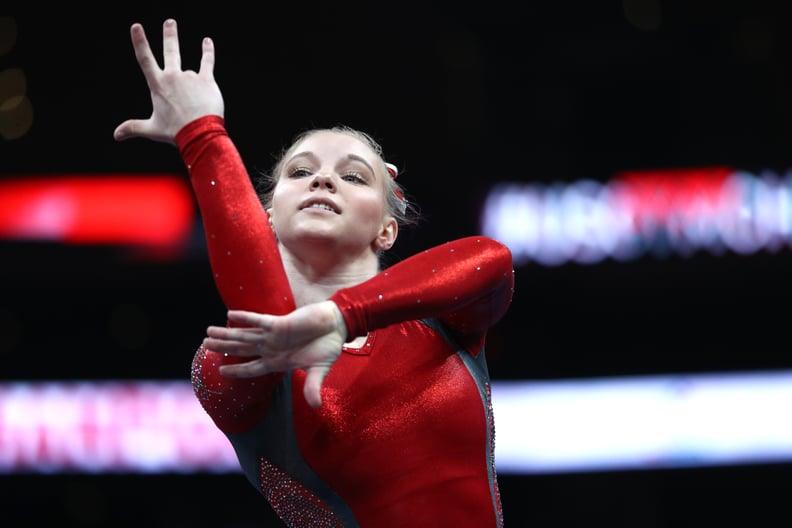 2021 Olympic Gymnastics Predictions: Floor Final
US Olympic gymnasts who could qualify for the floor final: Biles will qualify in the top spot for the floor final (expect to see her Biles and Biles 2 tumbling passes). As for the other American gymnast who could qualify, my bets go to Carey because of her history with standout performances and medals on this event (oh, yeah, and we might see her triple-double layout at the Olympics!). Salim-Beasley said that Skinner could have a shot as well due to her high level of difficulty, but I'm set on Carey if she does the floor routine she's capable of.
Olympic artistic gymnastics floor final podium contenders: It's clear that Biles will take the gold on floor. Chan pointed out that Biles's floor D-score (difficulty score added on to the execution score) is "miles ahead of everyone else, at 6.8." Chan continued, "Most of her competitors have a D-score of 6.0 and below. As long as she hits, the gold is hers." Sacramone Quinn predicts that Carey will receive silver and Russia's Listunova will get bronze. Chan agrees with Sacramone Quinn about Carey's silver-medal potential given the fact that, at "full strength," her performance is one of the top routines to beat.
However, Chan also wanted to highlight two other gymnasts with medal potential: Mélanie Johanna de Jesus dos Santos from France, who has "consistently made floor finals at international competitions but does not yet have a world medal on the event," and 2019 world floor bronze medalist Melnikova from Russia.
The Olympic artistic gymnastics floor final is slated for Aug. 2.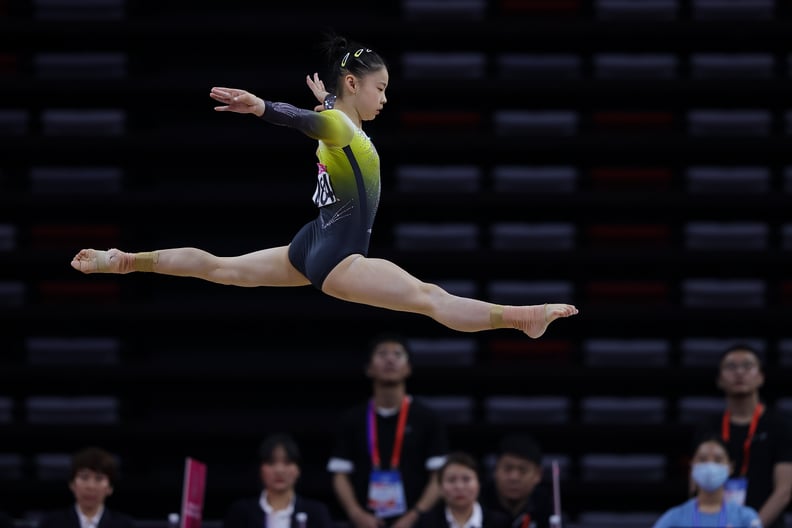 2021 Olympic Gymnastics Predictions: Beam Final
US Olympic gymnasts who could qualify for the beam final: I agree with Salim-Beasley when she says she thinks Biles will qualify for the beam final — Biles doesn't even have to do her signature double-twisting double backflip dismount for her level of difficulty to be up there. Salim-Beasley also believes Lee has a chance at qualifying for the final due to her elegant presence on the beam, which I agree with because she won beam after the two-night Olympic Trials and has had a consistent performance on that event this year aside from the GK US Classic. However, Salim-Beasley isn't too sure about Lee being a contender for an actual medal. "The only thing I would say is that she just has a weaker dismount, and for some judges, they want to see difficulty throughout the entire routine from start to finish," she said. I second that.
Olympic artistic gymnastics beam final podium contenders: Chan said that, for medal contention, we should be watching China's Yushan, who had the highest beam score of the year so far (15.633), and individual competitor Guan Chenchen, the 2020 Chinese national beam champion. Both of these gymnasts are capable of the highest beam difficulty in the world, Chan noted. Sacramone Quinn concurs with Chan's predictions, though she thinks that Biles could come out on top. If we're judging just from a difficulty perspective, Biles may be outscored by these two gymnasts, meaning at the very least, she'd get a bronze medal.
The Olympic artistic gymnastics beam final is slated for Aug. 3.