Stevia-Sweetened Banana Protein Muffins
These Stevia-Sweetened Banana Protein Muffins Are Perfect If You're Cutting Back on Sugar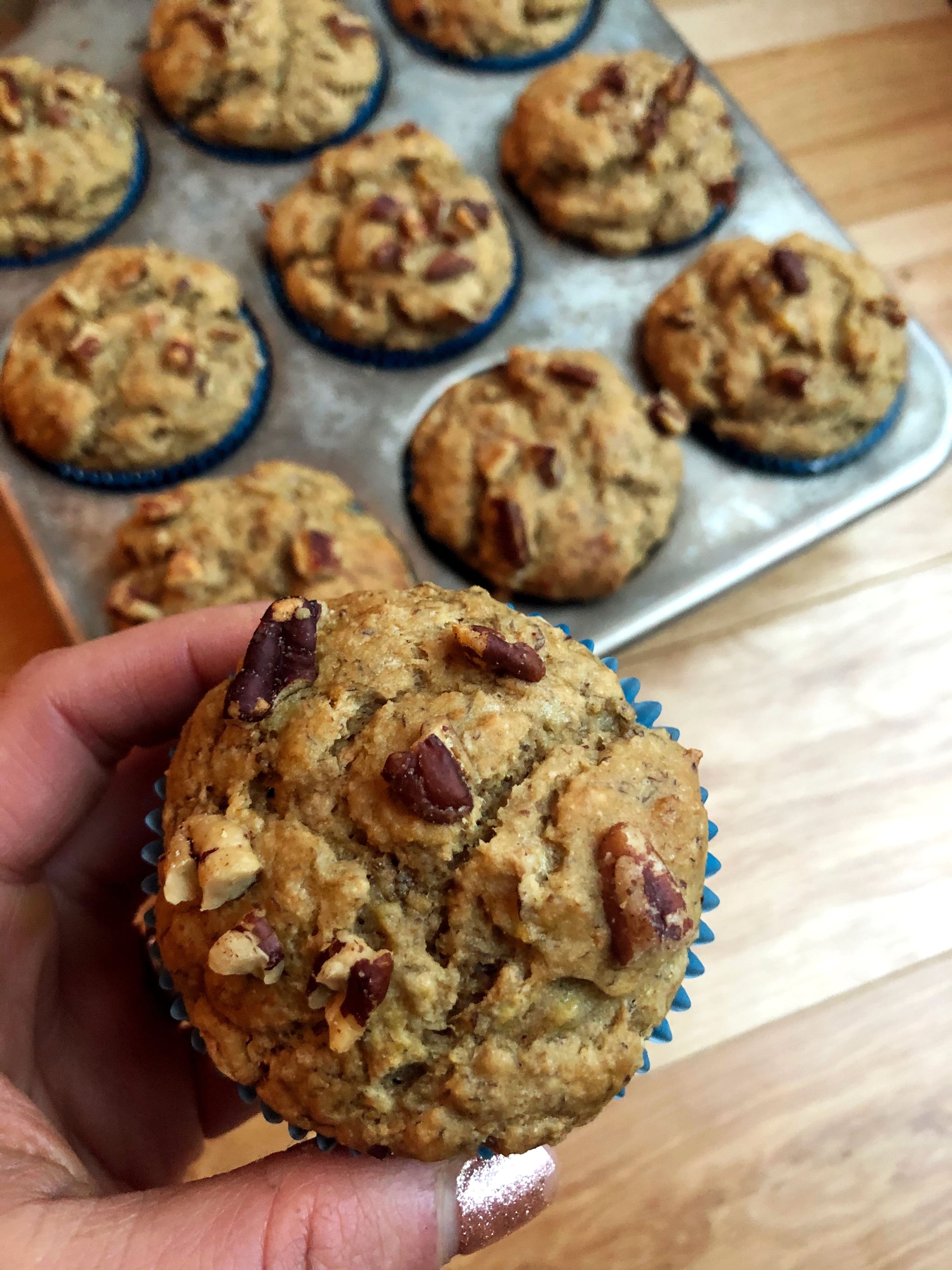 I'm trying to cut down on my sugar intake because when I eat it, I get terribly bloated and it makes me break out. Sugar also affects my mood and makes me feel incredibly happy in the moment when I'm eating it. But then the next day, my mood isn't as great and yet I can't stop thinking about eating more! I feel much better when I'm not eating it, so I've been experimenting with sugar alternatives like stevia.
These banana protein muffins are made with stevia, and they taste amazingly sweet — no one in my family could tell the difference between these and the ones I bake with white sugar. The bananas definitely add natural sweetness, so I only needed to use one-half cup powdered stevia. In my regular protein banana bread, I usually use two-thirds cup sugar, so I was shocked that I was able to achieve such a sweet flavor with such a small amount of stevia.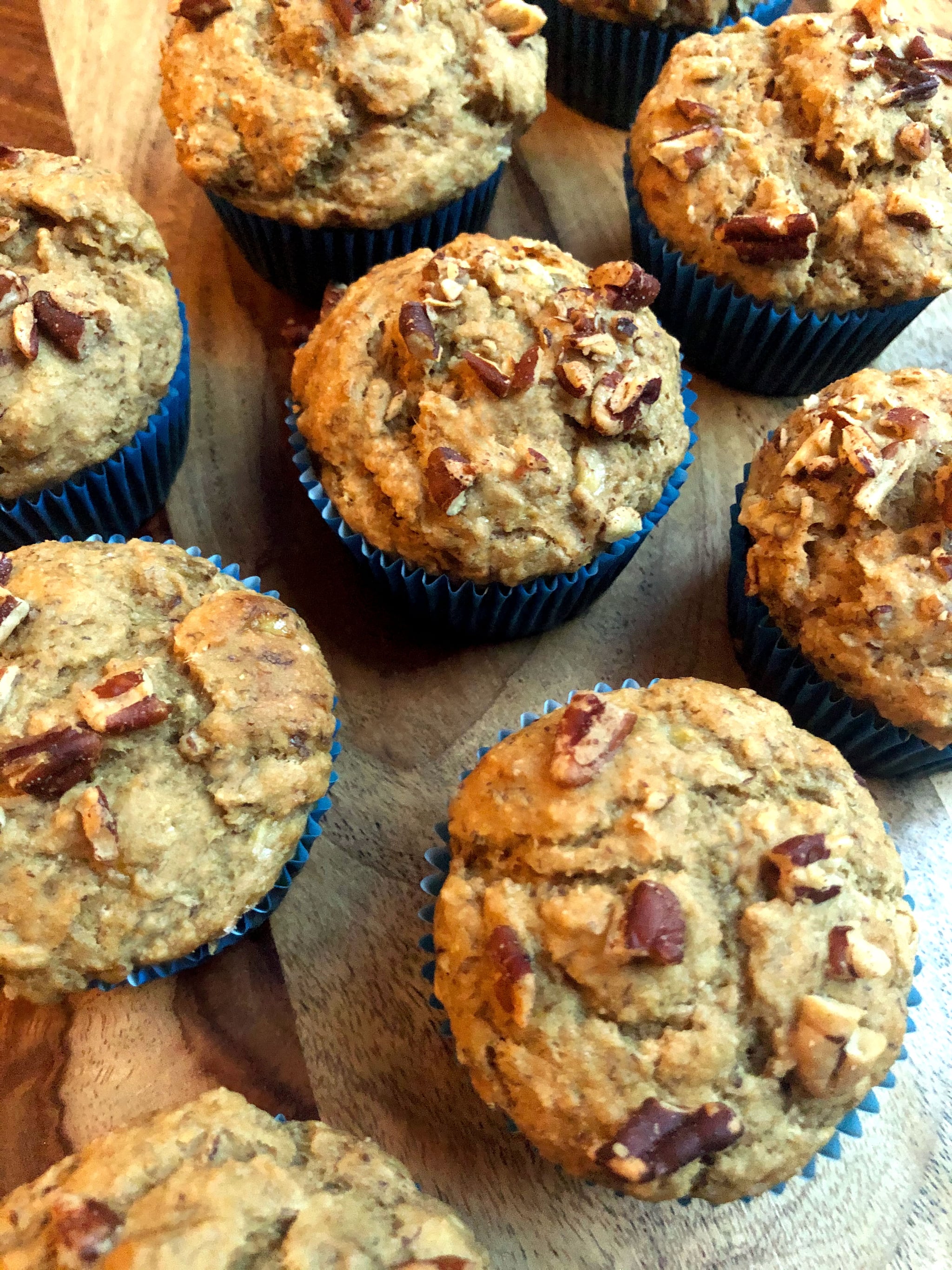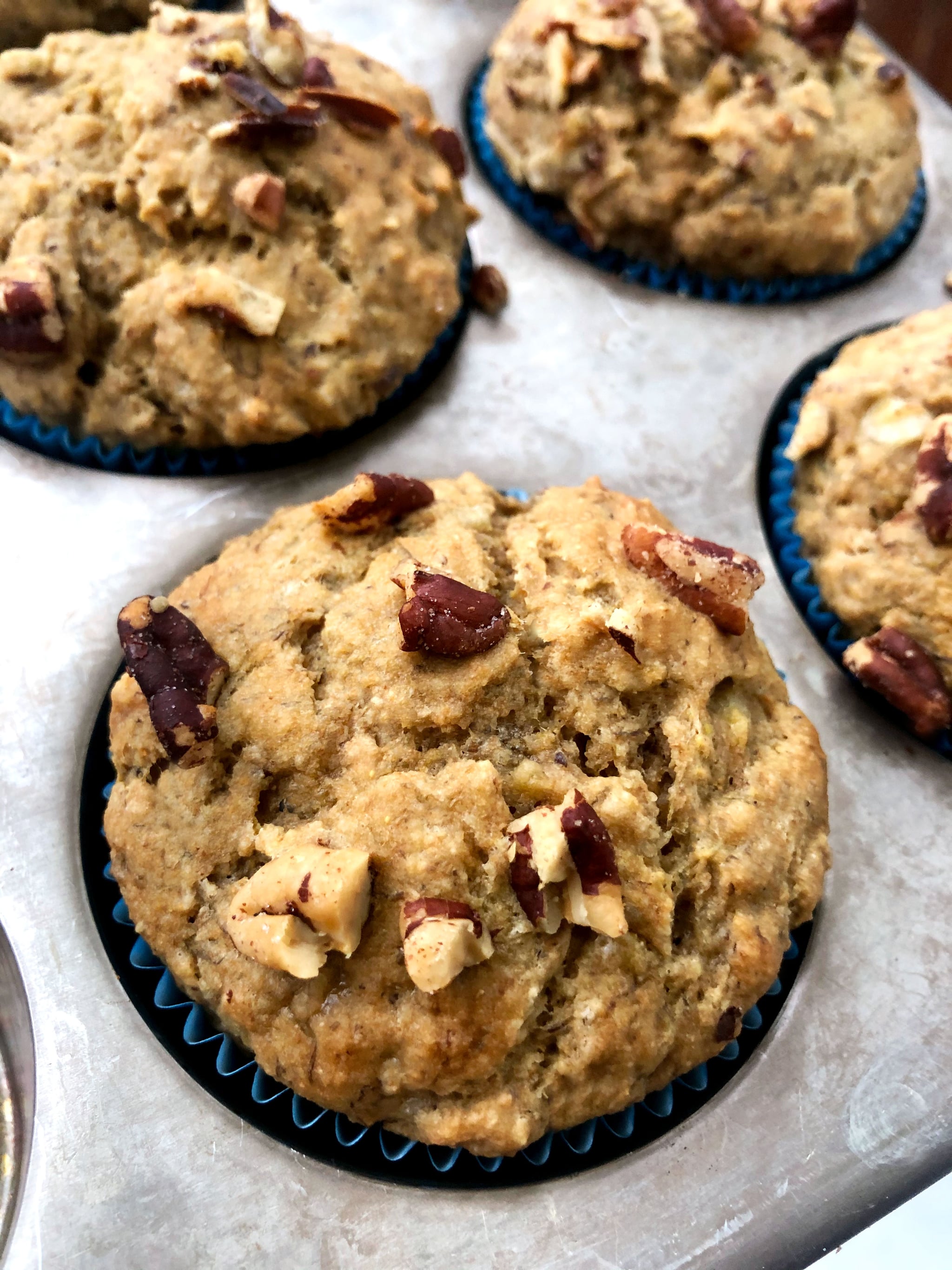 Vegan protein powder added to the batter adds a protein boost — seven grams per muffin! — making these satisfying enough for breakfast smeared with nut butter, enjoyed as an afternoon snack, or as a healthy after-dinner dessert paired with a dollop of jam. This recipe yields 10 muffins, making it the perfect Sunday recipe to meal prep for the week. You can also double the recipe and freeze a bunch to have on hand.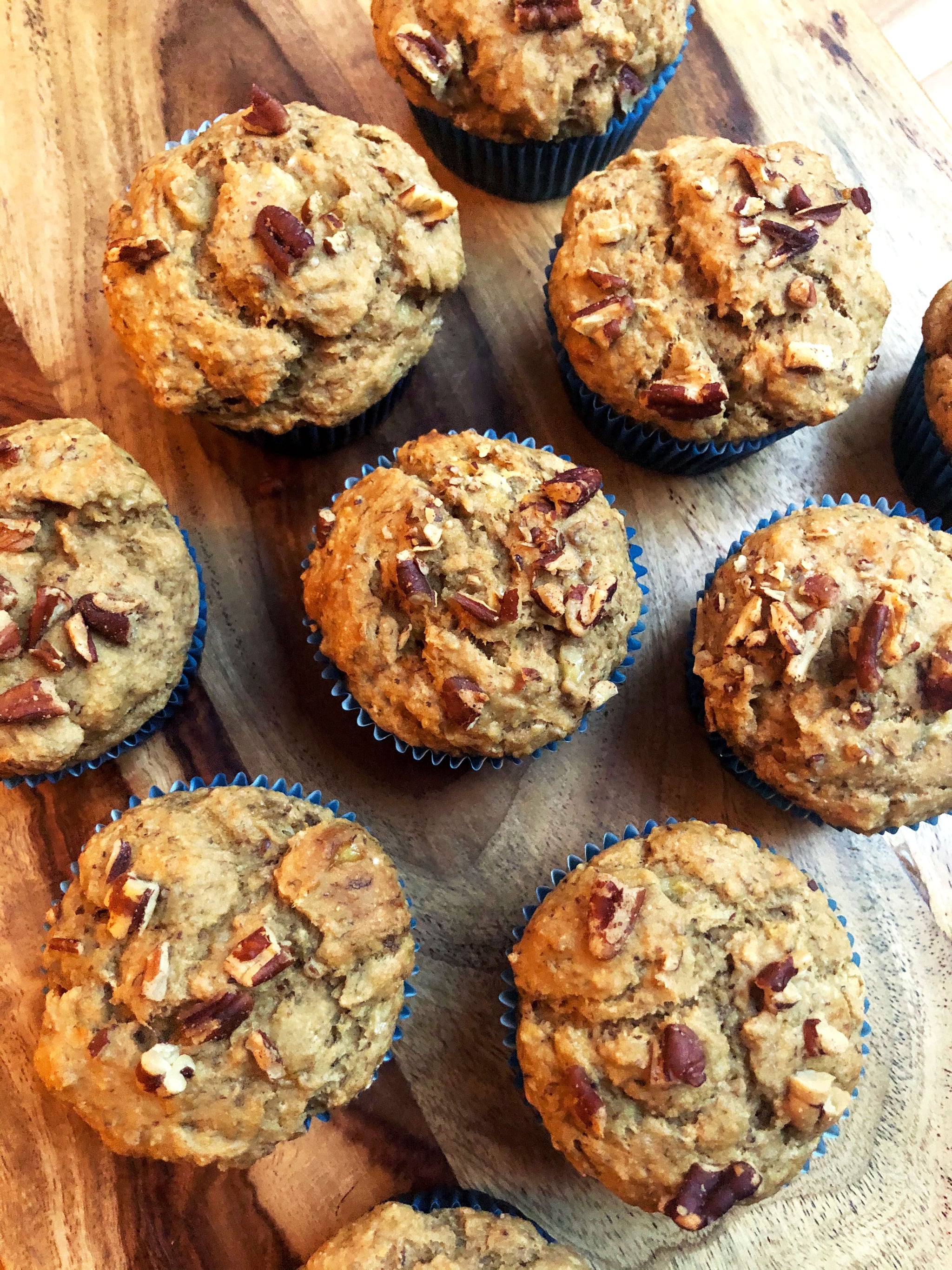 Stevia-Sweetened Banana Protein Muffins
From Jenny Sugar, POPSUGAR Fitness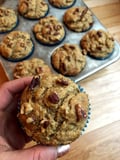 Ingredients
1 tablespoon flaxmeal
3 tablespoons water
3 ripe bananas
1/2 cup unsweetened soy milk
2 tablespoons coconut oil
1 teaspoon vanilla extract
1/2 cup Stevia in the Raw powder
1 cup white whole-wheat flour
2 servings plant-based protein powder (I used 2 scoops Vanilla Nutiva Organic Plant Protein; 1/2 a cup or 62 grams)
1 teaspoon baking soda
1/2 teaspoon salt
1/4 cup chopped pecans (for topping)
Directions
Preheat oven to 350°F. Line one muffin tin with 10 liners.
In a small bowl, mix together the flaxmeal and water to make a flax egg, and set aside.
In a large bowl, mash the bananas with a fork. Mix in the soy milk, coconut oil, vanilla, and stevia.
Add the flax egg to the banana mixture until combined.
Add in the remaining ingredients except for the pecans.
Divide the batter evenly between the muffin cups. Sprinkle with the chopped pecans.
Bake for 16 to 20 minutes, or until a toothpick inserted in the middle comes out dry.
Here's the nutritional information for one muffin: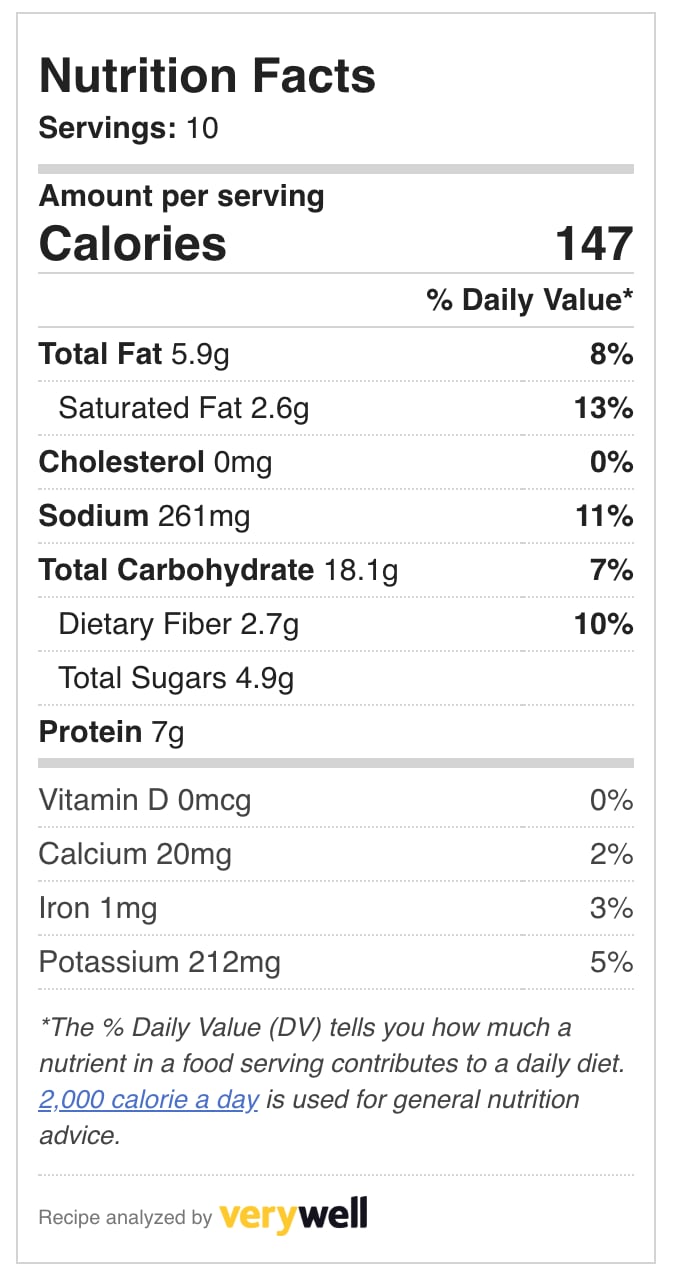 Information
Category

Desserts

Yield

10

Prep Time

10 minutes

Cook Time

15 minutes

Total Time

24 minutes, 59 seconds