Tonal vs. Mirror: Which Smart Home Gym Is Right For You?
Tonal vs. Mirror: Which Smart Gym Is Right For You?
As POPSUGAR editors, we independently select and write about stuff we love and think you'll like too. If you buy a product we have recommended, we may receive affiliate commission, which in turn supports our work.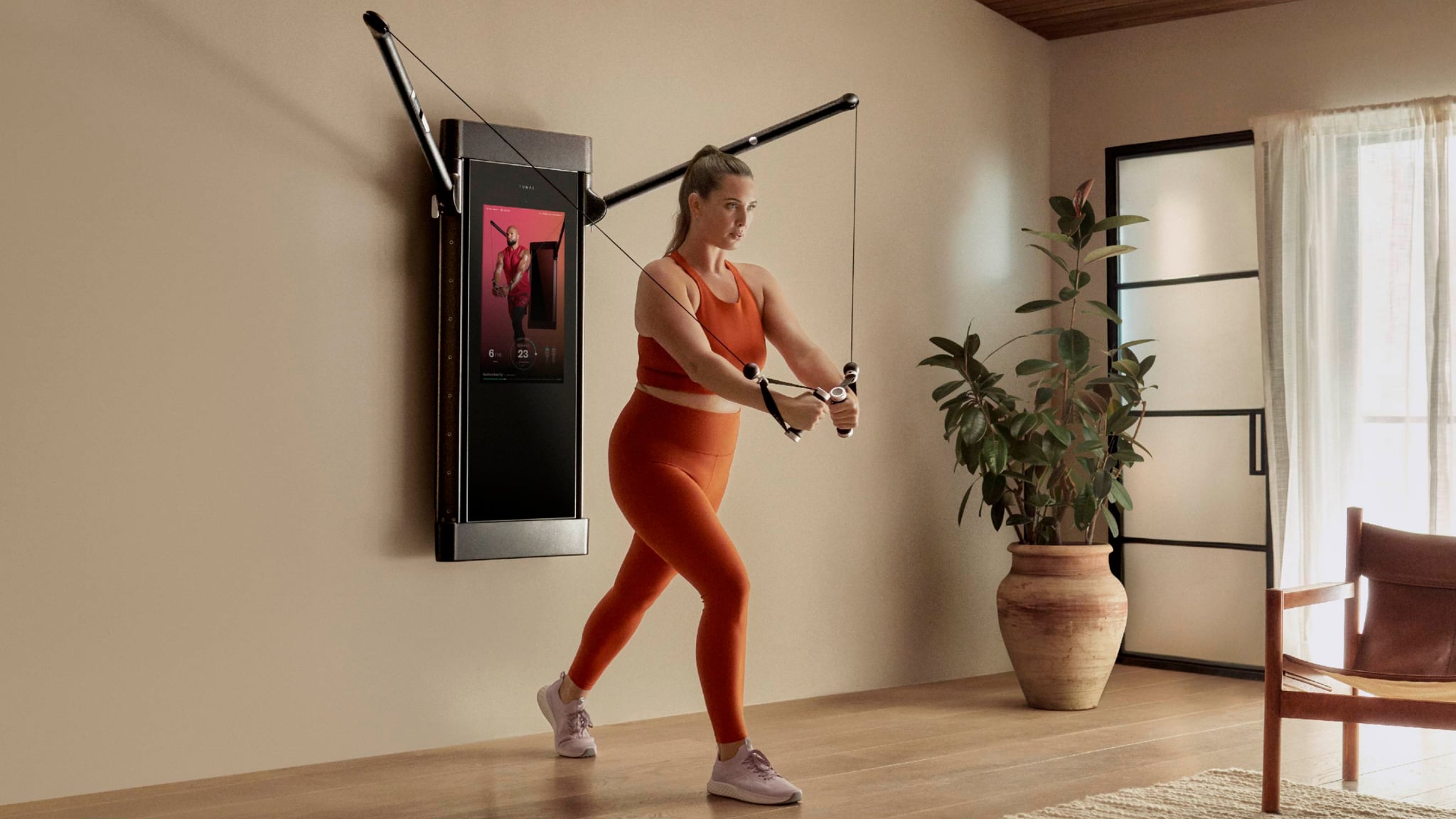 Image Source: tonal.com
Thanks to virtual workout classes and advances in at-home equipment, working out from the comfort of your home has never been easier — or more versatile. If you're looking to maximize your (small) living space or cut down on bulky, loose equipment, now might be a perfect time to invest in a smart home gym like Tonal or Mirror. But figuring out which one is right for you can be tricky, and when you're making this big of a purchase, you don't want to take any chances. That's where this helpful buying guide for Tonal vs. Mirror comes in.
On the surface, Tonal and Mirror may look similar, but they're actually quite different. For starters, Mirror is a reflective smart screen that allows you to virtually pop into a wide variety of workout classes, while Tonal places an emphasis on strength and resistance training. So while the machines may be viewed as competitors, neither is better than the other — it all depends on what you want to get out of your home gym. Before you add either one to your cart, keep reading to learn what sets Tonal and Mirror apart.
Tonal
Mirror
Price
$3,495, plus $495 for accessories

$1,495 for basic package
Membership
$49/month, minimum 12-month commitment

$38/month for Lululemon Studio membership, minimum 12-month commitment

Size
50.9" H x 21.5" W x 5.25" D
24" touchscreen display

56" H x 22.4" W x 1.4" D
43" LED display (non-touchscreen)
Delivery and Installation
Fee for delivery and installation (required), varies by location. Must be wall-mounted.
Free delivery, $250 for installation (optional). Can be wall-mounted or freestanding.
Workout Focus
Strength training
Studio classes
Special Features
Provides up to 200 lbs. of resistance; front-facing camera for live feedback; smart accessories with motion sensors.
Front-facing camera for live feedback; membership comes with 10 percent off Lululemon purchases.

Mirror vs. Tonal: Aesthetics and Footprint
Beloved for its sleek, slim design, Mirror doubles as a virtual home gym and a mirror. Owners have the option of either mounting Mirror to the wall or standing it upright using the included stand (perfect for renters). Mirror takes up less than two feet of wall space and has very little depth, making it ideal for those working with small spaces. To be specific, Mirror weighs 70 lbs. and measures 56 inches tall (with the stand, around 64 inches), 22.4 inches wide, and only 1.4 inches deep.
Tonal also boasts a minimalist and compact design. The wall-mounted machine takes up a similar amount of space (at 50.9 inches tall, 21.5 inches wide, and 5.25 inches deep), but the company recommends a workout zone spanning seven feet of wall and floor space, as the machine's arms can be adjusted horizontally and vertically to support 200 different body movements. Because Tonal must be mounted to the wall, you need to make sure you have walls that are supported and made of certain types of material (you can find more specific requirements on the brand's website). Aesthetically, Tonal looks more like a TV when it's powered down than a piece of decor. While it may not fit into your home as seamlessly, the machine's cool features easily outweigh the downside of its less-aesthetic frame.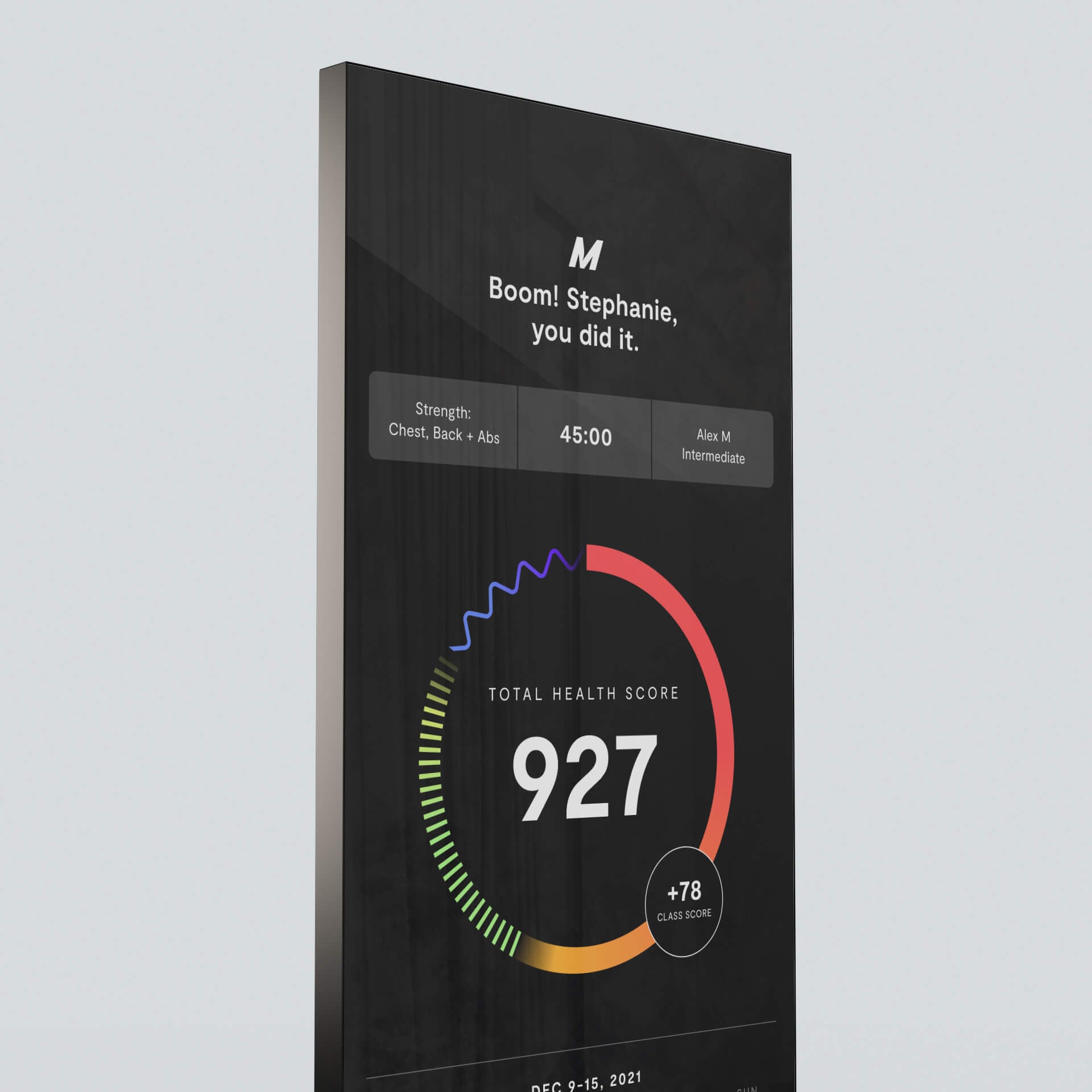 Image Source: mirror.co
Mirror vs. Tonal: Cost
Mirror customers can shop from four different packages, all of which range in price and add-on equipment. Mirror Basic ($1,495) comes with the Mirror itself, a stand, and a lens cap to cover the camera when you aren't working out. For $200 more, you can opt into the Mirror Essentials package, which includes a Bluetooth heart-rate monitor as well as Lululemon workout equipment: a mini foam roller, yoga block, and reversible mat. Additional gear (like a pair of weights) is included in the Mirror Pro package for $1,945. Mirror also offers a family package — equipped with two sets of fitness equipment — for $2,395.
All Mirror packages offer free delivery and installation. However, they also require a monthly Lululemon Studio membership, which runs $39 per month with a minimum 12-month commitment. This grants you, and up to five other profiles, access to unlimited workout classes, as well as 10 percent off Lululemon purchases, free classes at select Lululemon stores, and 20 percent off in-person workouts at partner studios (more on that below). If you're on a tight budget, consider opting for the Mirror Basic package and sourcing your own fitness gear.
Unlike its competitor, Tonal ($3,495) is listed at a fixed price. You'll also pay a delivery and installation fee, which varies based on your location. While Tonal's Smart Accessories bundle — which includes smart handles, a smart bar, a rope, a bench, a roller, and a workout mat — is optional, it's strongly recommended (and, TBH, pretty necessary) for those who plan to utilize Tonal's digital weight workouts, which are the machine's main selling point. The bundle costs an additional $495.
Upon device activation, Tonal customers are locked into a membership. This runs $49 per month with a minimum 12-month commitment and includes unlimited classes.
Both Tonal and Mirror offer monthly payment plans via Affirm if you'd like to pay smaller amounts over time versus all at once. Tonal's financing starts at $73/month and Mirror's starts at $17/month.
Mirror vs. Tonal: Workout Classes
Mirror offers unlimited live and on-demand workout classes via the new Lululemon Studio membership (formerly on the Mirror app). The brand boasts a library of over 10K classes across 60 categories, including kickboxing, dance cardio, arms and abs, and restorative yoga. It's also partnered with popular studios to offer specialized classes, including Y7 Yoga, Dogpound, and Rumble. On the Lululemon Studio app, users can filter classes by type, difficulty, length, and instructor. Those interested in one-on-one training can schedule virtual training sessions for $40 per session. During these workouts, the Mirror's camera allows trainers to see your form and technique and provide feedback. This feature can also be turned on during live workout classes.
While Tonal also offers a variety of workouts, it's best known for strength and resistance training. The interactive touchscreen display allows users to peruse both live and on-demand workouts led by trainers, spanning modalities and areas of focus, such as full body, lower body, upper body, or core.
Tonal's biggest feature is its digital weight system and adjustable arms, which support 200 upper- and lower-body movements and up to 200 pounds of resistance. Thanks to Tonal's dynamic weight and resistance technology, every workout is specifically tailored to fit your performance needs and goals. Struggling to get through your last rep? Tonal can sense that and will bring down the weight to help prevent strain or injury. It will also tell you if your form needs correcting — and give you specific feedback for fixing it.
Mirror vs. Tonal: How to Choose
Ultimately, you have to keep your goals and preferences in mind when choosing between Tonal and Mirror. If you enjoy strength and resistance training and want advanced performance insights, Tonal may be your best bet. However, if you only strength train occasionally and consider yourself more of a studio-class person, you'll probably get more use out of Mirror. And if you are a renter or hesitate at the idea of screwing something into your wall, Mirror could be a better fit.
And if you're on the fence, both brands offer 30-day risk-free trials as well as in-person demos. Try Mirror in person at select Lululemon stores and Tonal at select Nordstrom locations.

— Additional reporting by Lauren Mazzo