POPSUGAR
/ paid content for /
Under Armour
The Ultimate Beginner Kettlebell Workout For Home Workouts
Just Got a Kettlebell? Trust Me, You Won't Stop Doing This Workout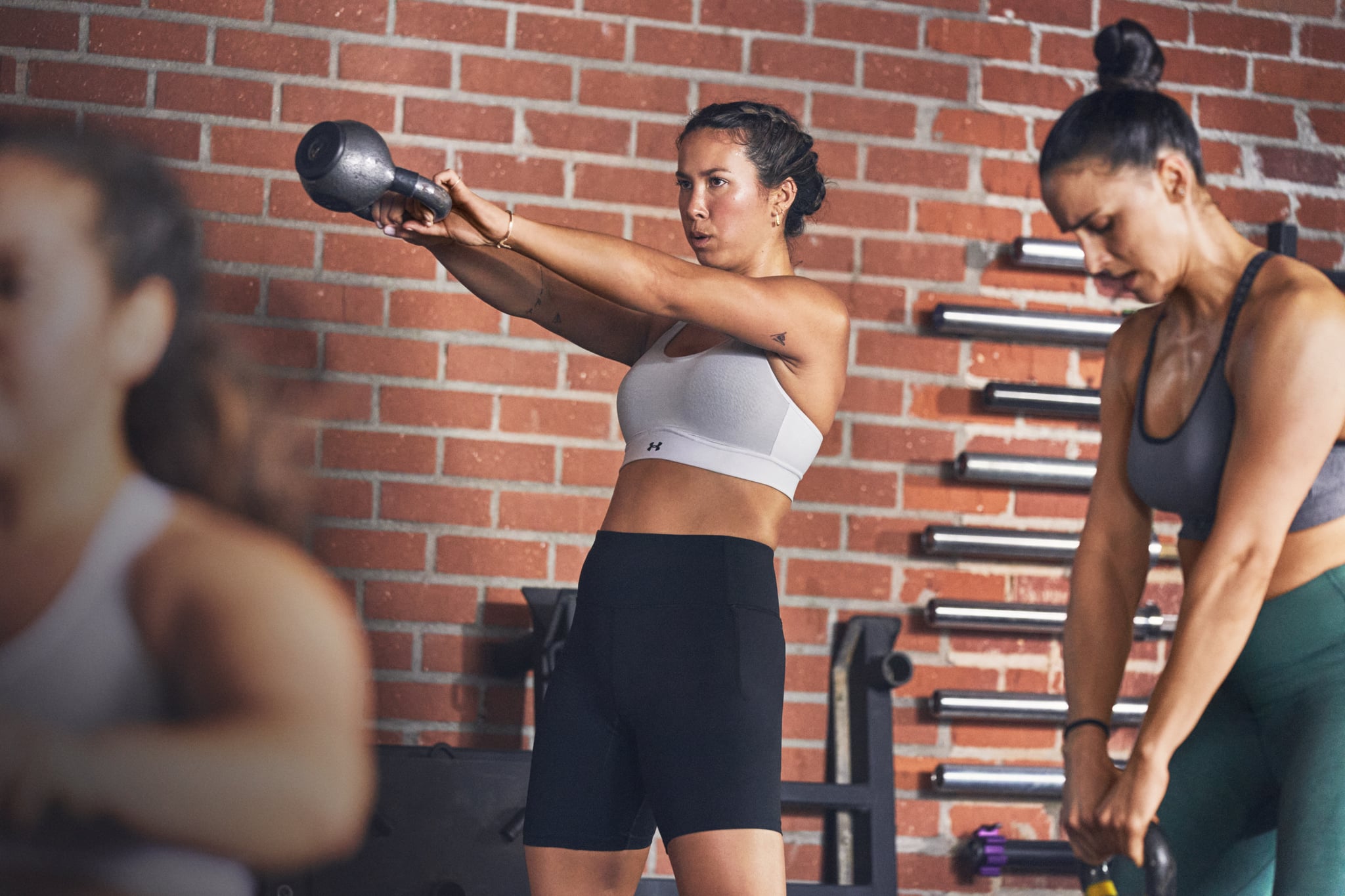 As I stock up my home gym, I find myself adding a new piece of gear nearly every month. From a set of resistance bands to a new pair of strength training-ready sneakers like the new UA HOVR™ Rise 2 Training Shoes ($100), I'm decked out like never before. And, my most recent fitness purchase is unexpectedly one of my favorites: a kettlebell. The simple yet effective weight can be used in a number of workouts and can help work the entire body.
To help me craft the perfect full-body workout that any beginner like me can do, I tapped national brand manager for Life Time's Alpha Program and NASM-certified personal trainer David Freeman.
"This kettlebell workout is a full-body scorcher," he said of the at-home workout he shared with me. "The movements within this workout take on a full-body approach that incorporates core, shoulders, and legs."
He also explained this workout is perfect for someone like me who is aiming to train for both strength and cardio. What's unique to note about this workout is that there's no set time for the work. But rather, it's within the work-to-rest domain, Freeman explained, meaning you do the work in order to earn your rest breaks. Just remember, you want to choose the appropriate weight that allows you to maintain good form and technique for all five rounds of the workout. (For me this is 10 to 15 pounds, if that helps!)
KB Sizzle Workout
Kettlebell Single-Arm Push Press

Stand tall with your feet hip- to shoulder-width apart holding your kettlebell by your shoulders, palms in.
Keeping your back flat and core braced, push your hips back and bend your knees, lowering yourself into a partial squat.
As you press up, rotate your palm to face forward, so that when you come back into your set position, your palm will return to facing in.

Kettlebell Single-Arm Front Rack Reverse Stepping Lunge

Stand upright, with your right hand at your side and your left hand holding the kettlebell in a front rack position, so that your elbow at 45 degrees and the kettlebell handles are resting in the crease between your bicep and forearms.
Take a step backward with your left foot and lower your hips so that your right thigh (aka your front leg) becomes parallel to the floor with your right knee positioned directly over your ankle.

Kettlebell Single-Arm Push Press

Repeat the same movements as above using the opposite arm.

Kettlebell Single-Arm Front Rack Reverse Stepping Lunge

Repeat the same movements as above using the opposite arm and leg.

Kettlebell Swings

Stand behind the kettlebell with your feet slightly wider apart than shoulder width apart.
Bend over at your hips with your knees bent and your back straight. Keep in mind to drive your hips forward, while keeping your torso upright, and your knees straight so the kettlebell is pushed forward and upward through the movement
Return to start position and swing the kettlebell back down between legs.
Complete 5 rounds (40 seconds of work for each movement followed by 20 seconds of rest).