12 Therapist Tips For Managing Your Grief and Loss During the Pandemic
You don't always have to lose a loved one to grieve, proven by all types of loss experienced during the COVID-19 pandemic. Maybe you've lost your job, sense of identity, or purpose. Maybe you no longer have hold of motivation, a solid routine, or connections. Perhaps all of the loss has been compounded for you by increasingly prevalent racism in this country, and you feel grief for your community at large. It's a long list of situational and systemic-rooted causes, and three mental health experts we spoke to agreed that tending to mental health, especially now, is crucial.
Gina Moffa, LCSW, a therapist with specialties in grief and trauma counseling, told POPSUGAR that grief can certainly be traumatic. The fact that it might not be directed toward a death results in a lack of clarity, and that makes it extremely hard to move forward, she said. Jenny Wang, PhD, a psychologist in private practice and founder of the Asians for Mental Health Directory, added that people could also be mourning the life they might have lived if the pandemic had not occurred.
Ahead, you'll find tips from Moffa, Dr. Wang, and Alexmi Polanco, LMHC, of Poder Healing on how to manage grief brought about by the pandemic and events thereafter. It's not a one-size-fits-all approach, but hopefully there's something here that helps as restrictions — but not necessarily hardships — ease up across the country.
01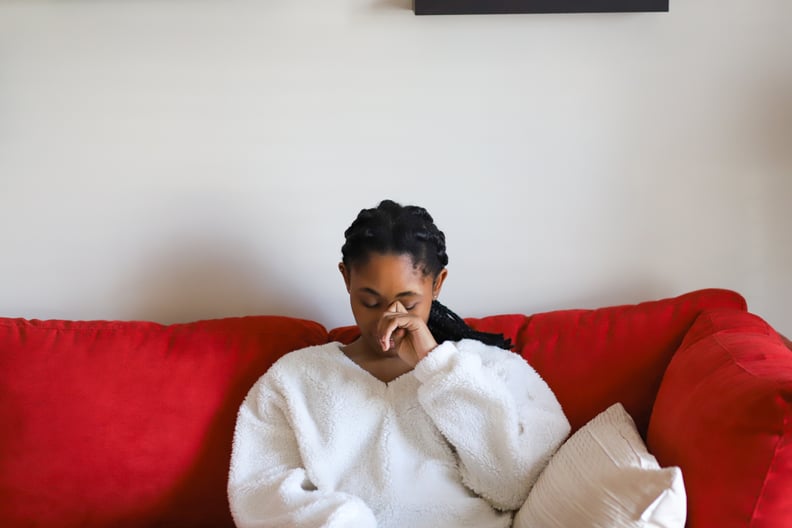 Feel Your Feelings
Moffa said that sometimes people come into therapy and report their feelings, but they don't feel their feelings. It's important, she noted, to allow those emotions to take their course. Dr. Wang agreed, stating that she wants to emphasize this for Asian Americans. "The Asian culture is steeped in being strong and stoicism," she explained. "A lot of times we may try to actually suppress and reduce our emotional reactions or responses to not burden other people, to not overwhelm others, to protect other people." She noted that crying can be therapeutic and cleansing for the body (you can even just put on a sad movie or song, and release your emotions in that way, she said).
Polanco, too, acknowledged that grief is very painful, and avoidance is a tendency for many people. Giving yourself permission to grieve, though, allows you to process those emotions, she said. She also suggested scheduling time during the week amid commitments you have going on to sit with yourself and recognize that grief, especially if you don't have a strong support system in place.
02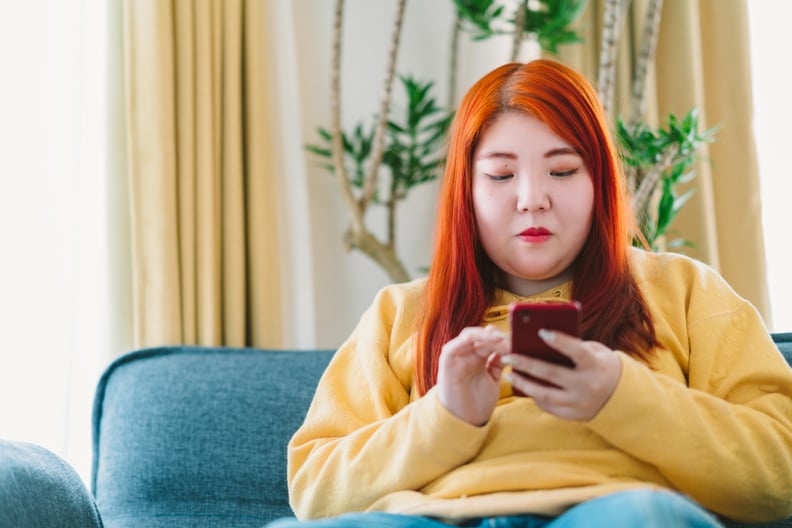 Limit Social Media
Unless social media is something that brings you comfort, Moffa said that limiting your screen time could be a good idea (this is the case especially since constant news consumption can create more anxiety). Being on social media might cause you to compare your own grief or trauma to that of other people. It's important, she noted, to focus on finding the support you need instead of comparing yourself to others.
Polanco added, "In comparing yourself to other people's grief, you're running away from your own feelings and your own process, which serves as avoidance." Everyone grieves differently: the timeline and mechanisms vary.
03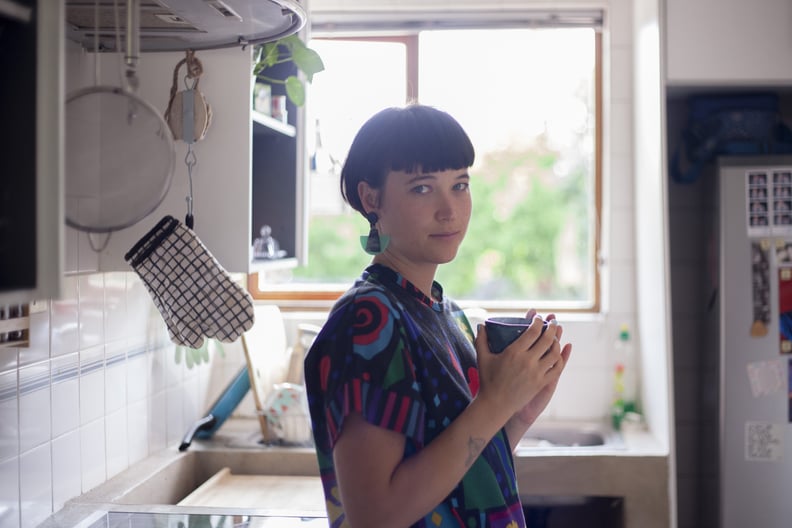 Set Boundaries
"When people are grieving, I highly recommend trying to say 'no' more often, trying to reduce demand," Dr. Wang said. "So much of our emotional energy is being taken up by the grieving and the mourning that it makes it hard for us to then have extra reserves to handle other aspects of our lives."
How long you establish those boundaries will depend on how overwhelming your grief is. "I would actually argue grief is something that is a lifelong journey, and it simply becomes heavier or lighter to carry in terms of its weight," Dr. Wang said. Instances where it might feel heavier, are around death anniversaries or birthdays of deceased loved ones. This is a time when she recommends reinstating boundaries.
Moffa added that you shouldn't force yourself to be around people all the time — know your limitations for that — but it's also crucial, in her opinion, to be able to identify when you're isolating yourself.
04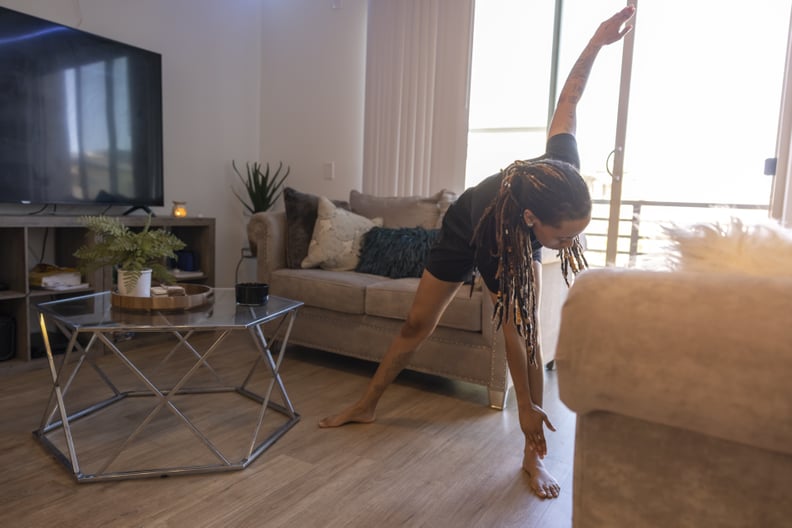 Move Your Body
"Exercise is one of the most efficient ways that our body biologically processes stress out of it," Dr. Wang explained. Something Moffa always says is "emotion is better in motion," which applies to anxiety and grief because, she noted, they get "stuck" in your body and cause tightness in your chest, shortness of breath, and other physical symptoms. Pick your movement of choice — she suggested even just dancing out your emotions to music. Try yoga or head out for a run (Dr. Wang's go-to) to let what you're feeling move through you.
05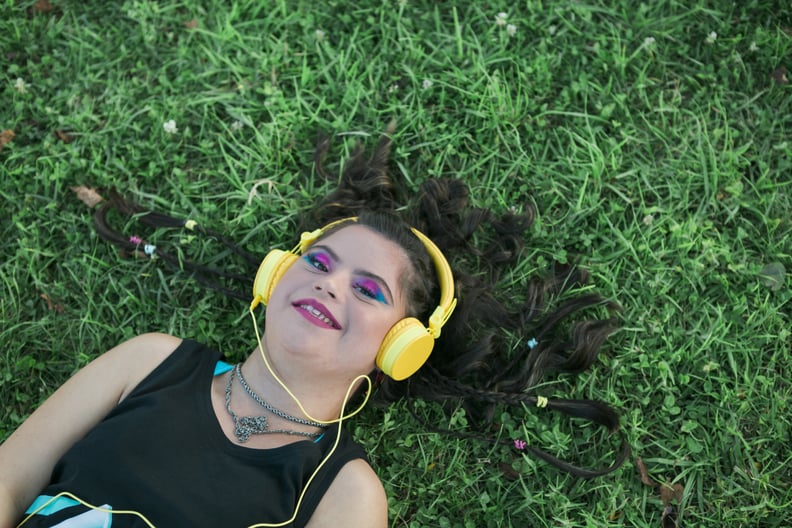 Focus on Yourself
Moffa described self-care amid grief as a "complete non-negotiable" because "you really can't fully grieve if you don't have the endurance to feel the full range of emotions that come with grief." That can look like many different things — Dr. Wang emphasized keeping up with your sleep and water consumption and practicing mindfulness — but it's necessary to focus on your own journey and to nurture your needs. This goes hand in hand with not avoiding your feelings.
06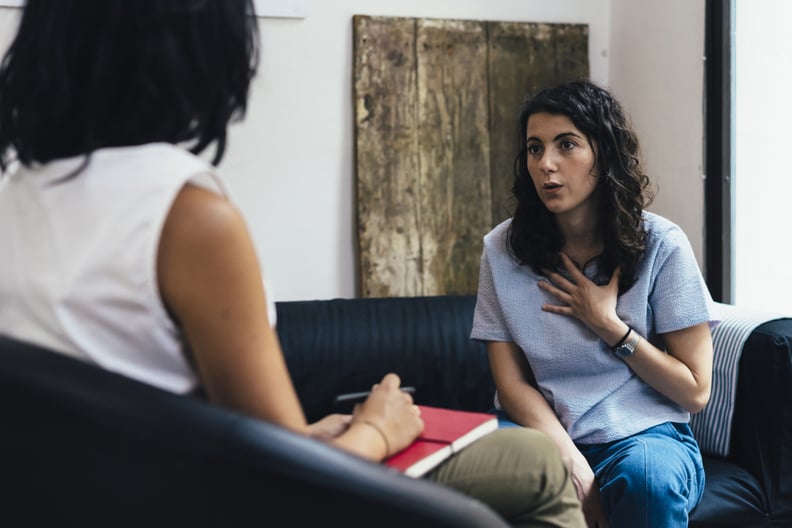 Try Going to Therapy
All three experts suggested speaking to a mental health professional. "I honestly recommend every single person be in therapy, regardless if they have or not, for the simple reason that we have our own feelings and thoughts about grief and how it's supposed to look or how fast you're supposed to get through it," Polanco said. Other people might project their individual beliefs regarding the grieving process onto you, she explained. In therapy, though, "you can absolutely take the time that you need, feel however much or however little, and say whatever it is that you want or need to say without having someone else's input."
Moffa added that whether or not she'd suggest you seek therapy depends on how much resilience you feel you have and how well you're coping. Additionally, she stressed the importance of going to a therapist who is specifically trained in working with grieving clients.
07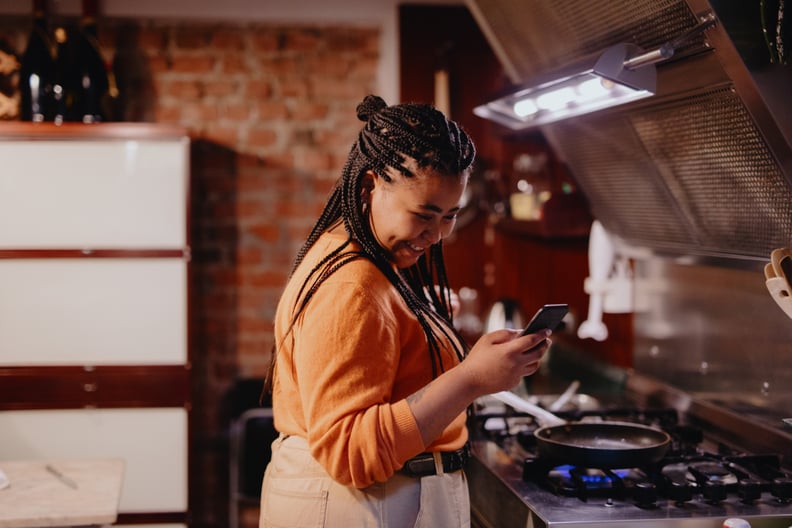 Foster Connections
Moffa said that, overall, support groups are extremely helpful because you can experience and express your loss with people who understand how you may be feeling. This is especially important for people of color, Polanco said. "For communities of color, the one thing that I would highlight is reaching out to each other. I'm a person of color, and in our communities, people tend to feel that they need to struggle on their own or process things on their own because you're perceived as weak or so many other things for feeling," she stated, adding that being more open to accepting help, too, is key.
Dr. Wang said that for Asian Americans specifically like herself, "we're not really taught to ask for help." She stated, "It becomes so critical for us to really unlearn that narrative of shame around needing assistance or help and really push towards this idea that our vulnerability, our ability to convey our pain and hurt, is what allows us to be connected with our community and the people that love us."
08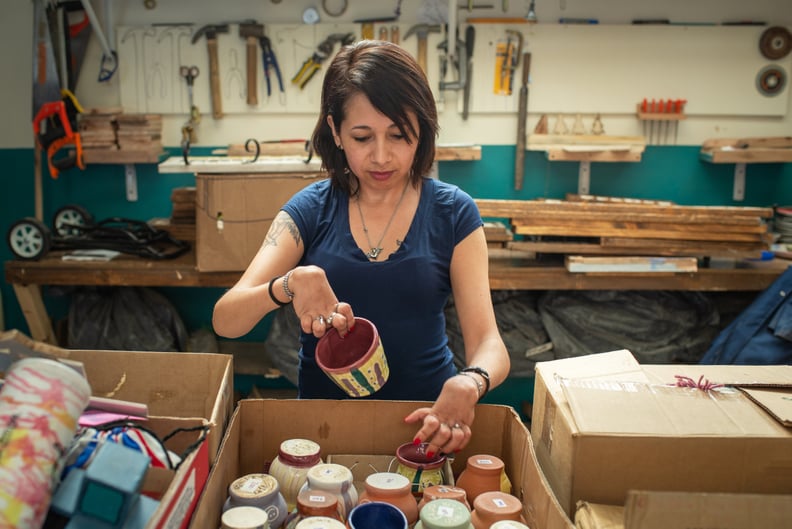 Take on a Volunteer Project
Especially if you're dealing with loss of identity, structure, or work, taking on a volunteer project may give you a sense of purpose, Moffa noted. Start by considering causes you care about or volunteering your time in ways you might not have before.
09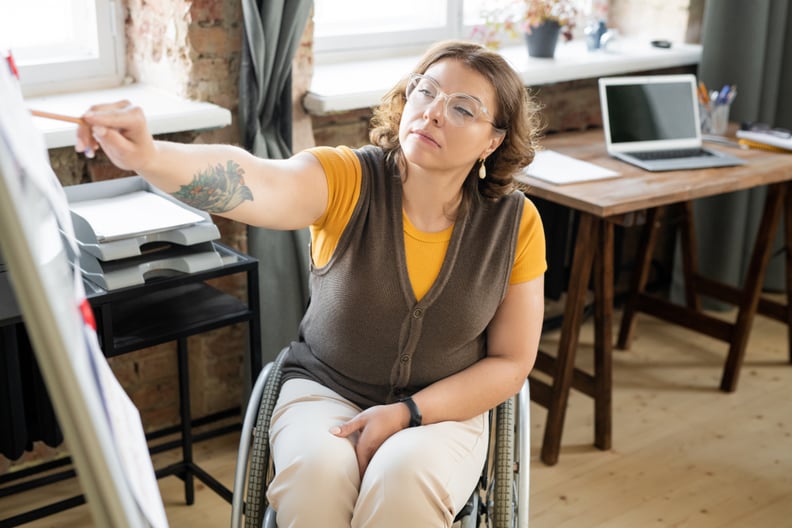 Lean Into a Ritual or Ceremony
Moffa said she often helps her grieving clients create rituals because they mitigate what otherwise might feel like "complete daily chaos." She explained, "If you have one thing that you can hold onto every single day that brings you structure and order and a sense of safety and normalcy, it can really help organize the chaos that you're feeling internally." This can be spiritual (Polanco personally likes candles to deceased loved ones) or simply something in your daily routine such as making a nourishing breakfast.
Polanco said that what people feel is loss, but it's also a realization that they lack control, and she suggested ceremonies as a form of release and reclaimed power. "If you create your own ceremony for the loss, you are kind of taking that control back by deciding how you say goodbye and when you say goodbye rather than having it just be done, and that's it," she explained. Even just writing a letter, she said, is a form of ritual or ceremony worth trying.
10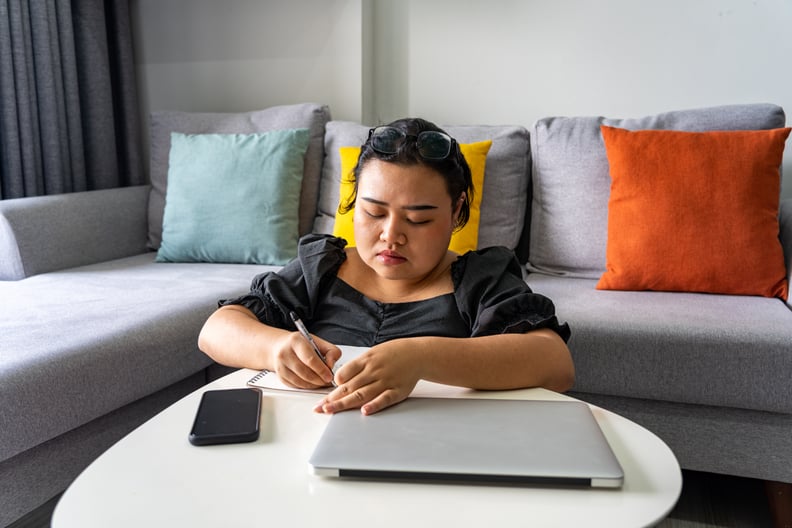 Journal
Journaling in itself may be a form of self-care for you, and Polanco said that you can either journal about your grief or simply write down what you're feeling that day. "Some people don't want to journal specifically about the grief, and if you just journal in general every day, part of the grief is still in that journaling," she said. Try the following prompt to start: What am I feeling right now?
11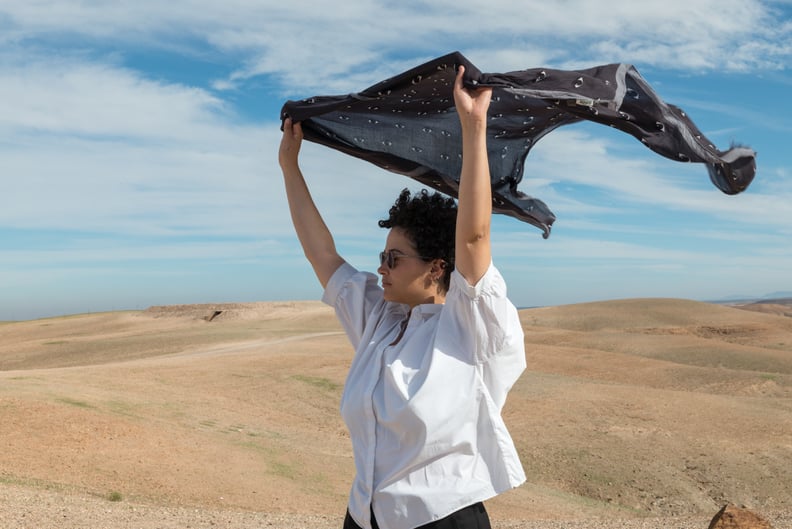 Carry Around a Memento or Make a Memory Box
Moffa said she likes the idea of carrying around something that reminds you of your loved one if you're grieving someone close to you. In that same vein, memory boxes, too, could work for you. Polanco does this herself where she keeps items or pictures stored away that make her feel better when her grief starts to flow. She added that you can make a memory box for a lost job or lost identity as well. "Fill it with whatever reminds you of this thing that you lost. And this way, you're building a connection to this box, or rather the box works as a vessel for the connection to this item or this person that you lost," she said.
Dr. Wang also noted that some cultures create spaces with pictures to honor the deceased. Exploring cultural mourning practices from your own heritage, she said, could help with the grieving process.
12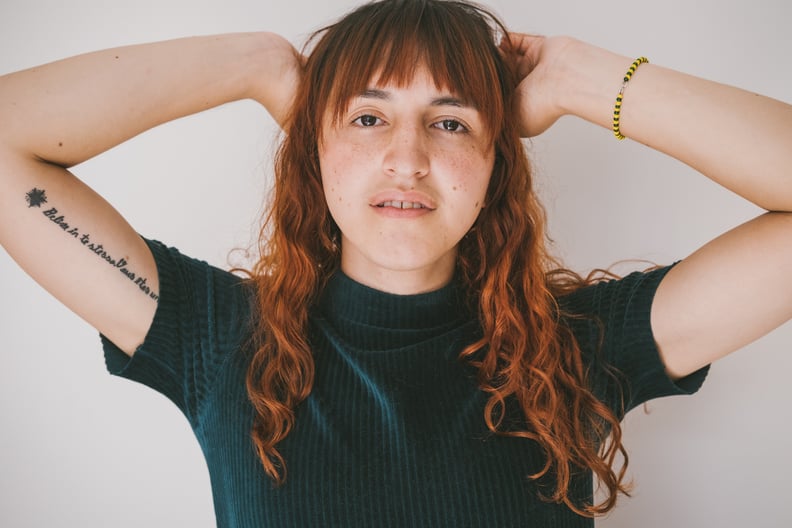 Remember Your Strength
Moffa suggested thinking back to hardships in your life that you overcame. "Maybe you've never been through a grief or something like it, but you have been through other life transitions," she said. For whatever challenges you recall, Moffa said to ask yourself how you healed and what it took to recover in the past, noting, "I think looking at our own strengths is really important." Remember that you can, and will, persevere.