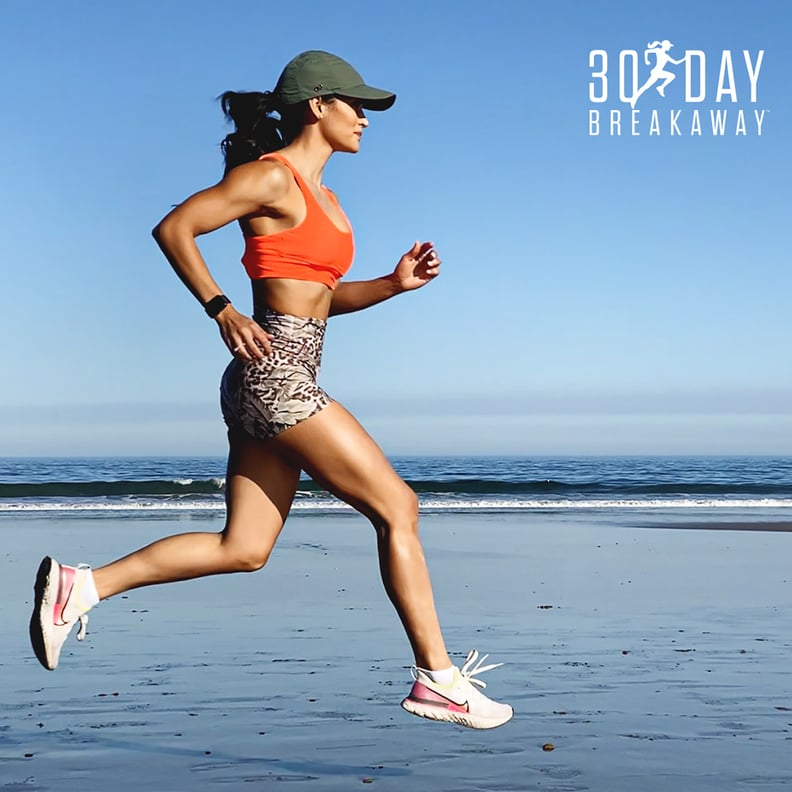 Beachbody
Beachbody
Beachbody now offers the 30 Day Breakaway program, which is its first ever 30-day running challenge. The program utilizes a combination of strength training and running workouts you can do outside or inside on a treadmill with the goal of becoming more fit and healthy and completing a 5K on day 30.
30 Day Breakaway was created by track-and-field athlete and NASM-certified personal trainer Idalis Velazquez and is perfect for beginner or experienced runners, especially for those who don't have access to a gym and want to get back into an exercise routine.
What Does the Beachbody 30 Day Breakaway Program Include?
The program is a mix of running and resistance-training workouts six days a week for five consecutive weeks, so 30 exercise days in total. The workouts are 20 to 45 minutes per day, and there are different types of running workouts from moderate, steady-state efforts to speedwork. You can run outside or on a treadmill, and there's even a rainy-day cardio workout included. Once you sign up, you'll get:
Two free sample workouts (one video and one audio run)
20 running workouts (10 video and 10 audio)
10 resistance workouts
One indoor cardio workout
One stretch and recovery workout
Five bonus workouts (runner's warmup, runner's cooldown, endurance intervals audio, progressive buildups walk audio, dropdown recovery walk audio)
How to run prep video
The calendar is geared toward beginners, but you can also use the two other calendar options — the advanced runners calendar or the time crunch calendar — depending on your needs and abilities.
How Much Does the Beachbody 30 Day Breakaway Program Cost?
If you're already a Beachbody On Demand subscriber or member, you get special VIP access to the program after paying an upgrade fee of $50. If you are not currently a Beachbody On Demand subscriber, you can purchase the 30 Day Breakaway Beachbody On Demand Performance Pack for $160, which includes a one-year subscription to Beachbody On Demand's full catalog of more than 1,500 workouts, mindful meditations, recipes, Beachbody mini resistance bands, a 30 Day Breakaway Running Belt (to hold small personal items on your outdoor runs), Beachbody's Energize and Recover supplements, a Quick Start Nutrition Guide, and Ultimate Portion Fix portion-control containers to support total health and well-being.
You also get free access to your own personal coach who offers support to help you stick with the program for the full 30 days of workouts. The next five weeks are going to fly by, and by Day 30, you'll feel so proud!