Why I Dropped Out of a Half-Marathon — and Don't Regret It
Skipping My Half-Marathon Felt Like Sh*t, but I Don't Regret It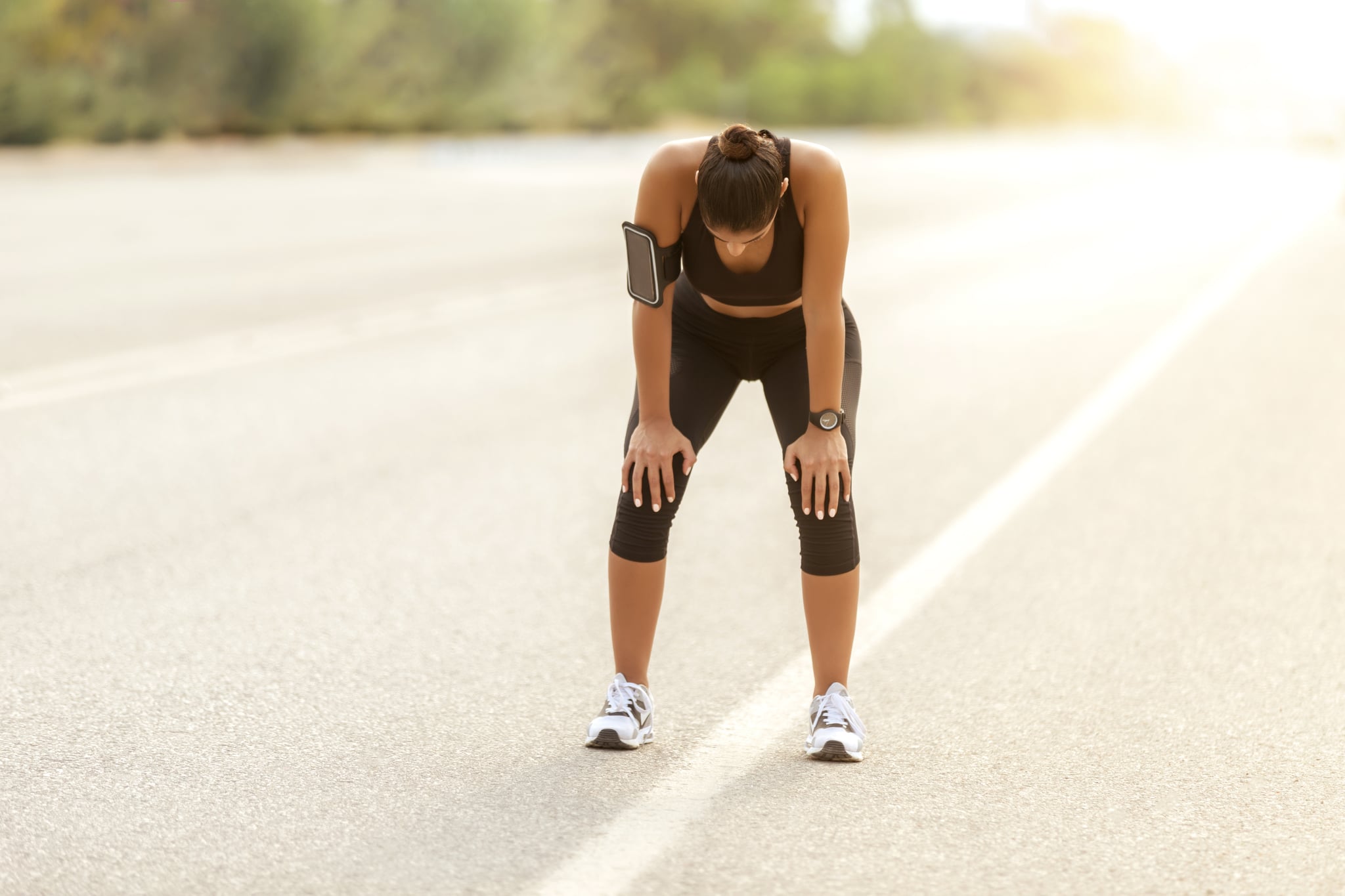 I thought it was just your normal, average, post-race soreness. I've run nine half-marathons (give or take) and my feet usually hurt for a few days afterwards. I take my mandated two weeks off from running and things are usually fine.
Key word: usually. When I toed the starting line in November 2019, I'd been dealing with on-and-off foot pain for a few months, nothing that had kept me from training or running. But by the time I finished that 13.1, my foot was aching, top to bottom, side to side. I took some extra time off, got a new pair of running shoes, cut back on my non-running workouts. The Monday before Thanksgiving, I tied on my new shoes and ran seven miles. It felt great. I was healed! On Thanksgiving, I ran a Turkey Trot 5K with my family; the day after that, I went on another run. By the time I limped in the front door, I knew I'd pushed it too hard.
My foot started hurting during almost any physical activity, including walking, strength workouts, and even swimming laps. I didn't even think about running, because I could barely walk a mile without my foot twinging with pain. As the weeks passed and my foot still didn't get better, the dread started to mount. I had one more half-marathon coming up, right before Christmas in my hometown. My family and I had run this race since 2013; it was the first half-marathon I'd ever done. The course was gorgeous, winding from inland San Diego across canyons, through a sparse hilly forest, and finally to the beach. You cross the finish line with Pacific waves crashing 50 yards away. I earned my PR in this race. I'd never missed a year. And, more broadly, I'd never signed up for a race I didn't run. I finally had to admit that this would be the first.
On race day, I waited at the finish line with my mom. We parked up on a cliff with a gorgeous view of the ocean, but instead of going out to enjoy the panorama, I huddled in the cold front seat catching up on work. It was productive, but it was also punishment. I couldn't run (because I was weak, because I was scared of the pain), so I didn't deserve to have fun. I kept looking at the clock, calculating what mile marker I'd be passing. Five, six, seven; that's when the fatigue usually set in. Eight, nine, 10; that's when I'd get my second wind. Right about now, we'd come out of the trees, loop around the freeways, and finally glimpse the ocean. When I watched my sister and then my dad cross the finish line, smiling, sweat flying, I felt jealous and upset, and not just because I missed the race with them. I was disappointed in myself, like if I was just stronger, or less afraid, I could've run through the pain.
It's true that a lot of fitness is mental. Having the determination and willpower to work out when it's early, late, freezing, or sweltering; when you're anxious about failing; when you just don't feel like it. Over the years, I conquered those mental obstacles and progressed my training in a way I was really proud of, lifting weights, increasing my running distances. But I focused so much on the mental game and the results that I ignored the physical signs of burnout.
Actually, I didn't ignore them. I knew my foot was hurting, even before the November half-marathon that pushed it over the edge. I just didn't want to stop, so I didn't take it seriously. I kept running until I could barely walk.
Without question, deciding not to run my December race was the right decision. If I'd tried to run, best case scenario, I would've finished with my slowest time ever; worst case scenario, I wouldn't have finished at all. I certainly would have made what's now been diagnosed as a stress fracture much, much worse.
I finally listened to what my body was telling me, and it felt pretty sh*tty. Which — not to complain, but OK, maybe to complain a little — doesn't quite seem fair. I know doing the right thing doesn't always feel good, but I didn't expect it to feel actively bad. I was upset I missed my race and I was disappointed because I didn't just "push through." But when I finally got the diagnosis, I was angry for not stopping earlier, because forget about one dropped race; now I'm really paying the price, physically and financially. I've been wearing an exorbitantly overpriced protective boot for a month, and my doctor has ruled out not just running, but also weights and swimming. I can walk, but not the distances I'm used to. And I'm still dealing with the anger and disappointment, plus anxiety that the injury isn't healing as quickly as I expected.
I'm trying (key word: trying) to focus on what I can do. Right now, that means yoga, Pilates, and non-impact ab workouts every morning, because those are the only workouts I'm cleared for; improving my sleep schedule; and meditating to deal with the mental turmoil. I'm failing a lot of the time and trying to be OK with it. And I'm trying really, really hard to stop blaming myself, first for listening to my body and skipping the race, then for not listening to my body sooner.
My daily mantra, and the biggest, blaring, neon-lit lesson I've taken from this experience: "Pushing through the pain" doesn't mean "ignoring the red flags." There's a fine line between strength and stubbornness (or maybe stupidity), and I'm trying to get better at finding it. Skipping my race, scaling back my workouts, and getting treatment, none of that felt or feels great. Waiting around for this damn foot to heal is driving me up the wall, but I accept that it's what I need right now. I won't pretend to like it, but I know I'm doing the right thing.