How to Make Vegan Pasteles
How to Make Vegan Pasteles (Without Fake Meat)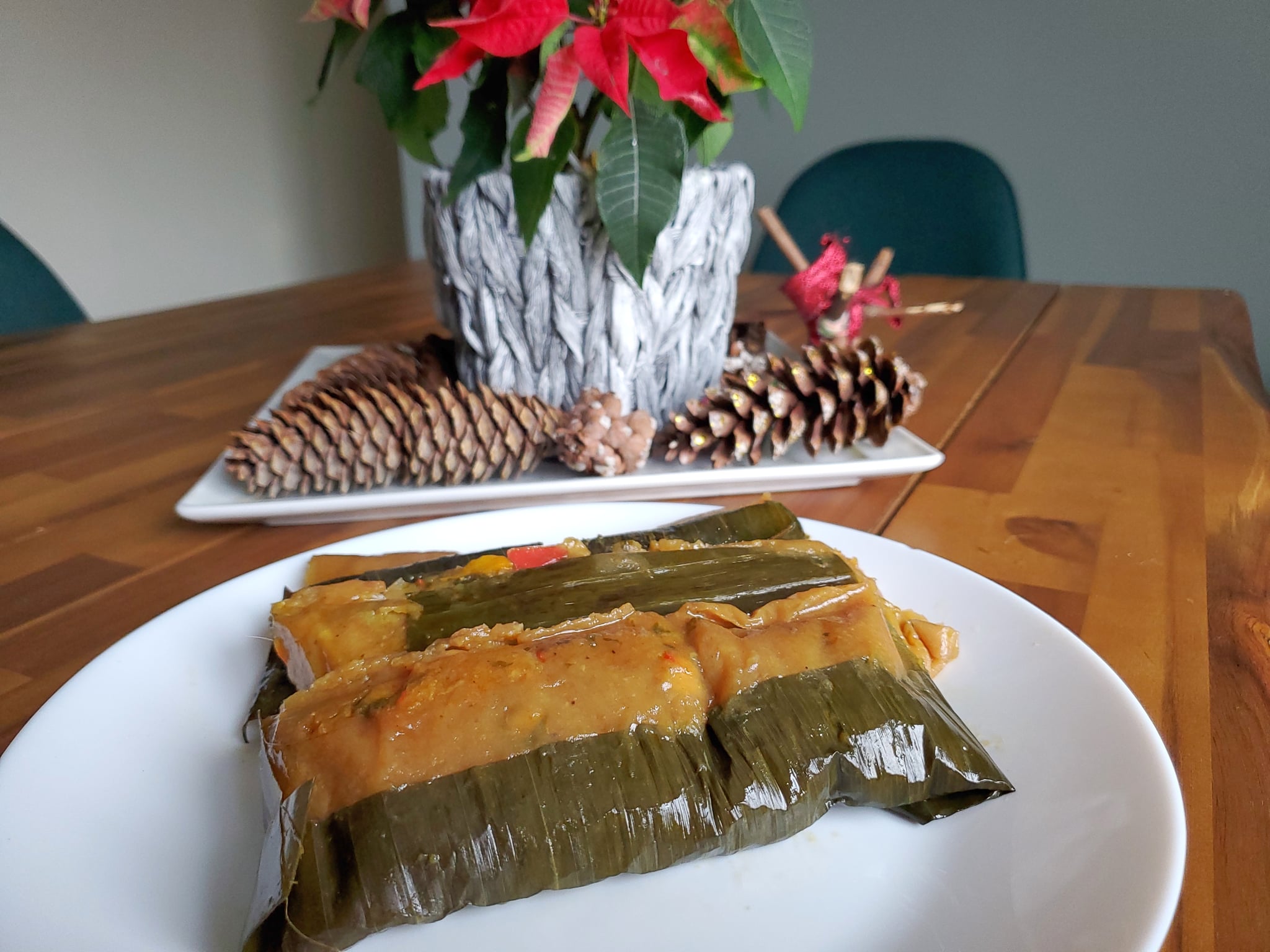 Growing up, pasteles were a special treat that we didn't get often. A savory pie of sorts, they're typically eaten during the holidays in Puerto Rican households. While my mom usually hosted Christmas, she worked 12-hour days and didn't often have time to make them herself. Instead, she bought them from a man who drove around the neighborhood and sold them from the trunk of his car for weeks before the holidays arrived each year.
I still remember the neighborhood chorus of "the pasteles man is coming" my brother and I so looked forward to hearing. We'd run outside to stop him while my mom gathered some cash and joined us outside to purchase dozens. They were delicious, and she never made us wait to sample them. We always cooked up a few to enjoy right away.
Years later, when I was living far from my mother and had just given birth to my second child — a November baby — I sat in my hospital bed, and all I wanted to eat was pasteles. I told my dad and he made a batch based on what he remembered from his mother and grandmother's recipe; he brought them to me as soon as I arrived home with my new little bundle of joy. It was the most comforting and warming food I could have eaten at the time, and the following year, I recruited him to teach me how to make them myself. Each year after, we continued to carve out time to lovingly prepare them together while we listened to old-school salsa music and drank homemade coquito. Eventually, I felt comfortable taking the reigns and making them myself.
As I learned the process, I realized just how nutritious pasteles actually are: the masa (dough) is literally all vegetables. While the filling is typically made with marinated pork, it also includes veggies and herbs in the form of sofrito. It got me thinking about how easy it is to make vegan versions of a number of Puerto Rican dishes, since we don't use a lot of cheese, butter, or eggs in our food. And so, I decided to try making vegan pasteles. First off, I really like vegetables. Secondly, it's nice to have a tasty alternative to share with friends and family members who don't eat pork or meat at all, for health, lifestyle or religious reasons. After a quick online search, I realized that a lot of people who make vegan pasteles tend to use processed meat substitutes, which in my opinion, isn't all that healthy or delicious. I knew I could do better, so instead, I looked at some ingredients that are actually already commonly used in traditional pasteles recipes. I figured out how I could use them as a filling to modify my own family recipe. and guess what?! They came out amazingly. I'm sharing that recipe here, but first, let's talk about the basics.
What Are Pasteles?
Perhaps best known as a Puerto Rican dish, pasteles are a dish made from a masa (dough) that is stuffed with a savory filling — typically seasoned pork — wrapped in banana leaves and boiled before serving. They are extremely labor intensive to make, so pasteles are typically relegated for the holidays and special occasions, when family members gather together to prepare them in large batches. They're often kept in the freezer afterward so they can be enjoyed for months to come. Pasteles — and similar dishes like Mexican or Central American tamales — are also served in other countries throughout Latin America, with the Dominican version being the most similar to the Puerto Rican one. As we mentioned, they are quite similar to tamales, which are more well known in the United States, but are different in that they are prepared with a corn masa and wrapped in corn husks.
What Are Pasteles Made Of?
Most commonly, the "masa" for pasteles is made from a combination of guineos (green bananas), green plantains, and root vegetables like yautia (taro root), calabaza (pumpkin) and sometimes potato and/or yuca. The exact ingredients and ratios vary by family. In Puerto Rico, the traditional filling is chopped, stewed pork that has been marinated in adobo seasoning and sofrito, then cooked in achiote oil. However, some people also make chicken and beef versions. In some families, extras like garbanzo beans, pimento-stuffed olives, and even raisins may be added to the filling. There is also a version in which the masa is made solely of yuca, which is also tasty, but a bit less traditional.
Are Pasteles Puerto Rican or Dominican?
Puerto Rican food and Dominican food undoubtedly have a lot of similarities, but pasteles primarily come from Puerto Rico. That said, they've become more common in Dominican cuisine as the Latinx Caribbean diaspora has spread and we've come together in communities throughout the US. Of course, Dominicans put their own twist on the dish, which they often refer to as "pasteles de hojas" and fill with ground beef instead of pork. Puerto Rican pasteles are a true result of the blend of indigenous Taíno, African, and European cultures that makes up the Puerto Rican and Dominican ethnicities: a wonderful celebration of our heritage.
What Do You Eat With Pasteles?
Although pasteles sometimes show up during other holidays and special occasions, they are mostly considered a Puerto Rican Christmastime dish. They are served in their little gift-like parcels alongside other traditional dishes like arroz con gandules, pernil (roast pork), and a fresh green salad, topped with either ketchup, hot sauce, or a combination of the two.
Originally published 12/20/2021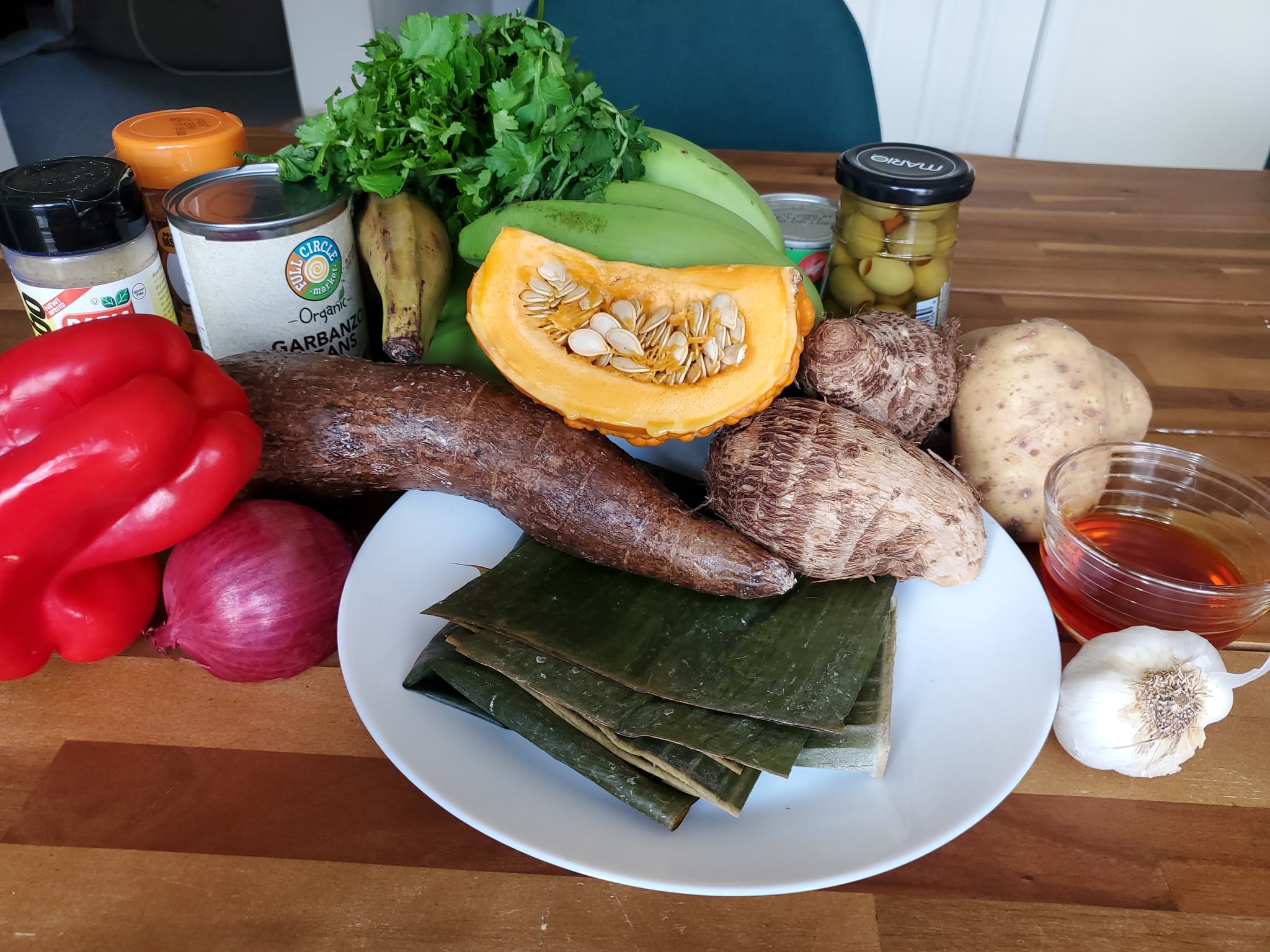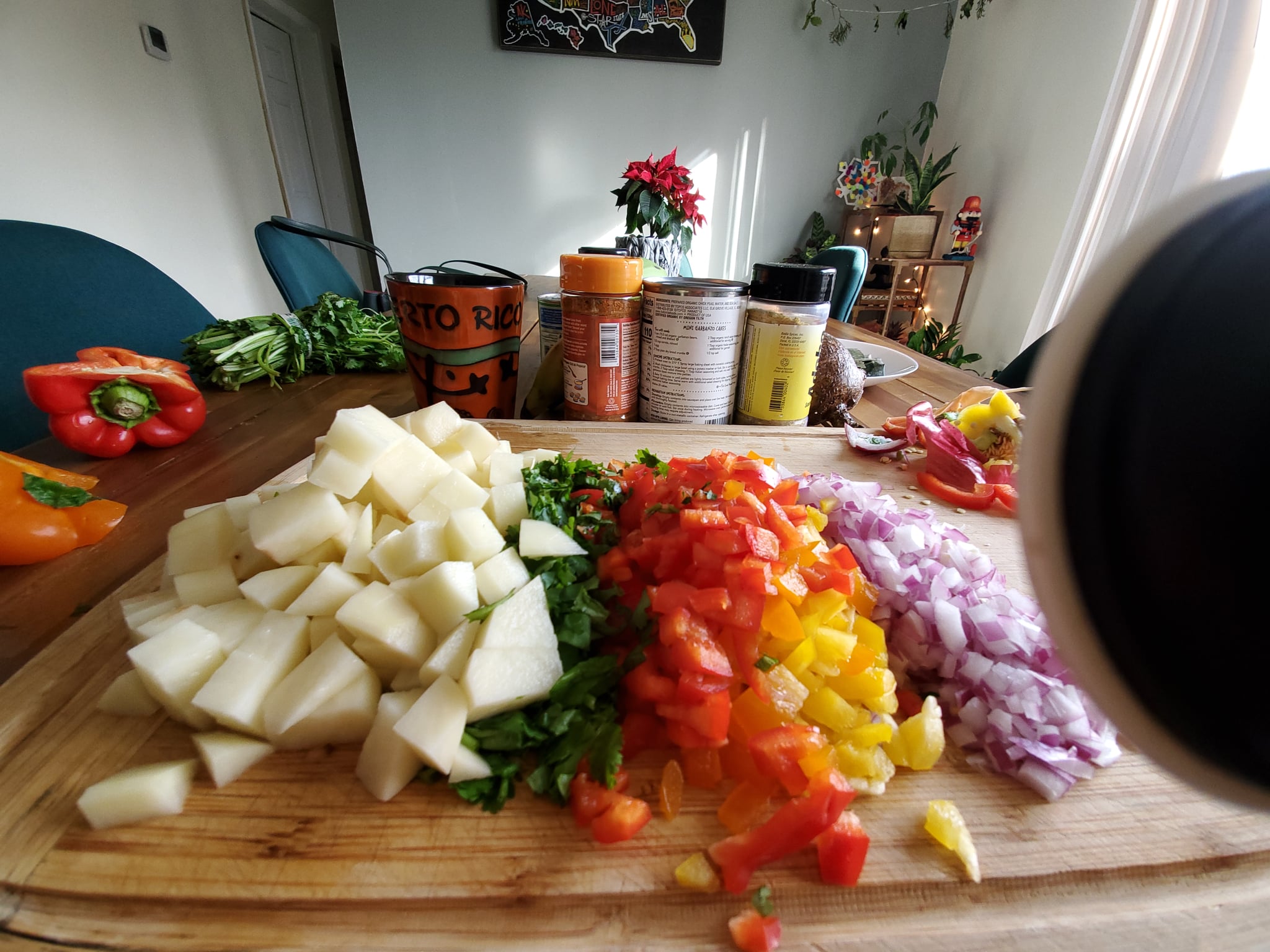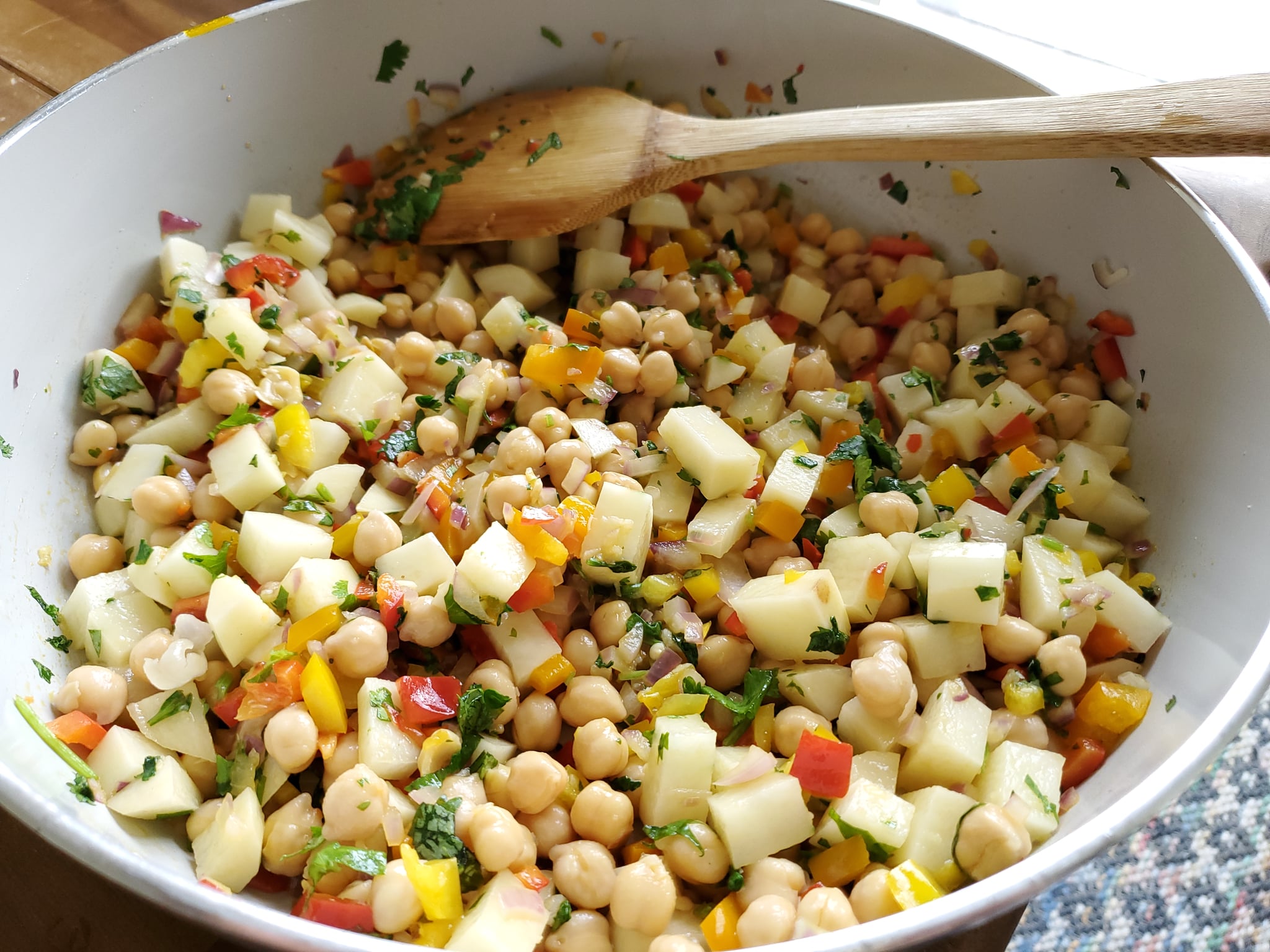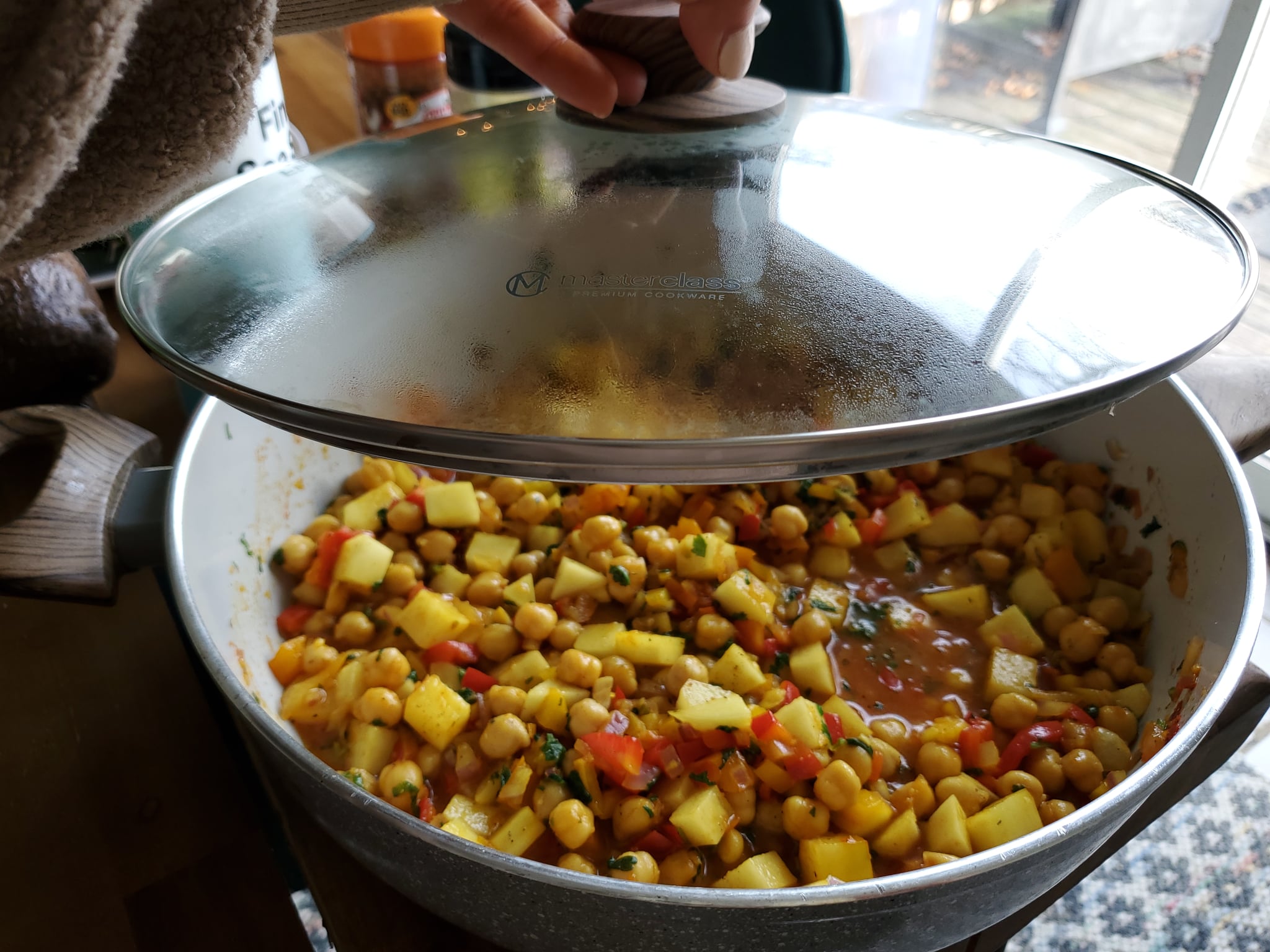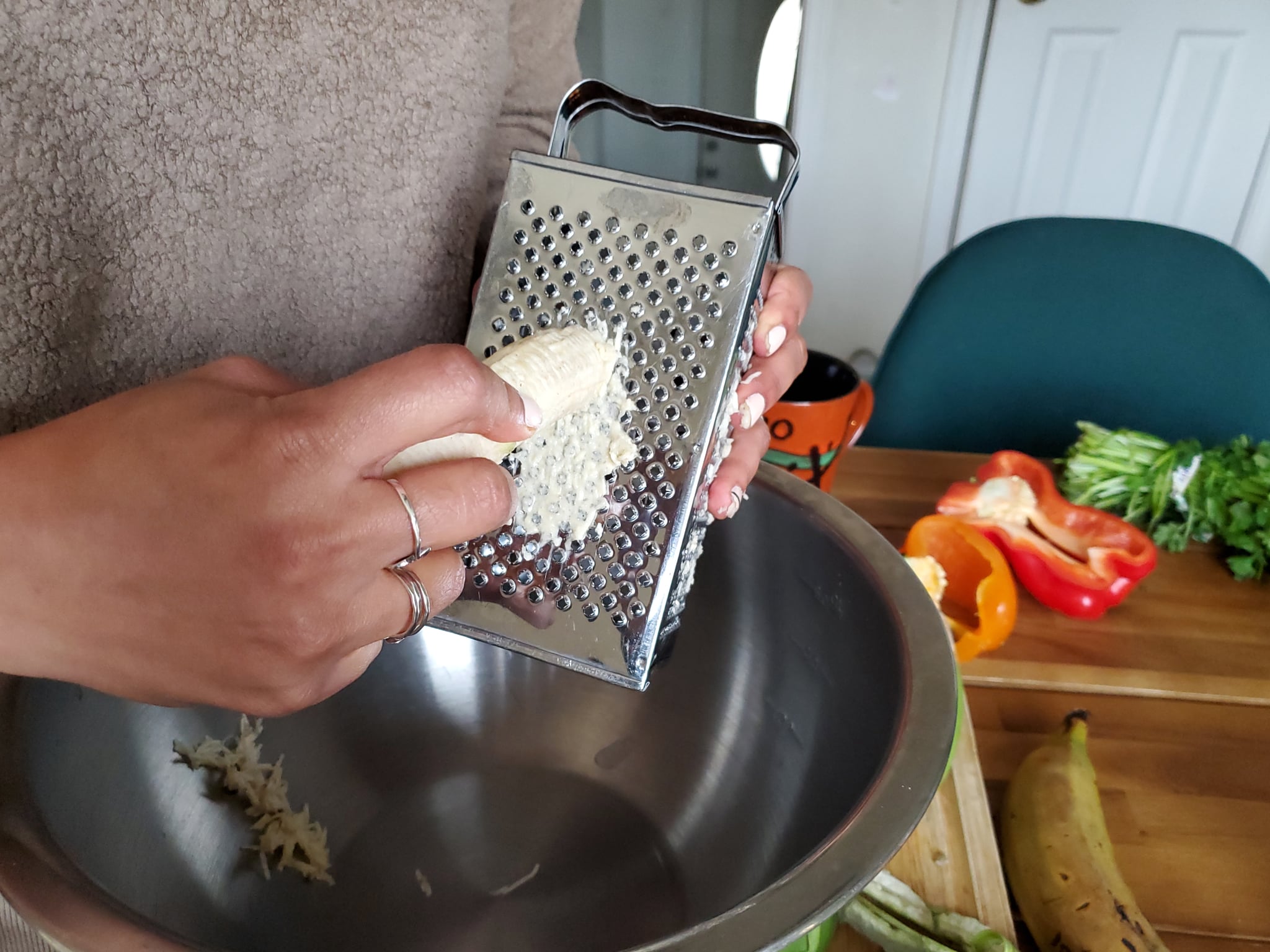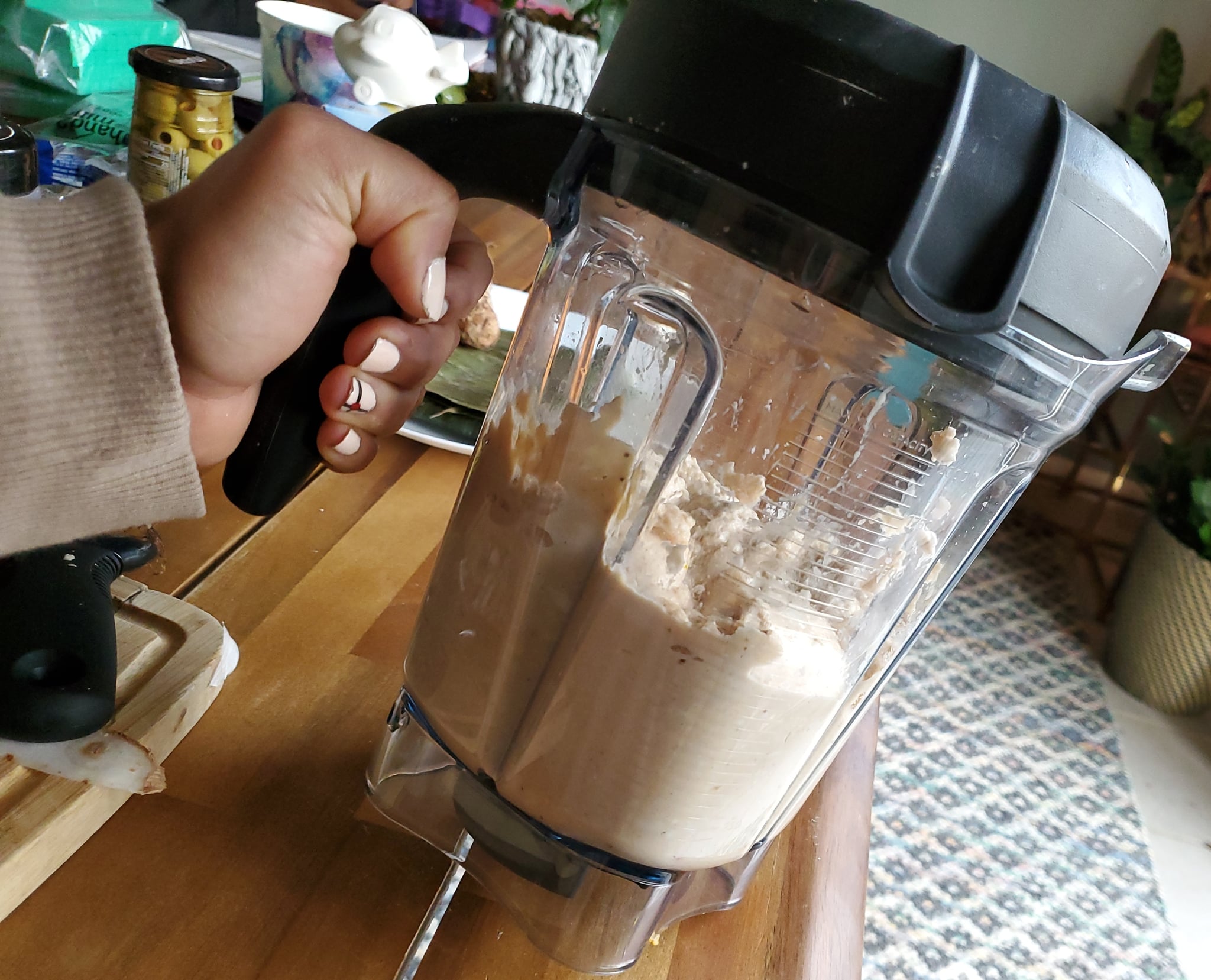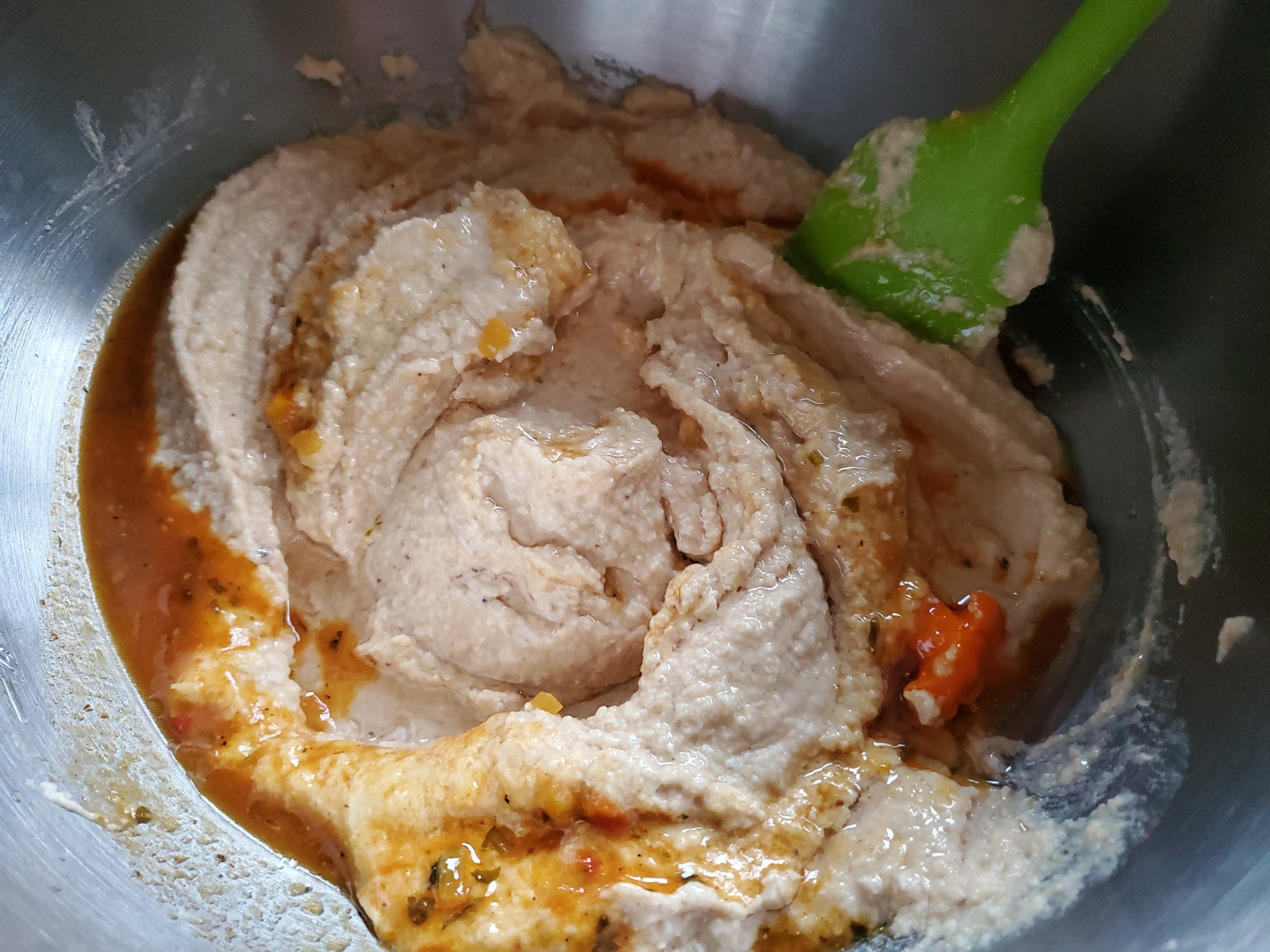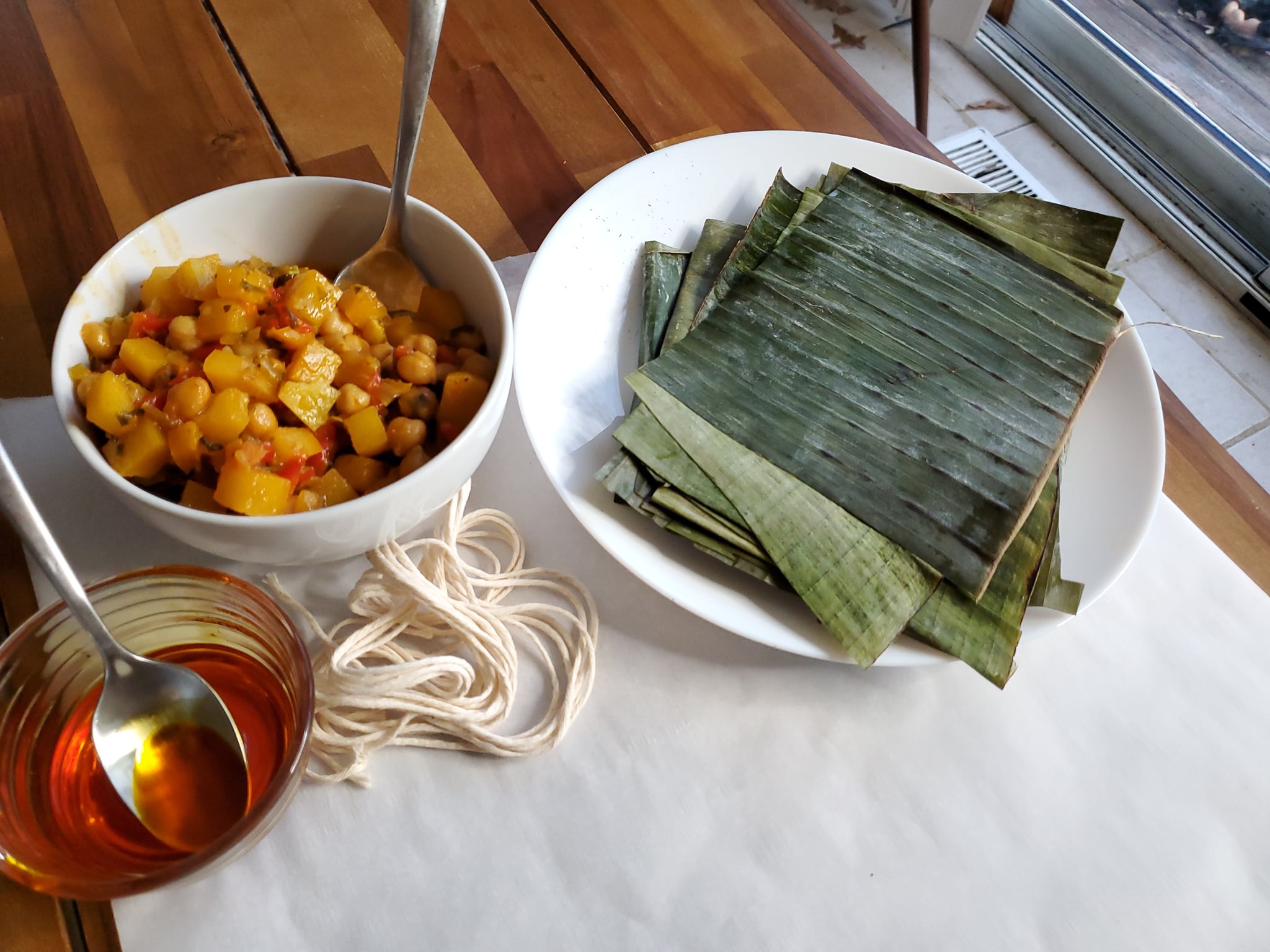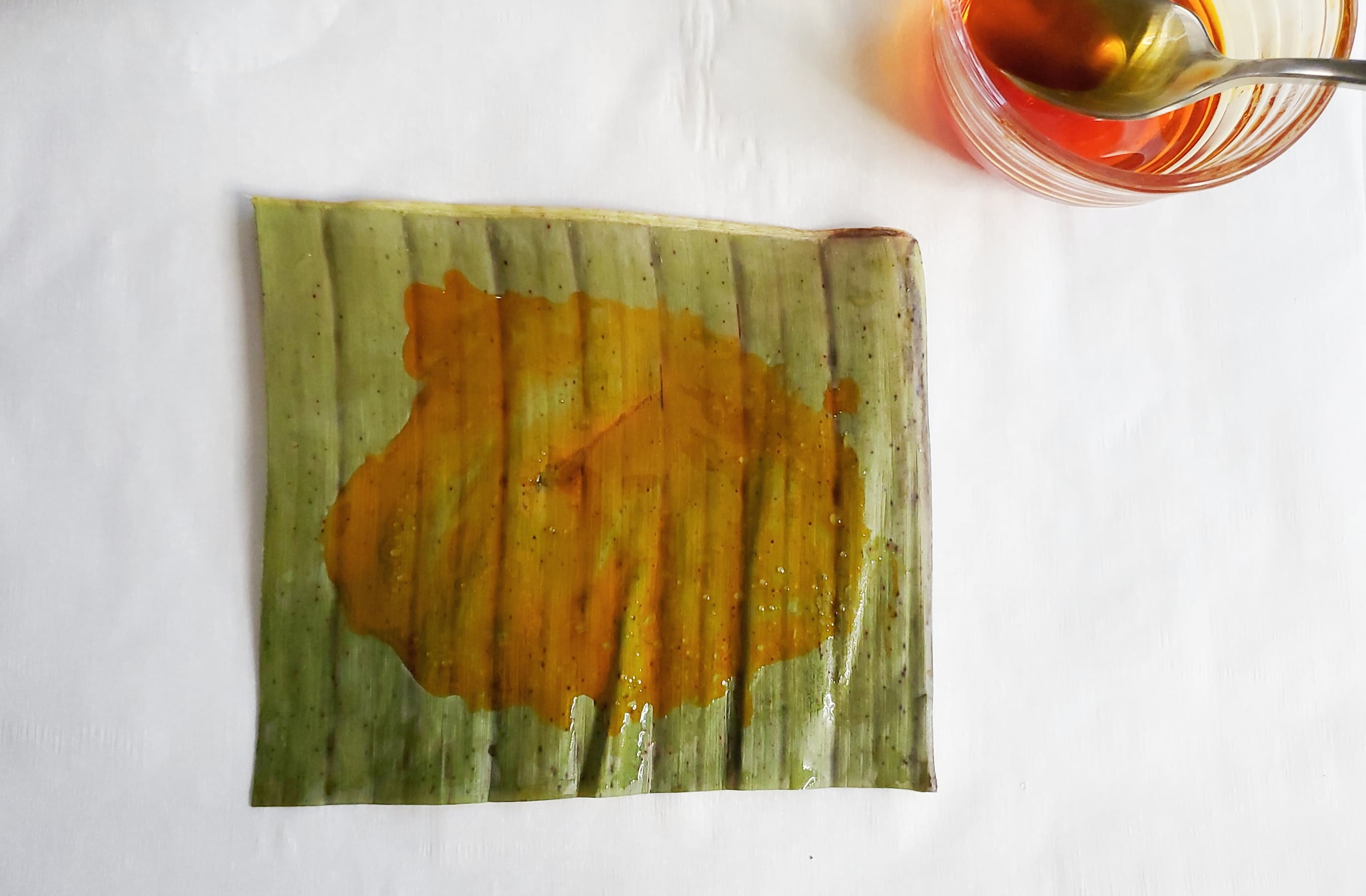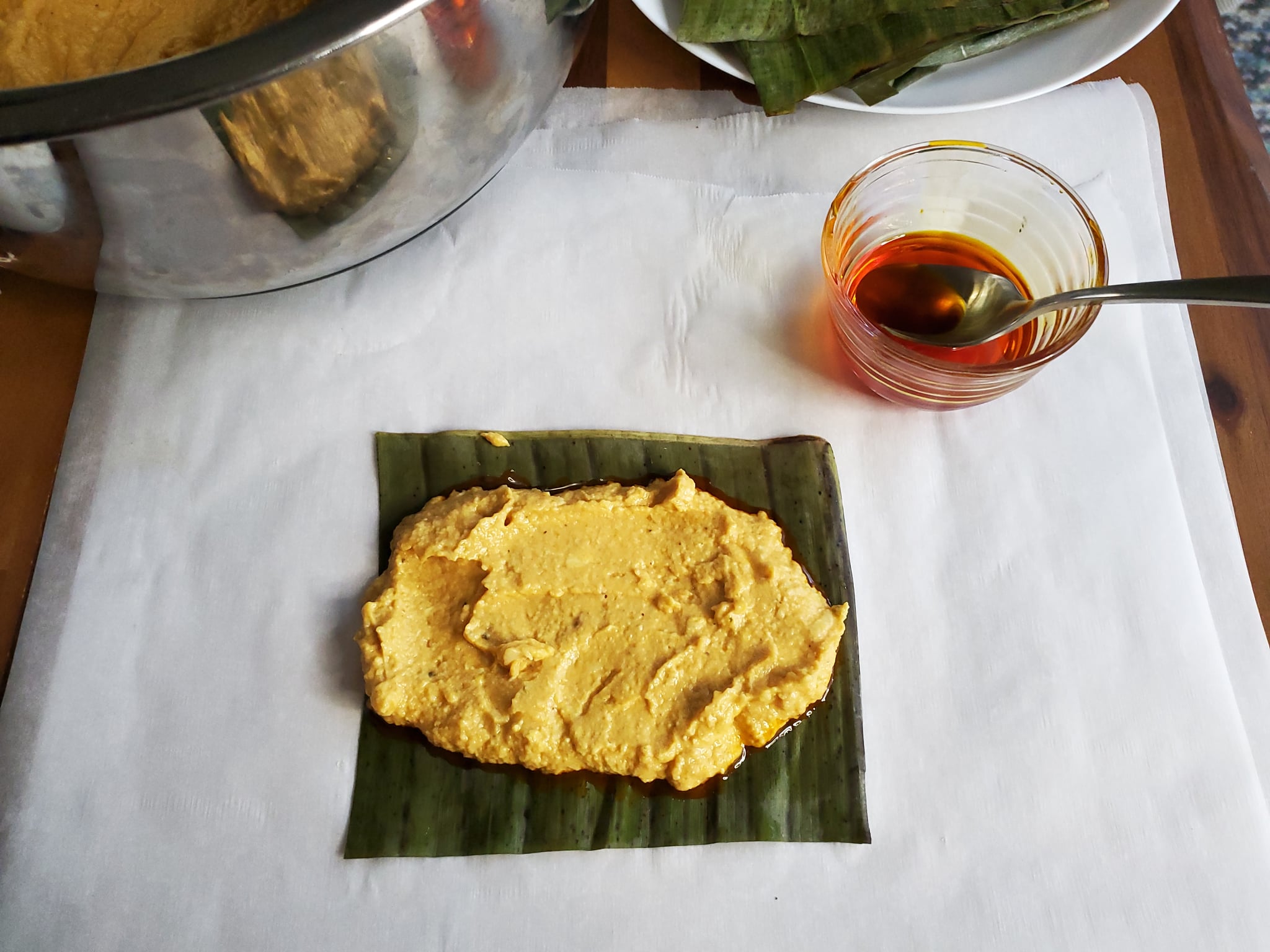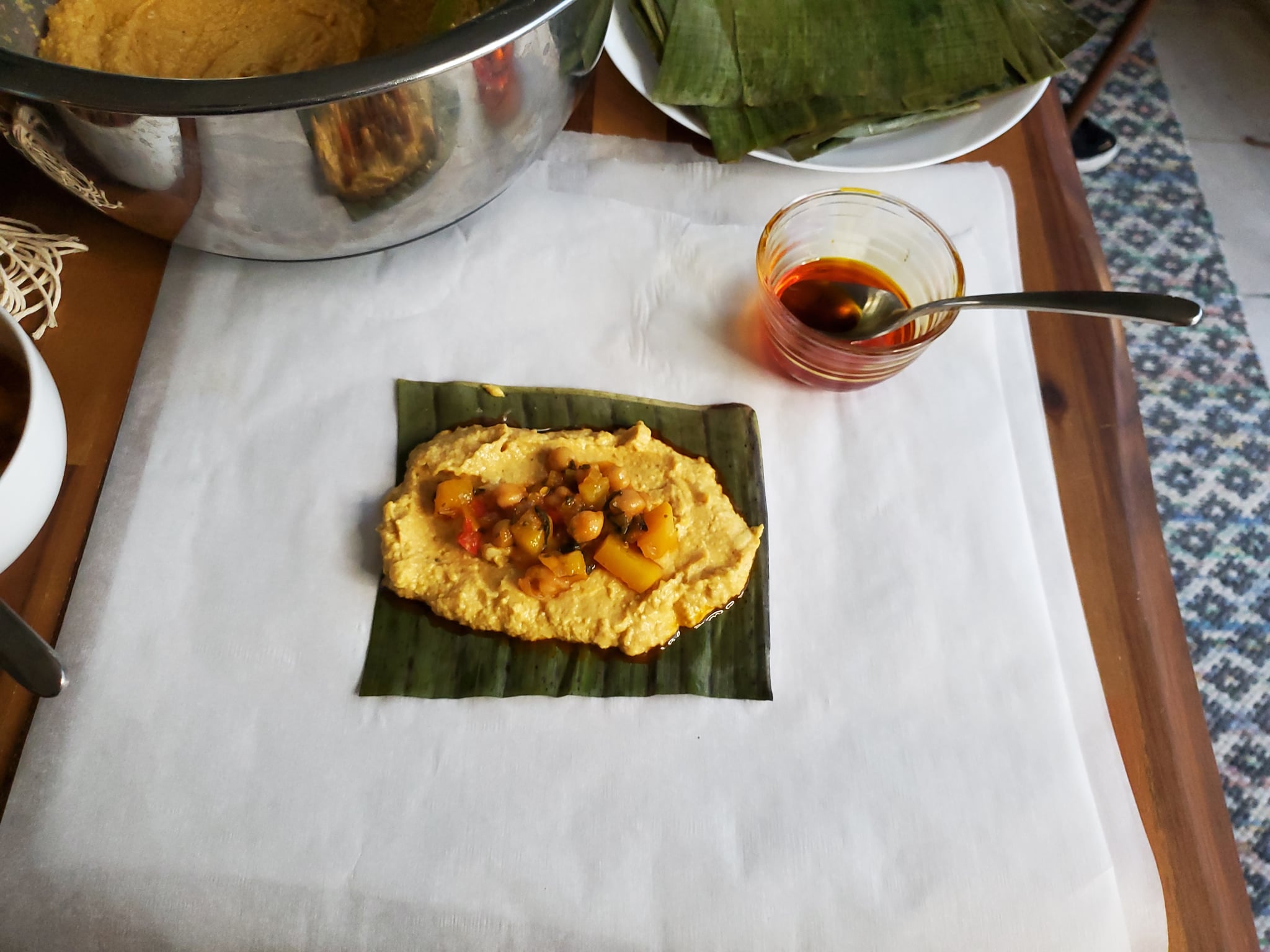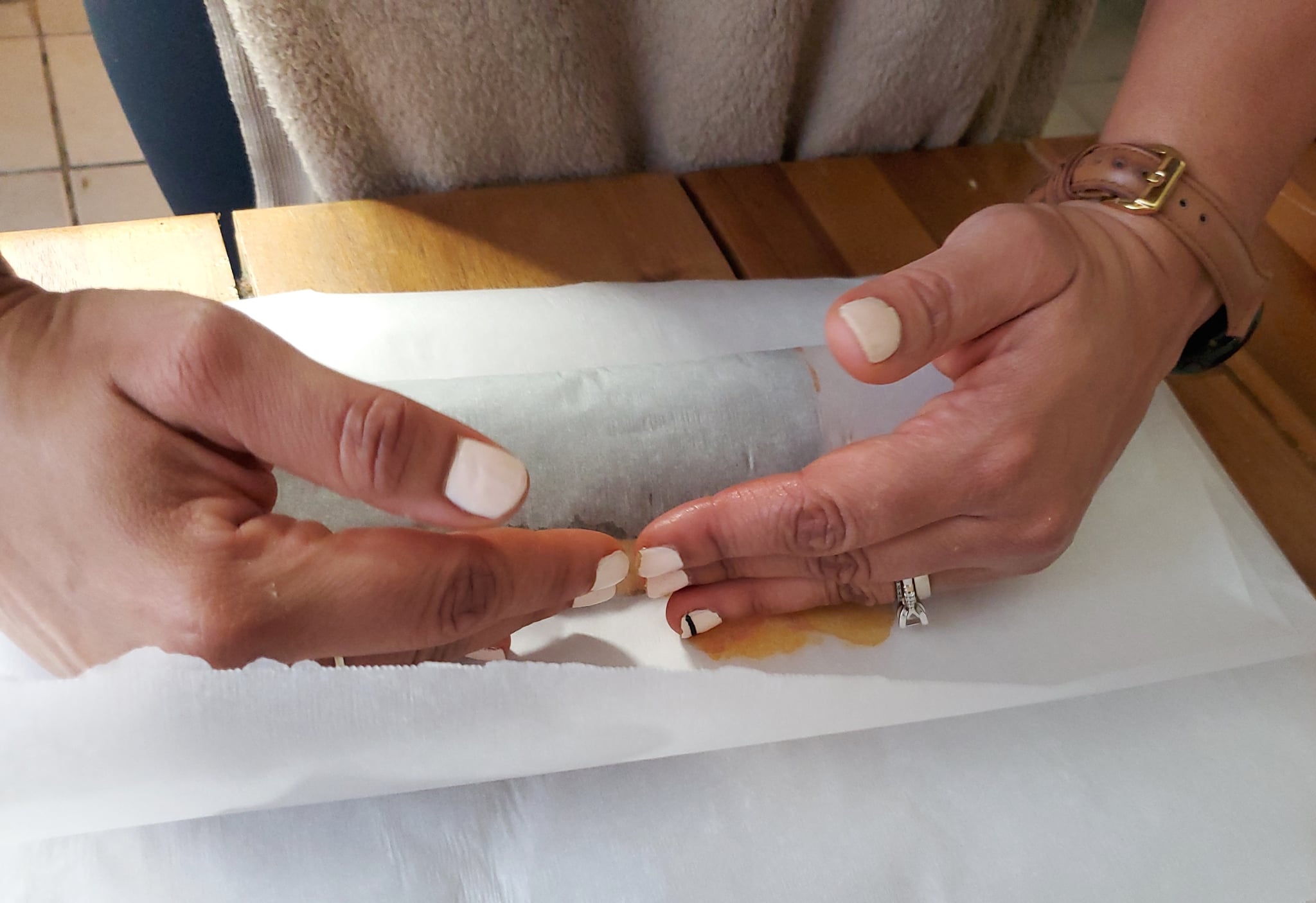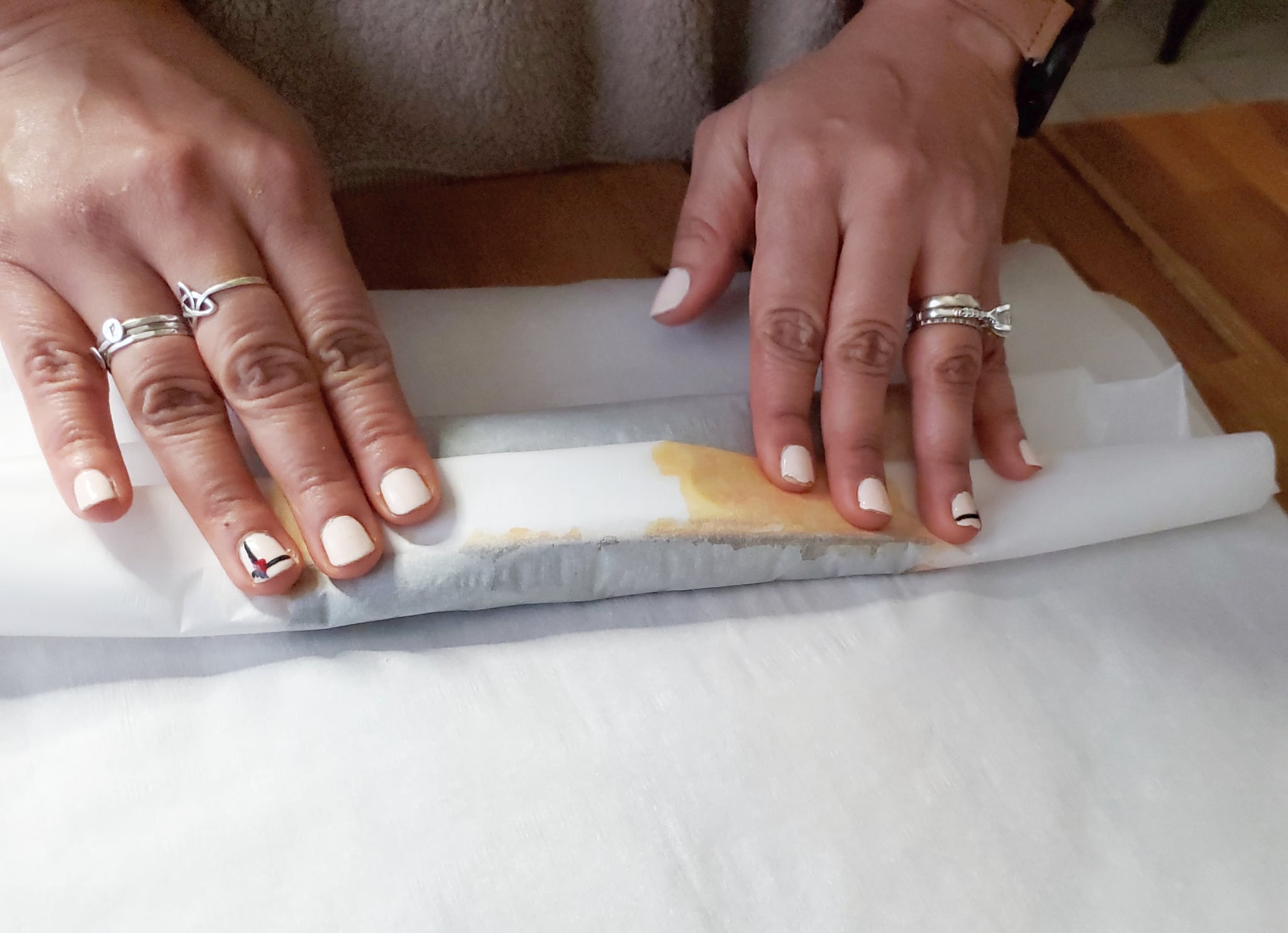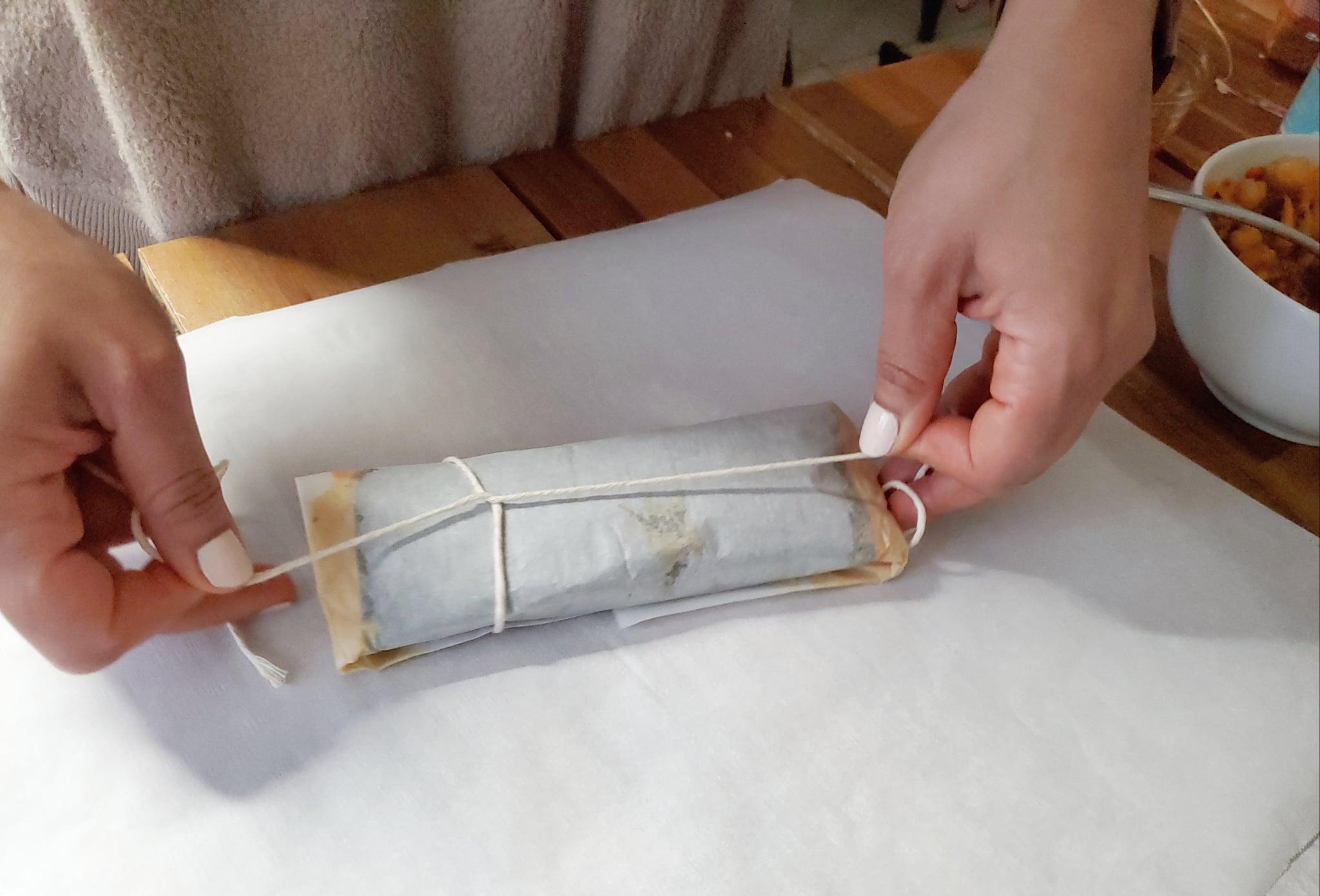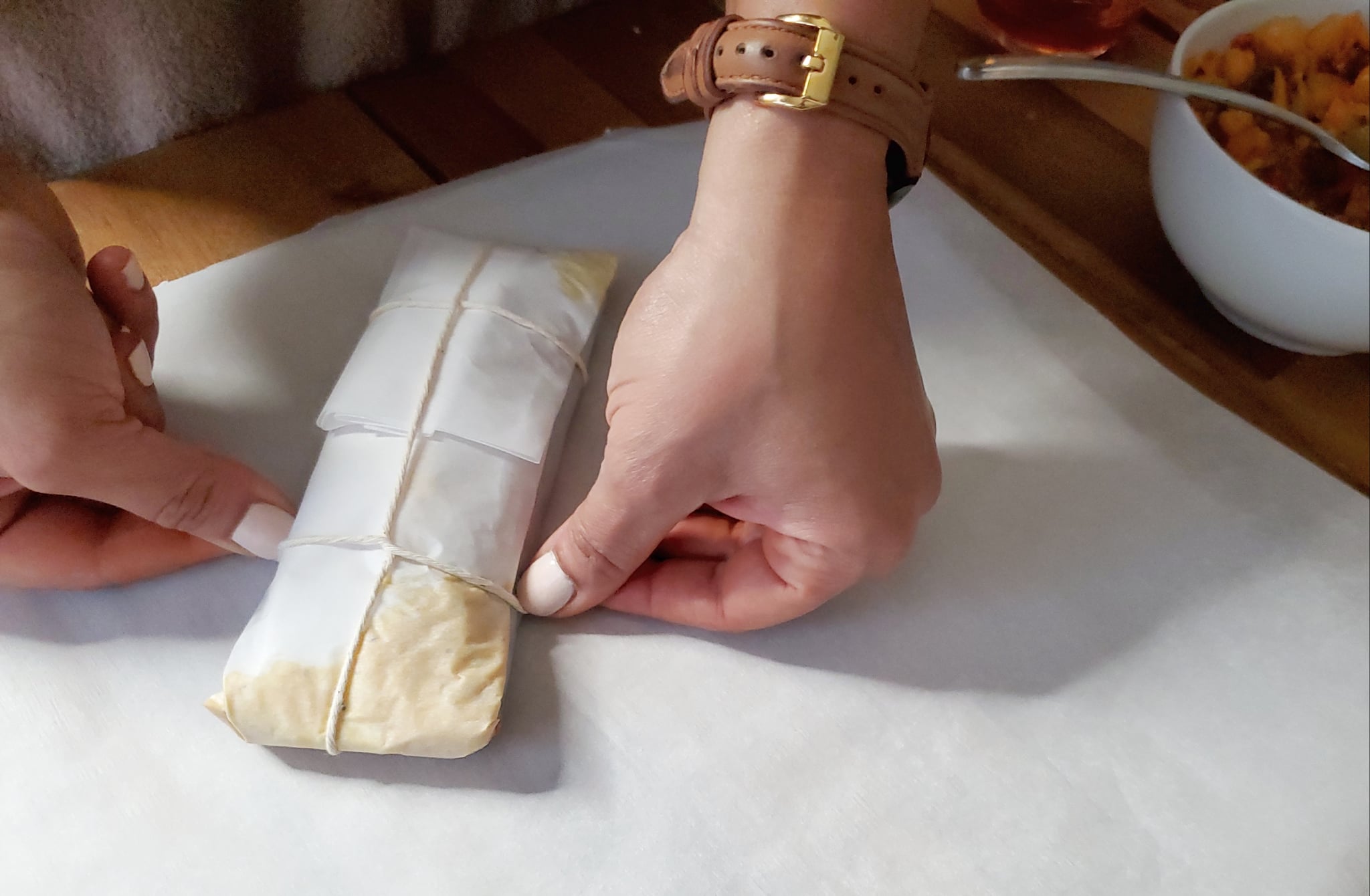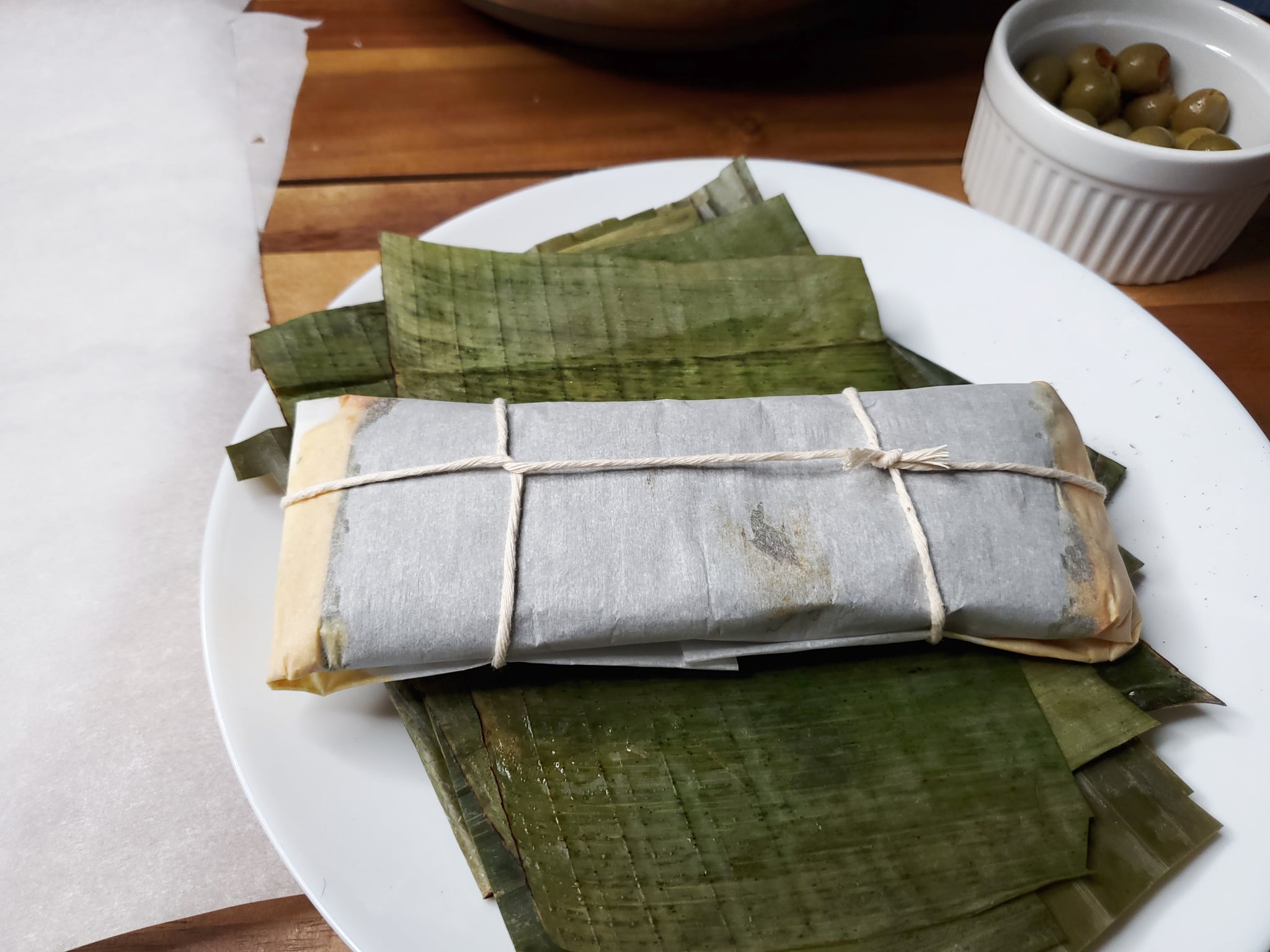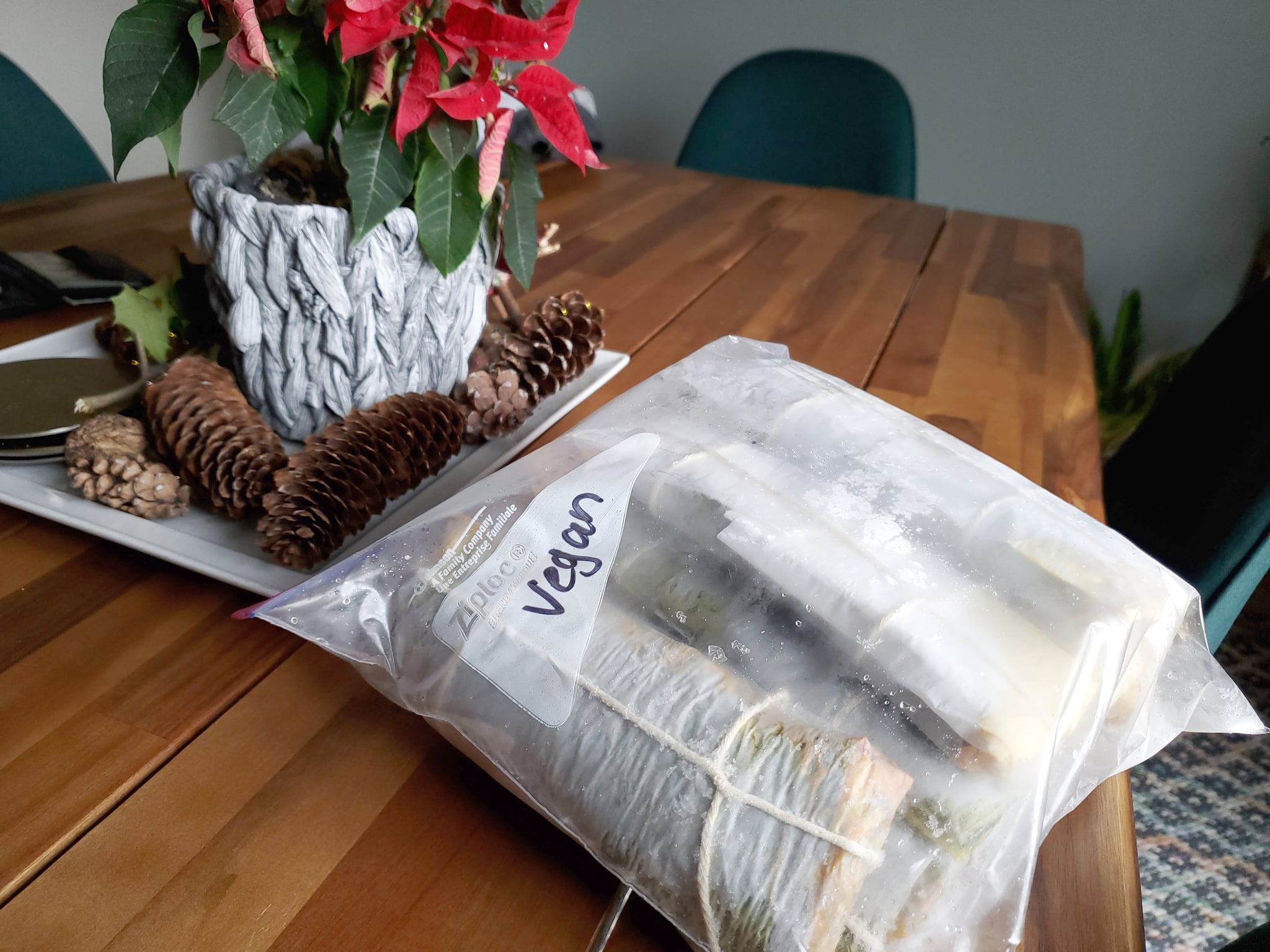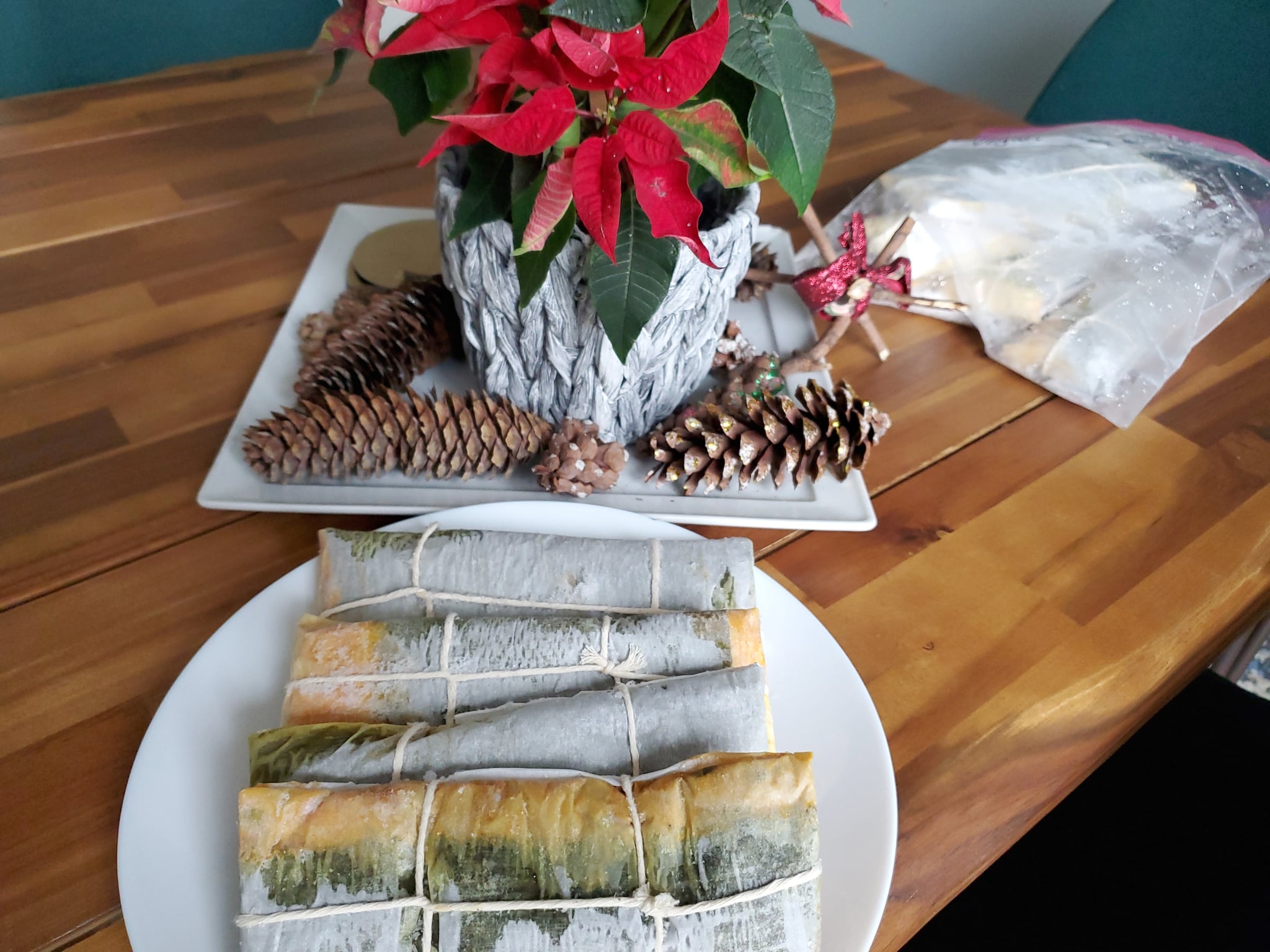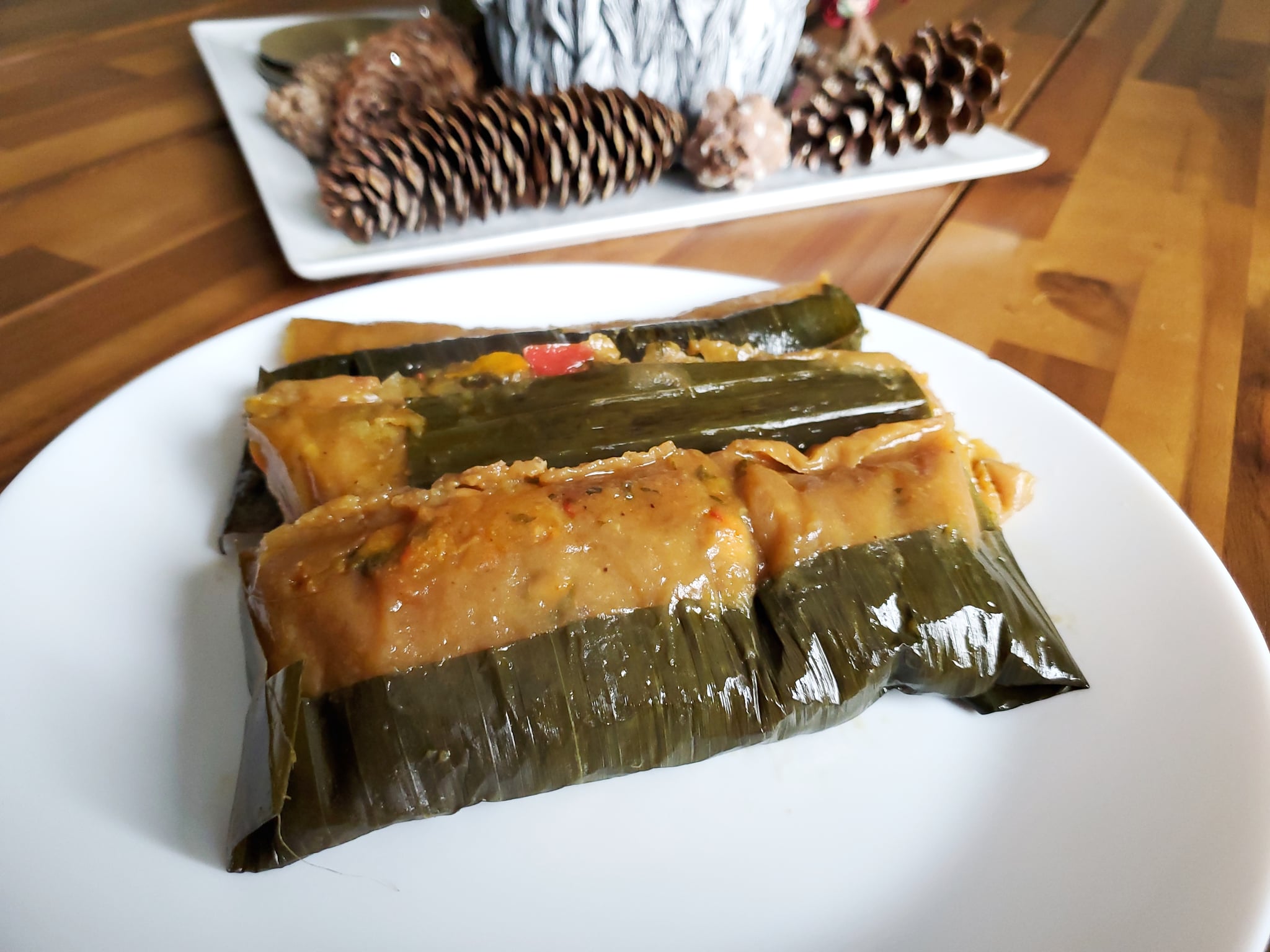 Vegan Pasteles
Original Recipe
Notes
- Seasoning amounts should be to your taste. Start with the amount listed and add to your liking.
- Achiote oil can be purchased store-bought or made by simmering achiote seeds in a neutral flavored oil for a few minutes, until the oil takes on a deep orange shade.
- Pasteles can be frozen, uncooked, in zip-top freezer bags for up to four months.
- Any leftover filling can be eaten as is, served over rice. It's also delicious as a vegan taco filling.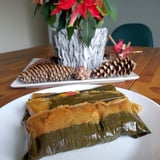 Ingredients
For the filling:
1/2 tbsp achiote oil
1 large bell pepper (any color), finely diced
1 red onion, peeled and finely diced
4 garlic cloves, minced
1/2 cup fresh cilantro, chopped
1 large white potato, peeled and chopped
1 15-oz. can garbanzo beans, rinsed and drained
2 tsp adobo seasoning
2 tsp sazón seasoning
1 dried bay leaf
1 8oz. can tomato sauce
24 manzanilla olives
salt
freshly ground black pepper
For the masa:
8 green cooking bananas (guineos), peeled
1 large green plantain, peeled
1 cup cooking pumpkin, peeled, chopped and steamed until tender
1 cup yuca, peeled and chopped
1 large potato, peeled and chopped
1 ½ cups yautia, peeled and chopped
1 tbsp achiote oil
1/2 cup reserved broth from filling
1 tsp adobo seasonng
1 ½ tsp sazón
1 ½ tsp adobo
For shaping:
12 12 in x 6 in sheets of parchment paper
12 6 in x 3 in sections of banana leaves
Cooking twine
Scissors
Directions
Prepare achiote oil if making homemade. Simmer two tablespoons of achiote seeds in 1/2 cup of neutral-flavored cooking oil for 15-20 minutes.
Prepare 12 sheets each of parchment paper and banana leaves, as described above. Cut 12 18-inch sections of cooking twine.
Peel and chop the vegetables for the filling. Drain and rinse garbanzo beans.
Heat 1/2 tablespoon of achiote oil in a large skillet. Add onions, bell peppers, potatoes, garlic, and cilantro (this is essentially the sofrito). Sauté until potatoes are tender. Add garbanzo beans and season with adobo, sazon, bay leaf, salt, and pepper. Add tomato sauce and allow to simmer for an additional five minutes. If the filling looks too dry, add a bit of water.
Turn off the heat and allow to cool to room temperature. Remove bay leaf.
While the filling is cooking, begin peeling the guineos, plantains, and root vegetables. To avoid browning, you can place the peeled vegetables in a bowl of cold water as you go, but this isn't strictly necessary.
Once everything is peeled, you can either grate everything by hand using a box grater, or use a high powered, professional grade blender or food processor. The calabaza is very hard so it is best to steam that slightly in advance and then add it to the masa. Grate everything into the same bowl.
Add one tablespoon of achiote oil, a quarter cup of the broth from the filling, adobo, and sazón. Mix well to combine. Add more broth a little bit at a time if masa seems too thick to spread easily. It should be about the texture of a thick brownie batter, as pictured above.
Now it's time to wrap! Let the masa sit while you prepare the wrapping station. Stack your parchment paper sheets and banana leaf sections next to each other, along with your twine, bowl of masa, bowl of filling, achiote oil, and olives.
Lay one banana leaf section in the middle of a sheet of parchment. Brush the banana leaf with achiote oil.
Spread about a quarter cup of masa onto the banana leaf.
Top with a couple tablespoons of filling and two olives.
Fold the entire parcel in half so that the banana leaf and parchment envelope the pastel.
Use hands to shape into a compact rectangle inside the parchment.
Fold excess parchment up to meet pastel. Then fold one more time to bring the seam to the middle of the top of the pastel. Finally, fold the sides of the parchment paper underneath the pastel.
Now, use twine to secure the paper. Tie it around the pastel lengthwise once, and horizontally either once or twice, depending on your preference. Trim any excess twine.
Repeat until all of the masa is used.
Now, either prepare the pasteles to eat right away or place them in a large zip-top bag and into the freezer to cook later.
To cook from fresh or frozen, bring a large pot of salted water to boil. Once the water reaches a boil, add desired number of pasteles and cook for 45 minutes to an hour (the latter if cooking from frozen).
Use tongs to remove the cooked pasteles from the pot and place in a colander to drain some of the excess water.
Place on a plate and use scissors to cut twine and unwrap the pasteles to enjoy!
Information
Yield

12 pasteles

Prep Time

3 hours

Cook Time

1 hour

Total Time

3 hours, 59 minutes, 59 seconds
Image Source: Shayne Rodriguez Thompson