Roasted Garbanzo Beans Chickpeas Recipe
Make This: Spicy Roasted Chickpeas
At Nopalito, a Mexican eatery in my neighborhood, every meal starts off with a complimentary bowl of spicy fried chickpeas. This snack is full of heat and crunch and sort of reminds me of spicy wasabi peas or corn nuts. Because I'm addicted to them, I decided that I would try and make a healthier version at home. Like kale chips, roasted chickpeas are a great way to satisfy a chip craving, minus all that fat, and you get all the nutritional benefits of chickpeas — namely, fiber and protein.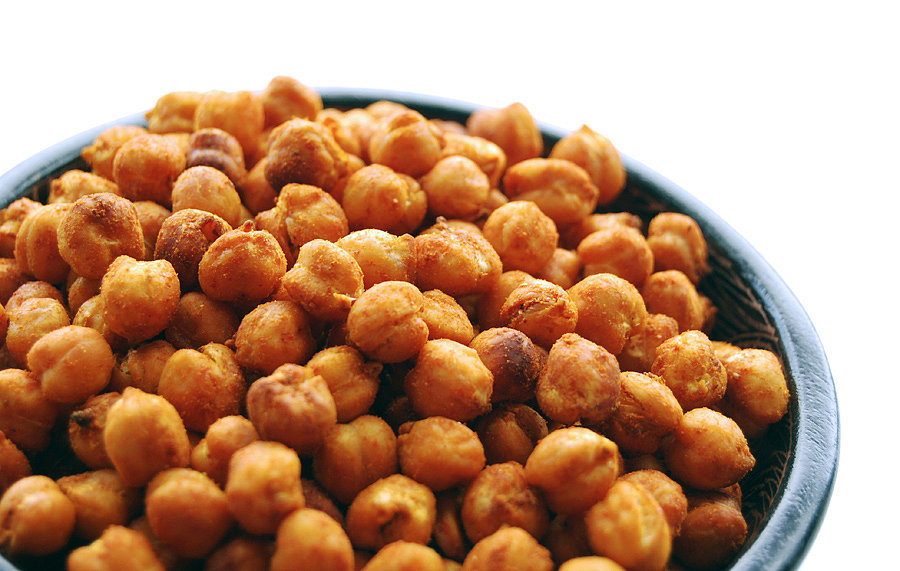 See the recipe when you read more.

Inspired by Nopalito
Spicy Roasted Chickpeas
Ingredients
1 15 oz. can of chickpeas (garbanzo beans)
1 tablespoon olive oil
1/2 teaspoon sea salt
2 teaspoons of spice mixture (a curry, Morrocan, or Mexican spice mixture work well)
Directions
Make sure the chickpeas are completely dry after draining and rinsing them. Otherwise they'll end up chewy and soggy.
Preheat oven to 400°F.
Drain and rinse chickpeas in a colander. Pat dry.
Toss chickpeas in a medium sized bowl with olive oil, sea salt, and spices.
Arrange chickpeas on a baking sheet in a single layer.
Bake for approximately 30 minutes or until crispy. While baking, shake pan or stir chickpeas to avoid burning.
Transfer to a serving bowl.
If desired, sprinkle and toss with more spices.
Information
Category

Snacks
Makes four servings.
Source: Flicker user Akane86