Taylor Swift Vault Songs Easter Egg in "LWYMMD" Music Video
Only the Biggest Taylor Swift Fans Probably Caught This Vault Easter Egg in Her "LWYMMD" Video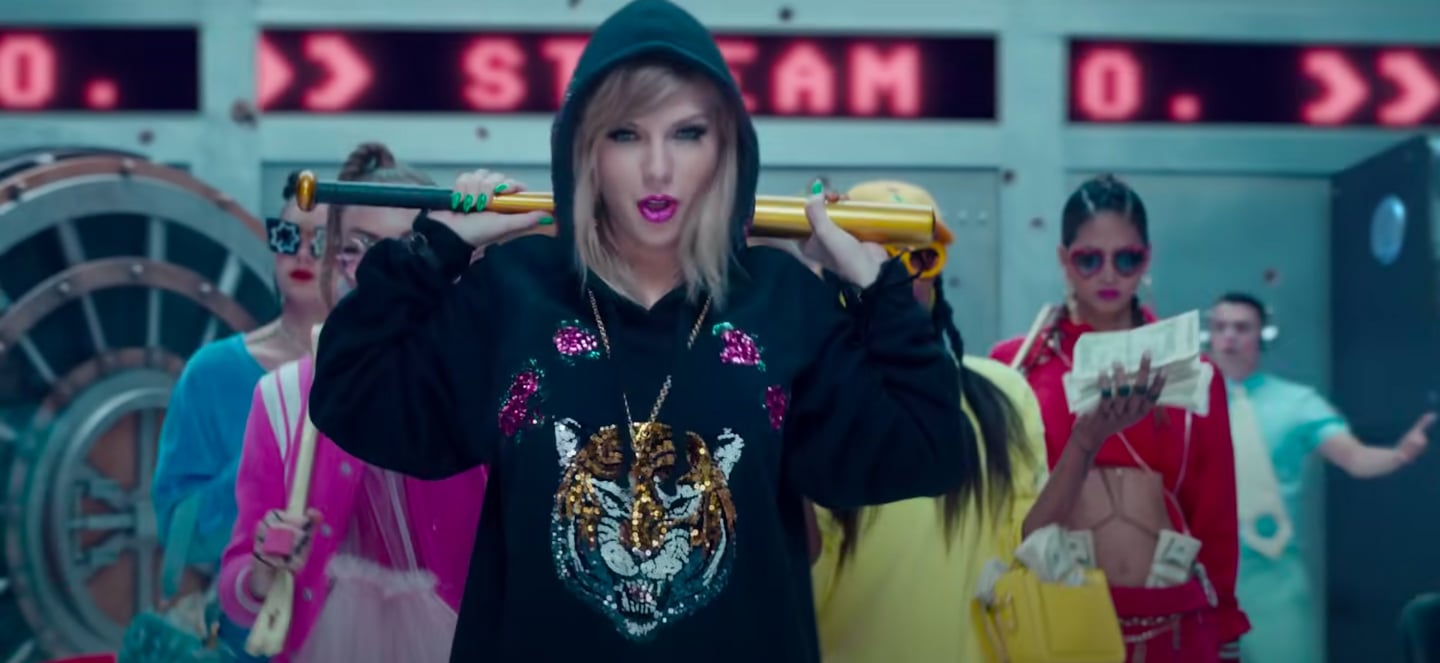 Image Source: YouTube user Taylor Swift
Taylor Swift's "Look What You Made Me Do" will go down in history as one of her greatest music videos of all time. Not only was it a cultural reset as she shed her "reputation" and said goodbye to the old Taylor, but it was filled to the brim with Easter eggs that had us hunting (and replaying the video) for days. During an interview with Entertainment Weekly in 2019, Swift noted that there are "thousands of Easter eggs" within the video, many of which fans have yet to uncover. "It will be decades before people find them all," she teased. Well, she wasn't wrong. Years after the video's release, we're still finding hidden references, including a nod to her mysterious vault songs.
If you're a dedicated Swiftie, you know that Swift has a catalog of unreleased tracks. And if you've been a fan since the beginning, you might have even heard a few. Now, with the upcoming release of Swift's rerecorded Fearless album, the rest of the world will finally get to hear those songs that Swift has dubbed "vault tracks." Essentially, these are songs that didn't make it on the original album, that Swift has stored away for safe keeping.
Which brings us back to the iconic "LWYMMD" music video. In one scene, Swift and a band of thieves steal money from a vault at a company called Stream Co. While at the time this seemed to be a reference to Swift's battle with Spotify over streaming her music for free, knowing what we know now about her battle with Scooter Braun and Scott Borchetta to own the rights to her music, it takes on a whole different meaning.
"Swift stealing money from the vault was literally her taking back what is rightfully hers."
I've always said that "LWYMMD" was about more than Swift's feud with Kim Kardashian and Kanye West, and this Easter egg is proof of that. At the time of Reputation's release, Swift likely knew that it would be her last album with Big Machine Records. Following Braun's acquisition of Big Machine Records in 2019, Swift noted that she had pleaded with her former record label and Borchetta "for years" to own her own work. Instead, she was given the opportunity to "sign back up to Big Machine Records and 'earn' one album back at a time." With that in mind, Swift made the difficult decision to walk away from the label that helped start her career. In November 2018, almost a year after the release of Reputation, Swift announced that she was signing with Republic Records and Universal Music Group, where she would own the rights to any future masters.
Now, I don't know anything about what went down when Swift parted ways with Big Machine Records, but it seems highly plausible that even though she wasn't able to gain the rights to her old masters, she might have been able to take her previously unreleased records with her, aka the vault tracks. Perhaps the scene of Swift stealing money from the vault was literally her taking back what is rightfully hers. Not to mention, she'll now own the rights to all of those vault songs when they're released on Fearless (Taylor's Version) and she'll be able to make a profit off of the new tracks, furthering the imagery of Swift stealing money from a vault.