Every editorial product is independently selected by our editors. If you buy something through our links, we may earn commission.
You may want your baby to inherit your humor, your hair color, or your ability to play the harmonica like a boss, but one thing you likely don't want for your child is for them to inherit your food allergies. After all, if both parents have allergies, the chances of baby developing allergies as well is thought to range from 60 to 80 percent. Unfortunately, even if there is no family history of food allergy, your baby might not get off scot-free, as not all food allergies are genetic. It is estimated that 12 percent of children who develop a food allergy have no family history of allergy. Experts suggest that one in 13 kids in the US have a food allergy. Having a food allergy can lead to symptoms like difficulty breathing, rash, vomiting, and potentially death if a triggering food is eaten. Being a parent of a child with a food allergy can be a huge source of stress for all family members.
While so many things about your baby are out of your control — like the timing of their poopy diapers — you may be able to possibly reduce the risk of baby developing food allergies simply by making some dietary choices once baby is ready to eat solid food.
The most common food allergies in children in the United States include cow's milk, hen's egg, soy, wheat, peanut, tree nuts (like almonds, cashews, and pistachios, to name a few), and seafood (shellfish and fish). Sesame allergy is common as well, and prevalence is increasing. While instinct may tell you to avoid these foods so an allergy isn't triggered, experts are suggesting the exact opposite.
Instead of avoidance, expert panels are now suggesting that the key to increasing the tolerance of food allergens and possibly reducing the risk of developing allergies is regular and early exposure to these proteins (remember that allergies are triggered by proteins in foods) during a "critical early window" of development. This "critical early window" is said to be between 4 and 6 months of life, according to pediatric allergists.
There are plenty of studies that support this theory. In one study published in The New England Journal of Medicine, feeding six potentially allergenic foods (egg, milk, sesame, white fish, peanut, and wheat) to healthy breastfed babies as young as 3 months of age reduced food allergy development by two-thirds in those able to feed multiple times a week for three years.
In 2019, the American Academy of Pediatrics went as far as to state that infants at high risk (i.e. both parents have an allergy) should be fed peanut food at age 4 to 6 months after considering testing first for peanut allergy. Of course, if a baby or child has a confirmed allergy, the triggering protein should be avoided.
So, how are you supposed to introduce these proteins to your toothless infant with minimal fine motor skills and limited knowledge of the art of chewing? A shrimp and peanut stir-fry topped with sesame seeds sounds out of the question for early and frequent exposure. Thankfully, some brilliant companies have created products that help support parents' efforts of exposing your little peanut to peanuts (and other common allergens). Read on to shop them!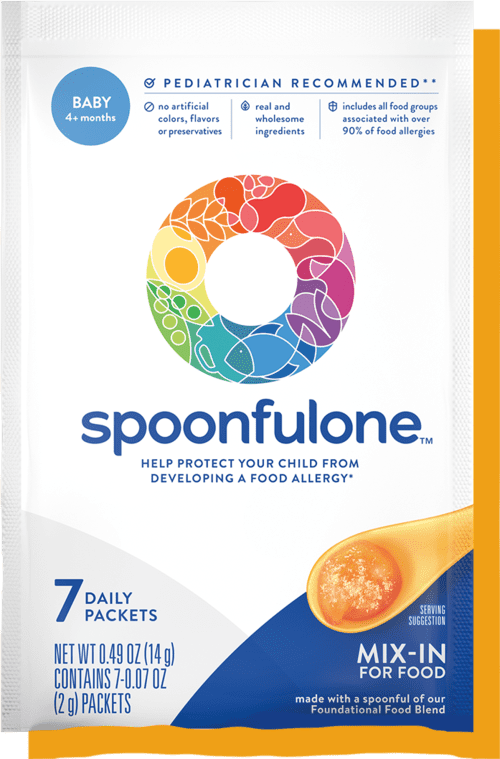 SpoonfulOne
SpoonfulOne makes three products that correlate to a stage of baby's feeding abilities: mix-in powder to be added to purees for babies beginning around 4 to 5 months old, puffs for crawling babies, and oat crackers for toddlers. If consumed consistently, each product provides baby with enough gentle exposure to nine food groups: peanuts, milk, shellfish (shrimp), tree nuts (almonds, cashews, hazelnuts, pecans, pistachios, and walnuts), egg, fish (cod and salmon), grains (oats and wheat), soy, and sesame. These food groups are associated with over 90 percent of food allergies according to the Food and Drug Administration. Exposing baby to small amounts of these foods early and often may reduce the risk of developing a food allergy according to expert panels, including the American Academy of Pediatrics. SpoonfulOne Mix-In Powder ($19) makes it easy to maintain all of the most common food allergens in a baby's diet.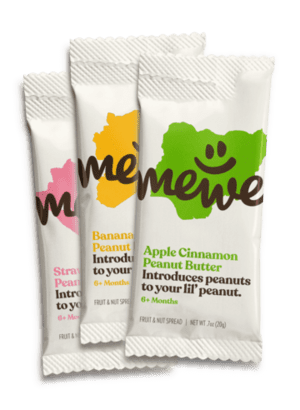 MeWe Nutrition Peanut Butter Packets
MeWe Baby ($17) is the easy-to-swallow, on-the-go peanut butter intro snack for babies 6+ months starting on solid foods. Each squeeze pack is non-GMO, vegan, has 3 grams of protein and no added sweeteners. It's available in three yummy peanut butter and fruit flavors: Apple Cinnamon, Banana, and Strawberry. For picky eaters and kids over the age of one failing to thrive, MeWe makes a low-sugar Kids Nutrition version with 8 grams of protein and an organic blend of 24 vitamins and minerals per squeeze pack. MeWe Kids ($13, originally $15) is available in three delicious flavors: Birthday Cake, Cookie Dough, and Chocolate Brownie. And, 100 percent of MeWe profits give back to help end malnutrition worldwide.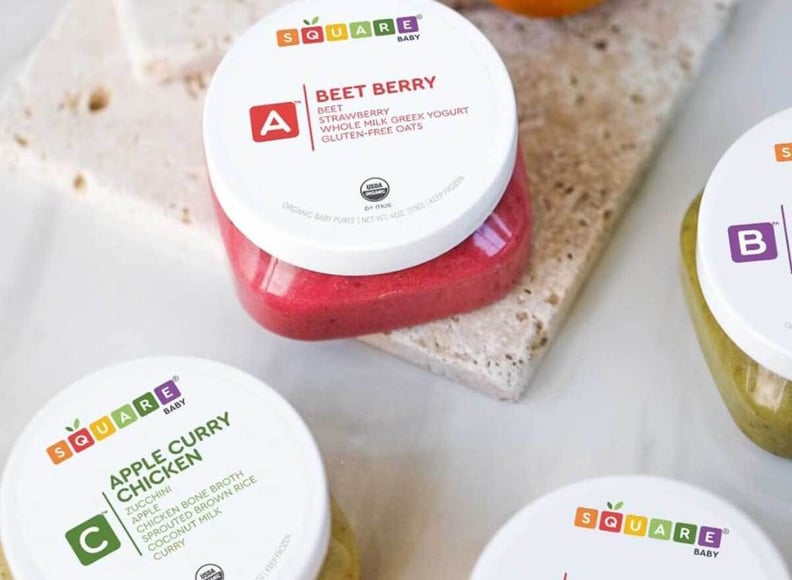 Square Baby
While many of today's top baby food companies are touting their credentials as "allergen-free," Square Baby meal plan ($79 for two weeks) is doing the opposite and leaning into recent research. Square Baby is taking a cue from recent studies and are incorporating proteins that you won't see in most other brands, like egg, fish, and soy. Square Baby even designed their allergen-introduction meals to deliver the appropriate amount of egg, milk, and peanut protein to be in alignment with expert recommendations to help reduce baby's risk of developing allergies to these potentially triggering foods (assuming baby eats two or more of the Square Baby meals per week).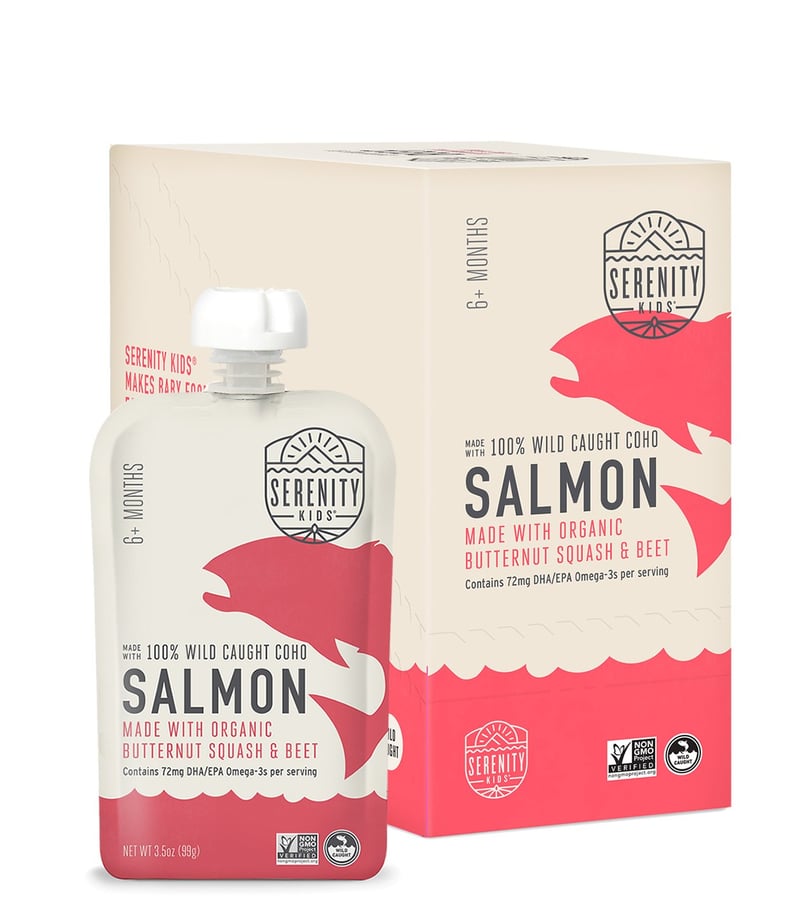 Serenity Kids Wild Caught Coho Salmon Pouches
Fish may not be one of the first foods that comes to mind when thinking about baby food. Considering how it's loaded with healthy fats like DHA Omega-3 fatty acid, important vitamins, and protein, fish is a healthy choice for your little one. Additionally, feeding babies fish early and often may help reduce the risk of baby developing a fish allergy. Serenity Kids has created a baby food for families who need the convenience of a pouch filled with a perfectly blended and sustainably sourced salmon and veggie blend. Serenity Kids Wild Caught Coho Salmon Pouches ($24) are blended with organic butternut squash, beets, and avocado oil, to create a yummy and convenient baby food option with 72mg DHA/EPA Omega-3s per serving. The wild Coho salmon is especially high in Omega 3s which are essential for a baby's brain development and helps support baby's immune system. There are no added sugars or preservatives found on any of the Serenity Kids baby food varieties and they taste absolutely delicious!
Bambinos Peanut Mani
The Bambinos Peanut Mani ($54 per case) is a cookie developed to help reduce the risk of infants developing a peanut allergy naturally. The cookie contains natural peanut protein in an adequate amount to potentially desensitize babies from having a potential allergy. According to their founder, Zoi Maroudas, "peanut mani has helped resolve the peanut allergy with an 85 percent success rate." This mani cookie contains organic peanuts, organic ancient winter harvest wheat, organic oranges, organic eggs and organic ghee.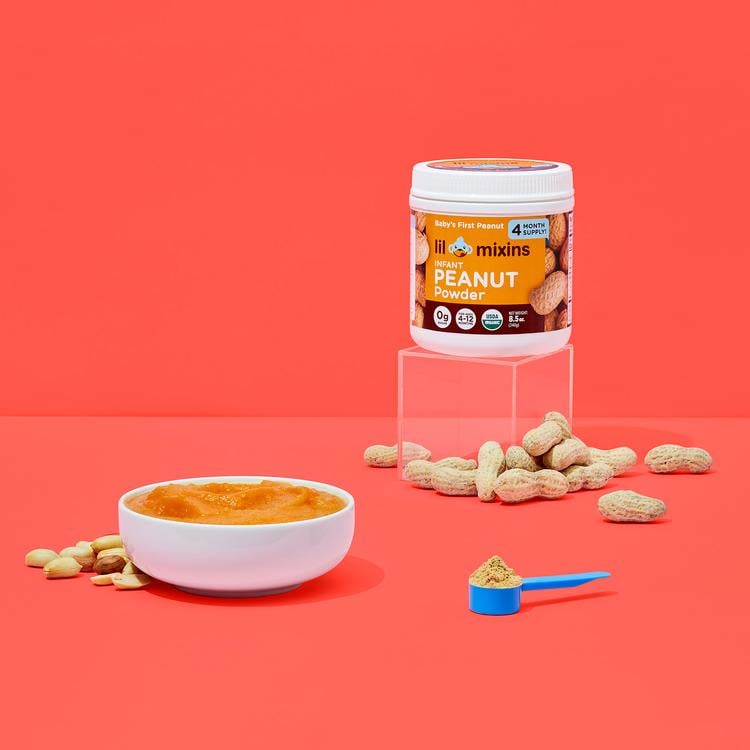 Lil Mixins
Lil Mixins ($35) offers three varieties of mix-in powders that can be added to pureed baby food or sprinkled onto food if you're practicing baby-lead weaning. Families can choose between three powders — baked egg, peanut, and tree nut — to help expose baby to the protein early and often to potentially reduce the risk of developing an allergy. Each jar provides a four-month supply, and each serving makes sure a baby gets the studied 2 grams of protein of each food.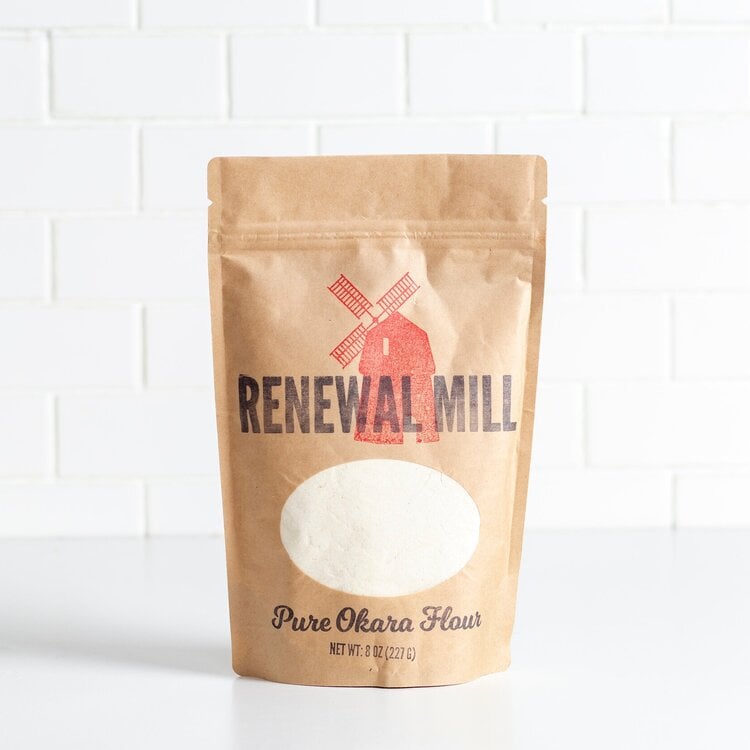 Renewal Mill Okara Flour
Soy allergy is a concern for many families, but exposing baby to the soy protein can be challenging. Renewal Mill Okara Flour ($7) up-cycles soy pulp to create a tasteless okara (not okra!) flour that can easily be added to purees and mixtures. Adding this flour exposes baby to an organic and GMO-free soy protein with little effort.