Want Sore Legs, Arms, and Abs? Do This Celebrity Trainer's 30-Minute Bodyweight Workout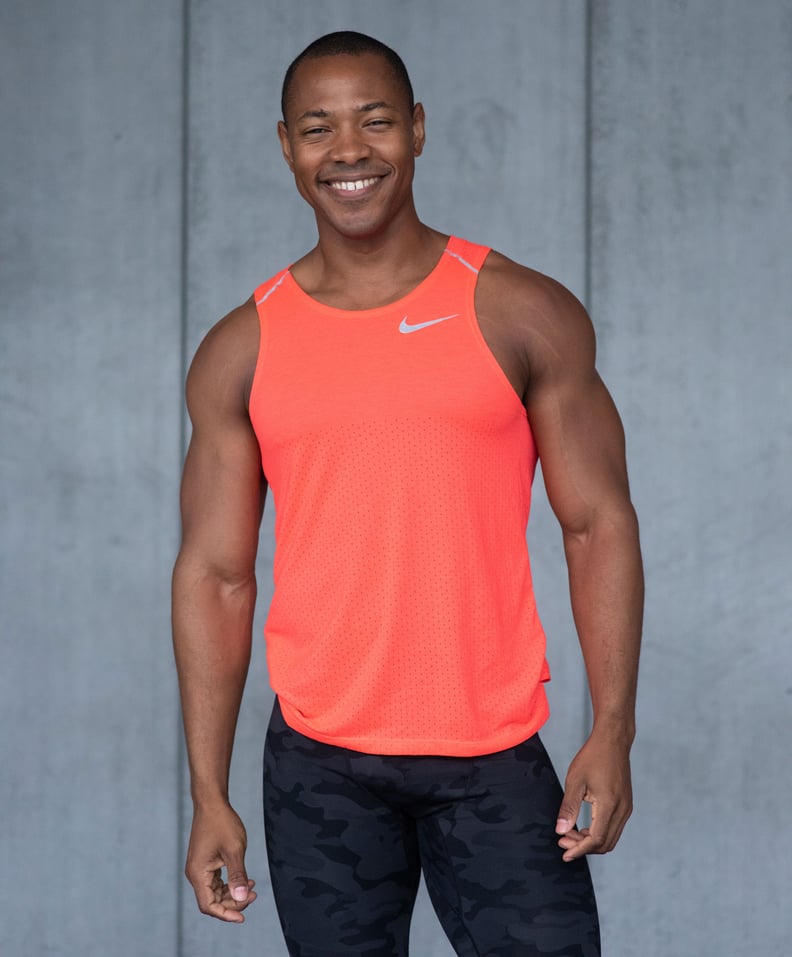 Ridge Davis
Ridge Davis
Need a quick yet intense full-body workout that requires zero equipment? NCSF-certified celebrity fitness trainer and Puma athlete Ridge Davis created this at-home workout to stay active and healthy, incorporating his favorite bodyweight moves you can do no matter where you are.
"This workout is great for hitting muscles that tend to get neglected in most traditional workouts in three components," Davis said. First, there is a heavy focus on oblique work to strengthen the core, which can help relieve back pain and prevent injury. Second, lateral squats will help strengthen, sculpt, and develop your glute medius, which can also help prevent low-back pain and injury.
Lastly, he said, "Plyo lunges will help spike your heart rate and tone your legs by using the fast-twitch muscle fibers in your legs." Strengthening your fast-twitch muscles will not only help you build muscle and get stronger, but they also allow you to be more explosive in exercises that require jumping and running. This is definitely a total-body workout, and you're about to get so sore — let's do this!
Ridge Davis's 30-Minute Bodyweight Workout
Directions: Before the workout, complete a five-minute dynamic warmup. Do each of the following exercises for one minute, completing a total of five rounds with no rest between exercises or rounds. If you need rest at any moment, feel free to do so. After the workout, make time for this 10-minute stretching routine. Read on for directions on how to do each exercise.
Plank with knee to elbow: one minute
Reverse plank with knee crunch: one minute
Side plank hip dip: one minute (30 seconds on each side)
Plyo lunge: one minute
Lateral squat: one minute
Bicycle crunch: one minute
If you like this workout, you can try out more full workouts on his new app.
01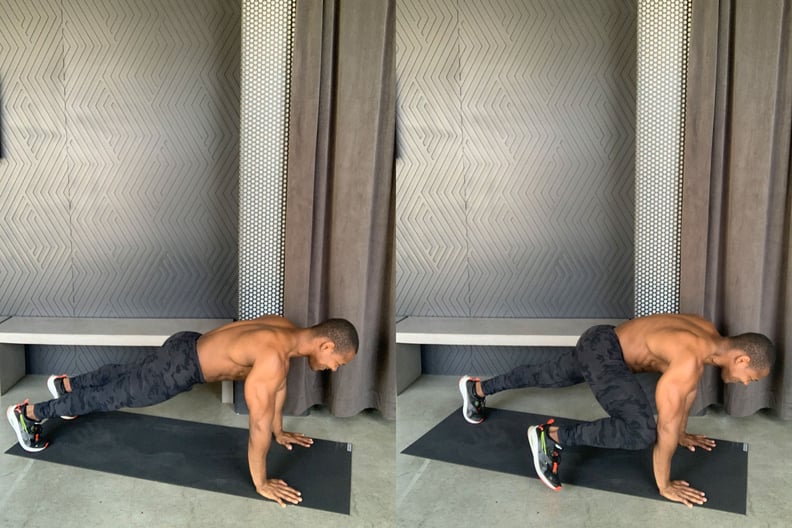 Plank With Knee to Elbow
Start in a plank position with elbows positioned directly under your shoulders.
Drive your right knee to your right elbow. Then return to the starting position.
Switch to your left knee. This counts as one rep. Complete as many reps as you can for one minute.
02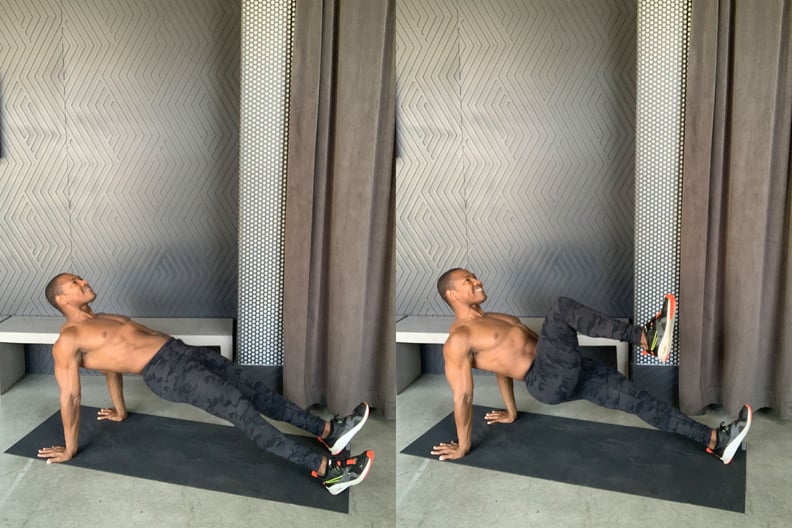 Reverse Plank With Knee Crunch
Sit on the floor with your hands directly next to your hips, fingers facing behind you.
Keeping your arms and legs straight, push your hips up until your body is in a straight line called reverse plank.
While holding this, lift your left leg and drive your knee in toward your chest. Return your leg back to the reverse plank position, and repeat on the other side.
This counts as one rep. Do as many knee crunches as you can for one minute.
03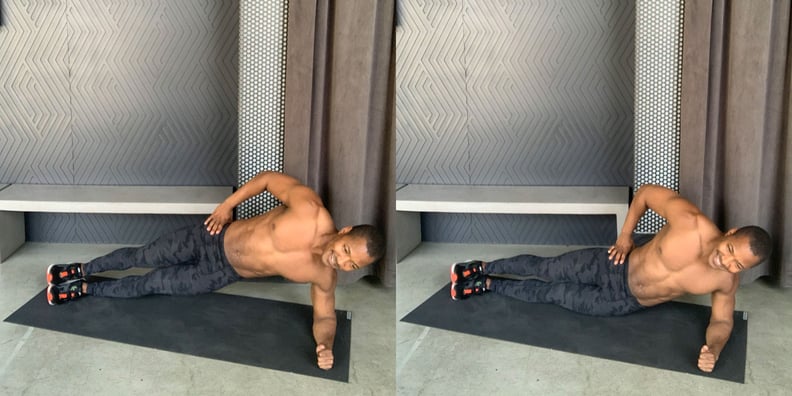 Side Plank Hip Dip
Come into a side plank position with your left elbow under your left shoulder.
Keeping your core strong and your body in a straight line without allowing your bottom hip to sag, lower your hips down to tap the floor, then raise them back up to side plank.
Complete 30 seconds here, then flip over for 30 seconds on the right side.
04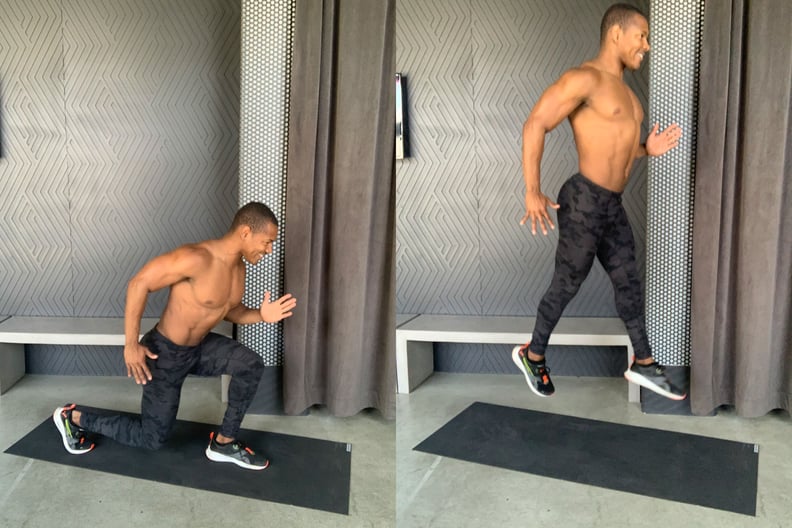 Plyo Lunge
Start at the bottom of a lunge position with your left knee forward. Jump up as high as you can, and softly return back to the low lunge with your right knee forward.
Continue alternating sides between jumps for one minute.
05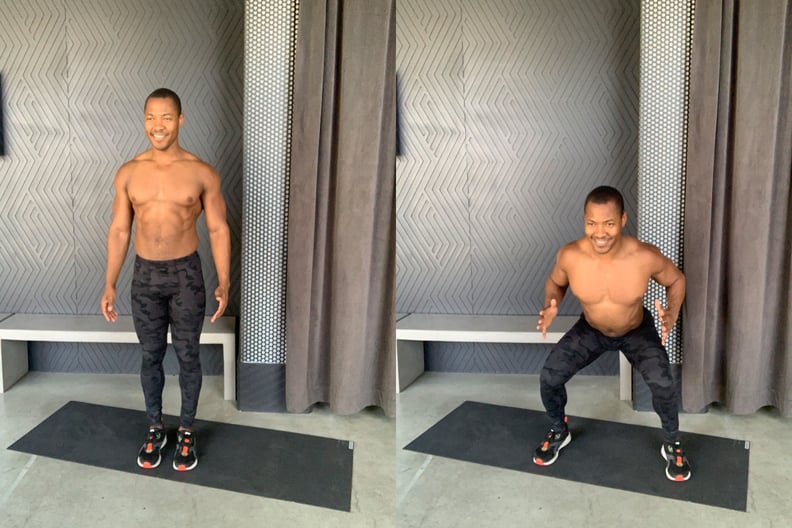 Lateral Squat
Stand with your feet together.
Lead with your left leg, and step out to the side, lowering into a squat with your hips in line with your knees and your weight back in your heels.
Squeeze your glutes as you rise up and return to starting position. Then lead your right leg stepping to the side into a squat.
Continue alternating sides for one minute.
06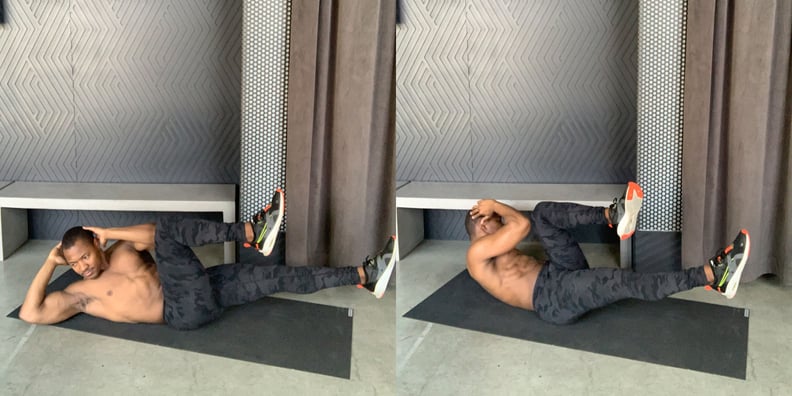 Bicycle Crunch
Lie on your back, extending both legs out with your hands behind your head.
Keeping your shoulder blades off the floor, rotate your torso, bringing your right elbow to your left knee. Then switch, touching your left elbow to your right knee.
Do as many bicycle crunches as you can for one minute.