How to Get a Better Half-Marathon Time
The 3 Things That Helped Me Beat My Half-Marathon PR
After reluctantly signing up for my first half-marathon last year, I had no goal for a finishing time, I was only hoping to finish! I mean, I ran regularly, three to four times a week, but had never run more than eight miles. I kicked up my training, and on that perfect 65-degree breezy race day, I ran it in 2:16, at a 10:24 minutes per mile pace. I even fit in a quick pee-stop at mile six! I was floored that I got it in under 2:30.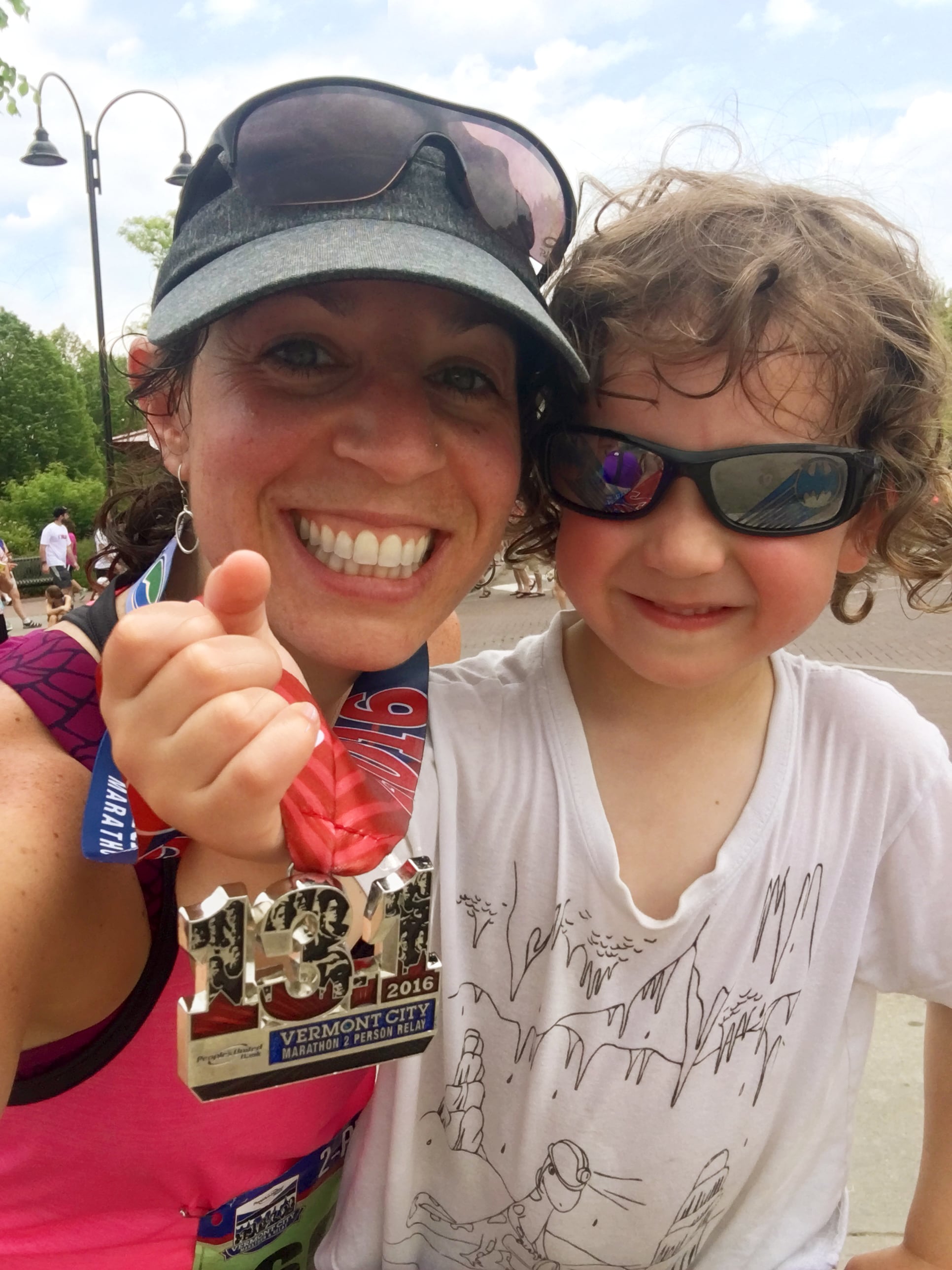 After that first postrace high, I was hooked on running half-marathons. I set my sights on running my next one even faster. My goal was to shave 10 minutes off my time, and miraculously, on my next half-marathon, I got 2:03, which averaged out to a 9:23 minutes per mile pace. Aside from skipping the midrace porta-potty pit stop, here are three things I did during the months of training that shaved 13 minutes off my time.
Hill Repeats
Once a week, I incorporated an intense running interval workout. There's a hill by my house I'd run a mile to get to. Then I'd run up and down the hill 10 times — it took about 60 seconds to run up it, 45 to get back down. Then I'd run the mile back home. This hill-repeat workout took about 40 minutes, but it was so intense, I felt more spent after that run than I did after a 10-mile training run. It not only helped strengthen my legs and build my cardiovascular endurance, but it also changed the shape of my butt.
Strength Training
Though I was already doing 90 minutes of yoga throughout the week, I invested in some eight-pound dumbbells and a TRX and focused on doing moves to strengthen my legs, butt, core, and upper body. Here are some of my favorite go-to exercises:
I did three 20-minute strength-training sessions a week, and it made me feel stronger all around. I squeezed these workouts in at home about an hour after eating dinner, and it not only curbed my cravings for late-night nibbles, but fatiguing my muscles before bed also helped me fall asleep faster.
GPS Tracking
Ever since my first half-marathon last year, running with some fellow neighborhood mommies who had GPS watches made me want to get one too. I'm convinced that using a GPS watch is what ultimately got me to beat my personal record (PR). It was so easy to glance at my wrist and see my pace and distance, and it instantly pushed me to run faster or to tack on the extra hill by my house just so I could finish with an even five miles instead of 4.75. On long training runs and on race day, I was also able to keep an eye on the overall pace I needed to maintain throughout the run in order to get a time of 2:05 — my pace was actually a full minute faster than the last time I ran 13.1!
Of course, this has totally inspired me to sign up for my next half so I can beat my PR and cross the finish line in under two hours. If I keep up with the hill workouts and strength training, I'm confident it'll happen.